If you're looking to transform your tired living room into a beautiful farmhouse living room or refresh your outdated kitchen with farmhouse kitchen décor, you've come to the right place.
You might have been tracking this fad over the years through HGTV and interior design magazines, but you're not sure where to begin or how to make sure you don't overdo it on farmhouse decor ideas. There's definitely an art to balancing this gorgeous design.
Here are a few elements to keep in mind as you tackle your farmhouse décor renovations:


5 Tips for Stylish Farmhouse Decor Ideas
Highlight Natural Wood Colors
Choose Natural Fibers and Materials
Take Advantage of Natural Light
Use Neutral Colors
Look for Vintage Furniture
The key is to find the perfect balance between these farmhouse elements so that your decorating attempts communicate a sense of ease that appears carefree and natural. You want your decor to find its rightful place within your modern home, transforming your space into what is known as the modern farmhouse.


What is Modern Farmhouse Decor?
Modern farmhouse decor is the union of classic, country style to the modernity of industrial or contemporary design. There's a sense of the old and well-used but also a subtle touch of the new and updated. If you're looking to incorporate this style into your home, think neutral colors, softs textures, and vintage finishes paired with straight, bold lines, geometric patterns, metal furniture, and a sense of simplicity.
Farmhouse decor has experienced a resurgence of popularity within modern design, thanks to popular television shows and key media influencers. The style itself has a long history from its humble beginnings to the ever-growing popularity of its modern transformation. The origin of farmhouse style is unsurprisingly traced back to the actual farmhouse where resources were scarce and homeowners had to make their furniture and homes out of the natural materials available. The compass for home decor at that time was based mainly on practicality, which created an inherent minimalist style. As interior design developed and expanded, this rustic decor was replaced with trends that weren't exclusively based on necessity.
Eventually farmhouse decor reemerged and transformed into what is known as "shabby chic", a term coined in the 1980s for a farmhouse style with an emphasis on vintage and worn down pieces of furniture and decor. In the 2000s, modern farmhouse decor became popular once again, taking the practicality of farmhouse decor and the vintage appeal of shabby chic and blending both with straighter lines, neutral color palettes, and sleek metal appliances and accents.


5 Tips for Stylish Farmhouse Decor
There are a few elements to keep in mind If you're looking to achieve a traditional, rustic farmhouse decor or modern farmhouse decor. The tips below will work together seamlessly to create that perfect farm decor style seen in interior design magazines and shows without looking staged or overtly obvious.


Highlight Natural Wood Colors
Natural wood colors should form the foundation of your home's interior and furniture. Opt for a softer colored wood, like pine or knotty alder, adding only clear or subtle finishes to show off the beauty of the natural wood grain, just as farmhouses of the past have done. The latter type of wood would make a beautiful and durable choice for floorboards, while pine makes an excellent choice for a dining table and chairs set or a coffee table in a living room or den.
For ceilings that can allow it, naturally finished exposed beams are also a beautiful addition full of farmhouse charm. Another option for adding a touch of "unfinished" wood to your home is to install interior
sliding shutters
on your windows. These shutters create a clean, country feel, as well as add a creative alternative to formal curtains or blinds.


Choose Natural Fibers and Materials
While sliding shutters can add a more interesting look to your windows, there is definitely a place for curtains and other fabrics and linens in the modern farmhouse.
Modern farmhouse curtains should reflect nature through their natural fibers: think cotton, muslin, or flax. Likewise, everything from a throw pillow to a tea towel should be composed of these natural materials as well, or at least made to look natural when a synthetic blend is either more practical or more affordable.
A door wreath crafted from soft greenery and a wicker or wire basket are also subtle ways to include natural materials and fibers into your home. Any of these rustic accents will fit perfectly in your house without making your decor feel overly kitschy or cliché.


Take Advantage of Natural Light
In early farmhouses, large windows and doors were one of the only daytime sources for air and light. They enabled lots of air flow and brightened up the home.
Modern farmhouse homes can take advantage of natural light by featuring large windows with
transoms
or
doors with sidelights
.
Screen doors, Dutch doors, and sliding
barn doors
all allow for light and air to enter a home and travel throughout a floor plan, brightening and freshening the air from room to room.
This light will only enhance the natural beauty of your farmhouse style furniture and home decor, highlighting the gradient variation of any reclaimed wood and drawing attention to all of the beautiful farmhouse pieces you've chosen to showcase.


Use Neutral Colors
Neutrals like beige, ivory, taupe, black, gray, and white reflect not only the natural colors of farmhouse style, but also modern design. These neutrals can be used as wall color or in the fabric of rustic or modern farmhouse furniture, like couches and chairs. You can also carry these neutral colors throughout your traditional or modern country decor, like wooden farmhouse frames, a pillar candle holder, or wall decor, such as a hanging mason jar or potted plant.
One very popular expression of neutral colors comes in the form of
shiplap.
Shiplap is most often painted white or beige and can be used to line the walls of any room. Many designers choose to use it as a singular accent wall, such as in a seating area in a living room or study.
What sets these boards apart from others is the rabbet cut into each horizontal edge. These grooves allow for the boards to interlock one on top of the other. Thanks to popular television, more and more homeowners have installed shiplap in every room imaginable, from the modern farmhouse bedroom to the modern farmhouse kitchen or bathroom.


Look for Vintage Furniture
Vintage furniture has many meanings. Many choose to search for legitimate antiques or used furniture to achieve that classic vintage farmhouse look. But you can also purchase new, modern furniture that has been distressed to appear antique.
Distressed wood tables, hutches, and chairs are easy to find or craft at home for DIY farmhouse home decor. Usually, all you need is paint, sand paper, and some elbow grease. Though if the price tag allows it, there is something to be said about the romantic, rustic charm of authentic vintage furniture. Either works within a farmhouse or modern farmhouse design.
Keep in mind that for modern farmhouse design, a homeowner should pair these antique pieces with more modern items. This could mean pairing a geometric patterned rug in a farmhouse style living room with a country style hutch or chair, or mixing a vintage, worn table top with sleek, slim metal legs. In a white farmhouse kitchen, imagine pairing butcher block countertops with the shine of a stainless steel farmhouse sink.


3 Benefits of Farmhouse Doors
If you're looking to make more permanent changes within your home in an effort to create a contemporary farmhouse, you'll want to consider replacing old doors with new farmhouse doors.
An interior sliding barn door is an easy way to incorporate this style, and Rustica offers many options for your design preference. Not only do these doors mimic the traditional use of farmhouse doors, but they also run on an innovative track system that can be incorporated into any space within your house.
Here are a few ideas on how to incorporate a barn door into your contemporary or rustic farmhouse.


1. Living Space Separation
Open-concept rooms are extremely popular, but they're not always practical. At times, you might want to momentarily create separation within your living area when hosting parties or to create privacy while someone is watching TV in another room.
A beautiful barn door like the
Farmhouse French Full Glass Barn Door
or
Farmhouse French Half Glass Barn Door
is the perfect solution. The union of both French and Farmhouse style puts a modern twist on the traditional barn door. Light and movement can still transition between your living spaces while allowing for a private retreat from noise and chaos.


2. Kitchen Pantry
It's hard to ignore disorganization within a kitchen. From dishes in the sink to cabinets stuffed with snacks and appliances, a chaotic kitchen can be a real eye sore.
Enclosing a pantry is one way to make the space feel more organized, and installing a sliding barn door adds that farmhouse feel while also maximizing the square footage within your kitchen.
Rustica's
Lewiston Barn Door
and
Two Panel Barn Door
are perfect for adding a touch of farmhouse simplicity to your kitchen. Their emphasis on natural wood grain and minimalist design will complement your modern farmhouse kitchen.


3. Aesthetics
Whether you own a large or small farm house, there are creative, aesthetic ways to incorporate barns doors into your home that don't sacrifice space.
Maybe you have a gallery wall featuring farmhouse wall décor or exposed shelving that highlights your prized heirlooms. These all add to the farmhouse aesthetic of your house, but there may be moments where you want to put the space to other use, like using it for extra seating while hosting family and friends.
Rustica's
Chevron Barn Door
is a modern, artistic approach to the barn door. By installing a door that slides along a track, a homeowner can easily cover up and transform spaces even within the smallest of rooms.


15 Farmhouse Doors to Create a Modern Farmhouse Feel
Swapping out standard doors for farmhouse doors in the interior and exterior of your home is an excellent way to make a major change with relatively little effort. Our doors can be DIY installed, fully customized, and crafted to fit the exact farmhouse look and feel you want to achieve.
When it comes to modern farmhouse decor ideas, installing farmhouse double front doors, farmhouse exterior French doors, or even a pocket door will significantly contribute to the design of your classic or modern farmhouse.
There are a wide variety of exterior and interior barn doors you can choose from, making it easy to match your particular style, from a classic, rustic look to an updated, modern farmhouse feel.


Modern Farmhouse Barn Doors
Farmhouse doors will look stunning in any home that boasts a farmhouse interior design. Farmhouse interior doors can be hung as a single sliding door, a pocket door, or as double farmhouse French doors.
Farmhouse doors with glass are another popular option that provide the traditional farmhouse style while allowing plenty of light to flow from one room to the other.
Modern farmhouse interior barn doors can be installed in any location, from a playroom or wine cellar to the pantry, master bedroom, guest room, or bathroom. The sky is the limit when it comes to installing a farmhouse barn door.
Rustica offers a wide range of farmhouse barn doors, but these are some of our most popular options:
DIY Barn Door Kit—Our DIY Barn Door Kit is perfect for those who want to use their own door slats from reclaimed rustic wood. Choose wood from an old barn or fence and craft a door that is unique to your home. Install this in your pantry, laundry room, or closet openings for a farmhouse pop.
Z Barn Door—The Z Barn Door fits in with traditional farmhouse decor, and is ideal for areas where you want a visual pop. Install this door to cover storage areas in your farmhouse living room or kitchen. Match the wood finish to the color scheme or farmhouse decor already present in your home to ensure it complements your space.
Stable Barn Door—The Stable Barn Door will pair perfectly with any farmhouse home style, from the classic to a more modern look. Customize this door by pairing barn door hardware to match the farmhouse feel in your home, along with customizing the wood finish with a clear coat to show the wood grain or paint it to match your existing color scheme.
Half X Barn Door—Spice up your farmhouse kitchen with farmhouse pantry doors, such as the Half X Barn Door. Thanks to the glass half, you can see right into your well-organized pantry space while providing a visually pleasing barrier between storage space and your kitchen interior.
Contemporary X Barn Door—If you want a door that pairs with almost any farmhouse decor, the Contemporary X Barn Door is an excellent option. Go with a clear finish and rustic barn door hardware for a classic farmhouse look, or choose to paint it and pair modern sliding barn door hardware to create a unique look. This door is an excellent option if you're looking for farmhouse black interior doors as well.


Modern Farmhouse Interior Doors
When your interior design style features a traditional farmhouse, industrial farmhouse, or a modern farmhouse design, you can't go wrong with a double or single swing door or French doors to further enhance the aesthetic.
Any interior door can be customized to reflect your specific farmhouse decor style and color scheme, making it possible to perfectly match your existing interior design, be it modern farmhouse or farmhouse mixed with a shabby chic feel.
Even glass panes can be incorporated into your door style and mixed with a solid wood interior door to create a traditional farmhouse door feel with modern elements.
If you're in the market for a farmhouse interior door with hinges, consider one of these options:
Double X Interior Door—If you're looking for a door that matches wood furniture in a main room, you won't go wrong with this classic, rustic interior double door. The door is fully customized, so you can choose a finish that lets the wood grain shine or paint it to match your color scheme. This door is ideal for large interior entryways such as a dining room, entertainment room, or playroom.
Vertical Lewiston Interior Door—This gorgeous option is perfect for boosting the aesthetic appeal of your modern farmhouse bedroom, be it a master or guest bedroom. If you prefer hinged doors for your bathroom spaces, this door will also be a stunning addition. Choose to let the natural wood show through, or paint it to match your color preferences.
True Interior Door—This door features a rustic feel with a modern touch, making it possible to match furniture design ideas that feel more modern in execution. This is a perfect mix of modern ranch or farmhouse and can be fully customized to fit in with your overall interior design plan.
Pearce Door Interior Door – Install this door in transitional spaces, such as the entrance to an office from a living room or a sunroom from your farmhouse kitchen. Crafted with acrylic and wood, you can choose a finish to create a barn wood look or choose to paint the wood to match your color palate.
Feed Lot Interior Door—This door looks stunning as a single or double door, and matches well with a farmhouse decor idea that features both metal and wood. Whether single or double doors, this door will easily fit in with a farmhouse living room idea that features the need for separation as well as see-through capabilities. Customize it to make the wood feel as though it were crafted from reclaimed wood and you've got a stunning door for a dining room, entertainment room, or all-season room.


Modern Farmhouse Exterior Doors
If you want modern farmhouse doors on the outside of your home, Rustica has a wide selection that can fit any farmhouse style you choose, from modern to classic and everything in between. Farmhouse front doors are a natural fit with many home styles, thanks to the natural material they're crafted with and the farmhouse charm they add.
Whether your home features a modern farmhouse interior, industrial farmhouse decor, or a more traditional farmhouse vibe, the exterior door you choose can be crafted to reflect farmhouse elements that you want to emphasize.
Farmhouse French Half X Exterior Door—If you want a door that says farmhouse living, you can't go wrong with this door. The top half features glass panels that allow plenty of light inside, while the bottom half features the classic X design of traditional barn doors. It looks stunning with a simple finish that allows the wood to shine through, but can also be painted to reflect your personal design style. You can also choose the glass finish to increase your desired level of privacy while still allowing light inside the home.
Dairy Dutch Front Door with Shelf—This Dutch style front door is a unique door opening that provides the ability for a breeze to flow inside. It also allows you to communicate with people outside while keeping pets and small children inside. While you can certainly customize this door to match your exterior with the right paint, it looks stunning in a clear coat or a wood grain finish as well.
Rustic Ranch Front Door—If you have modern farmhouse decor on the inside of your home, you won't want to pass up this elegant Rustic Ranch Front Door. It features glass panels that allow light into your home with a wood surround and bottom quarter. Customize the glass for privacy, choose your preferred finish, and install farmhouse hardware to create a custom door with maximum curb appeal.
Customizable Wood Exterior Door—Crafted with wood and glass, this door highlights the natural elements found in farmhouse and ranch-style homes. Customize the wood with a clear finish or paint, as well as the glass finish depending on the level of light or privacy you desire.
Farmhouse French Half Exterior Door—If your home decor features a farmhouse design, you can't go wrong by choosing this stunning Farmhouse French Half Exterior Door. Beautiful as a single panel or as double farmhouse exterior doors, this entry door will provide significant curb appeal to any modern farmhouse style home. When featured as a double, the farmhouse exterior French doors look both elegant and rustic, perfect for a wide range of home design styles. Choose to customize them and let the wood shine through with a high-quality wood stain or paint your entry door for a farmhouse exterior door that will be the talk of your neighborhood.
Farmhouse Door Color and Hardware
Now that you've decided on the farmhouse door or doors that'll fit right in with your home's design, it's time to think about finish and hardware. Both elements can completely transform the look of the door and help you pull in other styling details.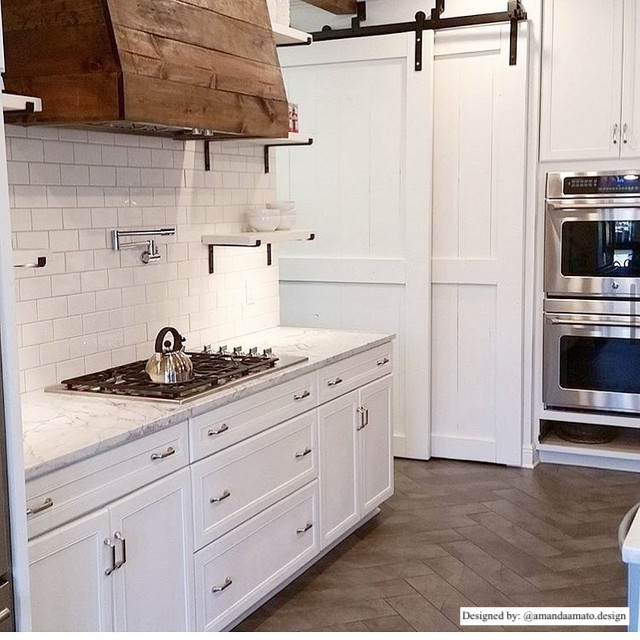 Rustica offers an array of finishes for many of its farmhouse doors, allowing you to get that farmhouse exterior or interior look wherever you decide to mount your door. From a bright white paint color to dark stains, our finishes run the gamut of clean-cut to rustic.
If you're really going for a more rustic look to match your traditional farmhouse decor, we recommend choosing a finish that compliments your style. Try painted barn wood, jacobean, stripped white, or barn grey. For a more modern barn door and style, go with matte black, simply white, trout gray, or light sage.
We also have fun pops of color to experiment with, like whipporwill, navy blue, and barn red, any of which could make for an eye-catching farmhouse exterior door to add curb appeal to your home's exterior.
Your
barn door hardware
is another important aspect to consider when choosing the details of your door. First, consider whether your farmhouse door will be an interior door or exterior door. The hardware can be the same for either, but the way you'll use your door may help you decide what kind of hardware is best.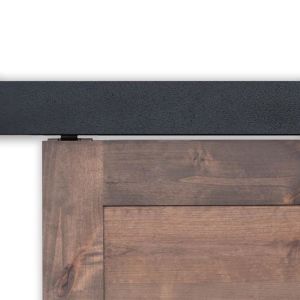 Exterior and interior barn doors typically use a flat track, box track, top mount, or
no show hardware system
. If you'd like your hardware to show, a flat track or top mount system is best. If you'd rather the door do all the talking, opt for a box track or no show system.
Our barn door hardware is available in several colors, styles, and designs to help you add to the overall look of your door. We offer copper, chrome, and brass finishes for a stand-out look, or you can opt for a more traditional farmhouse feel with a smooth black finish.
Finally, you'll need to choose farmhouse doorknobs and, if necessary, a lock system for your door. Your farmhouse doorknobs are actually handles that replicate the look of real barn doors. Again, they are available in different styles, like tribal and craftsman, and finishes, like copper and steel, to match the track system and overall look you're going for.
A lock mechanism is great for exterior doors and privacy doors, like those for a master bedroom. Our locks range from simple hook and eye latches to a full privacy lock.
Why Is Farmhouse Style So Popular?
Though design fads come and go throughout the decades, the farmhouse style seems to have a particularly enduring quality. Yes, of course, famous interior designers might have something to do with its resurgence and continued popularity, but there are certainly a few other reasons why farmhouse and modern farmhouse styles are still trending today.


It's Approachable
Modern farmhouse style is inviting and comforting. Straddling between vintage and modern, the contemporary farmhouse flair is cozy, yet relatable. In other words, rustic modern decor is familiar and gentle instead of looking staged or cold. Guests will feel invited back to a more simplistic and restful time by seeing a rustic, exposed wood elements while still staying grounded in the 21st century with touches of modern house decor.


It's Adaptable
Perhaps farmhouse décor's intuitive familiarity is also the reason that farmhouse decorating is so versatile.
Though its elements are unique to the specific style, the colors, patterns, and materials can be incorporated into virtually any space, depending on the level of farmhouse living you wish to reflect. The emphasis on the natural and neutral makes this style somewhat of a chameleon: it can take center stage or play a supporting role in any room of your home.


It's Durable
Modern farmhouse interior design is meant to appear worn and distressed, making it compatible for larger families, a couple who loves to host parties, or an individual who doesn't want to switch and swap furniture time and time again as it wears down over the years. The inclusion of sturdy, modern metals on table legs and chairs will also withstand the test of time if you choose to opt for the modern farmhouse interior design.


From Farm to Your Modern Home
Modern farmhouse or traditional farmhouse style is truly one of the most versatile design genres that features endless decor ideas.
Farmhouse decor has endured decades of moving in and out of style, but it seems that its modern transformation is here to stay for a long time.
The best way to start incorporating these elements into your space is to think of natural wood and fabrics, neutral colors, natural light, and vintage pieces with a touch of modernity. Choosing to subtly place these elements throughout your space will help you achieve an effortless, carefree farmhouse style.