Screen doors are ideal for those living in a climate that receives mild weather in early to late fall, winter, and spring. If you find yourself in a temperate zone, you may want to cut down on your energy bills by installing a storm door and allowing the natural outdoor breeze to cool you instead of your air conditioning unit.
Installing a screen door may sound like a lot of work, but the actual how-tos are quite simple. If you want to bring the outdoors in and avoid those pesky insects, you'll need to:
How to Install a Screen Door
Finding the right screen door for your home is just as important as deciding on the exterior paint color, trim work, and interior décor theme. Take your time, get someone to help you decide what looks best, and then get out your DIY tools to upgrade the front of your home.


How to Install a Screen Door
Gather Materials
As with any DIY project, the first step in the process will be gathering all the materials you need to have on hand. There's nothing worse than getting halfway through your project only to realize that you're missing your leveler, sandpaper, or other crucial equipment.
Installing a storm door can be as simple or as complex as you want. The degree of complexity all depends on whether you purchase a door that comes ready to install or if you need to prepare it for installation. Regardless, you'll need basic tools, including a measuring tape, screwdriver, leveler, pencil, a power drill, and safety goggles. Depending on the type of door, you might also require primer, paint, stain, and sealer.
It's always best to thoroughly plan out your project before starting. If you discover that you'll need extra items, such as screen material or a screen door kit, be sure to purchase those items ahead of time and have them at the ready before you begin.


Decide on a Design
Just like prominent exterior doors to your house, a patio door can come in a wide variety of styles, materials, types, and colors. While screen doors used to be fairly standard, today, you can choose a screen door replacement that matches your architecture to add to the curb appeal of your house.


Magnetic Screen Door
This type of door is ideal for those who want a minimal DIY project. Most magnetic screen doors only require a Velcro strip, which the door attaches to. Keep in mind that as easy as this is, the door is not permanent and often leaves gaps at the bottom where insects can enter. Depending on how your exterior door is positioned, you might be required to remove the magnetic door screen each time you need to shut the door.


Retractable Screen Door
If your home boasts a cleaner or more modern look and you want to keep your new screen door installation in line with the architecture, you might be interested in a retractable screen door. These screens allow ventilation for your home without the hassle of having a hinged door get in the way of your exterior door.
Retractable doors are flush with the entryway, and the screen is stored in a cassette to the right or left side of the door. The screen can then be pulled across the entryway or retracted back when the screen isn't in use.


Sliding Screen Door
If the idea of a sliding door appeals to you, but you want something a little more permanent than the retractable version, you might choose to install a permanent sliding screen door. These doors are usually paired with a glass panel. When you need to leave the house, the glass door slides into position and locks.
On cool evenings and days when you want to use the screen, the glass door slides out of the way, allowing the screen door to be in use. Sliding screen doors ride on wheels or a roller to make their motion fluid for frequent use in and out. These doors are ideal for a porch or as a patio screen door.


Security Screen Door
A security screen door is similar to a traditionally hinged screen door. The primary difference is that the screen is made of heavy-duty metal to provide an extra layer of security for those inside the home.
Some people will opt for a security screen door on their exterior front door if they plan on leaving the door open for ventilation but want the ability to lock it when they are away from the entrance.


Traditional Screen Door
A traditional hinged screen door is still the favorite of many homeowners. Thanks to new designs and modern versions, you can install screen double doors to match your exterior doors. You can also customize it to be the same color as your front door, making it attractive enough to increase your home's curb appeal instead of taking away from it.


Custom Screen Door
As with any part of your home, sometimes the ready-made options aren't good enough and you need something completely custom. If this sounds like you, we recommend opting for a custom screen door.
There are a variety of
front entry doors
whose beauty would be detracted from if the doorway was covered by a regular screen door. If you like the idea of airflow but don't want a screen, you might even decide on a
Dutch door
.
It's important to discuss designs and plans with a professional to ensure you get the right door that works for you.


Decide on the Material
If you will be installing a traditional hinged door, you'll need to decide on the material your door is made of in addition to the design. While most screen fabric is similar, you'll need to determine whether the door frame is made from wood, metal, vinyl, or aluminum.
The door material depends on the function of the door, in addition to the area you're living in. If you want a hassle-free door that will stand up to high traffic and weather, then a metal, vinyl, or aluminum frame is the way to go. If you want to focus on aesthetics and don't mind putting in a little extra care, then wood can be a beautiful choice.


Measure for the Door
Measuring the door to ensure a proper fit the most important part of screen door installation. While choosing your design and colors is undoubtedly the most enjoyable part, proper measurement is critical if you want the door to fit the first time.
For a traditional hinged door, you can use the measurements of the door it is going in front of. If you're unsure of the door's measurements, simply measure the height and width of the inside doorjamb.
Retractable screen doors use the same measurements as the door since the screen will cover the same area. Sliding screen doors and custom screen doors will need specific measurements for the areas the door will cover. It's always best to consult a door manufacturer for custom projects to ensure the correct measurements are taken.
If the worst happens and you purchase a wood screen door that is just a tad larger than your measurements, you can easily use a straight edge to mark the amount of excess, and then use a circular saw to cut it down to size. This quick fix, however, wouldn't work the same way on a pre-made vinyl, aluminum, or metal door. Take your time and measure twice to ensure correct measurements have been taken.


Paint and Seal
For screen doors that are made of wood, you'll need to seal the doors to provide protection against the elements, such as wind, dirt, snow, and rain. If you're looking to match a custom door color, you'll need to paint the door prior to sealing it.
Many vinyl doors come in white or black, and aluminum or other metal can come in a wide variety of colors. If you don't like the colors available for purchase, vinyl, metal, and aluminum can also be painted and sealed to match the exterior of your house.
When choosing colors for your screen door, try to match your front door or other elements of your home, such as shutter colors. Doing this will keep your screen door consistent with the look and feel you've created for the exterior of your house. Color matching is an important concept when considering curb appeal and resale value. A screen door that clashes or looks out of place may be a hurdle for potential buyers when looking at your home.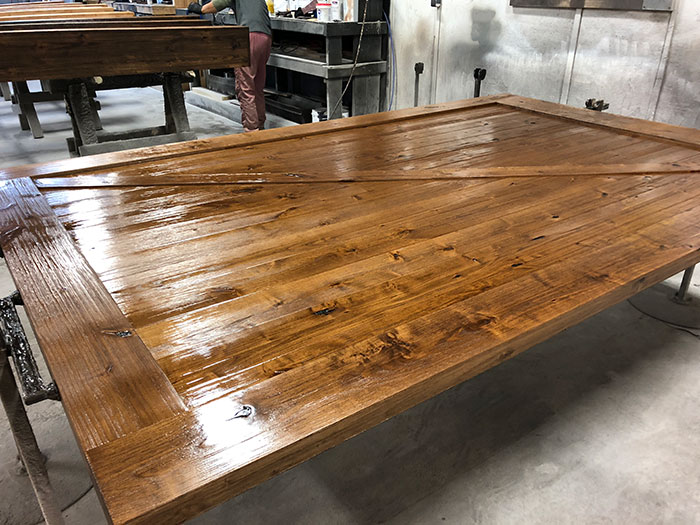 Install Hinges
Many screen door kits or store-bought screen doors come with the hardware necessary for installation. While kits include hinges that are reversible (meaning they can open or close to the left or right), for proper use of your door, you should install the hinges on the same side as your exterior door's hinges.
Measure where the hinge should go and mark the holes for the screws on the jamb. Do this for all three hinges, then drill a pilot hole in each spot. This process might be familiar if you know
how to install a front door
.
Once your pilot holes are drilled, attach the hinge using provided screws that came with your new screen door hardware. During this process, it could be helpful to have a second pair of hands. Have a friend hold the door while you mount the door to the hinge on the jamb so that it hangs properly.


Install Handles and Latches
Many screen doors have handles already installed, and if that is the type of door you have, you're likely ready to start using your door. If, however, your screen door comes with the option to choose your own hardware, you'll have a few more steps before you're finished.
If you're installing the handle, mark the location for where you want the handle to go. Ensure that the screen door handle will not get in the way of your existing door handle. Once you have the location for your new handle marked, drill the holes, and install handle hardware. Be sure to read all installation instructions that came with the hardware to properly install this piece of your screen door.
After you've installed the handle and latch, test it out several times. Open and close the door, making sure that the latch releases the door easily when opening and holds the door firmly when closed.

Stand Back and Admire Your New Screen Door
There is nothing quite as satisfying as planning, preparing, and getting your screen door installation right. For many houses, the addition of a screen door can make or break comfort level and curb appeal.
What's even better is that the right screen door is just a few DIY tools away from being attached to your doorway. Get your materials, decide on your door, and get a friend to help you install your one-of-a-kind screen door that completes the "wow" factor on your already beautiful home.