Industrial home decor has been gaining momentum in popularity since the early 2000s. There are several easily applicable ways of incorporating industrial home decor into your floor plan through the helpful interior design tips below
10 Ways to Decorate with Industrial Decor
Exposed Piping
Exposed Ductwork
Pipe Shelving
Edison Lights
Raw/Unfinished Textures
Barn Doors
Concrete Flooring
Large Windows
Industrial Decor
Open Floor Plan
Some of these elements require more work than others, but even a combination of a few of the above suggestions will completely transform your home into a vibrant representation of industrial style through a few simple, DIY industrial decor changes.
What is Industrial Decor?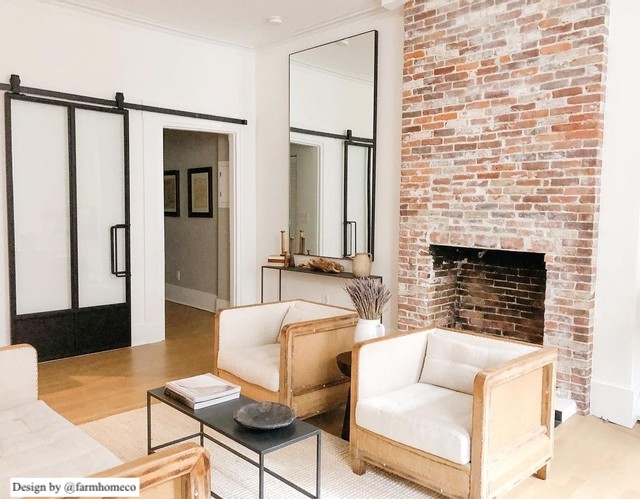 Industrial-style decor draws inspiration from factories and other industrial spaces. In recent years, there's been a growing trend of converting these types of buildings into lofts and apartments, most frequently, in large cities or other urban areas. Industrial decor draws elements from these repurposed living spaces, bringing their unique elements into the modern home.
A designer might choose to include exposed piping, concrete, natural/rustic wood, brick, and decor and furniture that features metal, such as steel or copper to recreate an industrial design. Including all of these elements might be an intense overhaul of a space, so the key is to create as close to an unfinished look as possible. Even a few changes in your home could create a successful industrial transformation.
As with all designs, there are several offshoots of industrial chic decor, including industrial farmhouse decor, industrial country decor, and industrial rustic decor. Each of these blends takes elements of industrial spaces and mixes them with each category's respective features: the fresh and cheery design of farmhouse style; the quaint cottage-feel of country design; the natural, rugged beauty of rustic decor. The result is unique and eye-catching, as each set of approaches provides striking juxtaposition.
10 Ways to Decorate Your Home with Industrial Decor
If industrial modern decor or country, farmhouse, or rustic industrial decor sounds like a style you would like to incorporate into your home, take a look at the following design tips below to get started:
Exposed Piping
Exposing plumbing in an industrial kitchen or bathroom is an easy way to craft an unfinished look in your home. Exposed piping will need to be cared for to prevent rust or damage, but the good news is that plumbers will easily be able to access your pipes if you ever have a plumbing issue! Consider exposing the plumbing beams from your toilet, sink, or bathtub if you're looking to create an industrial look. Under-the-sink exposed piping is also perfect for the kitchen.
Exposed Ductwork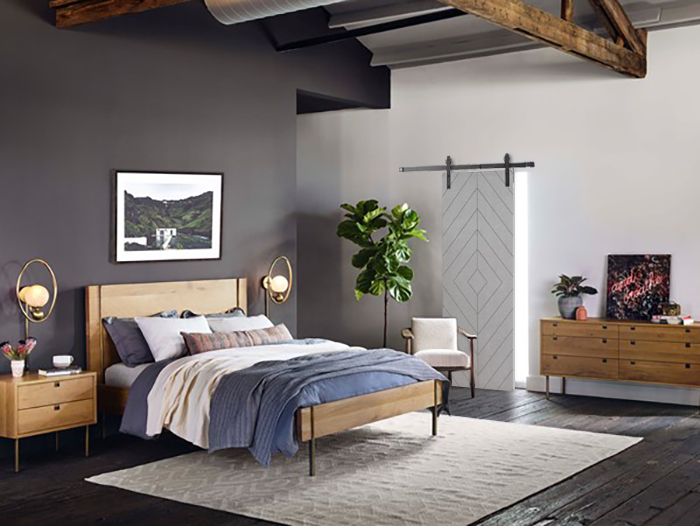 Similarly, exposed ductwork can be an easy and breathtaking way to include industrial decor in your space. Ductwork is what you see running along the ceiling in large, industrial lofts. You'll probably want to hire a contractor to remove your ceiling and reconfigure some of the electrical wiring. Once everything is safe and up-to-code, you can have fun hanging pendant lights or lightweight artwork from ceiling beams to draw even more attention to your exposed ductwork.
One of the benefits of exposed ductwork is that it runs throughout the house. Unlike exposed piping that is generally only found in industrial kitchen decor or bathroom decor, ductwork can be exposed in an industrial bedroom, living room, basement, and beyond.
Pipe Shelving
If you aren't up for taking down walls or ceilings to expose the inner workings of your home, pipe shelving is a great option. The pipes could be real and repurposed or decorative and non-functional. Usually, they are accompanied by light or dark unfinished wood shelving in industrial decor. Common placement for this kind of shelving includes living spaces, libraries, kitchens, bathrooms, or bedrooms—really anywhere!
Edison Lights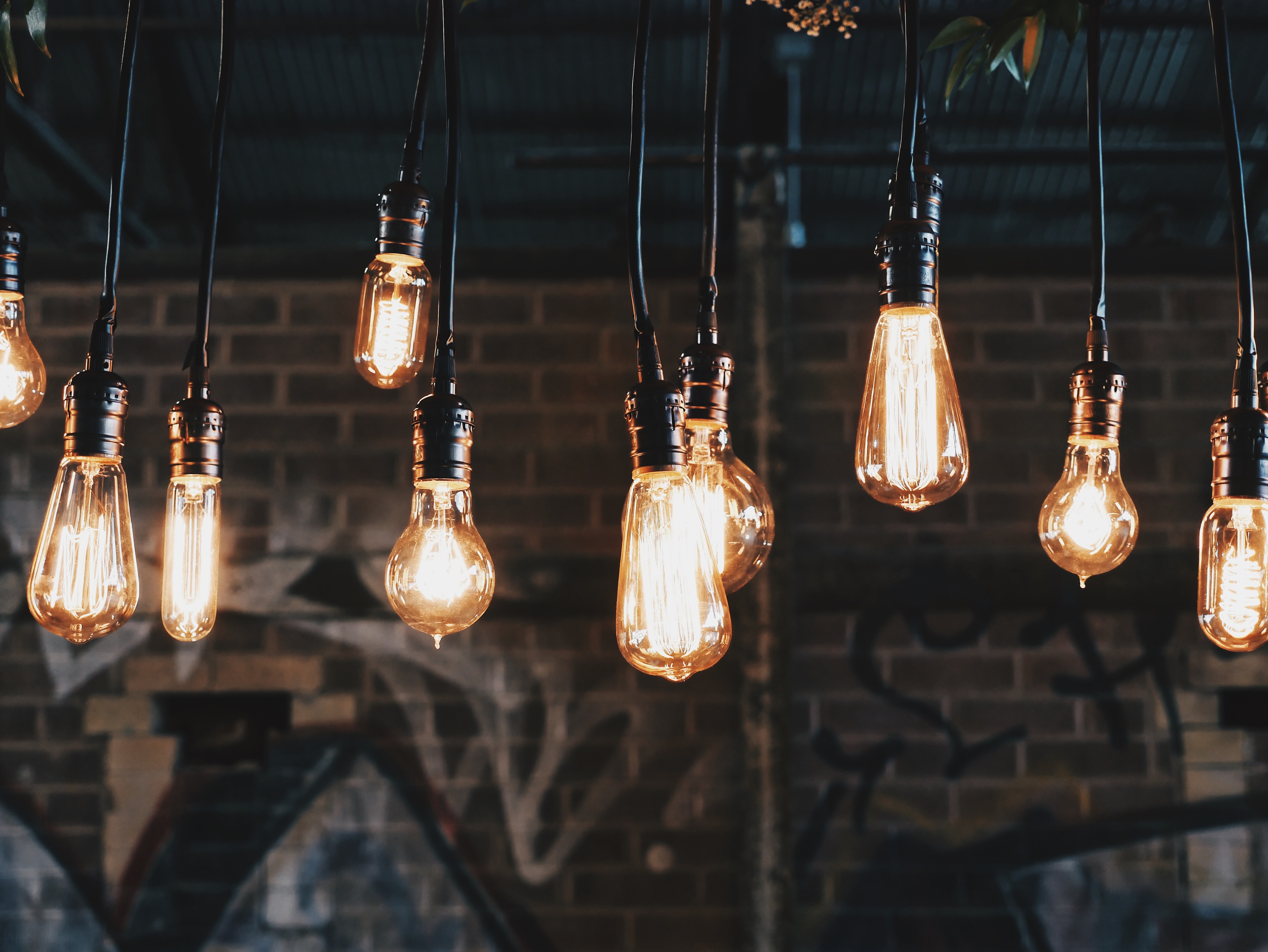 Edison lights, also known as vintage light bulbs, are named after Thomas Edison, the inventor of the light bulb. The incandescent lightbulb's glass and filaments of today are crafted to appear like the original light bulb, although there are many updated features, including LED strips.
Many homeowners place these bulbs as pendant lights over their kitchen islands, another popular feature in industrial decor homes. Others use this style of lighting fixture throughout the entire home, and many table lamps and floor lamps likewise feature stunning Edison lights.
Edison lights are easy to find and are a versatile way of placing industrial lighting throughout a room. They're also stunning, as no additional light fixture cover or shade is used to block the bulb's light.
Raw/Unfinished Textures
It's risky to include unfinished wood in your home, but many manufacturers, including Rustica, can craft wood and furniture to appear as if it were raw and unfinished. Unstained wood can be sealed and hardware can be crafted from galvanized metal.
Another easy way to incorporate raw materials is to use concrete, steel, copper, or iron. These materials can be used in places like countertops, table legs, banisters, or cabinet and door hardware.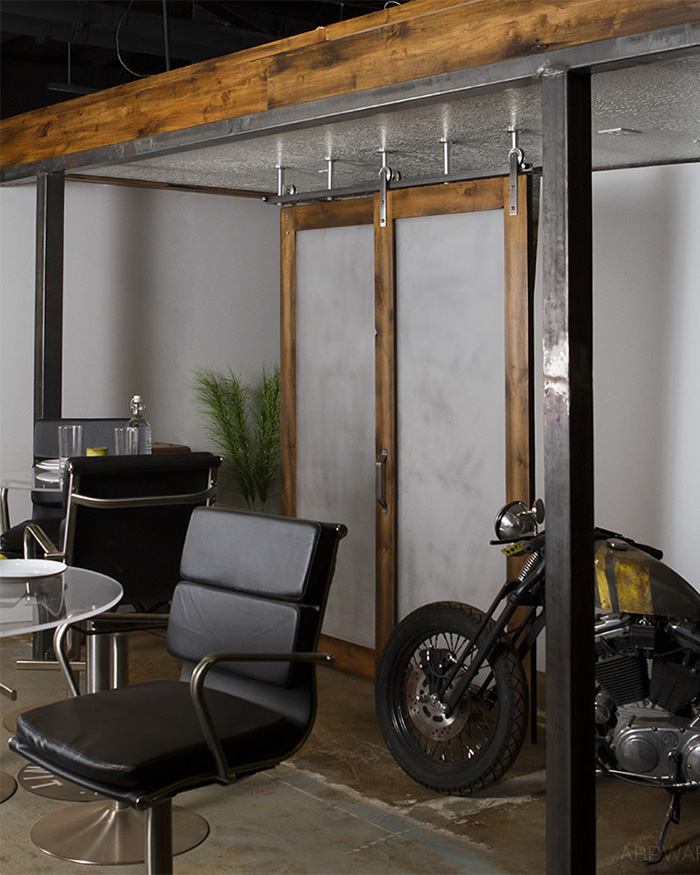 It is very important to care for raw materials. Oil spills can easily stain concrete, so it's important to clean any as quickly as possible, particularly if using this material on countertops in kitchens. Iron-legged furniture can rust easily, so make sure to wipe any water off right away if a spill occurs or if you're cleaning it. Stainless steel can be maintained with a gentle dish soap and water cleanse, followed by a good drying.
Another easy way to include a raw/unfinished look is to expose the brick of your walls or chimney or to install a faux exposed brick wall
using wallpaper or partial brick panel. These faux options have come a long way over the years, and many look very realistic. Whichever method you choose, exposed brick is a sure way to create an instant industrial feel in your home.
Barn Doors
An easy and impactful way to incorporate raw materials is with barn doors. Rustica features several artisan options that help to create that sought-after industrial decor feel.
Our
interior metal doors
feature both
iron doors
and steel door options. We also offer many
solid wood doors
, like the
Reclaimed Wood Barn Door
, that can be crafted to appear unfinished, though the actual product will endure both weather and time. These doors can be purchased as single or double panels or in a pocket door, bypassing door, or bi parting door system.
Rustica's sliding barn doors can be accompanied with hardware that reflects an industrial style, too, including stainless steel, matte black, weathered metal.
Concrete Flooring
Another way to incorporate raw material into your home is to install concrete flooring. This is a huge undertaking. It should only be handled by a professional, as the pouring can be heavy and tiresome and the setting can take up to two days. The final result, however, is absolutely stunning. Concrete floors are a sure way to create an instant industrial feel but can be cozied up with the addition of an area rug and a big, comfy sectional.
Large Windows
Factories and other industrial spaces are known for their floor-to-ceiling windows. For this reason, many homeowners choose to install large windows, especially on ground floors, to create an industrial vibe. These windows can be full panel, or homeowners can purchase paned glass windows that feature clean lines of steel or iron to take advantage of another opportunity to incorporate raw materials.
Industrial Decor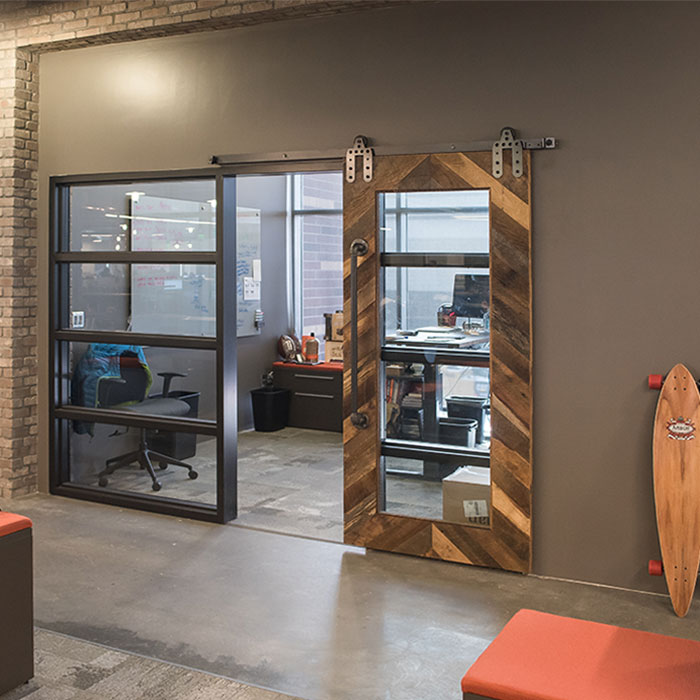 As most of the above suggestions involve some sort of home renovation, a quick (and cheap) way to incorporate industrial decor into your home is to decorate with it! Industrial pieces could be anything like a piped table or floor lamp, a stainless steel dining room table or coffee table, bookshelves made from raw materials, or a pallet bed frame. Ideally, you'll want to keep the space clean of clutter and too much decor. Industrial homes often go
sans
curtains on windows, leaving the steel paned or full glass panel completely exposed. Shelf decor is often kept to a minimum, with only a few pictures, knickknacks, or a pop of green from plants. A large industrial accent piece stands in a corner or against a wall, like a piped-framed mirror or a repurposed, metal file cabinet.
If you begin the decorating process and find that your room is looking too cold or bare, it's easy to
cozy things up with throw pillows, rugs, and some wall art, or you can include a few pieces of small furniture that don't have an industrial look.
Color palette is another design element that homeowners or renters can take into consideration when turning their home or apartment into a true industrial space. Whether you've chosen to tackle farmhouse industrial decor or modern industrial decor, neutral tones in your home decor are essential. A pop of color here or there won't distract too much from your urban industrial decor, but you generally want to stick to beige, ivory, black, taupe, gray, and varying shades of white. This will give your design style a strong foundation for accomplishing your home's industrial interior.
Open Floor Plan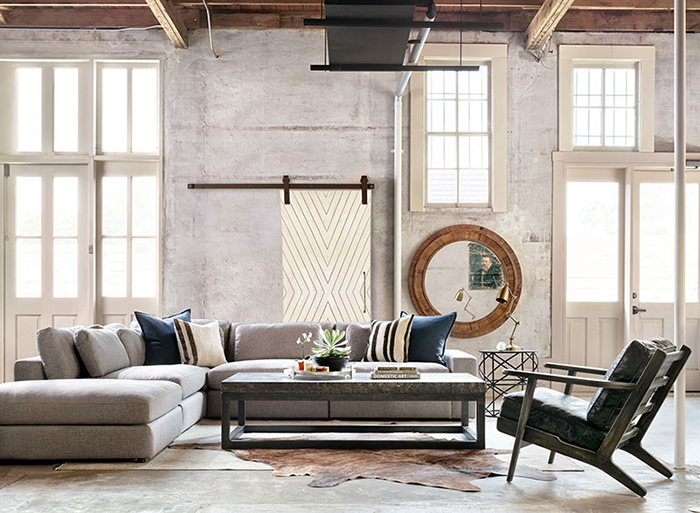 Interior
open space is key in industrial decor because, well, factories are generally one large room. In industrial-style lofts, the eye can see straight from the kitchen to the living room to the dining room. Even second levels maintain an eagle's eye view of the room below, as extended banisters create a balcony look-down.
To organize your space in an industrial, open-concept floor plan, use your modern furniture and industrial style decor to section off each "room" by creating defined areas throughout. Area rugs are helpful for this, and furniture placement is key. For example, a large, leather sectional can do just as its name suggests in an open-concept, industrial living room.
Sliding barn doors also work great in this situation These doors can be kept open, off to one or two sides to create an open-concept floor plan that can be sectioned off with door panels, as needed.
Rustica Can Help Complete Your Industrial Decor Look
Whether you own or rent an apartment or home, you can easily incorporate one or more of the above industrial decor ideas. Changing a room's color palette, hanging some industrial wall decor, and incorporating even a few pieces of industrial style furniture can truly transform a traditional, rustic, or contemporary space into a modern industrial room.
A lot of the elements above can be done by yourself, as part of an industrial decor DIY project, meaning that you don't necessarily need to knock down walls or rip up your home's flooring to achieve an industrial decor living room, dining room, or kitchen. Even something simple like switching out your current interior doors for one of Rustica's industrial modern barn doors can make a huge step towards incorporating raw, neutral, and unfinished elements into a room. With so many accessible and applicable tips and techniques, there's no reason to not give industrial interior design a try.