Before purchasing a sliding door, many homeowners research to understand exactly how to lock a barn door. Is it really possible or practical? And, if so, how can they ensure that safety and privacy are all achieved from a panel that doesn't function with a traditional lock?
Sliding barn doors are amazing accent pieces that can bring cozy country character and rustic style to any space. And as you may already know (or you're about to find out), they make a great DIY project.
But as cool and charming as they may be, the last thing you want to compromise is your privacy and overall home security, right? Let's face it, no guest wants to use a home bathroom that doesn't lock. So if you're asking yourself, can barn doors lock? The answer is yes!
Here are a few considerations to keep in mind when choosing locking mechanisms for your barn door.
How to Lock a Barn Door
Consider the Room
Decide Barn Door Type
Install Locking Mechanism
Since the locks for a barn door are a bit less familiar than those of a swinging door, it's best to do your research and ask questions so that you fully understand the process of choosing and installing locks for sliding doors.
First, it's important to begin by understanding exactly how to lock a sliding barn door.
Can You Lock a Sliding Door?
Whether you're looking to secure a standard, single door to its jamb or trying to figure out how to lock a double barn door, the answer is a resounding "Yes!" It is possible to lock a sliding door.
The magic of a barn door latch spans across several well-designed examples of locking door hardware. Over the years, craftsmen have created many, many types of sliding barn door locks but the list below features the most popular.
Rustica Door Latch + Lock—
With Rustica's original, self-latching door lock, homeowners can lock and unlock their sliding barn door from either side with ease. With its unique design, this particular door lock requires neither wall nor jamb drilling, as the hardware is installed into both the door panel and its track system. This design is one of two
Rustica latch locks
that can be purchased in multiple finishes, such as brushed steel and oil rubbed bronze. When purchasing this particular locking hardware, make sure that your roller system is compatible.
Barn Door Teardrop Latch
— A
tear drop latch
consists of two main features. First, a piece of slotted hardware is installed flush against the wall or jamb. Second, a triangular piece is drilled directly into the barn door panel. When moving the triangular piece into a locked position, the hardware will fall neatly and securely into the slotted latch. The tear drop latch is available in finishes from flat black to barn red.
Hook and Eye Latch—
Rustica offers two options for hook-and-eye-style latches: the
Stainless Steel Cabin Hook
and the
Barn Door Hook
. In this system, a curved hook securely falls into a round latch. Hook and eye latches are subtle and simple forms of locking mechanisms that secure a door to a wall or to another door in the case of biparting double doors.
Hasp Lock—
This lock isn't currently offered by Rustica, but it is a very common choice for a sliding barn door latch. A hasp lock is crafted from a metal plate with a loop called a staple and a slotted hinged plate. The hinged plate, which is attached to the door panel, folds towards the jamb's plate, letting the loop pass through the slot until the two plates rest one on top of the other.
Barrel Slide Bolt—
Though Rustica does not
at this time offer a barrel slide bolt system, these types of locks are compatible with Rustica's barn doors. The face plate of this system includes a cylindrical socket with a catch plate into which a barrel slide. Sometimes the barrel can be tubular or rectangular, depending on design style. The face and cylindrical sockets are usually drilled into the door while the barrel is drilled into the door jamb or the wall (in the case of a sliding panel). This lock can also be unlocked from the other side of the panel by using a key, so this type of lock is a good security lock.
Cane Floor Bolt—
This type of bolt lock works very closely to how a barrel slide bolt functions, except the catch plate is installed into the floor instead of the door frame. The barrel moves vertically downwards when moved into a locked position. Unlike the barrel lock, however, a cane floor bolt can only be locked and unlocked from one side of the door.
One amazing feature of the above locks is that many are customizable and can be crafted to match your existing hardware, like
barn door pulls
and handles. There's no need for your door to look mismatched, even if installing the lock is a bit of an afterthought or if you've purchased your pull hardware, track system, locks, and door panels from more than one vendor.
How to Lock a Sliding Barn Door
Consider the Room
The first thing to consider when purchasing a sliding barn door lock is to analyze the specific needs of your room.
A few questions to ask yourself include: do you need to be able to lock your door on either side? Is there a design detail that you hope to replicate in your lock? Is privacy and security your main priority, or are you more concerned with how the barn door hardware looks?
Let's take a look at a few examples below to see what each type of room requires:
Bathrooms
A bathroom
requires a privacy lock on the interior of the door, something that is really non-negotiable. Just as locking the bathroom barn door from its exterior is generally not something a homeowner needs to worry about, security is not as much of an issue as privacy is.
Because of these factors, something simple like a hook and eye latch or a teardrop latch would be perfect for this room. However, in the case that you do want to be able to open your sliding bathroom door from either side (an understandable situation for a kid's bathroom), you'll want to consider an option like the barrel slide bolt or the Rustica Door Latch + Lock.
For more ideas and suggestions on how to use a barn door in a bathroom, check out our
Barn Door for Bathroom
post.
Bedrooms
Similar to a bathroom, a bedroom with a sliding door requires a privacy lock. You'll probably also want the door lock to be discreet in design or to work seamlessly with your bedroom decor. Both a teardrop latch lock and a hook latch are subtle in their size and features, making either a great option for a bedroom lock.
Exterior Spaces
Front entry doors and back doors require a bit more security. For any door with an exterior entry/exit point, consider installing the barrel slide bolt, which can be unlocked from either side by using a key.
Other exterior door panels that aren't primary entry and exit points can also be locked. Barn panels functioning as garage doors can be locked securely and safely, just as a patio door can be fitted with a barn door latch lock. For both of these doors (and similar panels) you'll need to decide the extent of security you desire. A barrel slide bolt with its key lock would be ideal to keep intruders out, but if you're not too concerned about safety, something like a cane floor bolt or hook and eye latch will do the trick.
Interior Spaces
There are many other rooms within a home that might require a lock. Kitchens, basements, or offices are all candidates for desired privacy or security.
An interior door like a closet, pantry, basement door, cabinet, or office door can be crafted to function with any of the locks previously mentioned. However, most homeowners want their barn door locks and barn door latches to be discreet or match the interior design of their home.
Rustica provides locks that span some of the most popular interior design themes. Our hook and eye latches boast a rustic design, while the teardrop latch is sleek, modern, and customizable. The Rustica Door Latch + Lock is an excellent choice for homeowners who admire an industrial look.

For rooms that have a steady flow of people traffic, you may want to opt for an
entry sliding door lock
. Keep in mind that entry sliding door locks come in right-handed and left-handed options. Depending on which way your door slides (if it's a single-hung sliding door) or whether you're a righty or a lefty may determine your choice if you choose this type of door lock.
If you're locking a door from the inside (such a bathroom or bedroom), aesthetics matter, but functionality, privacy, and safety are important features to consider, too. A teardrop sliding door lock is one option to consider for added privacy. The lock mounts to a door jamb to keep out prying eyes and keep barn doors shut.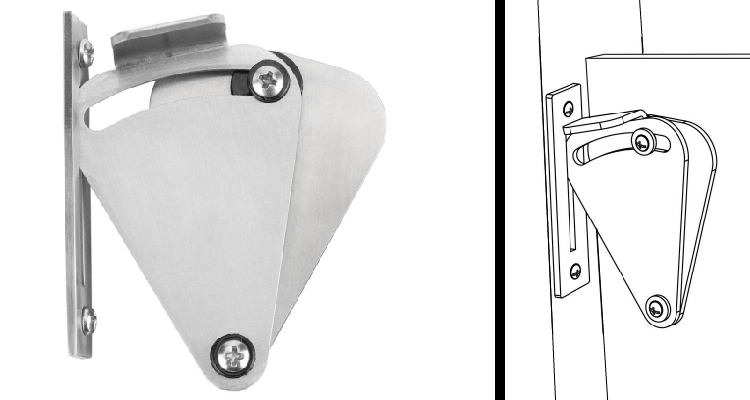 Decide Barn Door Type
Once you have a better understanding of your room's locking requirements, you'll want to choose a door type. Most of the doors below can be used with any locks, aside from a few exceptions.
Standard Barn Door—
A standard sliding barn door features one panel sliding along one track. Both corners of the panel are attached to the track with their own hanger. This door can lock into the wall, floor, or to its track.
Biparting Barn Door—
One double barn door option is a set of biparting panels. This system includes double door panels running along a singular track. Biparting doors pass in front of the other door when in an open position and meet in the middle of the door opening when closed. These doors will lock against one another, to the floor, or to their track systems.
Bifolding Door—
Bifolding doors are double doors that run along a singular track. This particular type of door consists of panels that fold over one another when open. These doors will also lock against one another.
Bypassing Barn Door—
Double doors slide along their own tracks, meaning a double-track system and a total of four hangers is required. Bypassing doors act as their name suggests—the panels pass in front of one another as they open and close. These doors work best with Rustica's self-latching door lock or a cane floor bolt since the door panels aren't flush with one another.
Pocket Door—
Pocket Doors can be single or double barn doors that run along one track. The panels in the pocket door system slip into an opening in the wall, like a pocket. These panels will lock to one another just like other biparting options.
Shutter and Cabinet Doors—
Shutter and cabinet doors can be crafted with the same features as a standard size exterior or interior barn door. These doors can fall into the standard, biparting, or bifolding categories and work best with hook and eye or tear drop latches.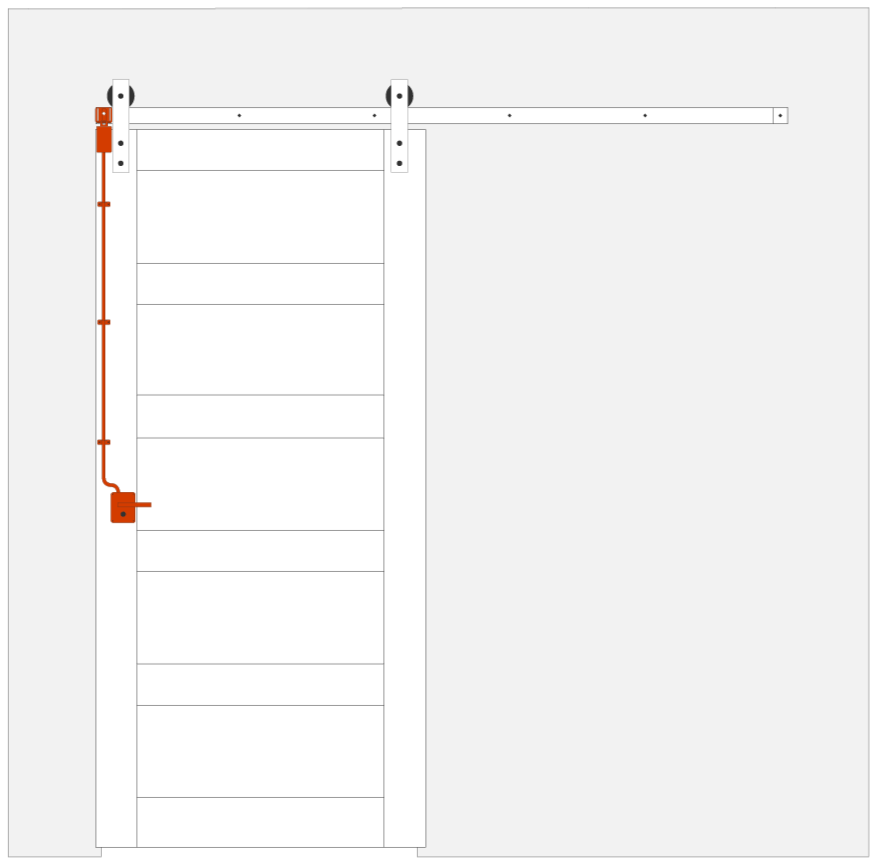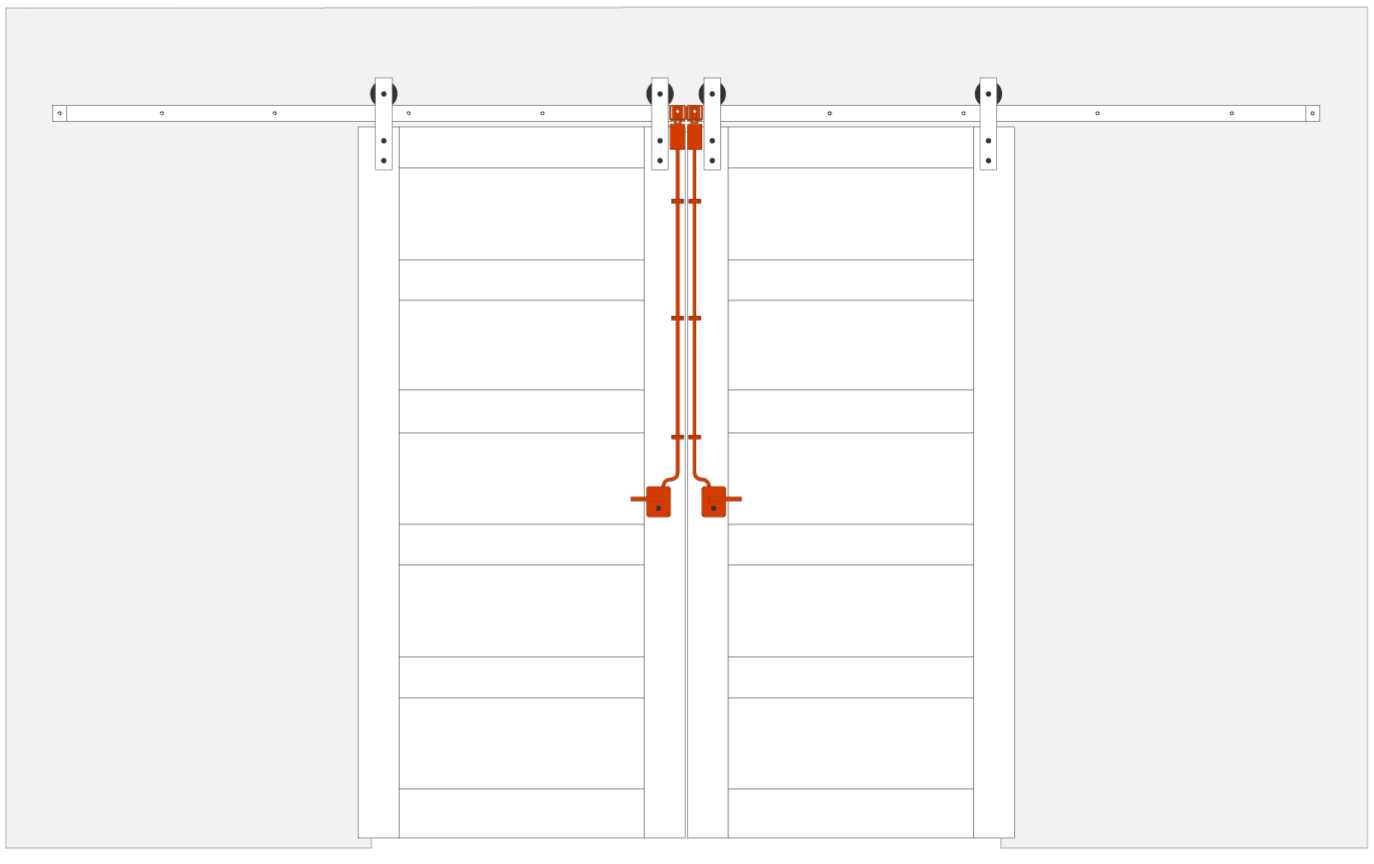 How To Install Lock for Sliding Barn Door
The installation process for locking mechanisms will look different depending on the specific design. Sometimes you'll be drilling into the jamb and sometimes into the floor. You may need to attach hardware to your panel, but there are other times you'll need to install it directly into the sliding door track system.
It is important to understand the
parts of a door
so you'll know what to drill into and what to avoid. Rustica makes this easy by sending specific instructions for your DIY, at-home installation.
Follow the instructions included with the barn door—these are specific to the barn door you purchased. While not all barn doors will follow the same steps, there are a few helpful tips you can refer to during the barn door lock and latch installation process:
1. Remove the Door Gap—
Attach a thin, wooden board where your wall or jamb hardware will be installed. The door thickness, contrasted with the wall or jamb's depth, doesn't allow for hook and eye, teardrop and latch, or bolt and catch plate to meet without the help of this board. This will also remove any door gap that might be uncomfortable for a bathroom or bedroom setting. This tip is most helpful for standard door panels that will not be locking to another door.
2. Create Security—
In addition to installing the lock itself, a homeowner can also choose to add a blocking bar to create more security. This blocking bar slips into the door's track system, preventing anyone on the outside from sliding the panels open.
3. Lock Placement—
According to most building codes, locks need to be placed between 34-48 inches above the floor.
4. Measure, Mark, Drill—
As with any type of hardware installation, it's always important to measure your placement, mark your screw holes, and then start drilling. This will save you a lot of frustration in the end!

How Do You Lock a Barn Door from the Outside
When you install a locking latch on a barn door, most styles are simply providing privacy by locking from the inside. Many times, for interior barn doors, you simply want the barn door to stay closed so that it can't be slid open at an inopportune time. However, depending on what you are keeping inside or who you are trying to keep out, locking a barn door from the outside is necessary. So, how do you lock a sliding barn door from the outside?
The first thing to realize is that if you want to lock a barn door from the outside, you need to use a sliding barn door lock with key. That leaves you primarily with the barrel slide bolt locking mechanism. A barrel slide bolt is a security lock for your sliding barn door. This means you can lock your sliding barn door from either side. If you want to lock the barn door from the outside, you can use the key to engage the lock. If you'd rather lock it from the inside, then you can use the bolt portion to engage the lock.
Slide, Lock, Enjoy!
In addition to this already simple process, Rustica makes it even easier to find the perfect lock for sliding door panels with our hardware kit options. These kits allow you to purchase your panels, track system, and hardware (including locks) at the same time. This makes adding a compatible locking barn door to your newly renovated bathroom or bedroom even easier.
If you are looking to add a lock and latch to a sliding door for your bathroom, bedroom, and beyond, check out some great barn door ideas throughout Rustica.com. Once you start browsing, you're sure to start daydreaming about all the barn door possibilities throughout your home.