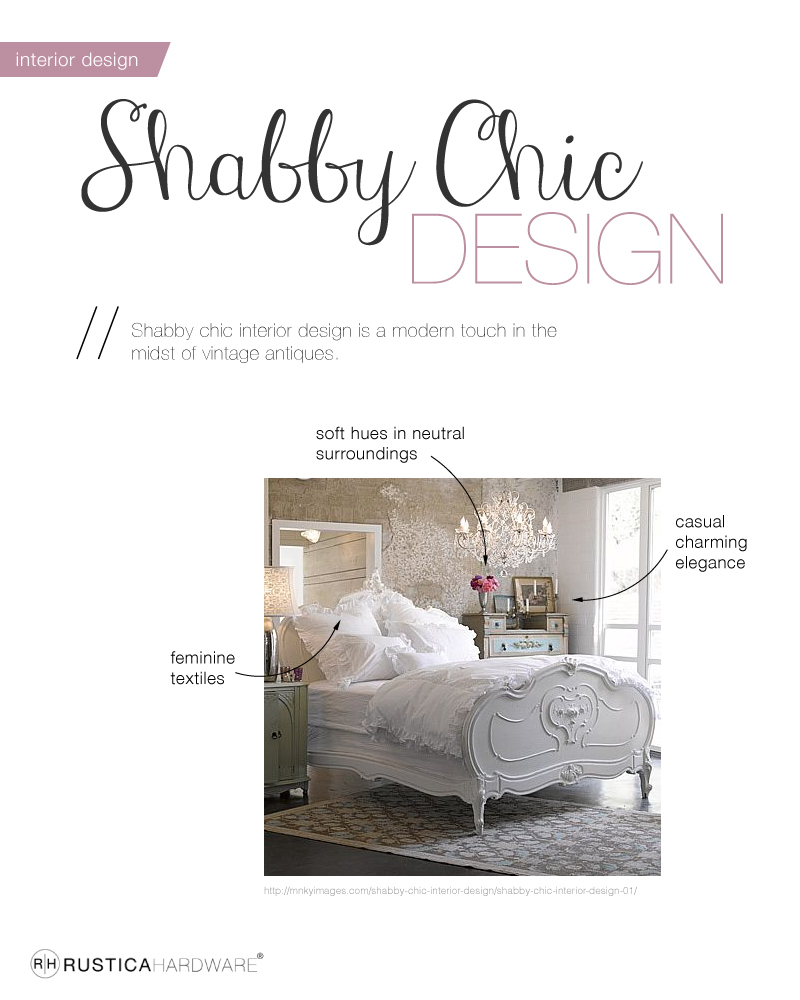 Shabby chic décor is an elegant, relaxed, yet ornate style of interior decorating that has won over fans from England and France to the West Coast of the United States and beyond. The total look creates a degree of whimsical charm mixed with refined elegance, creating a space that is at once posh and charming.
5 Ways to Add Shabby Chic Décor to Your Home
Kitchen
Living Room
Bedroom
Office
Bathroom
This light and airy décor inspires charm, elegance, and relaxation. It's often paired with words such as modern and fresh. Shabby chic has vintage elements with modern touches and includes items that are lightly worn and recycled. Imperfections are celebrated in a way that highlights a piece's history. There's a certain trick to invoking a sense of memories and elegance, not dilapidation, with the pieces chosen to display and use. If done correctly, you'll achieve a look that is second to none.
What is Shabby Chic Décor?
Shabby chic style inspires a feeling of refined yet relaxed elegance with feminine touches. Individual pieces of décor inspire conversation and revive memories. As with every style, its look changes and evolves with each generation. Today, the recycled and imperfect is celebrated in vintage elements paired with modern touches to inspire a thoughtful and coordinated look.

Those who love antiquing and repurposing worn furniture will find themselves particularly enjoying this home décor style. There is plenty of room to bring in heirloom and antique furniture while decorating with modern and charming elements. Try to use feminine and frilly décor, such as ruffle bed covers, a new tassel throw pillow, and a fuzzy blanket for your armchair. Add a chandelier above your dining room table or in a bedroom to inspire an extra pop of elegance.

If this decorating style sounds a bit like farmhouse, modern rustic, or Victorian, you'd be correct. However, some important differences distinguish it from other forms of styling your home.

Farmhouse: This style includes ranch elements not included in shabby chic, such as distressed metals, exposed wood, brick, and stone, and elements of leather or animal fur.

Modern Rustic: A modern rustic style differs from shabby chic by including distressed metals, hand-made elements, rougher materials, exposed wood rafters, brick, and stone.

Victorian: This period style includes elements that aren't shabby chic, such as highly refined design elements, extremely ornate, heavy furniture, and warm color tones.

Where Did Shabby Chic Décor Come From?
Where did this glamorous style design originate? If the name Rachel Ashwell sounds familiar, you'd be spot on. Ashwell, an English author, interior designer, and entrepreneur from the UK, first coined the term "shabby chic" in the 1980s. From that time, due to her influence, the style grew in popularity all over Great Britain and France. It drew influence from the French Rococo-style lighting, delicate furniture, and wall paneling. Shortly thereafter, shabby chic crossed the ocean and became wildly popular on the west coast of the United States, becoming dominant in design-oriented cities such as Los Angeles and San Francisco.

Shabby chic decorating became popular in the United States throughout the 1990s with a slightly different feel from what we are familiar with today. Back then, shabby chic was characterized by heavier furniture and darker colors more reminiscent of the Victorian style. The 90's style also lent itself to a much more cluttered feel than what shabby chic has become known for today.

Modern shabby chic is known for its light, clean, airy, and almost minimalist style compared to its cluttered beginnings. Today, the point is to repurpose with a purpose – not just because you found a vintage item at the thrift store. There is much more emphasis on the overall design concept and creating a fluid, matching décor scheme instead of a mashup of random pieces only coordinated due to their random nature. A home that is inviting, serene, calming, and entirely welcoming is the result of today's shabby chic style.

5 Ways to Add Shabby Chic Décor to Your Home
Whether you want to overhaul your current interior décor completely or you're planning to start slowly, you can easily add this beautiful look to your home.
1. Shabby Chic Kitchen
In many ways, kitchens are the crowning glory of any house. It's the room where family members and friends spend a great deal of time. Due to its centrality to a family's life, this is one room that should not be forgotten when you're transforming your house into a shabby chic style. If you're just starting the transformation, your kitchen is an excellent place to begin the overhaul. Here are just a few decorating ideas from our inspiration gallery that are simple to implement and transform your kitchen into a shabby chic wonderland.

Cabinetry: Your kitchen cabinets are where salvaged, vintage finds have a real moment to shine. Older style wood cabinets that need refinishing are perfect for holding your dinnerware or serving as a cupboard or food prep station. If it needs a fresh coat of paint, the trick is to use a soft color such as cream or white and add a distressed finish to it so the natural wood or former paint job can show through. If the former paint job shows wood through, consider keeping it as-is and simply sealing it to show its vintage glory. Pieces like these have stories to tell. By allowing the wood and older paint job to remain intact, you're allowing these stories to be told.

Lighting: Chandeliers add a fun, almost fairytale-like pop to any shabby chic style kitchen when placed over kitchen islands.

Doorways: If you have a pantry, hide it behind rustic sliding French doors, or place a sliding door at the entrance to the living room to create a distinct separation between the two. Sliding doors become especially useful when cooking and preparing meals for parties, holidays, and gatherings with friends and family.

Appliances: Vintage appliances add a unique look for your kitchen and help provide a more retro feel. Look at antique shops and yard sales for old-time gas stoves, refrigerators, and other pieces to add a bit of charm to your kitchen. These elements will especially help transition your space from modern into shabby chic.

Linens: A kitchen wouldn't be complete without its fair share of linens, from dishcloths to towels to curtains. Choose vintage style fabrics that have floral patterns and garden colors to match the rest of your vintage décor.

Colors: Shabby chic style relies on colors that are both neutral and soothing. Kitchen walls are best in tones of cream or warm whites. Wood cupboards should be natural or distressed. Accompanying décor looks especially nice with pinks, greens, and rustic blues.
2. Shabby Chic Living Room
While your kitchen might have more of a cluttered look, your living room should exemplify luxury, whimsy, and airy space. The living room is an area to display your vintage finds. Decorate by highlighting special pieces of décor you inherited or found. Create a sense of relaxation where family and guests alike can sit for hours and enjoy themselves in your welcoming environment. You can endlessly play around with your design ideas until you get your preferred look just right. Here are some of our favorite ideas for your inspiration.

Flowers: The living room is a delightful place to bring the garden inside with a pitcher of fresh-cut flowers on top of a vintage coffee table.

Wall Décor: Decorating with repurposed mirrors and distressed wood frames add a room-expanding look. Mirrors are especially helpful if your living room is on the smaller side. Place them on walls to reflect a window to make it appear as if you have a second window. This trick will also bring more light into your room.

Floral artwork makes a perfect conversation piece that adds shabby chic style to a living room wall. If using heirloom artwork, place them on a prominent wall as the focal point for the entire room.

Couches and Chairs: Sofas should be covered in luxuriously soft linen. No need to throw away your current furniture – use slipcovers that provide the look, feel, and textures you're going for. Colors should be neutral but not sterile. Add cotton throws and plush pillows to create a warm and inviting feel to your sitting areas.

Coffee Table: Use a worn steamer trunk in the place of an actual coffee table. These are durable and provide a fantastic storage area for seasonal décor, extra pillows, and other items that are needed on an occasional basis.

Fireplace: Fireplaces in shabby chic style homes are best painted and distressed, rather than left to show completely natural brick or stone. For a shabby chic pop, changing out your mantel gives your fireplace an instant facelift. A floating chapel mantel is the perfect setting for vintage décor items or framed artwork.
3. Shabby Chic Bedroom
Bedrooms are the perfect places to utilize heirloom pieces and display your favorite antique or flea market finds. Keep in mind the focus of each bedroom and plan accordingly – your master bedroom should have a different feel than guest rooms or kids' rooms.

Master Bedroom: The master bedroom should be the most luxurious room in the house. The bed is your centerpiece with luxuriously soft linens for shabby chic bedding, muted tones with the occasional color pop via throw pillows, and opulent bedding. The master bedroom should be a place where you want to go at the end of every day and enjoy waking up every morning.

Include furniture, such as vintage nightstands and clothes chests, vanities, and chairs that are both comfortable and feminine. You can go as feminine as you want, so if you love feeling like a girly-girl, use ruffles, soft pinks, and other pastel colors. If you want to ditch the ruffles, focus your bedding more on pastels or muted neutral colors. Place plush throw pillows at the bolster and add a vintage trunk to finish the look at the end of your bed. Distressed painted lamps add an extra dimension beside your bed. Notch up the entire look by adding a crystal chandelier to the center of your room or over the vanity.

Guest Bedroom: When it comes to your guest bedroom, you want to give it a vintage, shabby chic feel without being overly feminine or frilly. Incorporate plush bedding, throw pillows, and neutral tones into your bedding. Tone down the femininity by removing excessive ruffles or crystal chandelier elements.

You can use vintage steamer trunks for storing extra bedding and pillows. Stack vintage suitcases to form a nightstand. Add a rustic vanity to provide a place for getting ready and a rustic chest of drawers for temporarily storing personal belongings. The goal for your shabby chic bedroom is to create a space that is welcoming, inviting, fresh, and vintage, with some chic flare. This would not be the place for decorating with overly floral bedding, lampshades with crystal bead edging, or a chandelier.

Child's Bedroom: Your child's bedroom is a blank slate when it comes to creating a shabby chic environment. Depending on your children's age, you'll want to create something they have the potential to grow into, meaning it should have the ability to transform into a shabby chic room a thirteen-year-old would love rather than always looking like a toddler's room. There are numerous ways to accomplish this for a child-friendly shabby chic bedroom.

Use vintage steamer trunks to store toys when your child is small and personal items as they grow up. Decorating with old-timey suitcases can create a unique storage area for books, personal journals, and other items special to your child. Neutral linens can always be changed out according to your child's choices, and plush pillows add a fun, whimsical touch as kids grow older. For decorating a girl's room, a small chandelier creates a wonderful sense of charm that is applicable no matter how old she gets. For boys, emphasize the vintage and include elements of steamer trunks for toy storage, masculine sitting areas, and an old-time desk for them to use for schoolwork.
4. Shabby Chic Office
Your office or craft space is a fun personal area to make as shabby chic as you want using furniture and decor. Tailor it to your individual needs depending on what you're using the space for – crafting, office work, artistry, or a meeting area.

Artist Studio: Display your works of art in old wood frames, set up a special sitting area where you can think and muse, and use mirrors to draw in light from windows in the room.

Crafting: Use worn cabinets and chests to hold extra crafting materials. Display finished items on small end tables to create a visual focal point.

Office Space: Add a vintage desk and create a filing system in an antique drawer unit. Accent your space with wood-framed pictures, ornate mirrors or light fixtures, and antique wood-framed windows.

Meeting Area: Vintage chairs create a warm and inviting seating area. Use a steamer trunk as a coffee table where laptops, notebooks, and pens can all be placed. An antique desk is appropriate if needing a space where you remain stationary while talking to clients seated opposite you. Neutral colors create an airy feel, especially with strategically placed throws over chairs for a feeling of warmth. For a chic pop, use a crystal etched pen holder to have pens and other items at the ready.
5. Shabby Chic Bathroom
Bathrooms are often the last place to get remodeled or decorated when transforming the style of a house. They are important parts of a house, however, and styling them accordingly is crucial if you want to give your home a feeling of completeness. Whether you are styling your master bathroom or a guest bathroom, the elements required to turn it into a shabby chic room are similar.

Tub: Free-standing tubs are king in shabby chic bathrooms. If you don't particularly want to rip out your built-in tub, don't fret. Adding a white or cream ruffled shower curtain does the trick just as well. If you prefer the floral look, a ruffled floral pattern fabric shower curtain will fit right in.

Paint: You'll want to use a pastel color palette with your bathrooms to continue the flow from the rest of your house to this room.

Décor and Furniture: Use mirrors with ornate wood and distressed trim. Distressed wood vanities also bring in a vintage feel. Some darker colors are appropriate here. Stained hardwood flooring and cast-iron clawfoot tubs work well for color contrast.

Rustica for Shabby Chic Décor
Rustica is a family-owned company that started with an idea and a dream. Our idea: Create beautiful rustic furnishings and hardware to match. Our dream: Help people from coast to coast transform their homes into places inspired by creativity, rustic living, and the great outdoors.
At Rustica, we specialize in helping you bring your shabby chic vision to life. On our website, you can find inspiration, design ideas, décor ideas, and chat with us so we can help you with personal recommendations.
Barn Doors
Adding a French barn-style sliding door to your pantry or entryway between the kitchen and dining room is the perfect way to add a shabby chic accent.
Barn Door Hardware
Don't just mount your sliding door with regular hardware. Choose from raw steel, flat black, or oil-rubbed bronze to match the rest of your interior styling.
Interior Doors
For an extra polished shabby chic look, add interior doors that match the rest of your décor. Bedrooms, bathrooms, and office door upgrades are the perfect place to bring in wood doors, Dutch doors, or even pocket doors to make your home design complete.
Exterior Doors
No home would be complete without the finishing touches of an exterior door. It's the first thing guests see and the last object they look at. Your exterior door should be the crowning glory of your home. Choose from metal or wood doors that put the finishing touches on your entire shabby chic design.
Custom Doors
If you have a special design in mind, we can do that, too! We'll help bring your vision to life as our designers and engineers draw up plans for your door, and our team of craftsmen builds it.
Décor
We have a wide variety of décor to accentuate shabby chic homes from butcher block countertops and shelf brackets to strap hinges and metal lettering. These are perfect options to help enhance your home with pops of natural tones, elegance, and rustic charm.
Bring Shabby Chic Style into Your Home
Creating a shabby chic style in your home starts with one vintage piece at a time. Tackle one room to start, and if anywhere, we recommend starting with the kitchen. Transforming your kitchen into a shabby chic centerpiece of your home is a great way to begin restyling your entire home. Start with vintage pieces such as cupboards or cooking stoves to add instant charm. Wood accents work well with pale pinks and greens. Linens are another easy way to begin incorporating some shabby chic charm. Finish it off with a chandelier, and you've got yourself a kitchen you won't want to leave.
Living rooms can be easily styled with luxurious slipcovers on your couch, plush pillows, and warm throws. Pastel and neutral colors add a feeling of serenity, while fresh flowers bring the garden inside. Bedrooms and office space work well by utilizing vintage desks, steamer trunks, suitcases, mirrors, vanities, and chests. You can easily craft a child's room in such a way that they can grow into it and enjoy the look and feel when they're young and as they grow. Use your bathroom to finish off the complete shabby chic look with a freestanding tub, ornate mirrors, and ruffle shower curtains.
Creating a shabby chic interior design in your home can start with changing just a few items, and before you know it, you'll have a home inspired by your imagination, fit for the cover of a magazine.