Houses come in an incredibly diverse variety of shapes, styles, architectural leanings, and, while many are made with standard "builder grade" specifications, you might be one of the lucky few to enjoy a custom-sized abode. If you are, you likely need a door made to fit. So, how do you find such custom-made entryways?
How to Find Custom Size Doors for Your Home
Visit Rustica.com
Look for Inspiration
Submit Custom Project Form
Work with a Designer
Take Measurements
Decide on Materials
Choose Finish and Hardware
Custom size doors add an incredible amount of charm, sophistication, class, and elegance to any home. When it comes to adding décor and tying your architectural themes together, custom size exterior doors or custom size interior doors are often the missing ingredients from many homes.
If you feel like your home is missing a magic ingredient, a custom entry door might be just what you need.
What are Standard Size Doors?
When deciding on the purchase of new doors, it's critical to understand what size doors and doorways you have in your home. Most homes built within the last twenty years or so tend to have a
standard door size
. These are door sizes that most home manufacturers use and also tend to be the standard size where you can easily find a replacement for entryways, such as a hollow-core door, a glass door, or a screen door for a patio.
Several door sizes are considered standard. A
standard door width
can range from 30 to 36 inches and
standard door height
ranges from 80 to 96 inches. If your existing door is outside of that range, you'll more than likely need a custom size door, and for that, you've come to the right place!
How to Find Custom Doors for Your Home
1. Visit Rustica.com
Welcome! If you're reading this, you're already on our website and we're so glad you're here! At Rustica, we specialize in custom size closet doors,
custom size barn doors
, custom size sliding closet doors, and more. If you need a
custom entry door
of any kind for any room, we have the team and door options to bring your vision to life.
As you browse through our website, look around for a while. Draw inspiration from our front door options and double door choices, even if you need closet doors. You never know where inspiration might strike for a door style. When working with our team of expert woodworkers, you'll face no shortage of options when it comes to transforming your space into a one-of-a-kind work of art. Each exterior door or interior door we create is a combined effort of our customers' vision, the first-class input from our expert team of designers and engineers, and the creative work of our craftsmen and fabricators. Needless to say, it's a group effort, and we love it!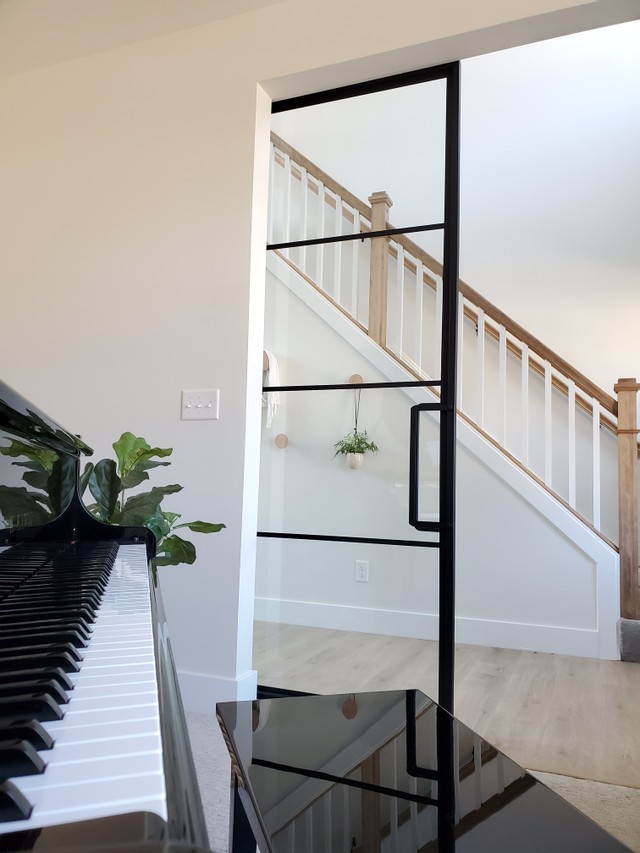 2. Look for Inspiration
To start your journey crafting a custom made door, you should always dive into the creative world of inspiration and idea-making. You may have a hazy idea of what you want for your custom size pocket door. Or maybe you've seen a few pictures of a friend's custom size French doors and it was love at first sight. Whatever the case, spend a while and get a feel for what you want your stunning custom size, six-panel interior doors to look like.
Just as much as Rome wasn't built in a day, so, too, your vision can't be brought to life with a haphazard idea and a fuzzy sense of what you want.
Custom size French patio doors
require forethought, conceptualization, and a clear sense of direction. Look for inspiration and consider creating an idea board.
Where can you draw inspiration for your custom size entry doors? Look around at everything: nature, your friends' homes, high-end homes, home design accounts on Instagram, dreamy home makeovers on Pinterest—the sky is the limit.
3. Submit Custom Project Form
Once you're full of inspiration and have an idea of what you'd like for your entry door or other doors, visit our custom project page. This is where you'll submit your custom project form for your barn door, French door, or any other doors you want created for your home.
This is where it gets exciting! By submitting your order form, you're almost ready to set our design team loose to start working on your custom size wood doors, custom size bi-fold doors, custom size entry doors, and every creation you can think of. Don't worry, submitting the order form is just the first step. When you give us your contact information and a description of the door size you want to create (along with any files, such as drawings, measurements, or inspiration boards), we won't start creating anything just yet.
First, a member of our design team will look over the information you provided. Next, we'll get in touch with you. Every custom project and wood door is crafted by our team of engineers and designers, who work hand in hand to make sure your vision comes to life. Finally, once we have your approval to start, we'll craft your custom, one-of-a-kind door! Choose one of many different
types of wood
for your specially made
custom door
.
Note: You may not need to complete this step if you find something on our website that you love. We provide hundreds of modifications and customization options for doors on our site, including multiple options for door measurements.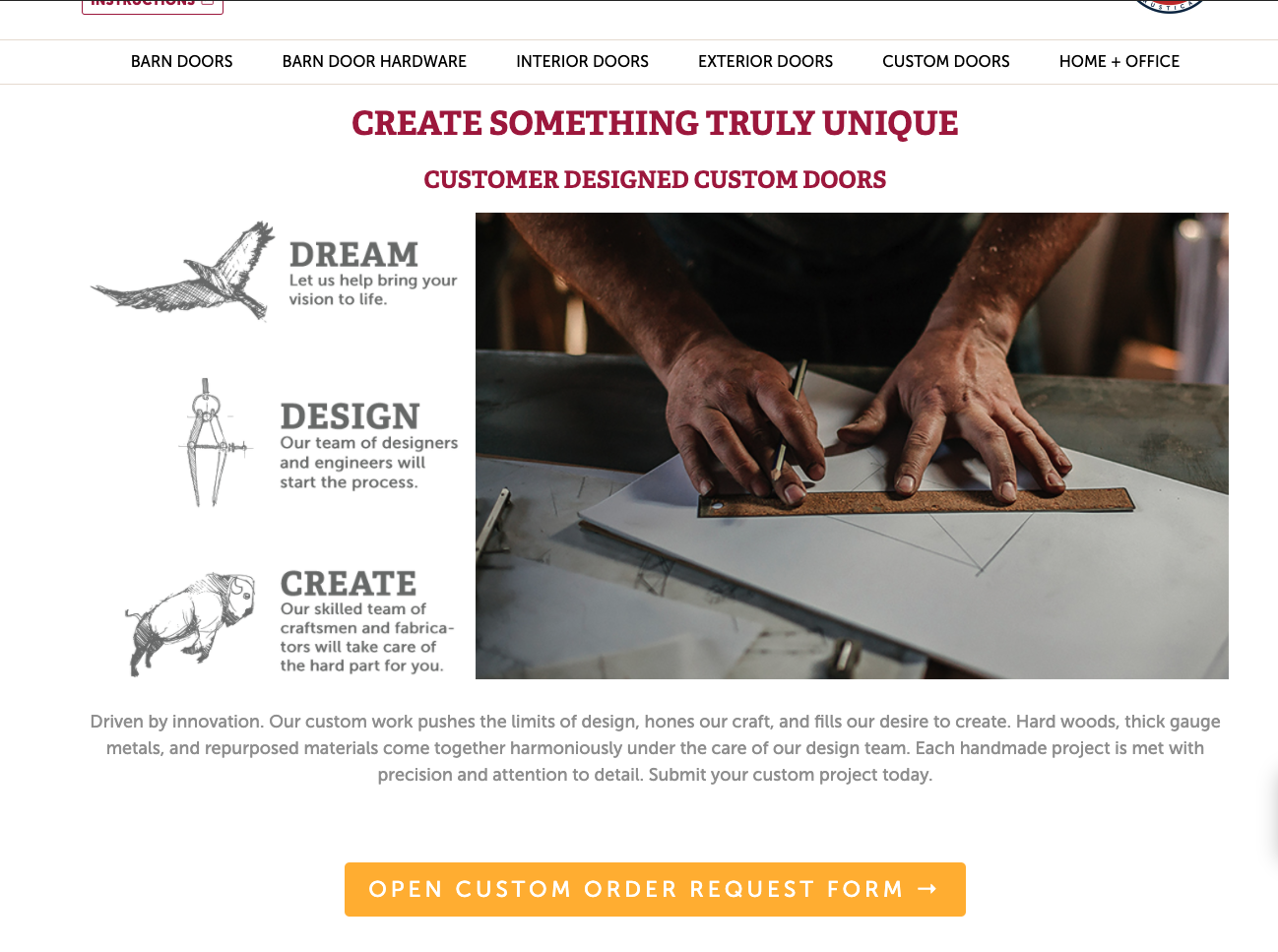 4. Work with a Designer
When it comes to creating your custom size entry doors, custom size barn doors, or any type of custom size door, half the fun comes in working with a designer.
Our team of designers is the best around, and we're proud to show off their incredible work. Our crew has worked to design one-of-a-kind pieces for well-known companies, including RE/MAX and Traeger Grills, to name a couple. Needless to say, we're proud of our team and we know you'll love working with them.
Our designers specialize in everything custom—custom size shed doors, custom size metal doors, custom size steel doors—you get the idea. Whether you want to dress up an existing opening, install a new look with a transom, change out an existing door, or exchange that hollow-core door for a wood slab door, we have the team that can make it happen.
During this part of the process, we'll dial in on the style, vibe, customizations, and small details you want to include in your custom creation. This is where we pick your brain before crafting a door we know you'll love.
5. Take Measurements
Our design team is amazing, and while we can walk you through how to take measurements, we (unfortunately) can't do it for you. You could live in remote Alaska, while our office is firmly planted in Utah. But don't despair! We can help you every step of the way. Taking measurements for your entry door opening or interior door opening might sound daunting, but once you know how to do it, you'll wonder why you didn't do this sooner.
To measure for a doorway, first, measure the height. This is the space from the sill to the underside of the frame that trims the top of your door. Next is the width. Measure the space from the interior of one side frame to the interior of the other frame. It's a good idea to measure the width for the top, middle, and bottom to make sure your opening is even. If it isn't, you should go with the shortest width measurement to ensure the door fits properly.
That's all there is to it! But, if you have questions, our team is just one phone call away and can stay on the line with you while you measure your space.
6. Decide on Materials
In addition to deciding on the overall look and vibe of your custom door, you'll also get to choose what materials you want.
The sky is the limit when it comes to materials that can be used to craft your custom-sized door. When you work with our design team, you can choose between the type of wood or metal you'd like used.
Some of the most popular options for wood species include cedar, oak, and, for an especially bold statement, walnut. When deciding on which option you desire, one question we'll ask is whether you'll want the final product painted or stained. Though any wood can be painted, some species have such incredible beauty that we'll recommend a stain. A few species can be painted and still have the grain pattern and knots show through, though, adding a unique beauty to your custom size door.
7. Choose Finish and Hardware
After you've chosen the wood or metal for the door, you'll need to decide on a finish. At Rustica, we know that the finish contributes tremendously to the overall look and feel of your custom-sized door. That's why we offer 41 different finish types, not including custom finishes that can be created during the process of making your one-of-a-kind custom-sized door.
If you want the natural wood to shine, we suggest a stain. Go with a clear stain if you want to see the wood as-is, a dark walnut stain for a bold look, or a red mahogany stain for an elegant or sophisticated look. We also offer numerous colors of paint, from a classic barn red and cooling seaside blue to a subtle straw yellow and a bold navy blue. If you don't see the type of stain or color you'd like, we'd be more than happy to work with you and create a custom finish for your custom door. Need some inspiration for your custom sized front door? Check out our guide on
how to choose a front door color
.
The final step for designing your custom-sized door is to choose the door hardware. Hardware includes items such as a front and back handle, hinges, a hanger system for custom size sliding barn doors, and the finish that goes along with these items. Each piece of door hardware can be customized and made to match your door in terms of texture and finish. You don't want to forget about this step! It's often the smallest parts of a big project that tie it all together.
6 Reasons You Might Need Custom Size Doors
Update Old Homes
Custom Home Construction
Complement Existing Interior Design
Customizable Features
Increase Home Value
Durability and Longevity
When renovating homes or purchasing a new-construction, many homeowners choose to buy custom size doors. These doors are fitted to the exact dimensions required for the door opening and are made with the highest quality materials for durability and insulation. A custom door is not only necessary, but also preferred in many situations.
Going custom might feel like unknown territory, but Rustica makes the process simple. To begin the process, you'll first want to understand the difference between a standard door size and custom size, and then explore the reasons you might want to replace an existing door with a new, custom size door.
Take a look around your house. Could your garage, glass door, barn door, or screen door use a facelift that requires dimensions that are different than the standard size? Well, then your home might be a contender for a new, custom size door.
6 Reasons You Might Need Custom Size Doors
1. Update Old Homes
Most municipalities around the United States have established building codes in regards to interior and exterior doors; however, this wasn't always the case.
Depending on the year your home was built, you may not have interior or exterior panels that fall into standard dimensions. Depending on your city's coding, you might be able to replace your doors with the original dimensions, but this will most likely require purchasing a custom size door—what most would consider as the better renovation option.
Sure, you could buy a new, standard-size door to replace your older panel, but then you have to increase your door opening to fit your larger panel. Altering the existing opening will not only cost more money and take more time, but you'll most likely have to pay a contractor to complete this task. The cost will quickly add up and you'll find yourself wishing that you had simply purchased custom size doors instead.
2. Custom Home Construction
While some are presented with the problem of updating an older home, others find themselves in the completely opposite situation. Custom home construction is a popular choice for those who aren't satisfied with the options presented in today's market or who wish to create a truly unique home that stands out among monotonous development communities.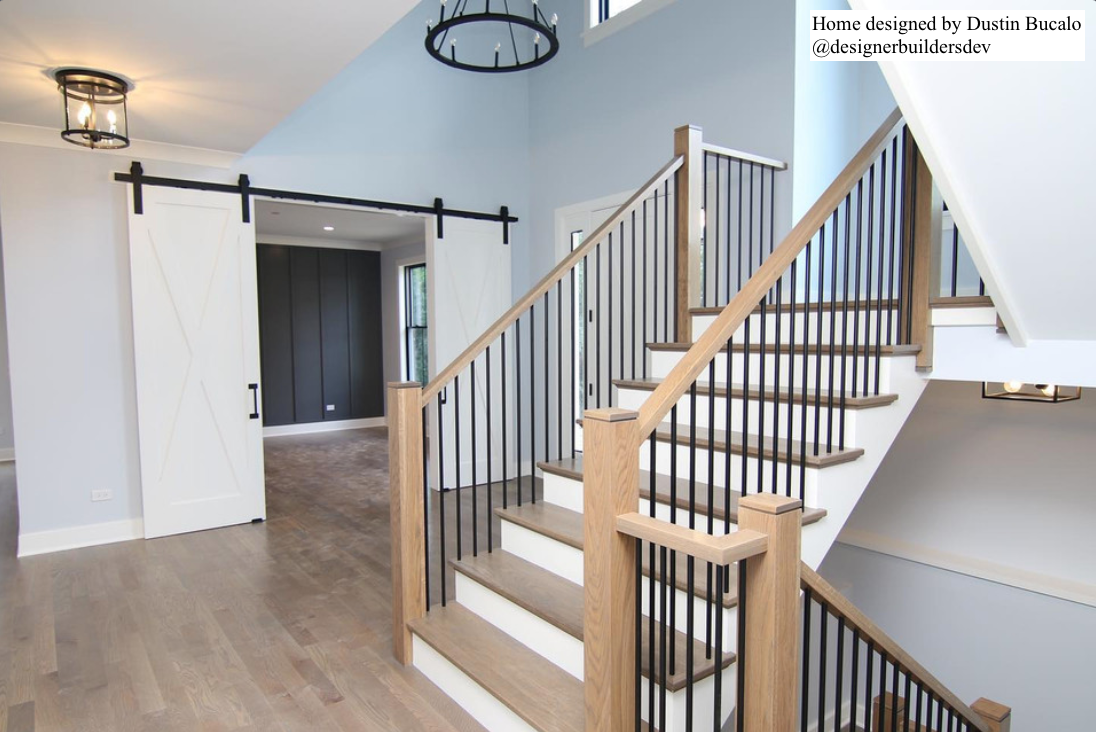 Custom size exterior doors and custom size interior doors are easy choices for a newly constructed home. Imagine installing custom size French patio doors that open and close with a touch of drama and a lot of style, or even custom size cabinet doors that mirror a favorite design you saw on Pinterest. Maybe you want to finally join the barn door craze and install gorgeous, one-of-a-kind custom size barn doors into your modern, farmhouse construction. All of these options are made easier and more accessible when seeking custom versus stock.
3. Customizable Features
Purchasing a door with custom dimensions also creates the opportunity for customizable features. Materials, finishes, hardware, and even door shape can all be woven together to meet your needs and design.
Whether you've chosen to install a sliding garage door, glass-paned French door, barn pocket doors, or even a pet door, attention and detail are given to all aspects of the panel, beginning with its dimensions and reaching all the way to the final piece of hardware.
4. Increase Home Value and Savings
Any renovation, big or small, increases home value, but a custom size door adds savings in a unique way. Just like a window, a door can insulate and regulate temperature (or, conversely, waste energy and money).
Exterior doors that aren't insulated or interior doors made with cheap materials will not keep the wind and chilly air from entering or traveling through the home during the colder months and, likewise, won't maintain the temperature in a room when turning on air conditioning or heat. This problem is only compounded when a door is poorly fit to its opening or frame. By installing a custom size door, you are adding a panel made of quality material that insulates when desired and always fits the dimensions you require. This saves money for the homeowner and adds value to the property as a whole.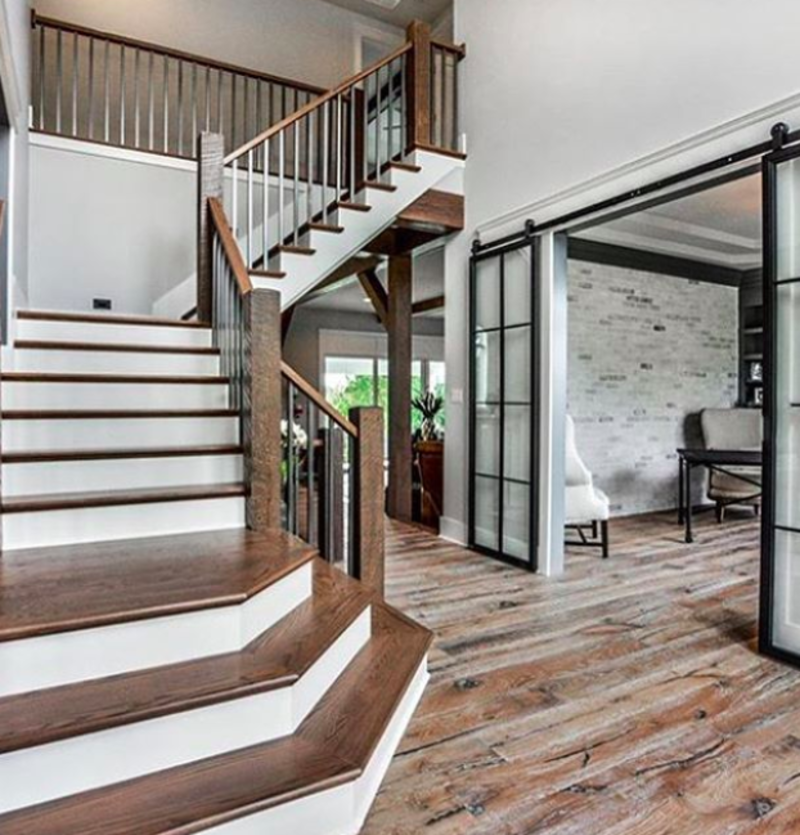 5. Durability and Longevity
Custom sized exterior doors and interior doors not only save money by insulating a home well, but their quality craftsmanship will last a lifetime.
Since each door is made-to-order with care and precision using only the best materials, your door panels will last and function for decades to come. This will also save you money in the long run because your investment will outlast stock options made of cheaper materials.
How to Measure a Custom Door
There are a few things you'll want to keep in mind as you begin the design process. Project cost, door style, wood type, and door hardware are all among the conversations you'll have with your design team. They'll prompt you with questions, so don't worry about trying to fit all the information on the initial order form.
You might find yourself talking about solid core versus hollow-core doors, different wood species, as well as the hinges and lockset that will look best in your design. Most importantly, you'll need to talk dimension.
Depending on the type of door or doors you are planning to order, you'll need to take careful measurements of a few elements, like the door's frame and rough opening. If you're ordering a door for a new construction home, your architect will be able to provide you with these details.
The list below gives a rough idea of what you'll need to measure according to door type. Your Rustica design team will let you know if there's any other specific element needed.
Traditional Hinged Door:
You'll need to complete the following steps in order:
Measure the Door Slab
Remove the Trim
Measure the Frame Size
Measure the Rough Opening
Sliding Door
You'll need to complete the following steps in order:
Measure the Door Opening
Measure the Trim
Decide on Overlap
Measure Remaining Space
For a more detailed look at how to accomplish each task, check out our guide on
how to measure a door
.
It not only outlines the things you need to measure, but also goes through the process and tools you'll need to extract the exact numbers. Following the advice within this article will guarantee that your door arrives exactly as you need it, making installation a breeze.
Admire Your New Custom Size Door
That's all there is to it! Creating a door from scratch can be a lot of fun when you have the Rustica team's expertise to make sure your vision is executed perfectly. When you take the time to create a clear vision, work with an expert designer, tailor everything from the wood species to the final finish, and choose your hardware, you'll have a door like none other.
All that's left is to enjoy the home you live in and the custom door that perfectly complements the architectural style and décor choices you've worked so hard to show off.