Your home should be your sanctuary. Every little detail should go into making sure your space brings you energy and comfort. While often overlooked, the door in your space plays a major role in the overall feel of your home. It's not enough to just pick any wooden door, you have to pick the
right
wooden door to match you and your home's design style. That's where picking the right type of wood for your doors becomes important.
11 Types of Wood for Doors
Alder
Poplar
Cedar
Rustica Red Oak
Cherry
White Pine
Hickory
Mahogany
Birch
Walnut
Rift White Oak
Each of these different types of wood species can help you achieve a different look or vibe in your space. In fact, it's the little details, like the wood species you choose for your door and how you decide to finish it, that can make your home's decor look complete.
All the types of wood that Rustica uses are sourced from the United States. Our doors are created from engineered lumber derived from hardwood trees. This makes the door stronger, more durable, and resistant to warping and shrinking. This ensures our doors meet your quality standards, so the only thing left to decide is which type of wood would look best for your door.
Best Wood Species for Doors
Understanding the different kinds of wood is the first step in choosing the perfect wood for your door. The various types of trees each offer their own qualities that make them stand apart.
Some wood types are better suited for interior doors, while others make excellent choices for exterior doors. You also have to take into account that some woods are better for particular finishes, such as painting or staining.
These 11 hardwoods are good for all
types of doors
, whether you are looking at traditional barn doors, dutch doors, pocket doors, or shutters.
1. Knotty Alder Doors
Alder is by far the most popular wood used for interior doors. Nearly 70% of doors Rustica makes use knotty alder wood and for good reason: it's affordable, beautiful, and stains well.
One of the key characteristics that makes alder stand apart from other hardwoods is the knots in the grain pattern. These knots lend a rustic charm to the door, making it an excellent choice for barn doors.
The well-defined wood grain makes it an ideal option if you are wanting a stain finish. Naturally, alder is a light brown color, which sometimes features a peachy or yellow undertone. This color can be altered with stain to give it any look you want. Stain also highlights the wood grain, adding to the rustic, log-cabin look.
While it is possible to paint alder, it is much more time consuming if you don't want the knots and wood grain to show. This requires filling in the cracks of the knots and sanding the wood down before painting. For these reasons, we don't recommend choosing a paint finish for an alder door.
Another reason alder is popular is because it is a strong wood, similar to hard maple, but with the charm and characteristic commonly associated with pine. It is also, generally, one of the least expensive wood options for doors.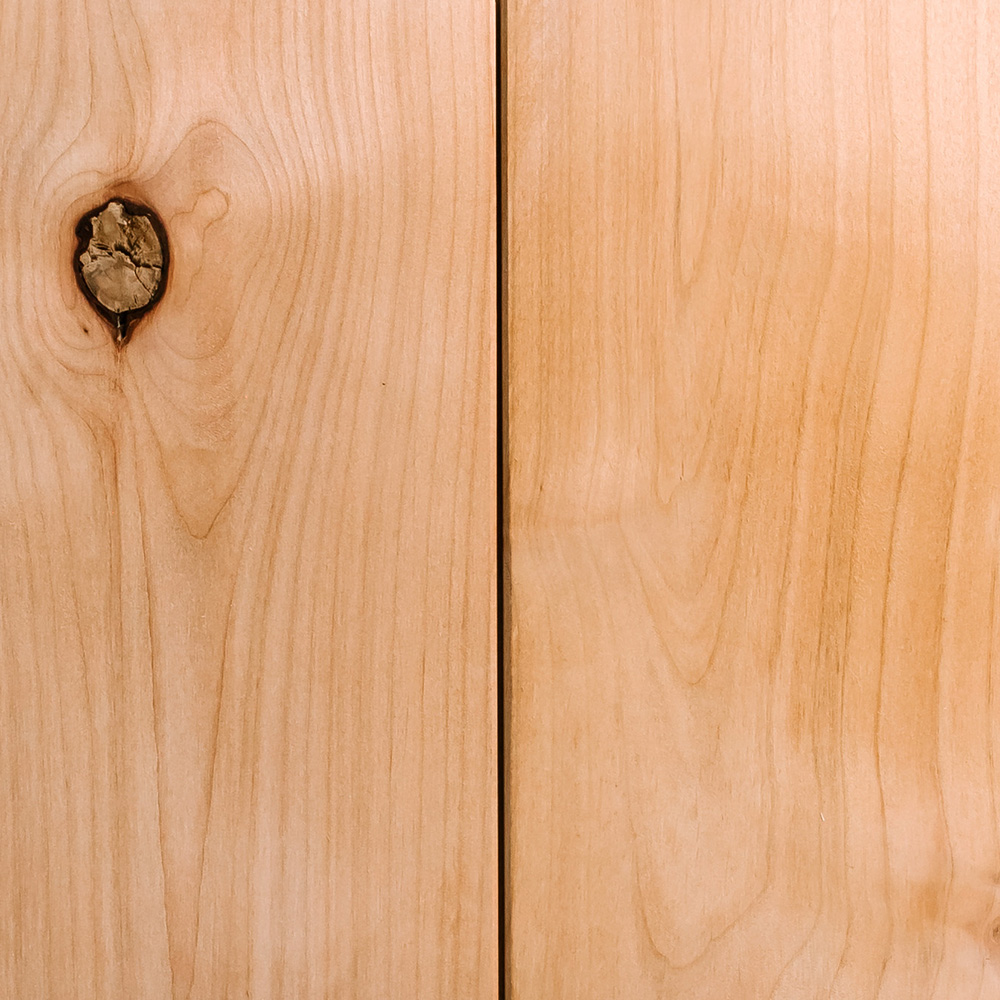 Knotty Alder Wood
2. Poplar Doors
The second most popular choice for Rustica doors is poplar wood, accounting for nearly 20% of doors.
While it is similar to alder in its light brown color with yellow and greenish hues, it does not have the same intense wood grain. The uniform nature of poplar's fine to medium wood grain is what makes it a popular choice for doors in spaces where the design is more modern and less rustic.
We recommend choosing a poplar wood door if you are looking for a painted finish look at an affordable price. Poplar is great for painting because it does not have wood knots or an intense grain pattern. This means you can skip the filling and sanding and go straight to painting it whatever color you're envisioning.
Because poplar is a very smooth wood with minimal knots and a fine grain, it's not recommended for staining. If your room's design needs the natural feel and texture of wood, then alder may be a better option. But if you are looking for a painted door, poplar is a durable wood that makes an excellent door, regardless of style.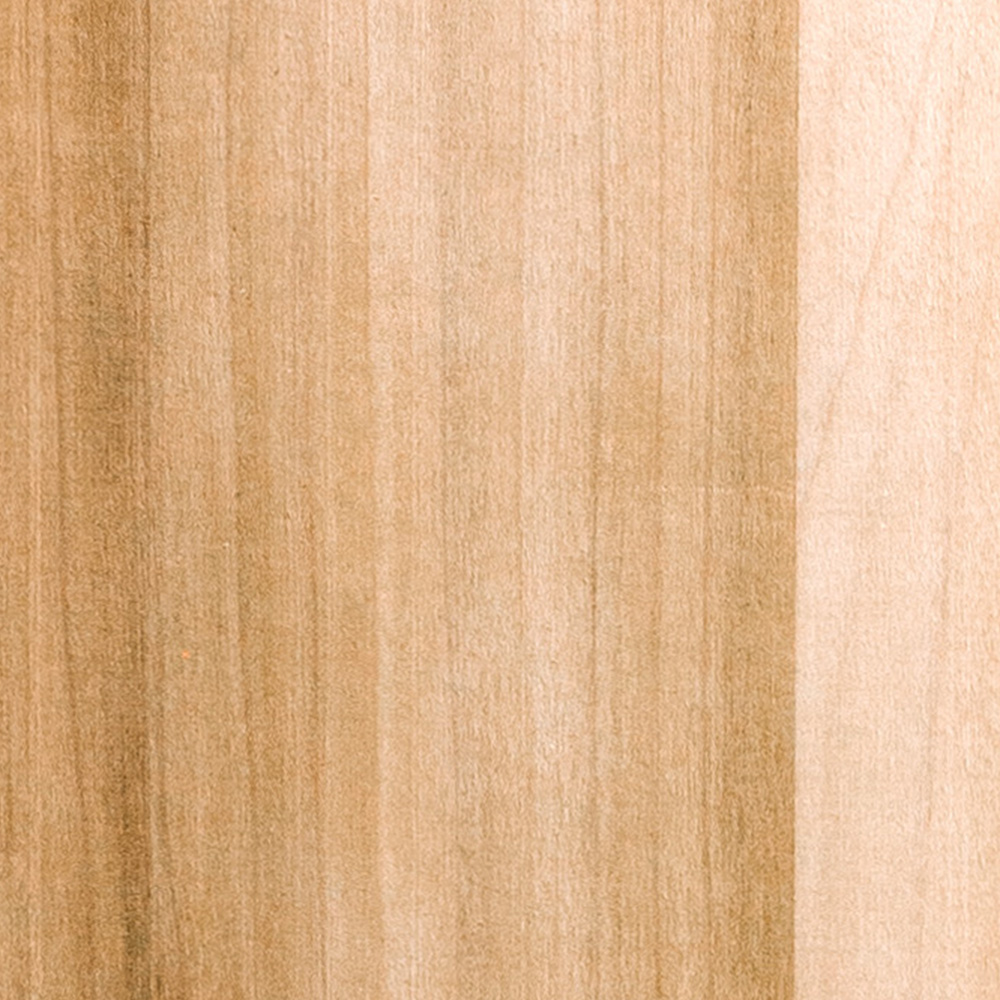 Poplar Wood
3. Cedar Door
If you are looking for an exterior barn door, you're going to want to choose cedar.
Rustica's exterior barn doors are
only
available in cedar due to the many benefits it offers. For starters, cedar is known for its aromatic qualities. While humans enjoy the rich scent of cedar wood, most insects find it off-putting. This means that cedar has natural insect-repelling qualities. Cedar is also moisture resistant. These two factors combined mean that cedar wood is very durable when it comes to rot and decay.
One of the main reasons we only offer our exterior barn doors in cedar is because it requires less maintenance than other treated woods. Cedar is a hardwood, and its natural characteristics make it less prone to warping and shrinking. This keeps your home insulated and safe—two important factors people want with any exterior door.
As far as looks go, you can stain cedar clear to keep the natural reddish-cinnamon color, opt for a tinted stain, or paint it. The possibilities are endless.
Cedar Wood
4. Red Oak Doors
Rustica Red Oak is a hardwood that is excellent for woodworking. It is commonly associated with furniture, such as a dining table, office desk, or wood cabinets.
The reason oak wood is so popular is its open grain. Whether you opt for a clear stain or a tinted stain, Rustica red oak is going to give you a beautiful wood grain that helps bring a touch of tradition and rustic beauty into your space. This is why it is stained more than it is painted, although you could easily do either.
Like other oak woods, red oak has a high-shock resistance and is an ideal wood for interior doors. What sets Rustica Red Oak apart is that it is lightweight (compared to other oak woods) and is a medium-brown color with a reddish hue, perfect for a clear coat finish.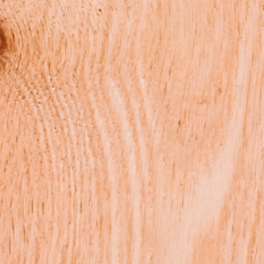 Red Oak Wood
5. Cherry Doors
Cherry wood is a popular wood used with fine furniture and high-end pieces. Its key characteristic is its reddish-brown color.
While other hard woods have a knotty or well-defined wood grain, cherry wood has a fine, straight grain that gives the wood a smooth texture. Its beauty comes from its color, making a clear or light stain the perfect finish for this wood.
Like other wood species, cherry's color will change with time, though how it changes depends on a variety of factors. In some cases, cherry wood may fade, while other times it's reddish tint may grow darker.
Cherry is a beautiful choice for interior doors of any style. Whether you are looking for a door for your office, your study, or are simply looking for a high-fashion look, cherry wood is an ideal choice.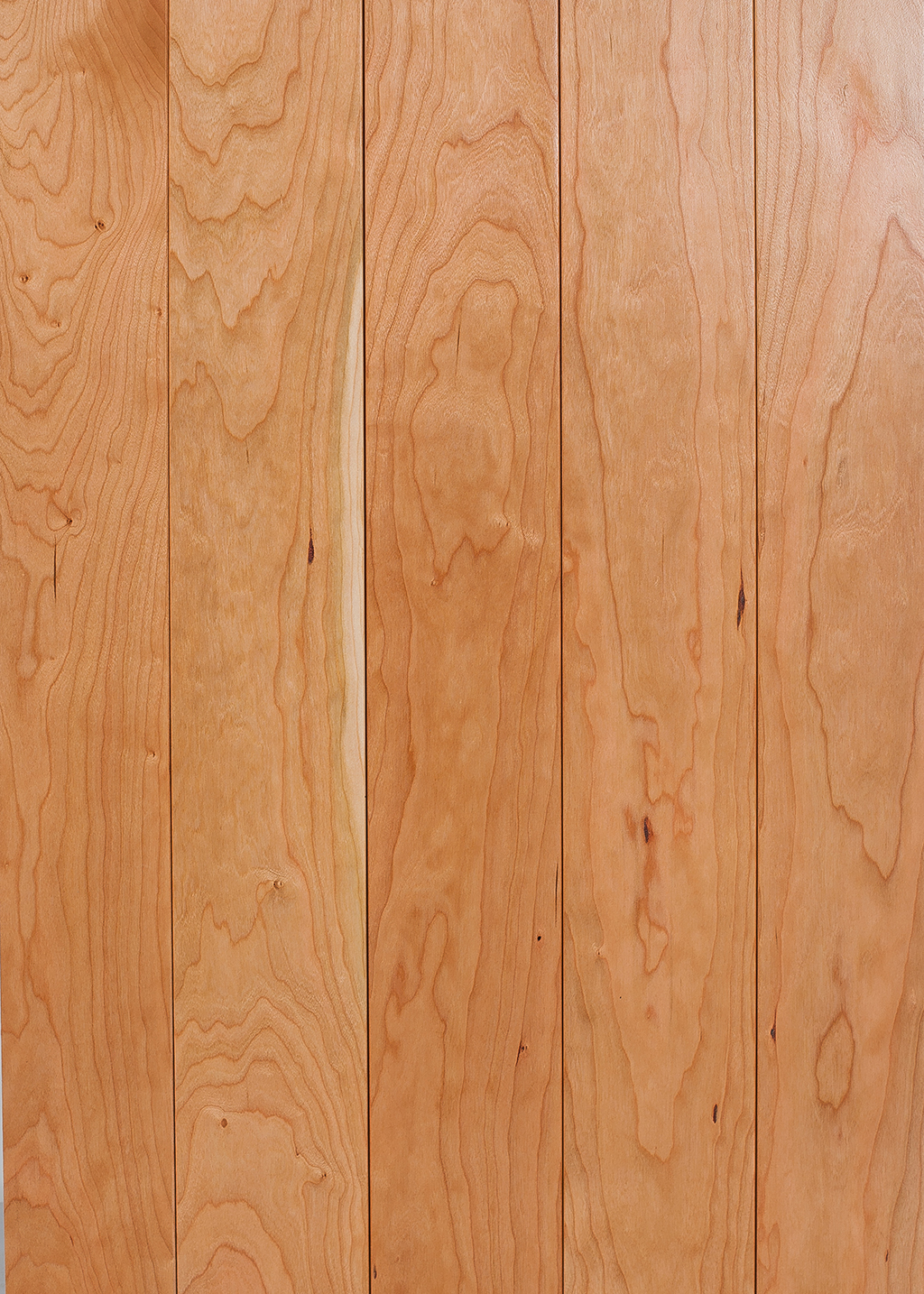 Cherry Wood
6. White Pine Doors
White pine comes from coniferous trees and is ideal for creating interior doors.
Pine wood is known for its close knots, light brown coloring, and tight wood grain. This makes it an ideal selection if you are looking for something between alder's knotty wood grain and poplar's uniform grain.
White pine's coloring and wood grain work well in spaces with a country style. This is especially true if you opt for a clear or light-colored stain to bring out the natural beauty of the wood.
Because white pine does have some knotting, it can be a bit difficult to paint but not impossible. The grain will show through the paint unless you choose to fill the knots and sand down the texture of the wood grain. For these reasons (and because it's the more affordable option), we recommend going with poplar wood if you're wanting a painted door.
Besides its beauty, another benefit to opting for white pine is that it doesn't warp as easily as other pine woods. Additionally, its durability makes it a great option for interior doors that are going to see high foot traffic and significant use.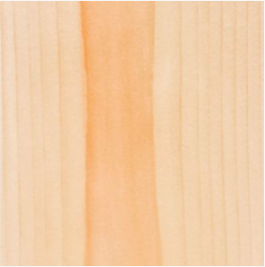 White Pine Wood
7. Hickory Doors
If you're looking for a door with strength, then consider whether hickory wood will go with your overall style and decor.
Hickory wood is one of the hardest commercially available hard woods, next to teak. What this essentially means is that a door made of hickory will have high shock resistance due to the wood's natural density and strength.
Hickory is not only strong, but it also has beautiful deep reddish-brown tones that give your space a prestigious feel. Many people that choose hickory for their interior doors opt for a clear or light-colored stain to show off the true beauty of the wood's color and its medium wood grain.
Like other woods, there is some knotting that adds character to each door made from hickory. Again, with woods that have a medium grain and knotting, if you choose to paint it, the grain will be slightly visible unless you choose to fill the knots and sand it smooth, which kind of defeats the purpose of choosing hickory. This is why many choose to simply stain hickory wood.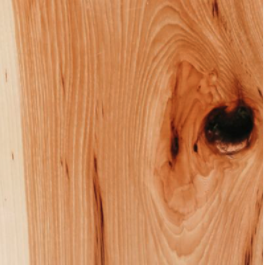 Hickory Wood
8. Mahogany Door
Rustica also offers interior doors in mahogany. This type of wood is a dark type of wood and has a reddish-brown color, similar to cherry and cedar, that darkens with age.
One of the main differences between mahogany and other woods is that mahogany has a tighter wood grain. Additionally, mahogany wood's coloring also creates a distinctive pattern that makes it easily recognizable. Many homeowners want to preserve the beautiful, unique color pattern, opting to use clear or lightly tinted stain rather than paint on their mahogany doors.
Beyond its beauty, mahogany is relatively resistant to rot and is stable, even in humid climates (meaning less shrinkage and swelling compared to other hardwoods). Rustica's mahogany doors easily fit into any style. Whether your home is more traditional or has a modern flair, we're confident this type of wood will be a stunner in any space.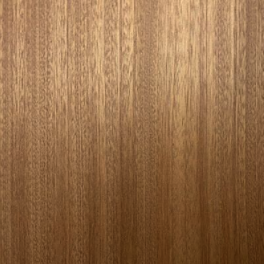 Mahogany Wood
9. Birch Doors
If you love the look of maple wood, then birch is a great alternative.
Both kinds of wood have a similar appearance and characteristics, making it difficult for homeowners to differentiate between the two. This makes birch is a popular choice for many woodworking projects.
While there are slight variations in grain depending on the specific tree, most of the time birch has a fine, straight grain that gives it an even texture.
When it comes to coloring, birchwood offers a pale brown or golden color. This type of wood does best with a lightly tinted or clear stain. Darker stains may appear blotchy because birch doesn't absorb stain evenly. It is possible to paint birch, but you will still see the grain and the knots if you don't fill and sand them, which is why we recommend poplar wood for all our painted doors.
Birch sits somewhere between alder and poplar when it comes to knots and grains. What this means is your birch wood will show less character than medium or heavy grained woods, like alder or white pine, but will still show more knots and grain than a fine grain wood, like poplar.
If you opt for a birch door, keep in mind that birch is a hardwood that is susceptible to rot. This makes it a better option for interior doors that are away from humidity.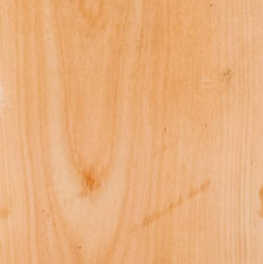 Birch Wood
10. Walnut Doors
Walnut is often considered
the
American timber. It is one of the few types of dark wood that has a rich, chocolate-brown coloring (many times with undertones of purple) that is easily integrated into many design styles, both as doors and wood flooring.
Whether you've got a colonial-style home with antique decor or a minimalistic style that needs a bit of warmth, walnut is a perfect choice. It is a hardwood that has lots of character, with a wood grain that often features circle and spiral patterns.
Most homeowners want to preserve the character of walnut wood as it helps enhance the overall design of their space. This can be done using a clear or lightly-tinted stain. Painting walnut hides the natural beauty of the wood, so it's not the best option if you're wanting a painted door.
In addition to its looks, walnut is an energy-efficient material that helps insulate your room. It does not absorb moisture easily, helping prevent any warping or shrinking. This makes it a good choice for any room of the home, from the bedroom to the bathroom to the office.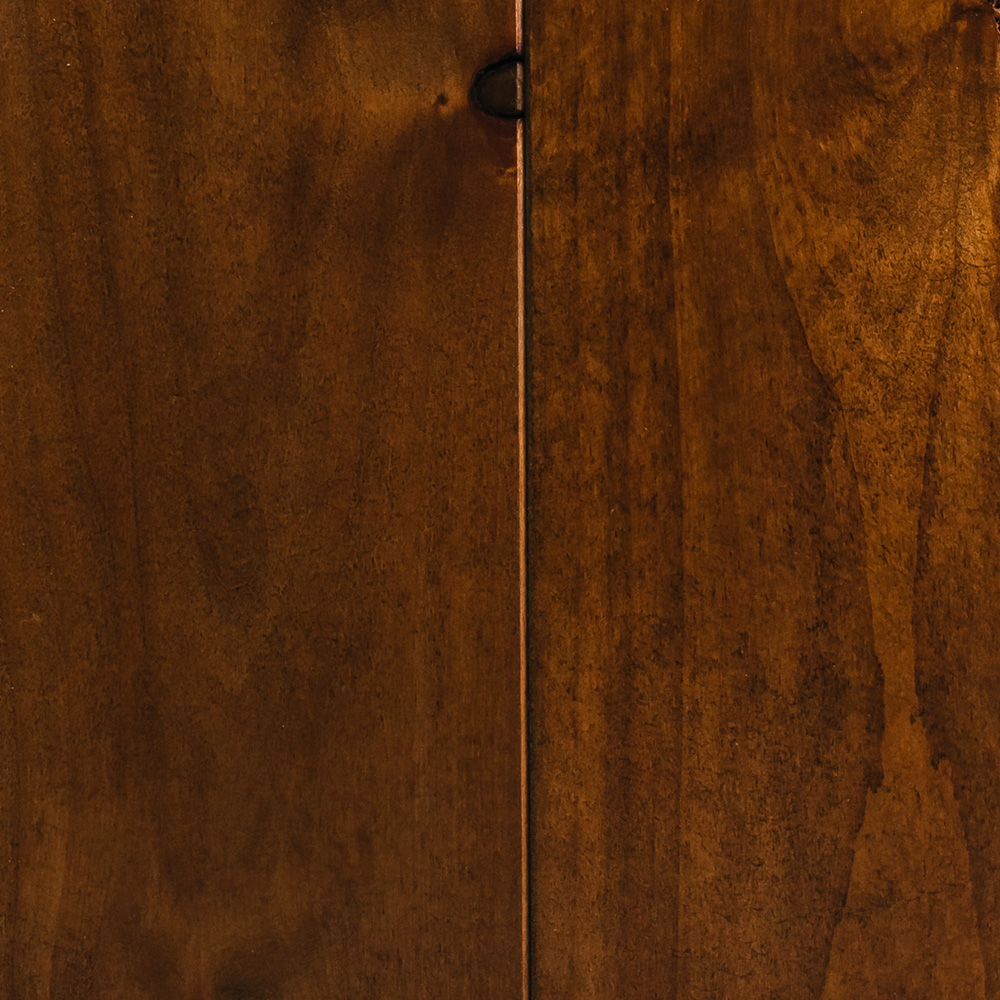 Walnut Wood
11. Rift White Oak
If you're looking for interior doors that are timeless, then rift white oak may be just the answer.
Commonly used for wood furniture and other items in the home, white oak is a strong, durable option. This is why it is commonly used as hardwood flooring. White oak, similar to red oak, is also good for insulating and soundproofing, making it ideal for any room in the home.
White oak is also used because of its unique, tiger-like stripe wood grain. White oak features a light tan coloring with yellowish undertones. The natural coloring of the wood can lend a "cool" feel to the space, which could be ideal for minimalistic decor and design. If you are looking for something with a bit more warmth, you'll be happy to know that white oak works well with many tinted stains because it is less porous and denser than red oak.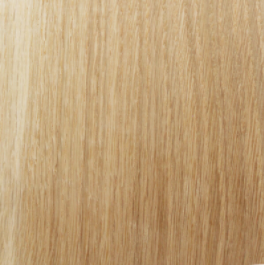 Rift White Oak Wood
Which Woods Are Known for Durability?
When it comes to wood, durability means its ability to resist rot, absorb moisture, and other forces that cause decay. The durability of your door will vary, depending on the wood type you choose.
Some hard woods are better suited for furniture, while others are more durable and can take the impact that all doors inevitably take. In general, most hard woods are stronger and more durable than any softwood. That being said, some hardwoods are specifically known for their durability and can even be used with outdoor furniture.
Some of the most durable and best hardwoods:
Cedar
Red Oak
Cherry
White Pine
Hickory
Mahogany
Walnut
White oak
How to Identify Types of Wood
The type of wood you will use depends on what you intend to create. For instance, the type of wood used for structural lumber will vary from the type of wood uses for woodworking or a front entry door. This is why it is important to have the ability to identify different types of wood species. To the untrained eye, identifying different types of wood can be difficult, but, it doesn't have to be as long as you know what to look for.
Here are some of the key things to keep in mind when identifying the type of wood used with your door.
Wood Coloring
One of the main characteristics that make different types of wood stand out from one another is their color. Some woods are naturally light, like white pine, while other types of wood have a distinctive red color, such as cedar and cherry.
There are also types of dark wood, such as walnut and mahogany, that have natural deep browns. These natural colors can make identification easy. However, this is only the case if the wood is raw or treated with a clear stain. If the wood has a tinted-stain or is weathered (which adds a grayish color to the wood) it can be difficult to clearly identify the type of wood. In this case, it's important to look at other identifying characteristics.
Wood Grain
Besides color, you can use the wood grain to identify which type of wood species you have.
Some types of wood, such as alder and birch, are known for the knots in their grain. On the other hand, woods like poplar and cherry have few knots.
Besides knots, you'll also want to look at the lines or rings in the grain. For example, mahogany has a distinctive patterning in its wood grain that sets it apart from other species. Likewise, oak has a medium wood grain that is easily identifiable.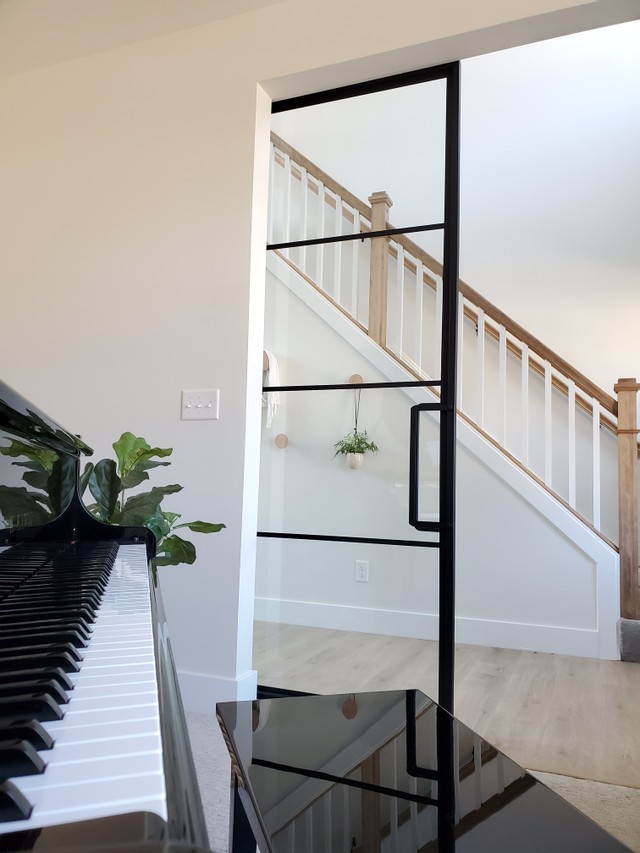 Knotty Alder
Raw Unfinished Wood vs Unfinished Wood for Doors
We have so many customers ask to get their door in raw, unfinished wood so they can finish the door themselves! Customers were looking for more than just an unfinished, paint/stain ready door.
Our unfinished wood option allows customers to get a door that is paint or stain ready so they can customize it further to match their home. Raw unfinished wood is cheaper and more hands on as it requires customers to sand and prep the door before painting or staining it. These doors will come with all the unique features and characteristics that come with wood, like knots and grooves.

"The raw unfinished option features many natural characteristics of wood which might include some minor checking, voids, cracks, tooling marks, machined edges, and corners, as well as hard knots and loose knots. These are all beautiful characteristics of the natural, raw wood and provide an organic rustic feel. These characteristics may produce areas of uneven, course and rough surfaces, voids, and racks." - Kate Allen

If you order a finish ready wood door, you're ordering a door with things like knots, voids, and cracks filled with a wood filling compound. This finish ready style is ready for paint or stain and will leave you with a smoother finished door. It has been treated for you with a fine-grit orbital sanding process performed by hand by one of our Artisan craftsmen. Each joint and edge is treated and hand sanded to eliminate machined edges and prep the door for a final finish, like a coat of paint, stain, or top coat.
If you order a raw unfinished door, you have the option to choose to leave things like knots, voids and cracks unfinished to let as much or as little rustic beauty show through. For wood features you do want filled, you will need to fill them with a wood filler compound of your choice. You will also need to prep the door for paint or stain by hand sanding the entire door and around all edges with a fine-grit sandpaper. This process can take anywhere from 2-3 hours to prep the door to be ready for your paint or stain.

Getting a raw unfinished door is the cheaper option, but it will take more of your time to prep the door to be ready to finish it. You cannot leave a wood door like this unfinished. This prep work could be great fun for an experienced DIYer, but if this is your first time tackling something like this with wood, we suggest spending some time reading articles and watching videos for best practices on how to complete this project so that you end up with the exact look you are going for with your finished door.
While you will need to spend some of your time prepping the door if you choose a raw unfinished door, you'll also be able to get it faster as it speeds up the lead time of the door so it ships out to you sooner!
Types of Wood Used With Door Jambs
Different door styles and materials call for different types of wood finishes. At Rustica, we want to make sure the door jamb complements the door slab (as well as the entire space).
The type of wood used with door jambs is determined based on the finish. If you order a prehung door that is "finish ready," we will match the species of wood requested. In other words, if you order a cedar barn door that is finish ready, we will create a door jamb that is also made of cedar.
Are These Solid Wood Doors?
When you're shopping for a new door, you will probably notice that there are two main types of doors on the market—solid wood and veneer.
Veneer doors typically have a hollow-core door made from plywood. It can also be a door that is made of non-wood materials with a wood veneer over them. This makes them more prone to absorbing moisture, which eventually leads to warping and shrinking.
At Rustica, we only make solid wood doors. We source our wood from tree farms in the US and take the time to hand-select the lumber used for each door we craft.
When selecting the timber, we only use the heartwood of hardwood trees. We are careful to avoid any sapwood. We take extra care to avoid sapwood as it contains extra moisture that could make the door susceptible to shrinking and warping. The heartwood we select is then kiln-dried and crafted into engineered lumber. Once the core of the door is built, we then use a sheet of finished wood on the exterior of the solid wood door. This is the option you'll be choosing when designing your door.
Every one of Rustica's
solid wood doors
is made using engineered lumber to make sure that it is resistant to warping and shrinkage. We want to make sure your door is strong and long-lasting. Most of the doors we craft are made from alder or poplar, depending on the finish you choose. The knotty wood grain of adler gives the wood immense character, so we typically emphasize the character by staining it. We usually opt for poplar for paint finishes because the wood grain is nearly invisible, which creates a more even paint look.
Rest assured, you are getting a solid wood door whether you are looking for an interior door or an exterior door.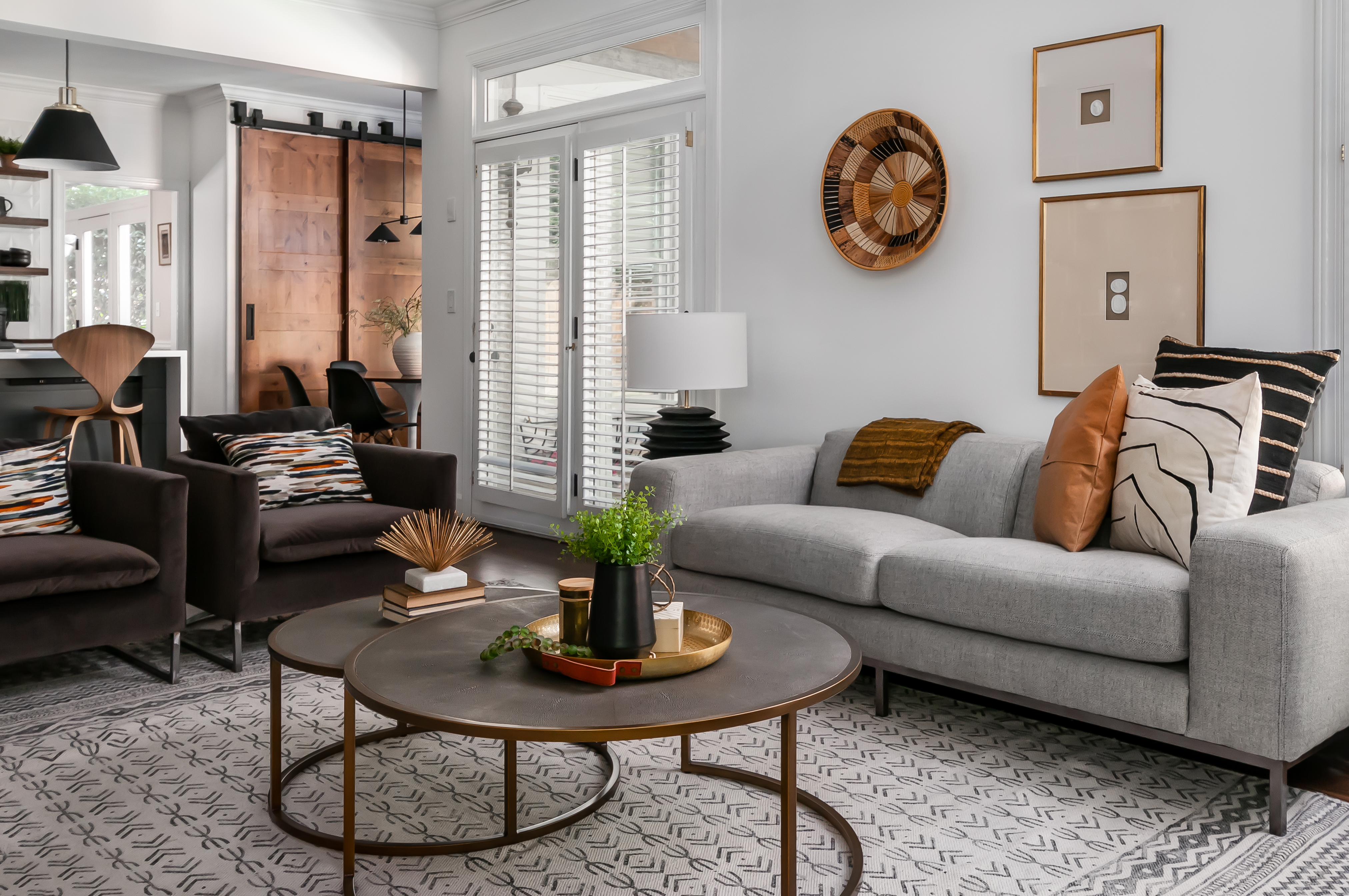 Which Wood Is Right for My Door?
Selecting the right wood for your door largely depends on the nature of your project and the overall look and feel you want for your space.
With so many different wood types to choose from, there's bound to be one (or two) that are the perfect fit for your room's decor. Creating a
custom door
with Rustica can help you get the exact look you want to transform your space into everything you imagined.
Whether you're looking for something practical or want to take your design to the next level with a piece of functional art, the engineers and design team at Rustica are ready to help you create a custom door for your home today.