A glass barn door blends the rustic farmhouse feel that barn-style doors are typically known for with the sleek, modern look of a glass panel. A barn door with glass is the perfect option for spaces that can benefit from a little natural light shining through. You can use a sliding glass barn door for everything from a walk-in closet entrance, a divider between living and dining spaces, or even an eye-catching sliding door for a patio.
15 Glass Barn Doors to Add That Tasteful Touch
Canter Barn Door
Chateaux Barn Door
Mountain French Full Barn Door
Manor Barn Door
Chalet Barn Door
French Quarter Barn Door
Prairie Barn Door
Suite Barn Door
Homeland Barn Door
Frameless Frosted Glass Barn Door
Powell Frosted Glass Barn Door
Modern Cottage Mirror Barn Door
Farmhouse French Half X Mirror Barn Door
Chalkboard Mirror Barn Door
Customizable Metal Barn Door
Rustica offers a wide variety of sliding glass door styles that work perfectly for closets, entry doors, bedroom doors, and more. We are known for our traditional barn door style options, but also have incredible glass barn doors for those wanting to add a modern touch.
A glass barn door is more versatile than you might think. Our selection of sliding barn doors includes frosted glass barn doors, French-style glass barn doors, and full-panel mirrored barn doors to work in a variety of spaces. These doors are both beautiful and functional, allowing natural light to flow while still adding that high-style look to the space.
How to Use Glass Barn Doors
In your search for the perfect sliding barn doors for your home, you may not have considered everything that glass doors can do. These doors are more versatile than you might think, and look great in a variety of spaces, including:
1. Front Doors
A glass panel barn door creates the perfect entrance to your home. You can opt for a strong
metal door
for extra security, with glass panels that allow light to enter, creating a breezy, open feel in your entranceway.
Exterior barn doors with glass come in several styles to match your home's interior and exterior. You can also opt for a stained glass barn door or a barn door with frosted glass to add a little privacy to open entryways.
2. Patio Doors
A glass barn door or a set of sliding glass barn doors makes an excellent entry way for a patio. This type of door looks stunning with full glass panels that allow natural light to come into your home. They work especially well in spaces leading to fenced, private backyards without the need to add frosted glass for privacy. A sliding barn door for a patio is easy to open and close with barn door hardware track kits from Rustica.
3. Closet Doors
Add a touch of class to your closet entrance with a glass barn door (or two!). Rustica offers several styles of closet barn doors in a variety of materials, including metal and wood. You can also opt for a mirrored glass barn door to add a bit of function to closet doors.
4. Shower Doors
Adding a glass barn door to your walk-in shower is a great way to make your bathroom feel larger by allowing light to shine throughout. Plus, a glass shower barn door allows for a roomier entrance than traditional shower doors. Choose between regular glass or frosted glass, depending on your level of privacy needs. Rustica also offers several sliding door hardware kit options, allowing you to find a track look that complements your bathroom's style.
5. Kitchen or Dining Entrance
A glass barn door set can help separate larger spaces within the home. You might use glass barn doors as
room dividers
to separate the kitchen from the dining area, or to separate a formal living room from a family den. Dividing glass barn doors create a seamless transition between spaces, with the many design options to choose from, including reclaimed wood doors and French-style doors.
6. Wine Rooms
Wine rooms require several components to ensure that wine is stored at the proper temperature. A coated tempered glass barn door can give the strength necessary for security while keeping harmful UV rays away from wine bottles. In addition to being functional for a wine cellar, a glass door can also embellish the entry to match the upscale look of the room.
15 Glass Barn Doors to Add That Tasteful Touch
The best thing about glass barn doors is that they can fit into every interior style, whether you prefer
industrial decor
or more of a farmhouse feel. And when it comes to selecting the best glass barn door for your space, look no further than Rustica. We have plenty of options, including our most popular glass barn door styles detailed below.
1. Canter Barn Door
The made-from-scratch
Canter Barn Door
features a French-style design with two glass panels in metal framing. Choose from steel, aluminum, or stainless steel metal with various finishes, including industrial bronze, oil-rubbed bronze, and forged. Clear, mirrored, and double-mirrored glass are available for the glass panels.
This door is just one of several French-style glass barn doors that Rustica offers. Because its glass panels are so large, it makes for an excellent divider between rooms, like a living space and kitchen. The Canter Barn Door allows ample light to shine through but also provides a bit of separation without making rooms feel completely closed off from one another.
2. Chateaux Barn Door
Consider the
Chateaux Barn Door
for a patio door panel or closet door. This door would also be perfect as a double barn door set to separate an office from a living space or a dining room from a kitchen.
The Chateaux Barn Door includes an eye-catching diamond pane pattern that fits perfectly within French-inspired design themes. Depending on the barn door hardware kit, you can choose to blend the farmhouse feel with a classy style. Rustica offers several of its popular metal finishes to get just the right look, including champagne, satin chrome, and copper.
3. Mountain French Full Barn Door
Similar to the Chateaux Barn Door is the
Mountain French Full Barn Door
, which has vertical and horizontal panes that create several glass rectangles. This versatile barn door is popular for separating living spaces, creating privacy in an office, and blocking off entryways and mudrooms. Homeowners can also use it as a privacy divider in spacious bathrooms.
Keep this interior barn door classic with a dark metal finish, or add a little pizzazz with a modern gold or satin chrome finish—both of which work beautifully in a formal dining room or living space. Rustica offers several door hardware kit options, allowing you to match the door hardware with the door finish.
4. Manor Barn Door
The
Manor Barn Door
makes a fantastic entry door for a home. This door features a solid wood frame that's available in a variety of different wood species, including alder, cherry, and birch. The center of the door is a full glass panel, which you can keep clear or opt for a frosted, vintage, or tinted finish for a bit of extra privacy. The wide range of glass finish styles allows you to create the perfect look while maintaining the level of privacy needed for your space.
Consider using the Manor Barn Door as a bathroom separator for a home's main bedroom suite. It can also hang on a door track to create closet barn doors, close off a play area, or separate a laundry room from a living space, bathroom, or kitchen.
5. Chalet Barn Door
The
Chalet Barn Door
is a glass barn door with a steel frame that features solid wood on the bottom and a glass panel on top, making it an incredible blend of industrial and farmhouse styles. The door handle also lends itself to the overall industrial feel. Customers can also mix and match the door's frame and wood slat finish to create virtually endless designs.
Choose from vertical or horizontal wood slats, various wood species, and numerous wood finishes, like a dark walnut stain, jacobean, and navy blue. Vintage, frosted, spectrum and several other glass panel styles are also available.
The Chalet Barn Door makes a grand entrance door to a home by offering a mix of privacy and natural light.
6. French Quarter Barn Door
Use the
French Quarter Barn Door
as an entry door, patio door, or room divider. This French-style door looks similar to a swinging door you might use for your home's entrance, but its barn door style allows it to open without taking up valuable room space.
With six rectangular glass panels, the door maximizes natural light throughout a home. Rustica offers multiple
barn door pulls
that fit well within the chic French theme, along with several popular matching barn door hardware kits as well.
7. Prairie Barn Door
There aren't many doors that can make a statement like the Rustica
Prairie Barn Door
. This glass barn door has a classy look, with its steel frame construction available in multiple finishes, including industrial bronze and white. Thin panes outline the frame for an eye-catching and inviting look.
Choose frosted, overcast, or other privacy glass options to make this door function well in more secluded areas of the home, too, like a bedroom or bathroom. Add it to a closet opening with mirrored glass to create a custom, practical look.
8. Suite Barn Door
If you're looking to maximize the amount of light that comes through your door, the
Suite Barn Door
is one of the best options. This door features a full panel of glass set in a thin metal frame that complements both modern or industrial styles while letting lots of light shine through.
Like other Rustica barn doors, this customizable glass barn door is available in different heights and widths. Customers can also choose their glass style, metal type, and metal frame finish. Add this interior door to a bathroom within a bedroom suite or to a patio entrance to create a dramatic, yet airy look.
9. Homeland Barn Door
The
Homeland Barn Door
is a unique French-style door whose look is inspired by the popular vintage farm vehicle, the Model T. Horizontal wood slats run across the bottom panel. These slats are fully customizable, allowing you to add a pop of color, or keep it classic with a matte black or stripped white finish.
About two-thirds of the door includes small, rectangular glass panels that allow ample light in, while the metal panes add a touch of privacy. Consider using this door for a pantry, closet, or double sliding barn doors to close off a formal dining area when not in use.
10. Frameless Frosted Glass Barn Door
Perhaps one of the best doors to use as a glass shower door is the
Frameless Frosted Glass Barn Door
from Rustica. This door lends itself well to a super-modern design, letting light into the room while giving a bit of privacy with the frosted glass finish. A premium baked finish and ⅜-inch glass ensure both durability and strength.
The fully customizable door is available in just about any height and width to fit your needs. Plus, you'll have a range of barn door hardware kit options to make the door stand out no matter where you choose to place it.
11. Powell Frosted Glass Barn Door
Rustica constructs the
Powell Frosted Glass Barn Door
with engineered lumber and high-strength joints that make it strong and reliable. This door offers an excellent blend of light and privacy, making it a great pick for an office or study, dining and kitchen area, or bathrooms.
The frosted glass panel is set in a welded steel frame with wood accents. Customize the type of metal and the metal frame finish to fit your design needs. You can also elect to replace the frosted glass with a mirrored panel to use this door in a bedroom or as a closet door.
12. Modern Cottage Mirror Barn Door
The
Modern Cottage Mirror Barn Door
will take a bedroom or closet mirror to a new level. The door exudes uniqueness with a strong metal frame and three horizontal panels crossing the mirror. It's the perfect addition to modern design themes.
Multiple metal finishes, like satin chrome, modern gold, and copper, will lend a pop of color and shine to the door. Plus, you can customize the finish of the wood on the backside, which is helpful if you're using it for a bathroom suite or walk-in closet. Wood finishes include red mahogany, barn grey, and abandoned blue.
13. Farmhouse French Half X Mirror Barn Door
The
Farmhouse French Half X Mirror Barn Door
blends rustic charm with a contemporary French door feel. The top half includes a glass panel set within a wooden frame, while the bottom comprises a wooden panel with an X design, just like traditional barn doors.
Not only can you choose your wood finish, but you can also select a wood texture, like weathered, distressed, or worn, to get a seasoned look. Available wood finishes include barn red, matte black, white glaze, and painted barn wood. Metal panes are available in multiple finishes, too, including industrial bronze and champagne.
14. Chalkboard Mirror Barn Door
Add a bit of fun and function to a room with the
Chalkboard Mirror Barn Door
. A wood frame holds two chalkboard panels on one side, and a full-length mirrored glass pane on the other. This barn door would look great in a kid's bedroom closet, playroom, or kitchen.
The solid wood frame can be customized by species, texture, and finish. The infinite combinations make this door fit seamlessly within any type of interior design, from industrial to farmhouse chic.
15. Customizable Metal Barn Door
Choose the
Customizable Metal Barn Door
if you want a glass barn door that you can build and customize from scratch. Although most of Rustica's barn door options allow for numerous customizations, this one lets you get the precise glass panel look you need for whatever space you'd like to add it to.
Choices include metal type, glass style, door pull style, and the number of horizontal and vertical windows for the door. You can also customize the kick plate height, giving you a little more durability for the bottom of an exterior door. Add multiple glass panels for added privacy or just include a couple panes of glass running throughout the door for maximum natural light.
How to Choose the Best Glass Style for Your Sliding Door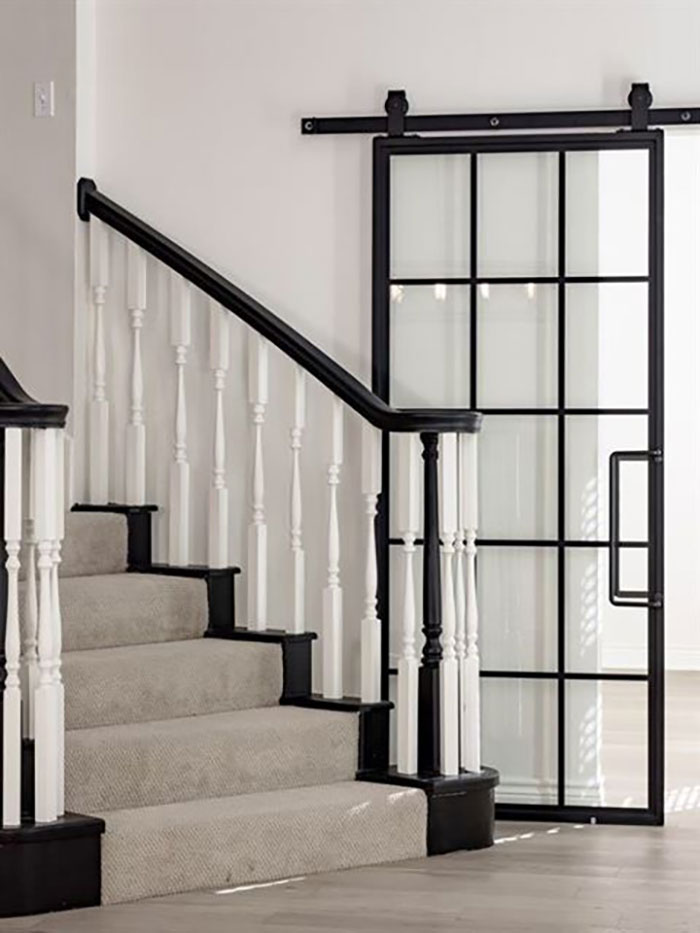 The combination of glass and steel in our sliding doors is stunning! Although this look is aesthetically pleasing, customers can get hung up on trying to decide which glass style they want. Artisan has a few different styles to choose from. Each one providing unique benefits.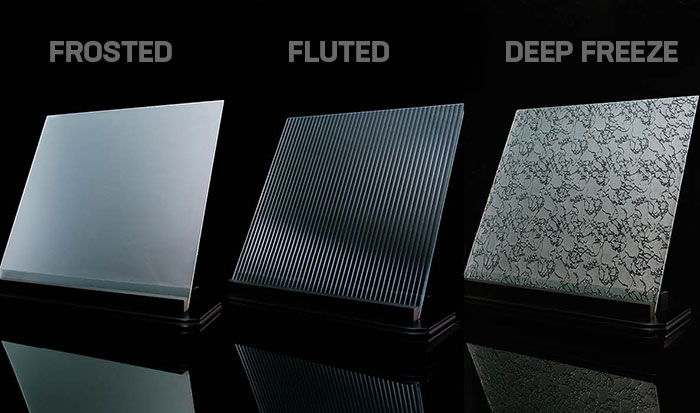 Clear glass is perfect for rooms where you do not mind a little less privacy. If you're using your sliding french door to divide a kitchen or living room from the rest of the house, clear glass is a great option. If you do not want any passerby to see what is behind your glass barn door, choose our frosted glass. This still allows you to enjoy the benefit of more light coming in while maintaining your privacy. If frosted glass is not for you, but you still need a little privacy, consider some of our textured glass. Glass styles like fluted and deep freeze have enough texture to help keep things private.
Many customers choose to add the mirror glass style to their sliding doors, especially for closets. This adds some more functionality to your barn door. Not to mention, mirrors provide other benefits like creating the illusion that a room is larger and brighter.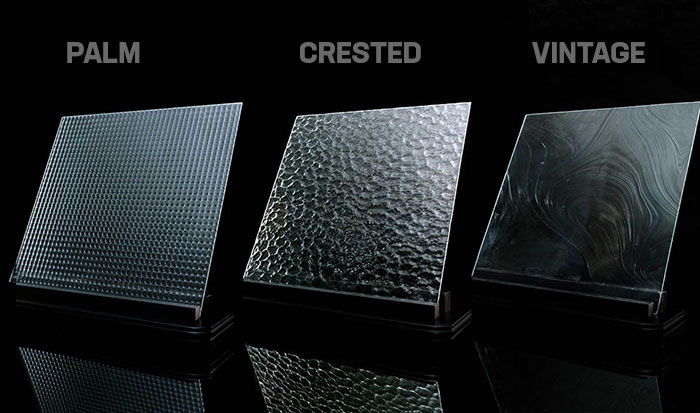 A few fun textured options are the palm, crested and vintage. These glass styles do not provide a lot of privacy, but they add a little bit of design to your already beautiful sliding french door. Choosing a glass style with texture is a unique way to express your style.
Currently, Rustica has 14 different styles of glass to choose from. This provides customers with a way to create exactly what they are looking for. If you do not see the glass style you're looking for or have more questions, give our service team a call. They would love to help in any way they can.
How to Maintain Glass Barn Doors
Whether you have a glass barn interior door or exterior door, you'll want to keep it in tip-top shape for many years to come. Maintaining glass doors takes a little more effort than wood doors, but it's worth the extra energy for the final look. The following tips will help you keep your glass barn doors looking beautiful for many years to come:
Cleaning Supplies for Glass Barn Doors
The good news is that you won't need a bunch of supplies to clean your glass barn doors. A bottle of glass cleaner spray and a microfiber towel will keep your door looking as good as new. We suggest steering clear of paper towels, as some of them can be a bit on the scratchy side. However, a microfiber cloth is super soft and won't damage your glass.
Alternatively, you can use glass cleaner and a squeegee if you have one. However, this method won't work well if you have small glass panes that can't accommodate the size of the squeegee.
If your door has a metal frame and metal panes, you can use an all-purpose cleaner and a damp sponge to wipe down the metal parts. Then, dry them with a paper towel. For wood frames and panels, use a wood furniture polish and a microfiber towel. Don't forget to wipe the wood in the direction of the grain!
How to Clean Glass Barn Doors
While there's no specific method you need to use to clean off your glass barn doors, we do recommend following these steps to prevent streaking:
Use a clean, dry microfiber cloth to wipe down the glass, removing dust and lint.
Spray the glass cleaner on the glass panel from about two feet away. Cover the whole glass surface.
Use a second clean and dry microfiber cloth to buff out any smudges and dirt on the glass. Move the cloth in small circles over areas of dirt to remove them. Otherwise, you can move from side to side or up and down.
Now, take a third clean and dry microfiber cloth to wipe the entire glass panel. This will ensure the glass is completely dry, and prevent streaks from forming.
Removing Scratches on Barn Door Glass
No matter how much you try to avoid scratches taking over your glass barn door, they may still appear. Two quick and easy methods can help you rid the glass of scratches:
First, try clear nail polish. Add a thin layer of the polish to the scratch and allow it to dry completely for about one hour. Then, pour some nail polish remover onto a microfiber cloth and wipe the cloth over the scratch to remove excess polish.
Second, try the toothpaste method. Put a small amount of white toothpaste on a cloth and move it in small circles over the scratch, like you were buffing it. Do this for one full minute to polish out the scratch. Then, wipe the area with a clean cloth.
Add a Glass Barn Door to Maximize Lighting and Style
Adding a glass barn door to your home not only amps up the style, but it also allows light to flow through the space, creating a look that's as functional as it is elegant.
You can find a glass barn door that fits your needs by shopping at
Rustica.com
. We are able to customize any door to fit your space while giving you the option to select a finish, glass style, and barn door hardware kit that works with your design. All Rustica doors come with a 30-day warranty against warping, splitting, and separating, as well as a one-year warranty against any manufacturing defects.
Don't put it off any longer—create your one-of-a-kind glass barn door today!