Knotty Alder doors are known for their pronounced grain, unique appearance, decorative knots, and ability to contribute a rustic, outdoorsy feel to any room where they are installed. These doors are ideal for interior areas so that they are protected from the weather. Even inside, however, these doors could and should be finished for maximum beauty. To finish one, you'll need to:
How to Finish Knotty Alder Doors
Gather Materials
Set Up the Workspace
Remove Hardware
Sand the Door
Clean the Door
Apply Varnish/Stain
Repeat: Sand/Clean/Varnish
Finishing a knotty alder door is doable, but it's important to have a clear understanding of each step before starting this project. Knotty alder can be a little tricky when it comes to staining. But, when done right, you'll have an interior focal piece that adds an element of rustic charm unlike anything else.
How to Finish Knotty Alder Doors
Step 1: Gather Materials
To prepare for the job of finishing an alder wood door, all your materials should be gathered and available in one place. The last thing you want is to find yourself unable to complete a step because you need to run to the store for supplies. Whether you're working alone or with a partner, the supplies you need are the same. This also applies to exterior wood doors.
Sawhorses
–Sawhorses are a-frame structures that form the support base when sawing logs or painting long, flat objects. In this case, you'll use the sawhorses to support your door and keep it elevated while working on it.
Drop Cloth or Tarp
—No matter where you're working on this project, you'll want a drop cloth or a large tarp to lay down on the ground to catch spills, splashes, and debris. You'll need to place a second drop cloth or tarp over the sawhorses so that your door doesn't get scratched while working on it.
Sandpaper
—You'll need to sand the door down, so quality sandpaper is vital. 320 and 400 grit sandpaper are perfect for this project.
Clean Cotton Rags
—Cotton rags will be used for cleaning the door at various stages. Make sure the cotton rags are clean and free of debris. You want to avoid scratching your door or rubbing any foreign material into the surface.
Varnish
—Varnish is what you'll be brushing onto your door. Choose a color that works well with the paint and décor scheme in your home.
Stain
—You can also choose to stain the door to give it a deeper hue. If you decide to stain it, then be sure to read up on
how to stain a wood door
before you get started.
Brush
—You'll need a three to four-inch brush for applying varnish.
Painter's Tape
—If your door has glass panes, use blue painter's tape to tape the glass and prevent varnish from potentially causing damage.
Shop-Vac
—This is optional, but having a shop vac is a fast and easy way to remove the dust and sanding debris from your door. You can remove it with a rag and a hand broom, but a shop vac will make your life much easier.
Goggles and Mask
—Safety should always come first when you're doing a DIY project. Sanding may not sound like a dangerous pastime, but bits of wood dust and debris can get into your eyes if you're not careful. Dust particles can also get into your lungs and aggravate lung problems such as asthma. These two items are essential to ensure you're completely safe no matter what project you're working on.
Step 2: Set Up the Workspace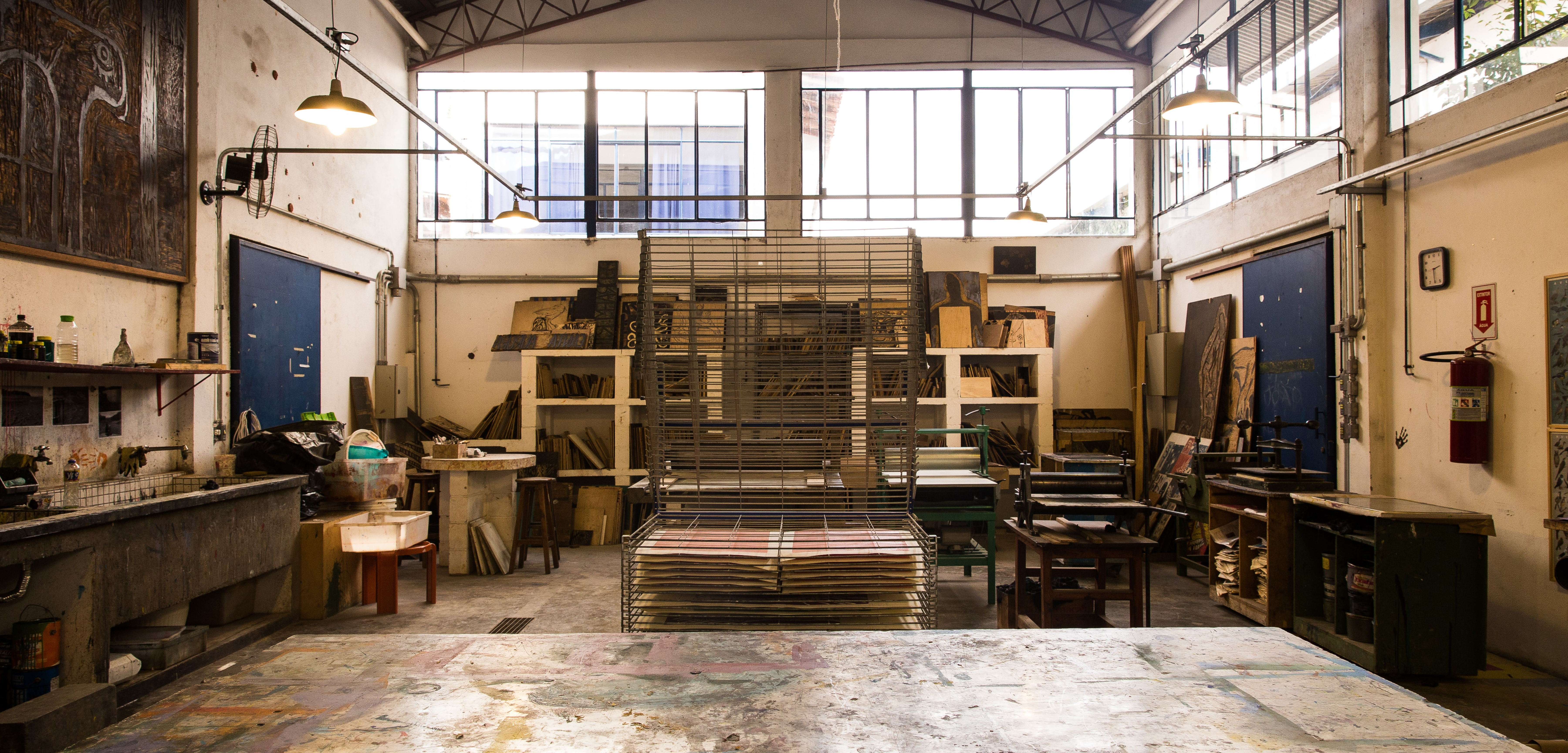 Before you start working on your slab door, you need to get your workspace ready. This means setting up two sawhorses with a drop cloth or tarp underneath, and a second drop cloth or tarp on top.
Next, place your door so it rests across both sawhorses. Make sure the door is stable and doesn't wobble. The last thing you want is for your door to fall when you're in the middle of varnishing it.
It's also important to make sure you're in a well-ventilated area so you don't inhale varnish fumes while working. Ensure plenty of space around the door so movement isn't impeded.
If you have glass panes on your door, this is also the time to tape them to protect them from dust and varnish.
Step 3: Remove Hardware
If the door you're finishing has any hardware on it, now is the time to take it off. Remove hinges, doorknobs, and locks. Keep these pieces in a secure location with all the nuts, bolts, and screws, so you can replace them when your door is ready to be rehung on the door frame in your house.
Don't skip this step thinking you can sand and varnish around the hardware. Doing so will make your job more difficult and will result in a less-than-professional-looking finished product.
Step 4: Sand the Door
This is where the fun begins. With your workstation set up and your door slab prepped and ready, you can roll up your sleeves and get your hands dirty. This is also where you should put your goggles and mask on to make seeing and breathing easier.
Using your 320-grit sandpaper, lightly sand all the surfaces of your door. You don't have to sand it until it's as smooth as glass, but you do want to knock down rough edges, splintered wood, and sharp edges. Sanding down these problem areas will ensure your varnish goes on smoothly and evenly.
Sanding, if done incorrectly, can leave unsightly sanding marks. To avoid this, be sure to sand in the direction of the grain. Go in sections and pay attention to which direction the grain is going. Start with the horizontal sections of your door then, when finished, move on to the vertical sections. By sanding in the direction of the grain, you'll produce a smooth surface that isn't marked up and scratched.
Lightly go over any areas that are raised, decorated, or edged, such as the area around a raised panel. You want to make sure that the entire door is sanded – even the decorative areas.
Once you're finished with one side of the door, sand down the sides, top, and bottom. Then flip the door over and sand the other side. Repeat the same pattern and work one section of the door at a time. Sand in the direction of the grain for each section.
Going section-by-section may take a little extra time, but it's well worth it than trying to cut corners by sanding horizontal and vertical sections at once.
Step 5: Clean the Door
This is where your rags, hand broom, and shop-vac come in handy. After you've finished sanding your door, you'll need to clear away the dust particles left behind.
If you're using a hand broom, take the broom and brush the whole surface of the door. After knocking all the dust off, take a clean cotton rag and lightly dampen it. Wipe it over the surface of the door to pick up any dust particles that you couldn't brush off.
If using a shop-vac, use a brush attachment to go over the entire door and suck the dust up. If the door has decorative edging and molding, use a brush attachment followed by a regular nozzle to get into the crevices. Finally, take a lightly dampened rag and wipe down the door to ensure the surface is dust-free.
Your rag should just be slightly damp for this step. You might need several clean rags to wipe down the surface of the door and remove any remaining dust particles. After wiping the door down, allow the surface to dry completely before moving to the next step.
Step 6: Apply Varnish/Stain

This is the time when your door starts to take shape. The varnish you apply will not only seal the wood and protect the door, but it can boost the natural beauty of the knotty alder wood as well. Knotty alder wood pairs well with many varnishes and stain choices.
If you want to keep the color of your door natural, then choose a clear stain to protect the wood and allow its natural variations in color to shine through. If you're matching a particular color scheme with your home, choose a varnish that pairs well with your decor colors, such as walnut or cherry.
Applying varnish should be done one side at a time and, similarly to sanding, one part of the door at a time. Brush in the direction of the grain, starting with horizontal pieces and continuing to the vertical pieces. Use different size brushes to apply varnish to detailed areas, like decoration pieces molding.
Make sure to get the top, bottom, and sides of your door at the same time.
Once you've finished one side of your door, you'll want to let it dry completely before switching to the other side of your door. Drying time varies but usually takes anywhere from six to 10 hours. It's best to leave it overnight to ensure the door is completely dry.
After you've finished one side and you've let it dry completely, flip the door over and repeat the process on the other side. Let the second side dry completely, then move on to the next step.
Step 7: Repeat: Sand/Clean/Varnish
At this point, you're halfway there and you already know what to do to finish the project off. Take your 400-grit sandpaper this time and lightly sand the dry varnish. All you're trying to do here is even out the varnish you applied, so don't sand too much or you'll end up taking it off.
You should have a fine sheen of white dust when you're finished sanding. The dust is dried varnish. Brush it off with your hand broom, then wipe any remaining dust off with a rag. Use the shop-vac if you opted to go that route with a brush attachment to remove the debris from the door. A rag afterward will help remove any remaining dust the shop-vac didn't suck up.
Now, apply another layer of varnish and repeat the same process—brushing varnish onto the door in sections. Apply a second layer to the sides, top, and bottom, and then wait for the door to dry before flipping it over and repeating this process on the opposite side for a second coat. Once you've completed the second coat of varnish, repeat a light sanding process (once the door is completely dried).
After you've sanded the door and cleared away all the dust, apply one final coat of varnish to the front and back of the door, being sure to give it enough time for the varnish to dry in between coats. Three coats of varnish should be plenty to provide protection from regular use inside the house for your knotty alder door.
Once you're finished applying varnish and the door is dry, you can place the hardware back on the door. Finally, hang it up, stand back, and admire your handiwork!
Can Knotty Alder be Painted?
Knotty alder wood is a beautifully unique wood, known for its distinctive grain, pattern, and, of course, knots. The beauty that comes out in these doors is most often aided when applying a stain that soaks in. Stains will deepen the unique grain and show off the knots, enhancing the rustic nature of the wood.
The short answer to this question is, yes, alder can be painted. However, painting this type of wood requires much more attention to detail and will obscure the natural beauty. When painting knotty alder wood, you'll need to paint the surface of the door, in addition to painting the inside of the knots, filling them in. When this is accomplished, the knots all but disappear, voiding the purpose of knotty alder wood.
Rustic knotty alder doors are always best when stained or varnished. If you want to paint, it's best to do so with a species like poplar, instead. Many wood types work well for painting, but an alder door is not one we recommend for painting.
How Well Do Knotty Alder Doors Hold Up?
Interior knotty alder doors hold up very well. Alder is one of several
types of wood
that work well when crafting custom interior doors to enhance your space with a rustic, outdoorsy, feel. They work well in both low and high-traffic areas that see a lot of use.
We love knotty alder for all sorts of interior door ideas, such as knotty alder bifold closet doors, double doors for a wine cellar, a French door leading to a sunroom, knotty alder bifold doors for a laundry room, and knotty alder barn doors for a pantry.
Interior areas are perfectly accentuated by knotty alder wood and prevent the possibility of the door from breaking down due to weathering. Knotty alder is ideal when used for interior wood doors in playrooms, bedrooms, dining rooms, entertainment centers, and guest rooms.
We would not particularly recommend this species for use as a patio door, prehung exterior door, wood entry door, or storm door because of its tendency to respond poorly to the elements. A fiberglass entry door or steel door is best for exterior settings because fiberglass and steel can stand up to the elements quite well. A mahogany door can also be used for entry door needs because mahogany is extremely durable and makes an excellent solid wood door.
Where to Buy a Solid Knotty Alder Door?
DIY might give you a sense of accomplishment, but not everyone has the time, experience, or patience for this kind of project. If DIYing isn't for you, then you're still in the right place! At Rustica, we provide an entire line-up of options, including slab and solid wood doors.
Each door can be customized to your preferred stain, sizing, and features. When you purchase from Rustica, you're in the driver's seat. You tell us exactly what you want and we'll provide the door.
Knotty Alder Interior Doors
Numerous knotty alder pre-hung interior doors will look fantastic in any room of the house. Here are just a few:
Two-Panel Door Interior Door
—This door style is a classic interior door that works well everywhere from a kitchen pass-through to an entertainment room entryway. The door makes a statement and works well in a variety of stains to match your color and décor scheme. These also look exceptional when paired with sidelights and a transom window. If desired, it is also available as a sliding barn door.
Open Road Interior Door
—With a classic X pattern on the bottom half and a window on the top half, this door is ideal for nurseries, playrooms, sunrooms, and kitchen entryways. The wood lends a naturally rustic look while the window provides a clear view from one room into the next. Watch the kids play, keep an eye on guests while preparing food in the kitchen, or allow extra light to stream into your living room from your sunroom with this beautiful door. If you want the option of having no door at all, opt for this door as a sliding barn door, rather than a pre-hung door, so you can slide it completely out of the way.
Z Barn Interior Door
—This barn-door lookalike is designed with the classic Z pattern that everyone knows and loves. Ideal for a basement playroom, mancave, entertainment room, or bedroom, you can't go wrong no matter where you hang this door. This is also available as a sliding barn door if you want even more rustic charm.
Knotty Alder Barn Doors
Barn doors are an excellent addition to any room if you want to increase your rustic, farmhouse, or country charm quotient. Here are several that look amazing in alder wood.
Cottage Barn Door Kit
—If you still want to have a hand in putting your door together, this kit gives you the touch of the DIY experience you're looking for. Rustica provides all the alder pieces in a stain of your choosing and the metal frame, along with easy-to-follow instructions so you can build it yourself. Enjoy the fun with none of the hassle.
Stable Barn Door
—This is a door that is incredibly versatile in terms of where you can place it. It looks fantastic in kitchens, playrooms, entertainment rooms to cover entertainment equipment, guest rooms, and master bedrooms. It can be used to cover pantries, closets, and any other area where you have room enough to slide the door away.
| | |
| --- | --- |
| | |
| Cottage Barn Door Kit | Stable Barn Door |
Knotty Alder Bifold Doors
Bifold doors have their place and are especially useful for small areas with limited space to place a barn door.
Bifold Barn Door Hardware System
—If you're looking for a bifold barn door, Rustica has a kit to help you transform a regular barn door into a beautiful bifold door. These can be placed anywhere from closets to pantries to bathroom cabinets and they provide an extra pop of rustic to any home.
| | | |
| --- | --- | --- |
| Ponder Mirror | Provence | Retreat |
Knotty Alder French Doors
Whether single or double doors, these will look amazing in any home.
Feed Lot Interior Door
—This half-window, half-solid door would make a fantastic addition to any room. Thanks to the unique combination of glass, metal, and wood, the door has a distinctive European charm that works well in any number of styles from rustic to modern.
Feed Lot Interior Double Door
—For statement entryways and rooms that require double doors, this option makes a stunning combination. Interior French doors are ideal for libraries, studies, pool rooms, and any other location where you want to add a dose of sophisticated charm.
| | |
| --- | --- |
| | |
| Feed Lot Interior | Feed Lot Interior Double |
Knotty Alder Doors: A Rustic Accent for Your Indoor Spaces
Knotty alder doors provide the perfect complement to indoor spaces where you want a bit of an extra rustic feeling. Their unique grain and knots create a pleasing focal point for any room, whether you install knotty alder barn doors, knotty alder bifold doors, knotty alder French doors, or a knotty alder
custom door
in your home.
Finishing these doors takes time, patience, and a little know-how, but once you do, you'll have a crowd-pleasing door that perfectly accents any home. Whether you live in the country or simply wish to bring the outdoors inside, knotty alder doors are the perfect contribution to your rustic décor theme. If you want to install a wooden door that gives you the best rustic feel possible, you can't go wrong with interior knotty alder doors.