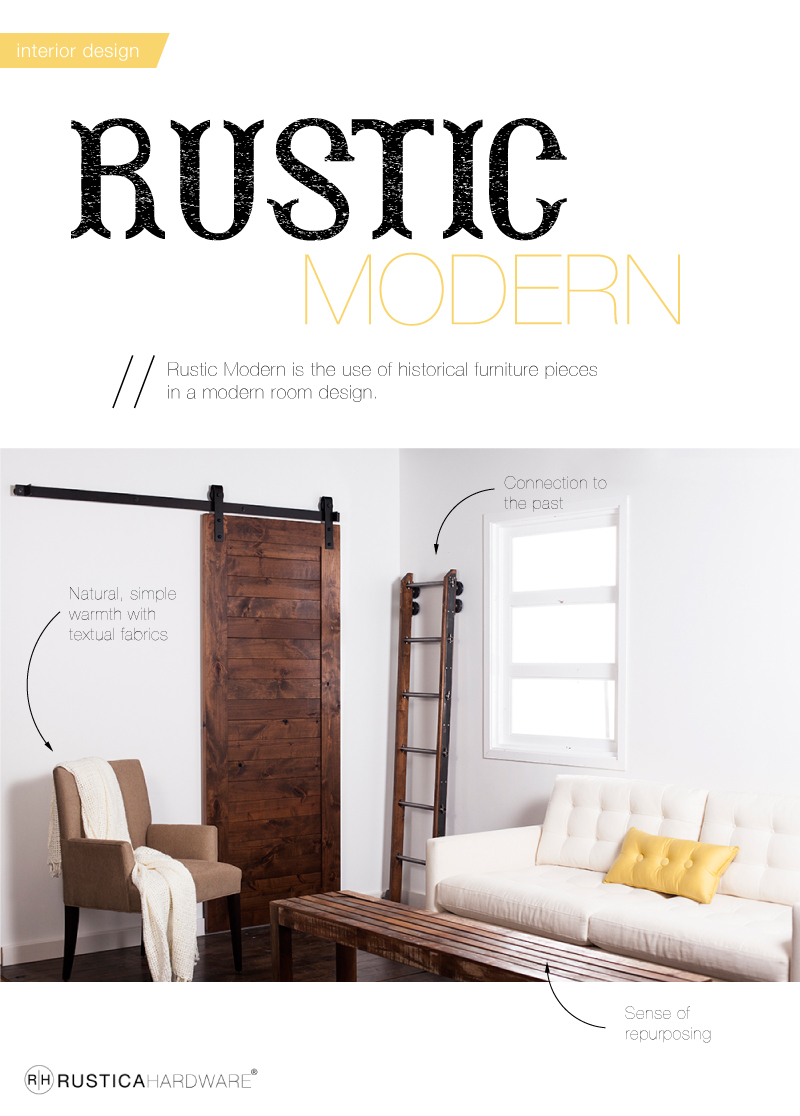 The modern rustic décor trend is on the rise in homes from coast to coast across America – and even across the ocean. The combined look creates a home that is simultaneously cozy, roomy, and full of natural light. If you want to get in on this beautiful blend of old and new, here are a few tips to help you achieve a modern rustic look in your home.
7 Tips to Achieve a Modern Rustic Interior Design Look
Highlight Reclaimed Wood and Natural Stone
Incorporate a Warm or Natural Color Scheme
Bring Out Organic Shapes and Textures
Use Distressed Metals
Bring in Natural Light and Scenery
Choose Modern, Minimal, but Luxurious Furniture
Use the Country for Inspiration
Many homes that showcase a modern rustic look could be featured in numerous magazines from Country Living to Modern Home. If you find yourself pining for the feel of luxury while still wanting to bring the great outdoors inside your home, modern rustic décor provides the perfect style.
What is Modern Rustic Style?
Home design trends are ever-evolving and, in some cases, reverting back a couple of hundred years. After the intensely modern designs of the 2000s flooded homes, interior designers decided it was time for a change. Along with an increased interest in farmhouses, gardening, sustainable living, and eco-friendliness came a renewed look into all things old. The way early Americans lived was rustic to its core – hand-hewn wood tables and farmhouse benches, handmade throws, stone fireplaces, and wood rafters were commonplace. These raw elements from the homes of early settlers and pioneers are now making their way to the fore in our modern homes.
But it's not enough to simply incorporate these rustic décor elements. We are not, after all, nineteenth-century pioneers. We live in modern times and are capable of accessing more convenience at our fingertips than at any other time in history. We talk to Alexa and love our smart TVs. We have our refrigerators programmed to order more milk when we're getting low and Instant Pots that cook dinner while we're at work. Americans lead busy lives, so that means we need both form and function to create a sense of efficiency in our styles and relaxation in our rustic home décor. When modern joins rustic, it catches our attention.
Modern rustic homes feature a unique mix of traditional décor, furniture, and designs with newer, efficient, almost minimalistic styles. The result is a well-rounded look and feel that is second to none. It has rustic charm with modern amenities, meaning you could very easily pair a hand-carved wood end table with an Alexa-enabled lamp on top.
7 Tips to Achieve a Modern Rustic Interior Design Look
Modern rustic homes combine the best of both worlds to create a blended experience of warmth, charm, comfort, and a sense of informal elegance. Many times, modern rustic homes feature airy open floor plans, large windows, plenty of natural light, and enough window space that the outside world can easily be seen from the living room, kitchen, or bedrooms.
1. Highlight Reclaimed Wood and Natural Stone
Two of the most prominent materials and architectural contributions to homestead dwellings, wood and stone, are key when creating a modern rustic interior design. Here are several ways to incorporate wood and stone into modern rustic home décor ideas.
Wood in the Kitchen
In order to bring a modern rustic decor element into your kitchen, you'll want to minimize clutter. But more than that, you want to bring in elements of reclaimed wood. If you're renovating or remodeling your kitchen, you'll have a blank slate to work with. If you're simply modifying what's already there, however, you can still use these tips and tricks to bring a modern rustic feel into your cooking space.

Wood Flooring: There is no doubt about it, wood flooring does wonders for creating a very rustic yet elegant and modern feel. The warmth of the wood shines through beautifully, especially in cherry, hickory, alder, or pine.

Islands, Countertops, and Cabinets: Using reclaimed wood in any of these places creates an earthy, rustic feel. Pine is a beautiful option for countertops and kitchen islands and can come in a variety of hues from deep orange to dark brown. Choose knotty pine for an extra rustic feel.

Table: Your kitchen table is the perfect place to highlight modern rustic décor. A solid wood table with clean lines and firm edges will perfectly highlight the combination of rustic and modern in your home. Many rustic tables are also large enough to fit friends and family together, making it a perfect addition for homeowners who enjoy hosting regular get-togethers.

Stone in the Bathroom
Bathrooms used to be notoriously small. Today, home designers recognize the fact that homeowners would rather not run into their spouses while getting ready in the same space. Interior designers and architects are also starting to make this often-forgotten room a more pleasant space.
Here are a few tips to transform any bathroom, new or old.

Stone Walls: Whether you're remodeling or renovating, adding stone to the walls of your bathroom will give your room the feeling of being larger than it actually is. The natural stone will bring in an incredibly organic feel and will connect you to nature. If you can't bring in whole stones, using stone veneers will accomplish the same effect, cost half the price, and are far less heavy.

Wood and Stone in the Bedroom and Livingroom
Bedrooms and living rooms are the perfect places to emphasize natural wood and stone to create a warm, organic, luxurious feel.

Flooring: Wood flooring is always a hit. Using wood that's native to your location is an extra plus, as it will connect the inside of your home to the outside world surrounding it.

Doors: A perfect way to incorporate reclaimed wood and metal into your bedroom or even living room entryway is by installing barn doors. These create the perfect sliding partition to section off a room and add an especially rustic feel to any place in your home. These also work wonderfully for closets.

Ceiling: Think of your ceilings as a fifth wall, the other four being the ones where you hang pictures, décor, and reclaimed wood frames. The ceiling is a prime location for exposing the natural feel and build of your home. If you have an A-frame home or cathedral ceiling, consider covering it in reclaimed wood and adding large beams.

Fireplace: Stone fireplaces bring an earthy element into your home. Paired with the warm glow of a fire on a winter night, you'll have a living room that looks like it jumped out of a magazine.
2. Incorporate a Warm or Natural Color Scheme
Modern rustic homes feature an open floor plan, natural materials, and a warm or natural color palette. You want to bring in a touch of nature to your home. Avoid bright, bold colors—instead, light creams, browns, greys, and blues look beautiful painted on walls or kitchen cabinets. Hand-sewn pillows pair well on living room couches and chairs to create a cozy feel alongside warm throws. Area rugs made of natural materials create a unified look throughout your living room space.
When thinking about a color scheme, look beyond your walls. Your color scheme doesn't only refer to paint choices. In modern rustic homes, the color scheme also includes your furniture materials. Consider your couch, chairs, pillows, throws, and rugs. Be sure they coordinate well in their colors and textures.
Area rugs and pillows made of natural materials are ideal alongside chairs that have metal feet, backs, or arms. Light-colored couches pair well with wood flooring and a light-colored area rug. If you have a chair made of dark, heavy wood, place a light-colored pillow, cushion, or throw on it. Rooms that have an abundance of natural light can probably afford a few items that are darker and use heavier woods or metals. With less natural light in a room, choose lighter colors for your décor, furniture, and overall color scheme.
3. Bring Out Organic Shapes and Textures
Organic shapes and textures are an important part of creating a modern rustic feel. Wood instantly creates a rustic, outdoorsy feel that is simply unparalleled. Not only does the warmth of wood contribute to an inviting feel for your space, but the shape and texture of wood goes a long way, as well.
Woodgrain, when exposed and sealed, creates a design that is visually and aesthetically pleasing. The natural rings on wood that show where it has been cut create an elegant style and pair well with the clean lines of modern décor. Because of this subtle design feature that comes with every beam and plank, wood pairs incredibly well with more modern type design features such as metal sconces, light fixtures, and metal décor.
Hewn wood, metal, stone, and brick should be highlighted, rather than covered up. If your home has a natural stone wall, allow it to stand free of clutter. A rustic red-brick fireplace is often preferred to a painted-over option due to its warm, red hues that pair well with other natural elements in your home. For walls that don't sport any sort of texture, installing shiplap is a perfect way to highlight an accent wall and include rustic finishes on a surface that was lacking definition.
If you're looking for a way to cover up your smart TV to match the rest of your beautiful décor, the answer is simple: sliding shutters. You can choose shutters that mimic barn door styles to bring out the beauty of a z-pattern barn door and draw out the shapes that make you think of rustic living.
4. Use Distressed Metals
Every home that wants to blend the cozy, inviting, and warm feel of rustic décor along with a stylish, updated, and modern look needs to use distressed metals in their décor and furniture pieces. Distressed metals take the often too-shiny look of metal and give it a unique, vintage, and antique feel, instead.
Distressed metals find their place in lamps, pull knobs for kitchen drawers, picture frames, décor, wall hangings, and light surrounds. Metals like stainless steel are often too bright and shiny for the modern rustic look. Stainless steel appliances should be used in moderation. Distressed metal accents are also perfect for the bathroom, bedroom closets, and work wonderfully on barn doors or sliding shutters.
Even though metal can be very basic, its depth adds to the modern part of your modern rustic décor. Here are a few décor ideas where distressed metals can be especially effective.

Bedrooms: Use distressed metal wall hangings to add an eye-catching statement.

Living Room: Add a distressed metal clock to tie in both rustic and modern elements.

Bathroom: Incorporate the modern rustic style into the knobs on your cabinet drawer pulls, and in décor on shelving.

Kitchen: Adding distressed metal canisters or tins for storage is a perfect way to add some definition to your pantry or exposed cupboards.
5. Bring in Natural Light and Scenery
A key feature of any modern rustic home is a wide-open floor plan, lots of natural light, and plenty of the outside scenery visible from inside the home. If you are remodeling, renovating, building your home, or are in any way able to adjust the floor plan and the window options, this is an item to put on your to-do list.
Modern rustic interior design makes the greatest possible use of exterior lighting. The more natural light, greenery, and scenery you can bring into your home, the more your home will have the feel of a space that is all at once warm, cozy and inviting while simultaneously airy, light, and roomy.
The feeling of an expansive home interior is created by large picture windows often framed by flowy see-through curtains that effortlessly allow light and air to come into your home. Curtains should merely frame the window, not obstruct it. The point of picture windows in a modern rustic home is to bring in the outside. Whether windows are opened to allow the breeze through or closed to keep in the warmth, they serve one purpose—to immerse you in the nature that surrounds your home.
If your windows are less than large and you don't have the option of installing larger frames, there are several decorating ideas you can use to give yourself the feel of larger windows without installing them.

Tall Curtains: If your windows are on the short side, install long curtains that begin a foot or two above your window and hang down to the floor. Add wood paneling under your window to make it look like a half-door or place a low cabinet there to hide the wall. Pull back the curtains with a simple tie on each side, making sure the material covers the rod entirely to create the effect of having a taller window that is hidden underneath the top of the curtain.

Use a Mirror: Placing a mirror or a mirror barn door on the opposite side of the room from the window you do have will produce the effect of adding a second window, allowing the natural light that comes through to reflect off the mirror into the room.

Faux Window: Add a faux window to a part of your home with little to no light or window space. While it will not create a brighter room, it will give you the appearance of having access to the outside world. Wood and glass décor windows create a visual appeal that subconsciously makes you think of the great outdoors, helping you accomplish your purpose even if you aren't able to physically open it.
6. Choose Modern, Minimal, Luxurious Furniture
Modern rustic furniture is simultaneously basic, somewhat minimalistic, and yet luxurious all at the same time. It mixes all the elements mentioned in this article from wood and metal to stone into their composition. Modern rustic furniture is made with clean lines, simple form, is incredibly sturdy, and can be luxurious. They are made with warm, earthy tones that are inviting and function well for places of rest and relaxation. Here are a few design ideas for your modern rustic furniture.

Bedrooms: Reclaimed wood bed frames create a beautiful centerpiece for a master or guest bedroom. They are sturdy and will last a lifetime while providing elegance and charm

Living Room: Chairs from reclaimed wood and metal are highly versatile in their form and function. While the base of the chair may be rough, adding plush cushions creates a cozy spot to relax and enjoy a cup of coffee or a good book.

Couch: Couches made from leather are a perfect addition to your modern rustic décor. The color of leather will fit right in with the rest of your home, and the luxury of your couch will be an instant hit with anyone who visits or lives with you.

End Tables: Whether you use an end table beside your couch or tucked up against a wall, it can serve as a perfect resting place for a few notable books, a piece of décor, or a plant. The key is not to overload your table but use it as an accent piece to go along with the rest of your décor.

Kitchen: Wood tables and chairs go perfectly in this style of a house. Place plush cushions on your individual chairs for extra comfort for daily use.

Entryway: The entryway to your home gets a lot of use. It's the spot where you stop and put on coats, shoes, fish out your car keys, and remember that you forgot your umbrella. Make this area functional and beautiful by installing a wood and metal coat rack with a bench and cubbies. Use the bench for sitting and putting on or taking off your shoes, keep your coat on the metal hooks, and use the cubbies to store shoes, backpacks, umbrellas, or the keys you're always misplacing.
7. Use the Country for Inspiration
Modern rustic design looks to nature, the country, and the modern lifestyle for inspiration. As with any style, your individual taste and preference might be different than someone else's. What is important when it comes to decorating a house is that it feels like home. You and those you love should enjoy the space you've created. If you want to gain inspiration for more ideas for your modern rustic home, a great place to look is outside. Remember that the rustic part of modern rustic largely comes from the look, feel, and organization of the natural environment.
Look to trees, flowers, streams, and the morning sunrise for everything from your color palette to design ideas for furniture. Get inspired by a relative's house who lives in the Midwest in addition to your cousins who live in a modern high-rise with a window garden. The trick isn't to get it perfect but to let your imagination see possibilities in the nature that surrounds you.
Make Your Home a Modern Rustic Haven
Transforming your home into a modern rustic haven doesn't have to be an overwhelming or cost-prohibitive task. With a few simple changes to your home, you can be well on your way to creating an environment you enjoy returning home to every day after work. By combining some simple elements such as increased natural lighting, a sliding barn door closet, or wood furniture and natural colors, you can begin the transformation.
Your home is the place you and your family rest, work, eat, play, and enjoy life together. Make it a place that brings you comfort, sparks creativity, fuels your love for life, and leaves you thankful every single day that it's the place you and your loved ones get to call home.