Next to the rustic farmhouse look, the chic antique style is one of the most popular decor themes. This look often features chipped, distressed paint, authentic time-period pieces, and matching modern-day elements that have been made to look antique. If this is the look you're going for in your home, capitalize on the beauty of interior and exterior doors to add an extra element of chic antique style with doors like these:
14 Antique Doors to Add a Little Chic Antique to Your Home
Pump House Front Door
Stronghold Front Door
Farmhouse French Half X Exterior Door
Woodsman Front Door
Manor Front Door
Farmhouse French Half Exterior Double Door
Cathedral Double Front Door
Farmhouse Exterior Dutch Door
Tuscan Front Door
Tillage Interior Door
Alley Vineyard Interior Door
Chateaux Double Converging Pocket Doors
Rockwell Three in One Interior Barn Door
Farmhouse French Full Corner Barn Door
Interior and exterior doors can go a long way in tying together the overall look you're trying to achieve. While you can still pull off a chic antique style without changing doors, you'll find that swapping out this single element has the potential to do more than changing out your furniture and decor. Why? Because your inside and outside doors are primary focal pieces that set the tone for your entire home.
How to Make Doors Look Antique
Antique doors don't have to be salvaged wood slabs from buildings about to be torn down—though you can certainly use those too! If you have a modern home and a new-build door, there are plenty of ways to make it look antique. So, how can you take a shiny new door and customize it to look chic antique?
Style
The style of your door is essential to creating an antique look. Choose doors that boast an old-world flare, such as arched doors, a Dutch door, French door, antique wood doors, or a salvaged door from an authentic period building.
Texture
Adding textures to your painted door will go a long way toward making it look antique. Three primary textures give it an old-age look.
Distressed
– This is a texture where paint is distressed, usually by sanding, to give it an older look. Some of the paint is rubbed off around the edges of the molding, the frame, and other areas that would traditionally see a lot of use, including knobs.
Weathered
– This texture is one that creates an old look for the wood itself. Paint is most often missing entirely and the wood shines through.
Worn
– This texture produces a look that is akin to a door that has withstood the test of time. Paint might be missing, chippy, or removed from areas.
Hardware
The hardware you choose will also contribute to providing an aged look. When going for an antique look, stay away from hardware that is bright, new-looking, or shiny. That means no gold, chrome, or silver. Instead, choose hardware in finishes such as wrought iron, matte black, or oil-rubbed bronze. If you want a shiny pop, choose antique brass hardware.
14 Antique Doors to Add a Little Chic Antique to Your Home

1. Pump House Front Door
The
Pump House Front Door
perfectly complements numerous home styles, including the antique look. From sprawling ranch-style homes to country chic, contemporary, or classic, a few tweaks to this beautiful vintage door and you'll have an antique door that puts the finishing touches on the chic antique style of your home.
Thanks to the customization options available, you can select a door finish and texture to make it look like an old door that perfectly complements the color scheme and style of the exterior of your home. Add an antique-style door handle and you'll have custom doors on the outside of your house that are second to none.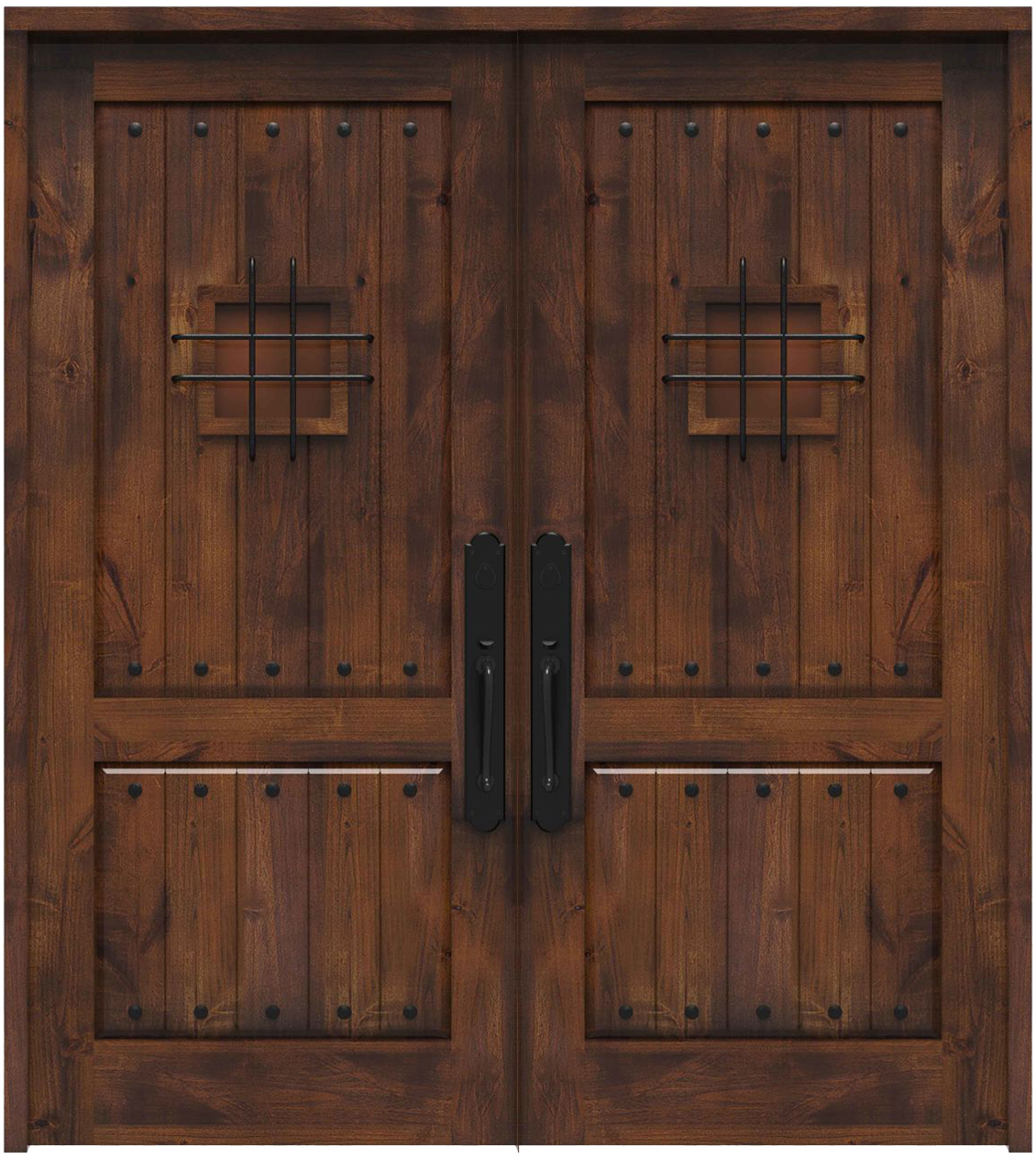 2. Stronghold Front Door
Do you have a Spanish, Mediterranean, or cottage-style home? If so, this custom door could be just what you're looking for. The combination of Spanish and speakeasy styles speaks to a bygone era, while the solid wood provides a durable exterior door second to none.
The
Stronghold Front Door
looks stunning as-is with a simple glaze or dark walnut stain. If you're going for an architectural salvage look, however, consider customizing it by choosing a lighter stain or even a paint color along with a weathered or distressed texture. Finish it off with a matching handle in flat black to pair with the speakeasy door grate.
Consider carrying the beauty and theme of the Stronghold door into the interior of your home by choosing a wood fireplace mantel or master bed headboard with the same glaze and finish.
3. Farmhouse French Half X Exterior Door
The
Farmhouse French Half X Exterior Door
is a throwback to the days of cottages and farmhouses where children were shooed outside, did chores after school, and windows looked out upon gardens of flowers and vegetables.
This door boasts a garden gate feel with its rustic wood and vintage appeal. Antique hardware is all you need to finish off this ideal entry door. Pair this look with old-world shutters, dark hinges, and a glass door for a storm door and you'll have the perfect combination for an antique-styled home.
Whether you paint this door or stain the wood, customization options, such as distressing or a worn look, would help the door look even more antique. Rustica's vintage glass style for the glass panes would also pair nicely, though clear glass won't in any way detract from the rustic, antique, and vintage feel of this charming old-world style door.
4. Woodsman Front Door
For a truly bold, yet antique look, the
Woodsman Front Door
is a classic solid wood door that you won't go wrong in choosing. The arched windows look elegant against an arched doorway or nestled between transom windows and sidelights. Think you can't go bold
and
antique? Think again, thanks to this gorgeous door.
The arched window panes allow plenty of light into the entryway of your home while the build of the door provides a sense and feel of security. Whether painted or stained, the addition of texture is all you need to give it an antique weathered look. Consider choosing vintage glass panes to provide an extra touch of antique flair to the look and feel of your front door.
Antique hardware is the last remaining item needed to finish off the antique style to this alder wood exterior door.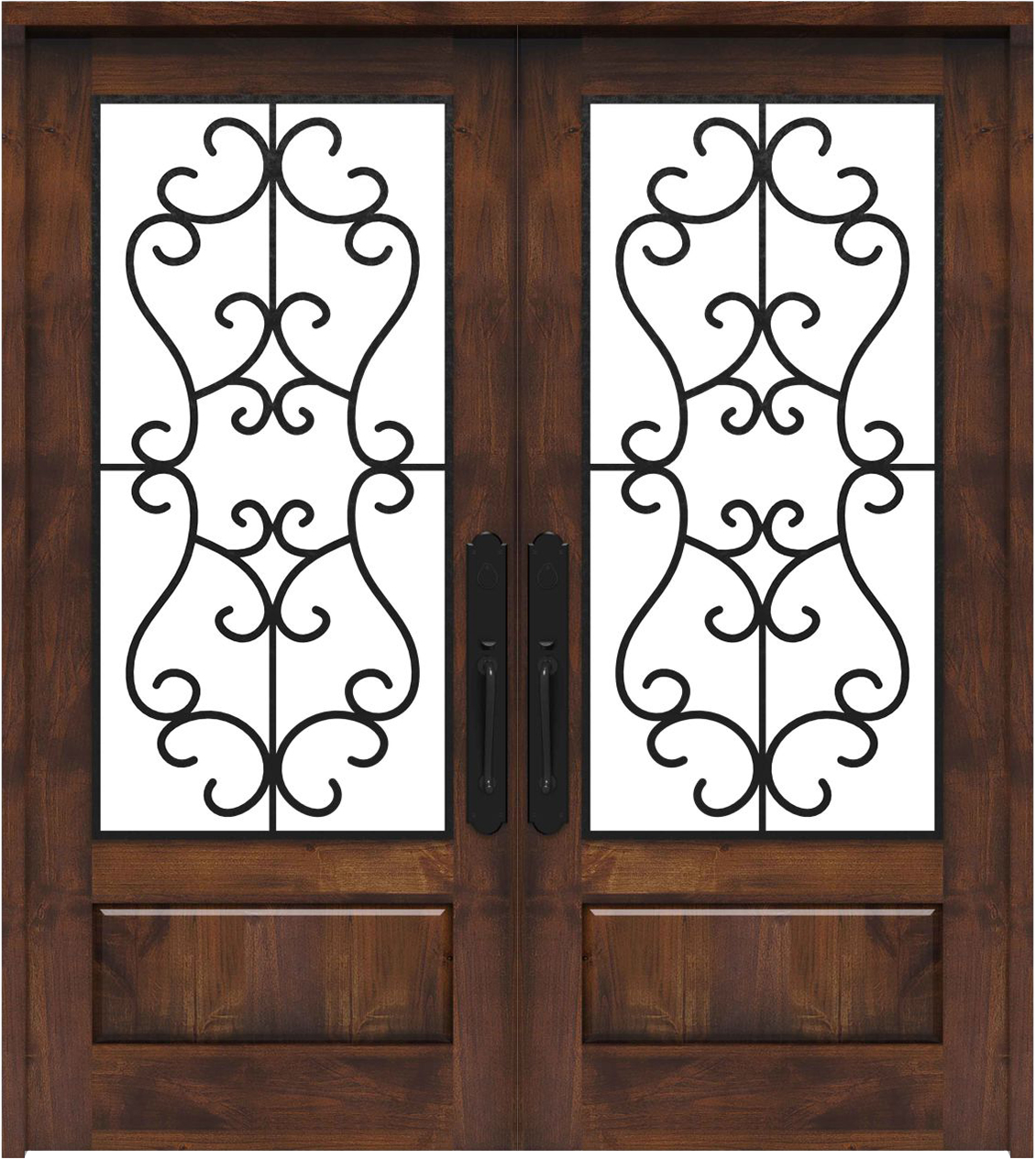 5. Manor Front Door
Elegant, intricate, rich, and timeless are four words that would describe this gorgeous door. The glass windowpane is comprised of double-paned, insulated glass to let in plenty of natural light while the decorative metal scrollwork gives the door extra security. The solid wood is crafted to withstand warping but can be customized to look thoroughly antique.
A natural stain finish provides this door with a rich patina, while paint that is aged and weathered provides a unique look all its own. Just a few tweaks are all you need to make this modern door look delightfully antique.
Incredible as both a single or a double door, the
Manor Front Door
can accommodate a smaller or large entryway. Consider carrying the unique look and style into your house by adding metal scrollwork to cabinet doors, closet doors, and other areas around your home.
As with all
iron doors
, special care is a must when taking care of the metalwork.
6. Farmhouse French Half Exterior Double Door
For houses with especially large entryways, a double door is simply a must. This beautiful double door is antique in style and feel, and you could imagine it coming off an old house to be repurposed and brought back to life.
A simple stain or coat of paint with a weathered or worn look is all you need to create your own antique-style door to complement any home. The colonial-style windows provide plenty of light while providing privacy when customization options are chosen, such as the vintage glass texture.
Antique wood doors are always set apart by their hardware, so you'll want to add some elegant handles in a matte black, oil-rubbed bronze, or wrought iron finish.
The
Farmhouse French Half Exterior Door
also looks stunning as a
single door
for homes with a smaller entryway.
7. Cathedral Double Front Door
These beautiful, elegant, rustic yet modern
Cathedral Double Front Doors
provide a solid option for a large home entryway with an impact similar to that of
arched doors
. Styled to remind you of a French chateau, the diamond pattern design of the glass panes provides an updated, yet elegant look to the surrounding wood. Modern and antique do not have to clash, as this door will show you.
Thanks to the old-world feel, with the right stain or paint and weathered texture, you'll feel like you're stepping back in time to set foot on a sprawling French estate. The large portion of glass will allow plenty of natural light to penetrate the interior of your home, while the metal diamond pattern will provide extra durability and security.
Choose vintage, frosted, deep freeze textures on the glass to create an especially unique look and feel, while providing those in your home with extra privacy.
8. Farmhouse Exterior Dutch Door
When it comes to
custom interior doors
that give your home just the look you're going for, you can't go with the
Farmhouse Exterior Dutch Door
. This classic and timeless piece will bring you back to the days of sprawling ranch homes with dinner bells, hardworking family members, and plenty of food and laughter at the dinner table.
Dutch doors were frequently used to provide a way to allow afternoon breezes into the home. These doors also provide an easy way to call hardworking family members inside for dinner or a continual view out to the garden, farm, or homestead. This door could very easily come straight from a farmhouse of yesteryear, as-is. However, with the right stain or paint, as well as some weathering or distressing, and it'll look like you've captured a cherished door from the family homestead and placed it on your house.
Finish off the look by choosing a deadbolt and handle in flat black or oil-rubbed bronze.
9. Tuscan Front Door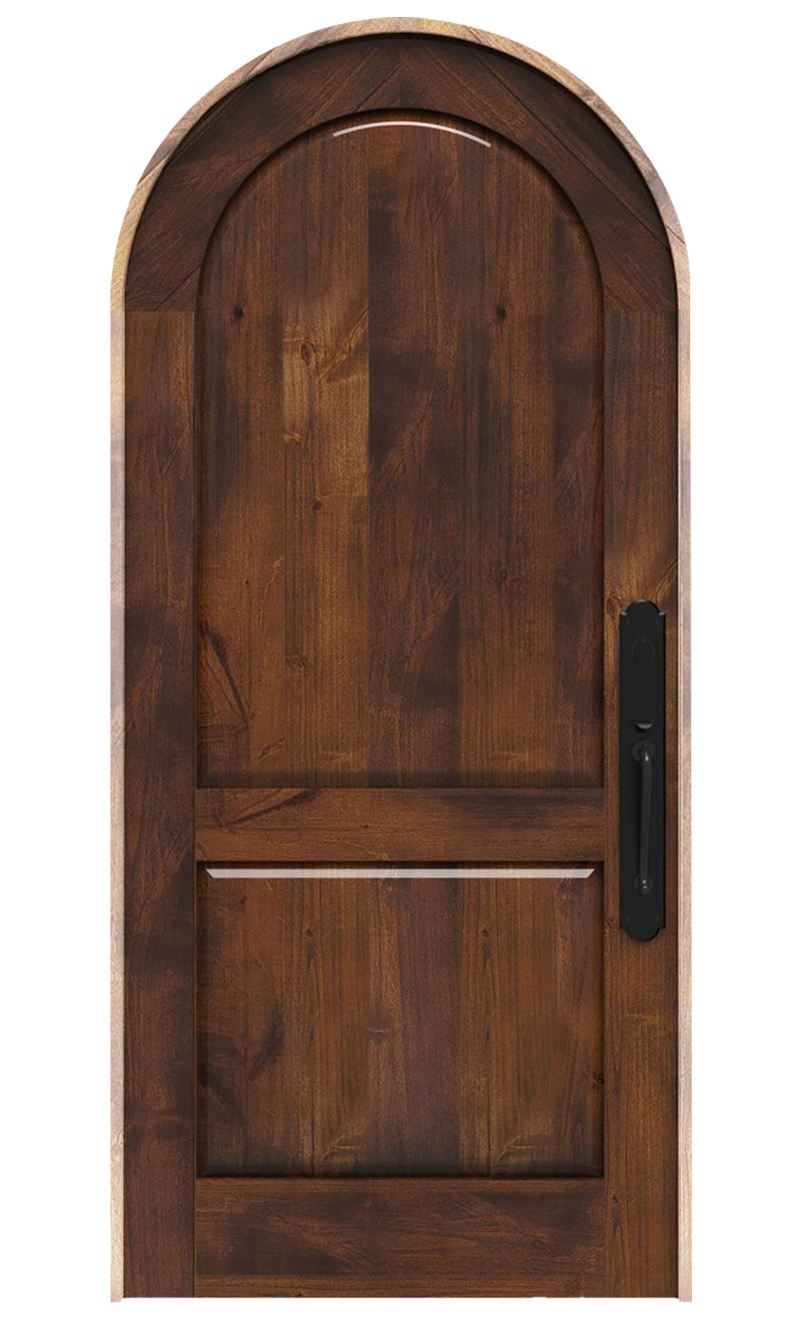 Walk into you your own piece of Italy with the
Tuscan Interior Door
. This arched door is a stunning example of a strong, solid door that leaves an impression as soon as you see it. It pairs well with larger homes in the Mediterranean, country French, Tudor, or cottage-style.
This interior door can easily be crafted to look antique, thanks to distressing or weathering the stain or paint. Either stain or paint will work well with this door. The end product is truly up to your unique vision and what you want the front of your home to look like. Be sure to consider the overall design scheme and paint colors already in use before choosing a stain or paint color for the door.
If able, install an antique, time-period handle and knob to complete the look of your door. If no authentic period handle is available, choose a handle that is antique in style with a flat black, oil-rubbed bronze, or antique brass finish.
10. Tillage Interior Door
The antique style of the
Tillage Interior Door
has all in the customization options you need to make it look like a vintage or retro interior door. Create the feel of yesteryear with unique glass styles, such as frosted, vintage, tinted, or retro panes. Spectrum and deep freeze glass textures also provide the door with a unique styling that speaks of days gone by.
The metal grid finish can also be customized to provide an older style look with flat black, grey steel, oil rubbed bronze, and copper finishes providing the most distinct looks.
Should you wish to transform your indoor space with a sliding panel door, this interior door will outperform expectations. With clear glass, the panel door provides a way to keep tabs on young children or students as they work on homework while still providing an extra barrier between rooms such as the kitchen and living room.
11. Alley Vineyard Interior Door
This beautiful simply stated glass and metal
Alley Vineyard Interior Door
provides a mix of elegance and antique style to the interior of any home. This door is stunning as an office door, kitchen entryway, or even a laundry room or closet door with the right customizations.
The diamond pattern of the metal grid speaks to sophistication, while the kick plate lends practical functionality. Choosing a metal finish in flat black, grey steel, oil rubbed bronze, forged, or champagne will enhance the old-world appeal of this unique door.
The glass panes look phenomenal as-is with a clear style, or with tinted or vintage customization. Choose your preferred style that stays within the antique look you want to achieve while maintaining the level of privacy you need for office spaces or libraries. Choose the clear glass style for a see-through door for spaces such as children's playrooms, kitchen entryways, or sunrooms.
12. Chateaux Double Converging Pocket Doors
Create a unique space with custom doors such as the
Chateaux Double Converging Pocket Doors
. These glass pane doors look stunning surrounded by a wood jamb and are attractive, timeless pieces no matter how you choose to customize them.
To create an antique look with these glass and metal pocket doors, you'll want to customize the glass style and choose your preferred metal grid texture. Glass panes with a vintage style will instantly provide a more antique look than other styles. Frosted glass, however, will provide a greater degree of privacy that works well for office spaces.
The metalwork on this door should be customized to fit in with your home and provide an antique feel. Stay away from the shinier options and instead go for grey steel, flat black, oil rubbed bronze, forged, or champagne finish.
13. Rockwell Three in One Interior Barn Door
Calling all DIY lovers! The
Rockwell Three in One Interior Barn Door
might be just what you're looking for if you want to roll up your sleeves and try your hand at antiquing your own interior door. This set comes with everything you need to make your own door. Order it and get it home, then choose to assemble it so you have a solid face barn door, a Z design, or the classic X design.
Don't have time to completely DIY? In that case, when you order this one-of-a-kind door, choose the wood finish and texture, and you'll receive a door that simply needs to be assembled. It'll come already weathered, worn, or distressed, and in the finish of your choice such as a painted barn wood stain or abandoned blue paint job. Consider choosing the stripped white option if you're uncertain where in your house you want to place this beautiful antique barn door.
This door will look stunning in any location, from bedroom and bathroom doors to your master bedroom closet door. No matter where you place it, you'll bring home an antique barn door that looks like it came straight from a family farmhouse.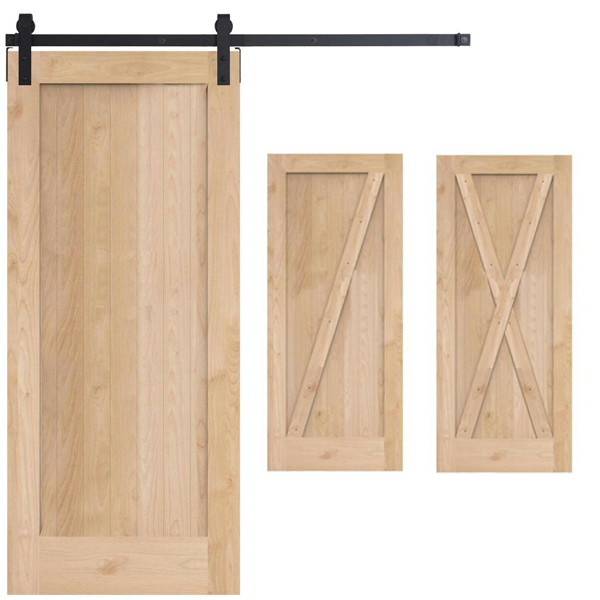 14. Farmhouse French Full Corner Barn Door
Do you have a unique corner opening where you want to add sliding barn doors to create a bit of antique flair? If so, look no further than the
Farmhouse French Full Corner Barn Door
. This perfectly styled option is ideal for those corner openings, such as an office space, a sunroom, a library, or a reading nook.
While the door looks stunning with a simple clear coat finish and flat-black metalwork, an antique style can easily be applied by incorporating textures common on custom doors. Consider the weathered, distressed, or worn look when choosing your customization options. These textures work exceptionally well with paint jobs, but can also be applied to stains.
Further customization options can be applied to the glass panes to create an antique look, such as the vintage or deep freeze glass styles. Paired with a flat black, grey steel, or oil-rubbed bronze metal grid, you'll have a door that takes you back in time whenever you walk through it.
How to Maintain Antique Doors
Maintaining your antique front doors or interior antique sliding doors takes some planning, but when regular maintenance is carried out, you'll be able to preserve the door for many years to come.
Hardware Maintenance:
If you're using authentic antique hardware, you'll want to provide it with some extra tender love and care each year. This means removing the hardware and gently cleaning and oiling it to keep it in working order.
Paint Maintenance:
When you receive an antique-styled door from Rustica, it will be sealed for use indoors or outside. We recommend regularly checking your door for dirt and buildup. Giving your door a good wipe down any time you notice dirt or dust accumulation is one of the best things you can do for the longevity of the varnish or paint job.
Authentic old antique doors often require a full restoration if they're too worn down. Once they're fully restored, maintaining the hardware and paint by providing cleaning and regular maintenance should be enough to extend its life. This is true regardless of whether you repurpose the doors to use as antique pocket doors or antique entry doors.
Doors That Invite and Inspire
Antique doors look amazing, invite conversation, and inspire imagination. They combine with the style of your home to create a unique look that is second to none.
Whether you choose antique wooden doors, install antique double doors, or decide on metal antique French doors, you'll find that you can't go wrong. The style you'll achieve with an antique door will create an overall look that just might become the envy and talk of your entire neighborhood.