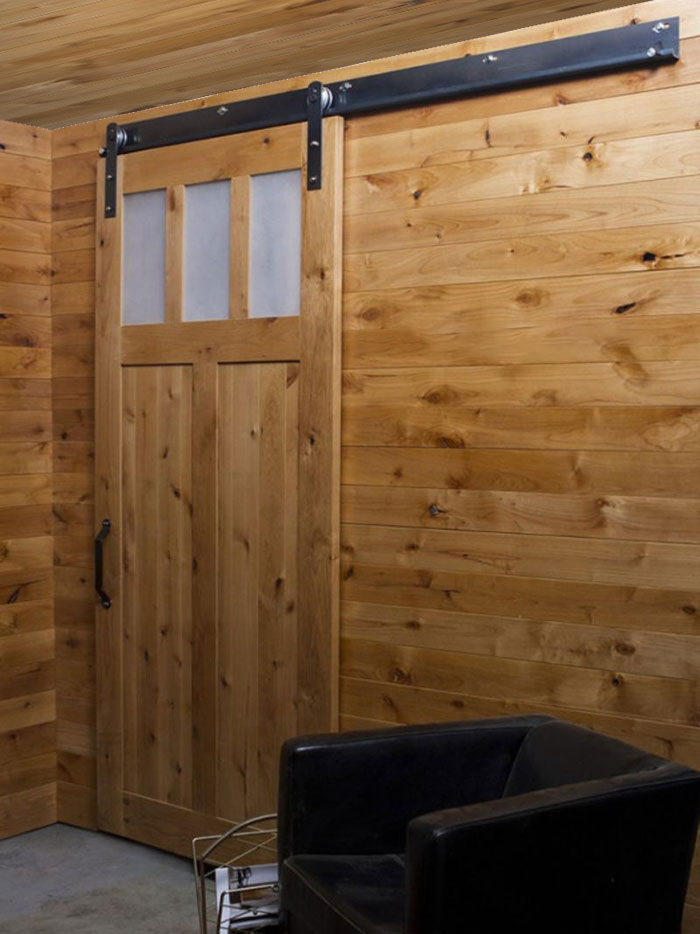 Small space design makes home remodeling projects quite the adventure! There is nothing as interesting as remodeling an old home! It is like an onion, peeling back layers of ideas and innovation from one era to the next. Most of the time it reveals personality and tells quite the story of the last generation who worked on the same space you are currently in (and usually knee deep).
In a remodel it is very typical to find small spaces under stairs, in a hallway, leading into a closet, or maybe somewhere tricky like covering up a safe or attic door where space is at a premium. It is in these spaces that the lowest clearance doors and hardware are needed. Rustica has created the most innovative and designer, low clearance barn door hardware track systems on the market. We have taken into consideration every option when it comes to adding soul to your small space remodel.
Our low clearance sliding barn door hardware accommodates for 3" and 4" low clearance applications where you need to install a barn door rail and barn door sliders that will easily lift onto the rail in a very tight space as well as not fall off the track. We offer the only safe, laser precision-cut, lowest clearance barn door track hardware design available! New to the barn door marketplace is the Rustica Low Clearance Barn Door Hardware Bypassing system. This low clearance bypassing system allows for two doors to be installed on the same barn door track together, one door slides in front of or behind the other door. This allows for an application of a low clearance barn door system where you may have a larger opening that needs two barn doors or where you have very tight spaces on each side of the opening and need narrow barn doors. This barn door hardware requires less than 3" of room to operate over the top of your door slab, meaning, if your small space only has 3" of room until you hit the ceiling, this barn door track solution is the best solution. This super short and low profile system is sleek and designed to fit in places where you have very limited space in the area over the top of your sliding barn door.
Typical applications where low clearance barn door hardware is needed:
Low basement ceilings
Tall crown molding combined with short ceilings
Ductwork that hangs down into the living space
For artwork hanging too close to the celling or too close to other wall art
For RV use
For cabinet doors
A few very important components to a low clearance barn door hardware system that should not be overlooked are:
Anti-jump brackets that will prevent the barn door with the barn door rollers from coming off of the low clearance track and falling. This is critical for your safety and the safety of your family and loved ones.
A precision, laser cut barn door track ensures that the barn door and sliding barn wheel will function properly. A track that bends downward instead of bending upward will fail and is very unsafe. DIY barn door hardware for low clearance applications can be dangerous unless built with the correct angles.
Heavy duty 5" minimum length lag screws should be used to install into the track and connect with the wall behind the low clearance track. This ensures the track will not pull away from the wall.
Heavy duty bearings inside of the barn door wheel housing will guarantee the low clearance door will be functional for years to come. Not all bearings are made the same and most barn door hardware companies do not use bearings at all! Be aware of this and make sure that heavy duty industrial bearings are used in your barn door hardware roller hangers especially for low clearance jobs.
Rustica offers the most precision-designed, lowest profile barn door hardware options on the market with the greatest selection of finishes and wheel options.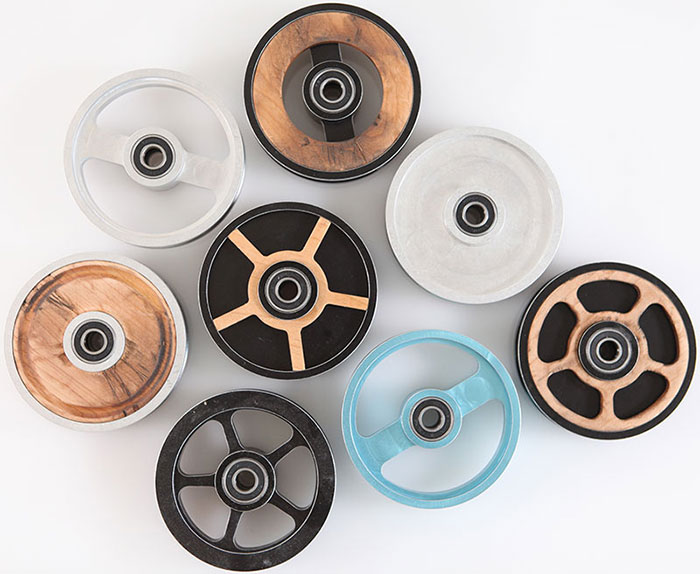 Here are our top 3 low clearance barn door favorites:
Low Clearance J Track Barn Door Hardware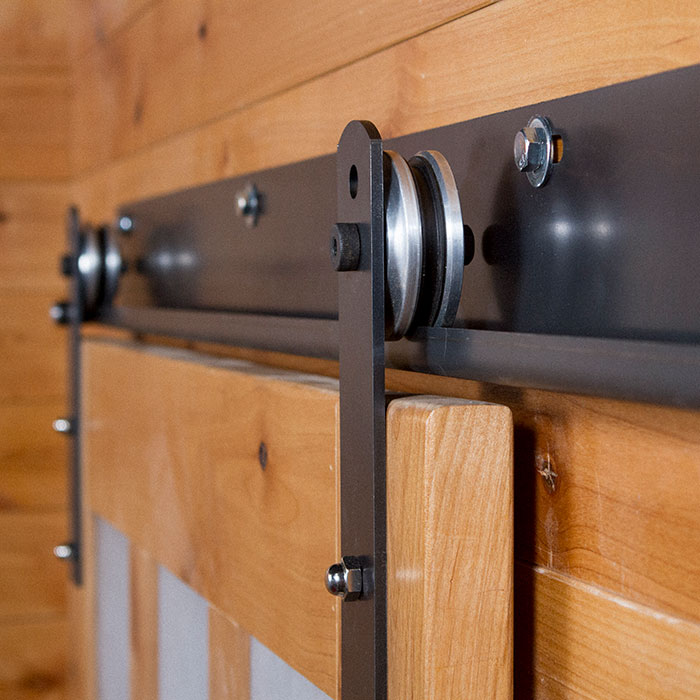 Low Clearance Micro Barn Door Hardware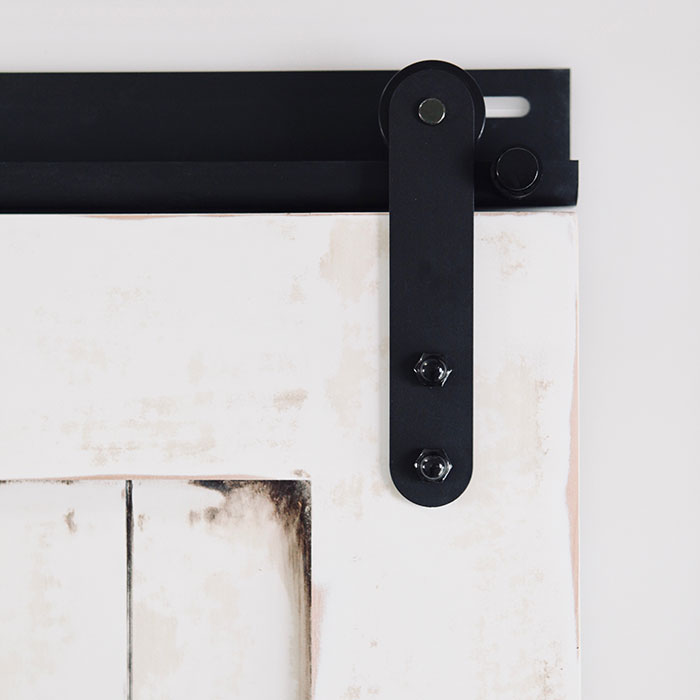 NEW! Bypass Low Clearance Barn Door Hardware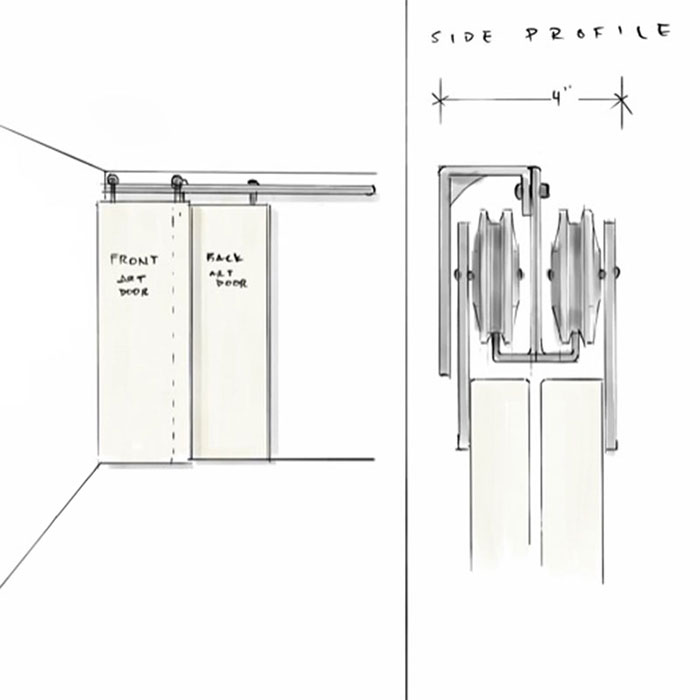 Our unique selection of the lowest clearance barn door hardware options can be found here:
https://rustica.com/hardware/
.