Looking for a way to elevate your curb appeal? Updating your shutters is an excellent idea. With exterior window shutters, you can instantly add a touch of style and pop of color. Not only that, but outdoor shutters can also protect your home from hurricanes and harsh weather conditions.
How to Install Exterior Shutters
Gather Tools and Supplies
Position Shutters Near Your Windows
Measure, Mark, and Drill Mounting Holes on Your Shutters
Drill Pilot Holes into Your Home's Exterior Wall
Attach Your Shutters
Before you begin your custom shutter installation project, you'll need to decide what type of shutters you want for your home. You can select wood exterior shutters, vinyl shutters, or aluminum shutters. Your home style and location are vital considerations, too. It's also important to determine why you need shutters. Are they purely decorative, or do you require functional shutters, such as rolling shutters or hurricane shutters? Use these factors to drive your decision-making.
How to Install Exterior Shutters
Installing shutters is relatively straightforward, as long as you have the right tools and DIY know-how. Depending on your home size, you may be able to install shutters in an afternoon.
It helps to have a family member or friend assist you, especially if you're installing window shutters on the upper floor of your home. Whether you choose wooden exterior shutters, raised panel shutters, functional exterior shutters, or a storm shutter, you can upgrade the look of your home exterior with ease.
To install most styles of shutters, you'll want to follow these steps, though if you received instructions from the manufacturer, you'll want to consult those as well.
1. Gather Tools and Supplies
Make sure you have all the right tools on hand before installing your exterior shutters. Taking this step in advance ensures that you can complete your project efficiently without the need to run to the hardware store.
To install exterior shutters, you'll need:
drill
drill bits
hammer
level
Phillips head screwdriver
tape measure
You'll also need a flat surface to drill holes into the shutters. And a tall ladder is a necessity if you're installing shutters on your home's upper level. Also, if you don't have a portable table handy, you can use two sawhorses and plywood to create a temporary level surface.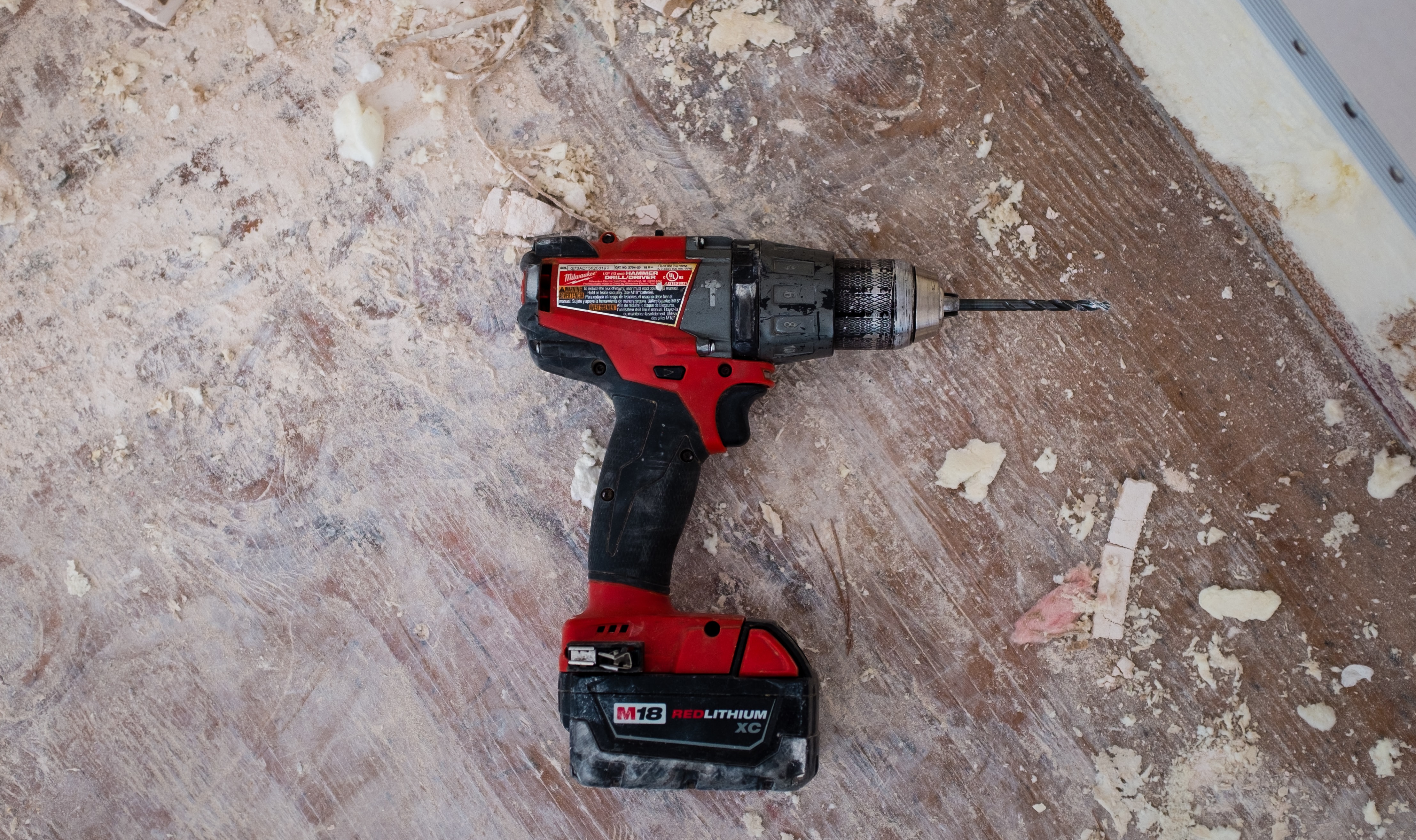 2. Position Shutters Near Your Windows
You're now ready to position each exterior shutter into its ultimate location—next to a window frame. In most cases, the bottom rail on a window shutter is wider than the top rail. If you're installing vinyl or composite wood shutters, leave a small quarter-inch gap between the shutter and window frame. This space allows room for the shutter to expand. A gap isn't necessary for stationary exterior wood shutters or aluminum shutters.
Use your level to make sure that the shutters are plumb. Then, take a pencil and mark the outside corners of the shutter. These markings will help you know exactly where to place your exterior house shutters when you install them.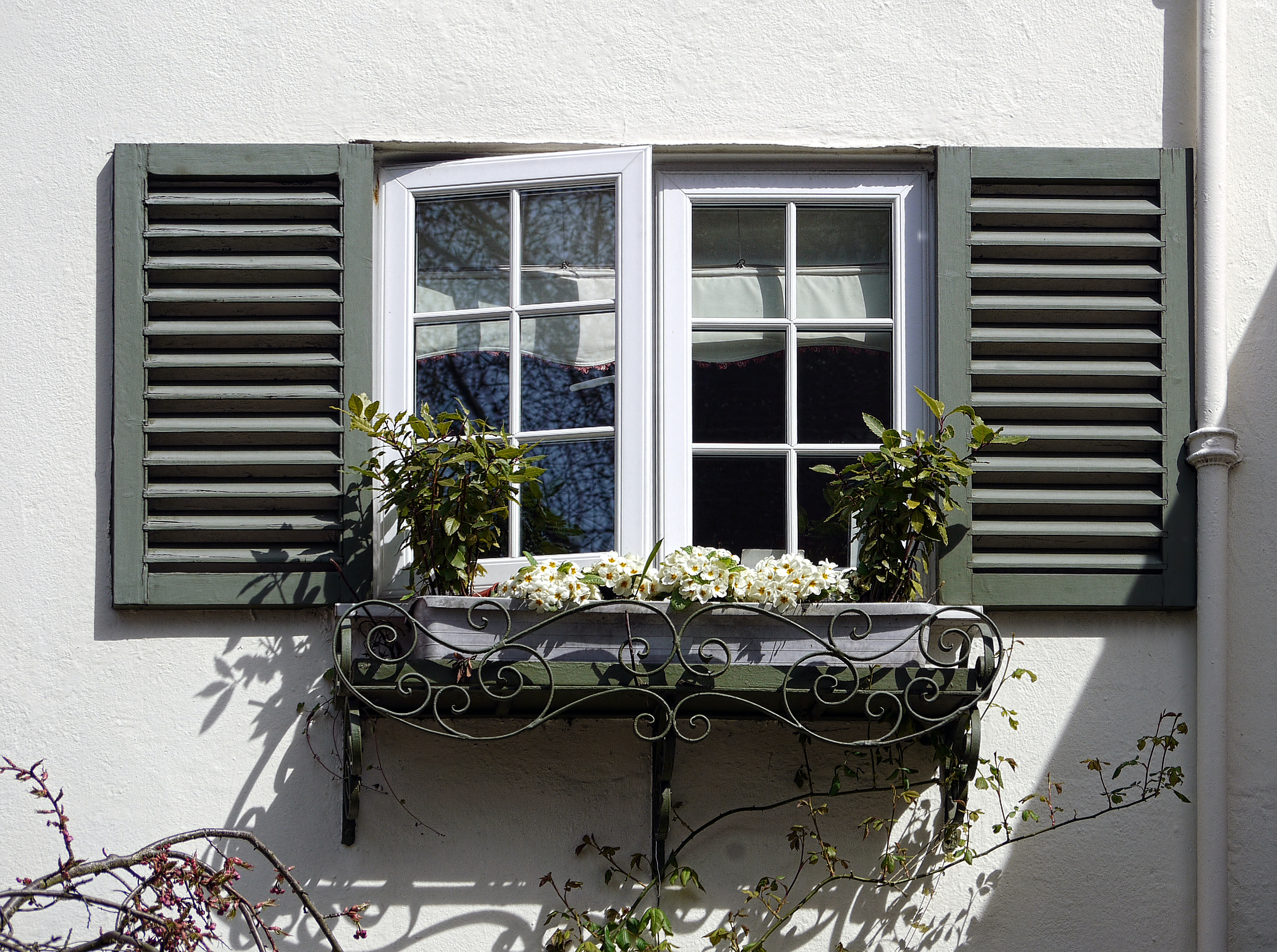 3. Measure, Mark, and Drill Mounting Holes on Your Shutters
Now, place your shutter on a flat surface for drilling. You'll want to measure two inches from the top and bottom and mark these spots as places for mounting holes.
If you have larger shutters with a shutter height of more than 44 inches long, you'll need to have a total of six holes—two near each corner, plus two more near the midpoint of each side rail. Keep in mind that you may need to adjust the mounting hole placement for shutters on stone or brick homes. You'll need to ensure that the fasteners fit into mortar joints, so be sure to reposition the holes appropriately.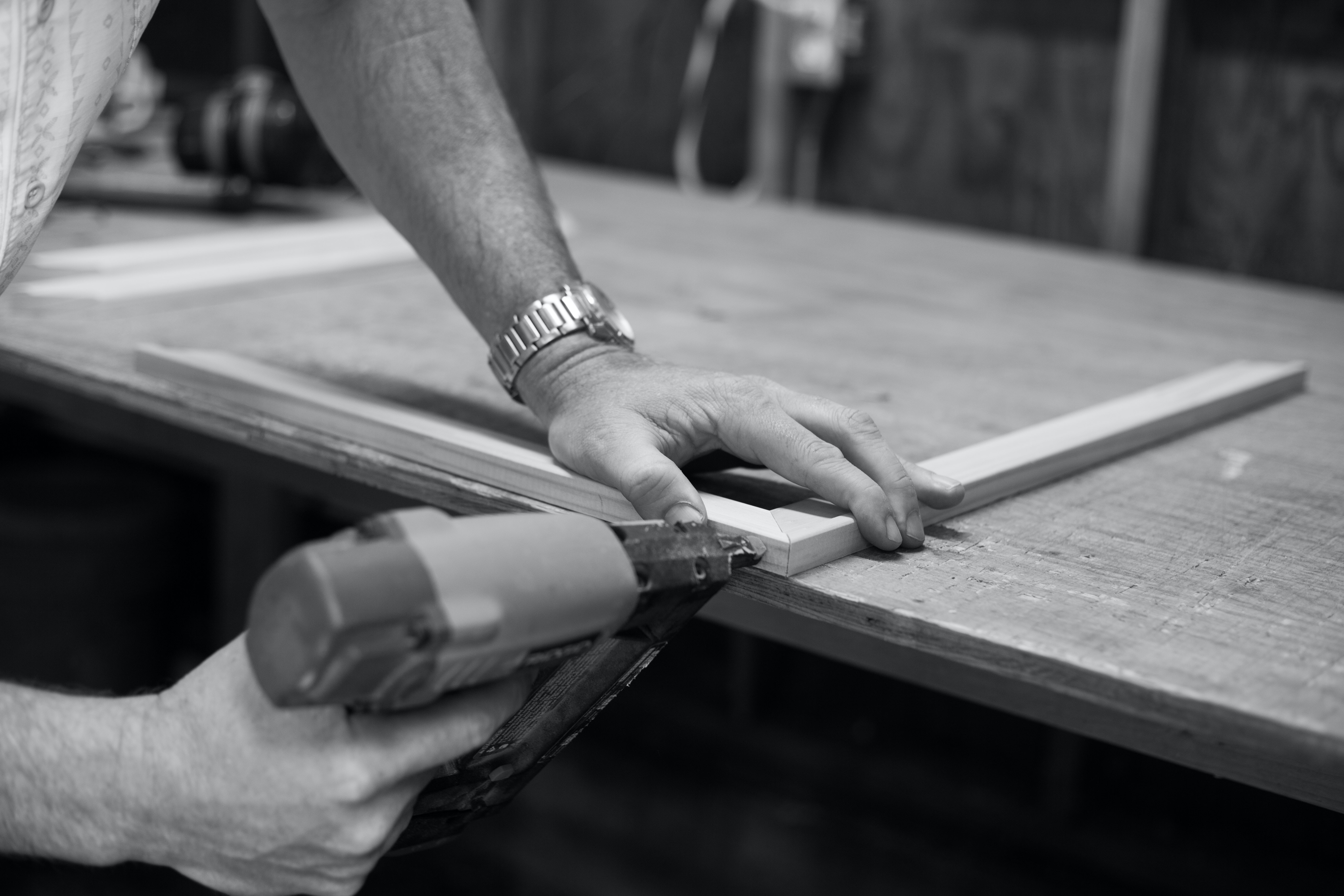 4. Drill Pilot Holes into Your Home's Exterior Wall
The next step is to use your mounting holes as guides for where to drill the holes in your home's exterior wall. To do this, place your exterior window shutters where you plan to mount them. Use your drill to bore into the wall to a 3 ¼" depth. Now, you'll use a larger 3/8" drill bit to widen each hole.
During this step, it's wise to wear eye protection, especially when drilling into brick or stone homes. Also, make sure to remove all the dust from each pilot hole before installing the exterior shutters for windows.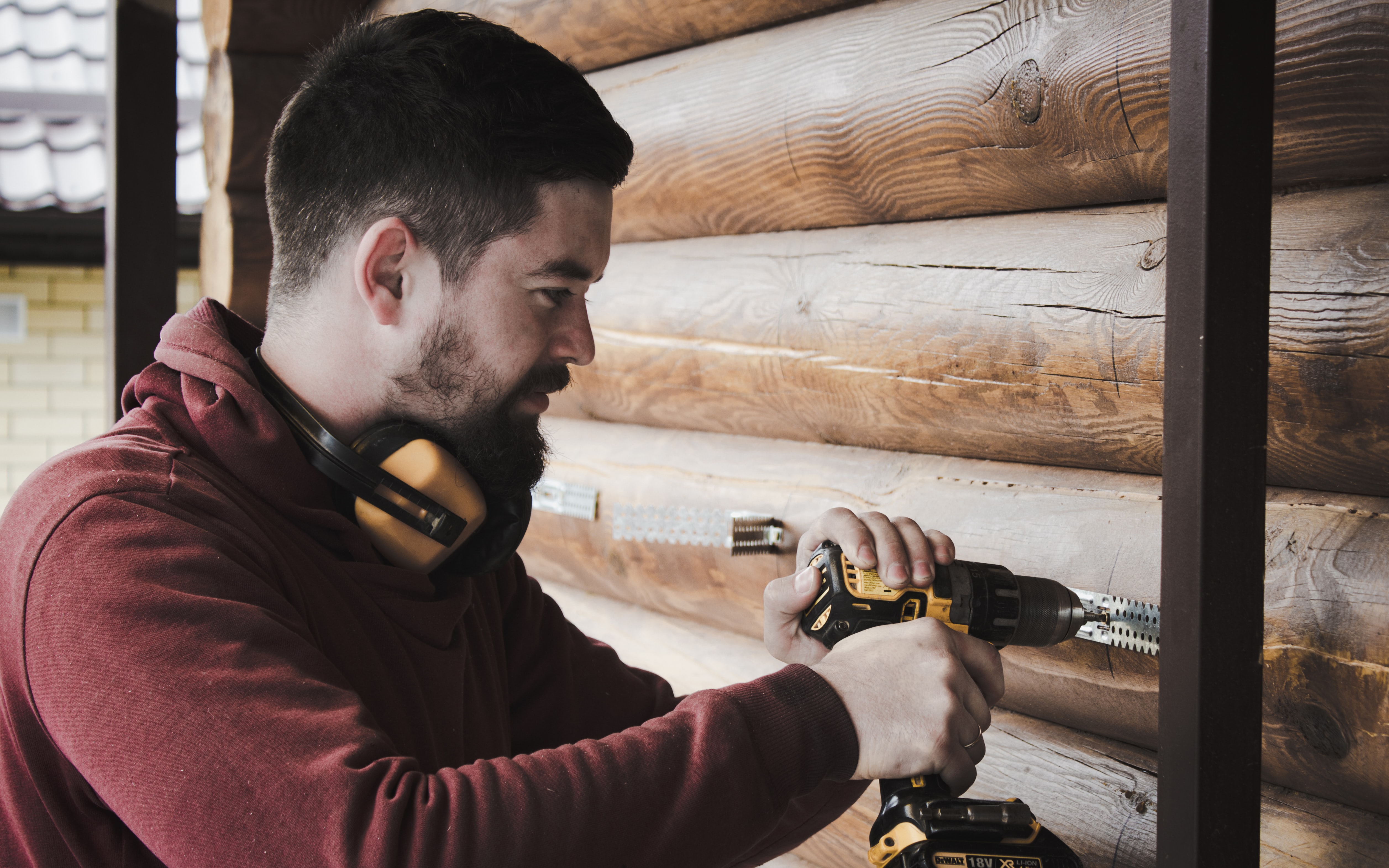 5. Attach Your Shutters
You're now ready to install your exterior shutters. Reposition the shutter in the desired location and push a shutter lock through your mounting holes, into the pilot holes. You can use a hammer to tap the fasteners into place gently. Alternatively, you may use screws with painted heads that match your shutters. This approach works for all types of siding, masonry, and stucco. Tighten the screws in place with the Phillips head screwdriver. If you're not sure which approach to use, consult the manufacturer's instructions.
Whether you use fasteners or screws, be sure not to overtighten them. Overtightening can cause warping or dimples on your shutters and diminish their appearance. This scenario is especially relevant to vinyl exterior shutters, so take extra care when installing that shutter style.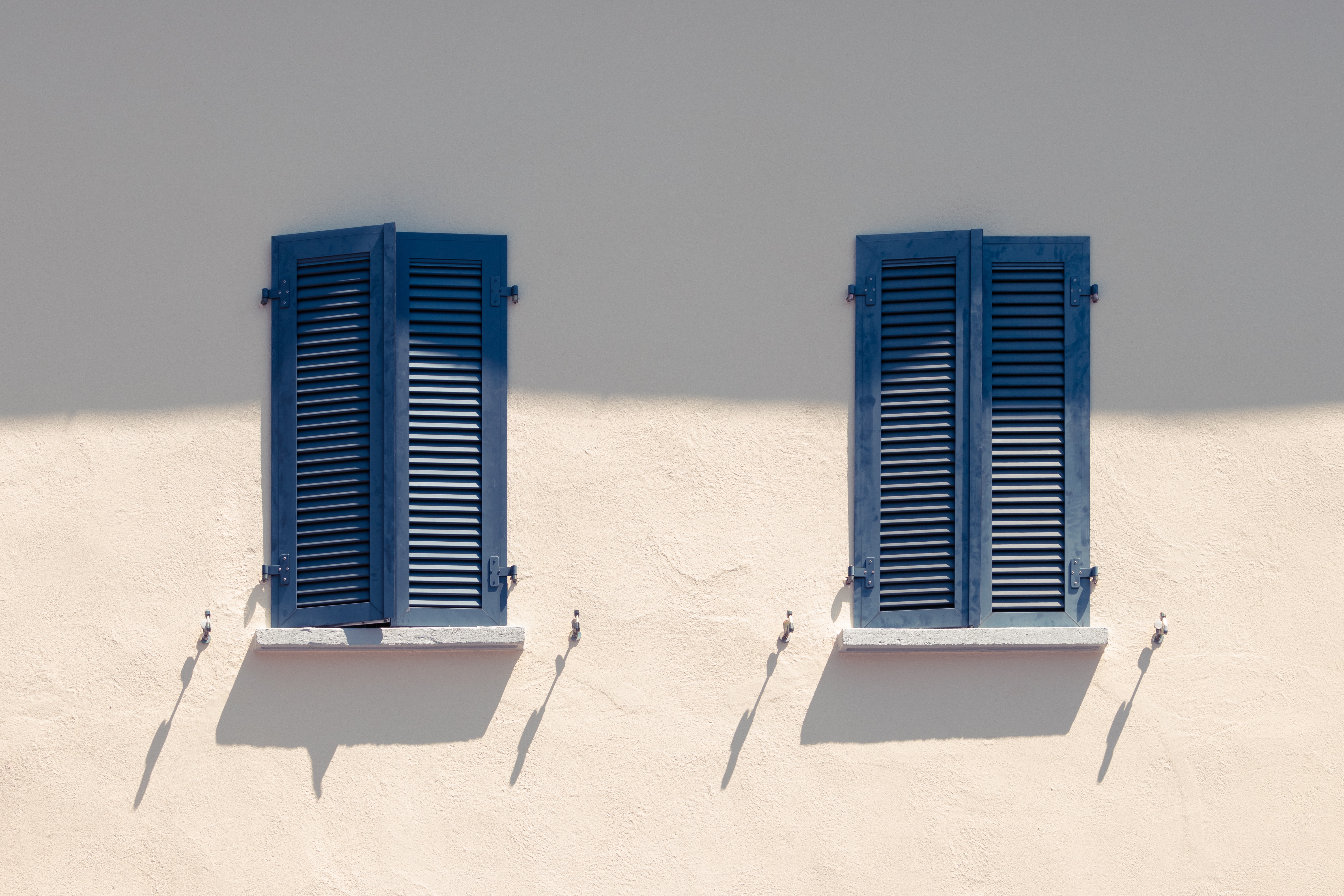 What Color Should I Paint My Shutters?
Once you have your new exterior window shutters installed, you can choose a paint color. Your shutter color should coordinate with your siding and trim for a cohesive look that boosts your home's curb appeal.
Fortunately, there are many proven color combinations that work for every style of home, from classic to contemporary. How do you know which one is right for your house? First, take a walk around the property and observe its current colors or features. Consider your siding, trim, and
front door colors
.
Also, consider the purpose of your shutters. The right look for decorative shutters may not be ideal for security shutters, for example. Think about the shutter material as well, since colors that work for wood window shutters won't always suit exterior vinyl shutters.
If you have a small home, lighter outdoor paint colors can make it look larger. A shutter color that matches the window trim can make any window opening seem bigger, while darker shutters can draw the eye towards them.
You should also take a walk around your neighborhood and note any eye-catching color combinations. Use these ideas as inspiration. Always make sure you consider any rules about paint colors established by your homeowners' association, if necessary. Then, collect a few paint swatches and take them outside to observe how they look in different types of lighting.
Need some ideas to get you started? Here are a few tried-and-true shutter choices for different home exteriors
Shutter Colors for a White Home
You have a lot of flexibility when choosing shutters for a white home. Everything from light neutrals to darker tones can be very attractive. Let the size, style, and architecture of your home be your guide.
For a smaller home, consider shutters that are a few shades darker than your home's exterior paint color. Black shutters can create eye-catching contrast, and work well on larger homes. If you go with a brighter color, like blue or green, consider adding the same shade to another part of your home's exterior, such as a porch ceiling,
front door
, or window box.
Shutter Colors for a Beige or Tan Home
The same principles apply to a beige home. White or light colors can make a home seem larger, while black and dark shades create vivid contrast. If your home has a traditional feel, black shutters on a beige exterior are a classic combination.
Tan homes feature paint that is slightly darker than their beige cousins. While white and black can work well, you might also consider earthier tones. Browns and greens are excellent choices for tan homes. Rustic exterior shutters that showcase natural wood can also create earthy vibes when paired with a tan exterior.
Shutter Colors for a Colorful Home
If your home already features a standout color—like blue, yellow, pink, or green—you have many options. White shutters pair well with lighter shades, while shutters in the same tonal family work well for darker-colored homes. If you gravitate towards an eclectic look and want to make a statement, you can choose a contrasting shade that pops against your home's exterior paint color.
Shutter Colors for a Brick Home
Traditional red brick houses look best with dark shutters, with black being the most popular paint choice. Light colors and pastels don't tend to work well with a red brick exterior, but can complement lighter bricks. Since bricks come in many color variations and feature subtle tones, use your paint swatches to see which combinations work best.
Elevate Your Curb Appeal With Rustica's Exterior Shutters
If you're in the market for the perfect shutter, it pays to look for premier options from a trusted supplier. You'll want a custom exterior shutter that looks attractive and is built to last. When it comes to buying high-quality shutters, you can turn to Rustica, a renowned supplier of barn doors for home interiors and exteriors.
If you're looking to upgrade your
wooden front door
and pair it with coordinating shutters, we can help you achieve both goals. As one of the most trusted sources for designer doors, we have design experts who can help you select the right doors and shutters to elevate your home's curb appeal.
The perfect shutters for your home are within reach. Contact Rustica by calling (800) 891-8312 to bring your home's exterior to life.