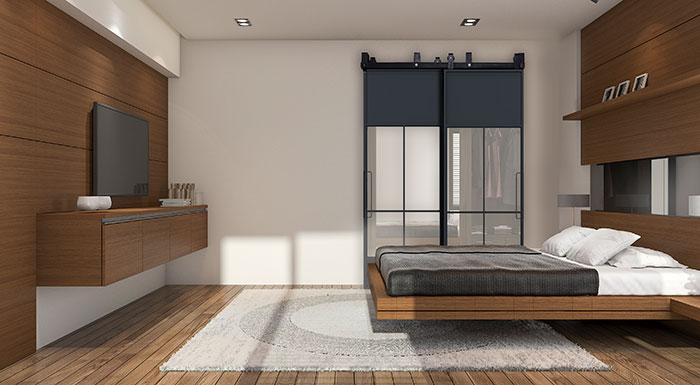 Kitchen, pantry, and especially closet doors can present some very challenging space issues when it comes to interior design. Open pantry shelving and bedroom closets are typically unorganized and cluttered spaces which can be unsightly and sometimes even embarrassing. The biggest issue with these spaces is that the traditional swinging hinged door creates traffic flow constraints. You know what I am talking about. Those spaces where you have to open one door, make sure the other door is completely closed, then sneak behind the newly opened door then close the other door. This is why rolling barn doors are so effective! When you have limited space and cannot even fit a traditional barn door, then bypassing barn doors are the very best option. Let's explore the best ways to use bypassing barn doors.
Bypass Barn Doors for Bedroom Closets
The most common use for bypass barn doors are for bedroom closets. Bedrooms are typically 11 feet by 12 feet or 132 square feet in total area. Double swinging interior closet doors will take up as much as 6 feet of space once both the closet doors are open and in use! This is because the hinged closet door has to swing outward and if the closet is a walk in closet twice the space is required! By installing a double barn door track on the top of the opening and hanging two closet barn doors on the track instead, you can instantly gain access to square footage in your bedroom that you never would have had. Put some beautiful indoor potted plants in your new space to add an organic touch to your bedroom. Your barn doors should slide right behind your potted plants!
Bypass Barn Doors For The Kitchen Pantry
Open shelving, open cabinet, and open pantry-style kitchens are modern and sleek. When it comes to actually using them for day to day cooking and living things can get a little cluttered, unorganized and can easily overtake the desired design esthetic. The great thing about barn doors for kitchen cabinets and kitchen pantry closets is that you can install any barn door system to work with your current layout. A very typical solution to kitchen pantry doors is to add stacked barn doors to the closet space. This will provide the needed privacy you are looking for to cover up unsightly spaces but will still provide a modern and clean look to your kitchen while avoiding the wasted space hinged doors take up.
Bypass barn doors can be ordered with metal or wood doors and with track lengths that vary from 4' of flat track up to 50'! Rustica's line of bypassing barn doors are the definition of functional art. Check out the full line of
stacked barn doors here
in all of our bypassing sliding door options.