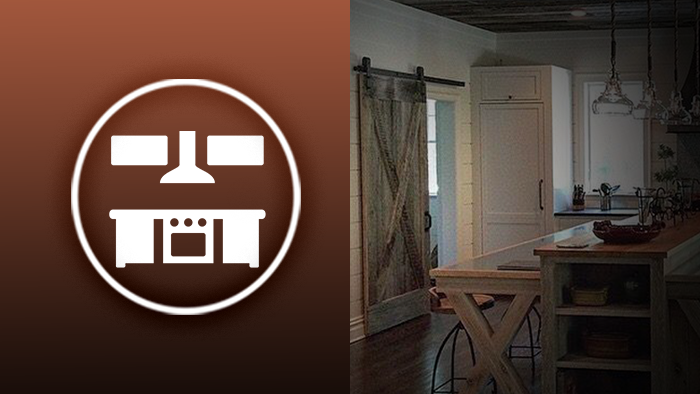 Open up the heart of your home
The kitchen: It's the room where families flock together to share stories of their days, indulge in game nights, host holiday get togethers, and (of course) eat.
It's amazing just how many hats one room of your home can wear. Although the kitchen is a functional place to cook and prepare meals, the look and feel of your kitchen makes it an inviting space to enjoy those meals with friends and family. All the more reason for it to express your own tastes. From stylish design to practical application -- like conserving space and adding easy accessibility to your pantry or laundry room -- you need a space that has it all. And a
kitchen barn door
can help give you exactly what you need and more.
Kitchen pantry barn door
Clearly the most important part of a pantry are the contents inside, but that doesn't mean the door leading to your goodies has to be drab. A kitchen sliding pantry door can bring additional texture and character to your kitchen while saving some extra space when you have company. Just make sure you've got enough room on the wall to ensure that a sliding barn door can fit. The rest is up to you and your personal preferences, be it contemporary, classic or rustic chic.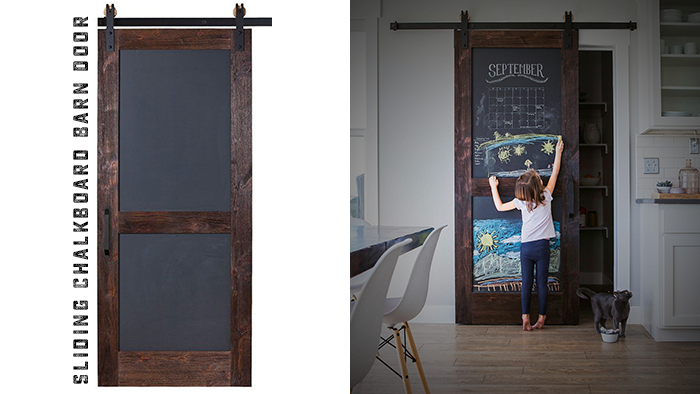 Kitchen entrance
Treat your humble hearth to grand double doors to offset its importance as the heart of your home. Using a double sliding barn door to your kitchen's entrance can give it that dramatic and stylish feel it deserves. Kitchen barn door ideas, like this remarkable double-doored entrance, can make guests feel like they've been given a warm welcome. Trust us, they'll be impressed.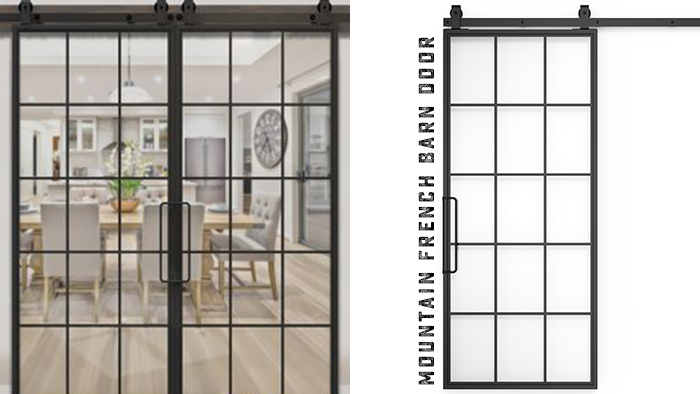 Additionally, creating such an entrance can help divide the rooms in your home and create more intimate spaces. So, if you're looking to add some privacy between the kitchen, and say, a home office or dining area, then this is the perfect project to add more "rooms" to your home with the simple addition of a grand double barn door to section them off.
Kitchen cabinet barn door
Maybe the pantry door is too obvious a choice? Maybe the kitchen entrance is too extravagant? Maybe you need something a little more unique and tad subdued. That's where sliding barn doors for kitchen cabinets can really make an impact. These subtle sliders integrated into your kitchen cabinets can add a beautiful aesthetic to the shelving style of your home.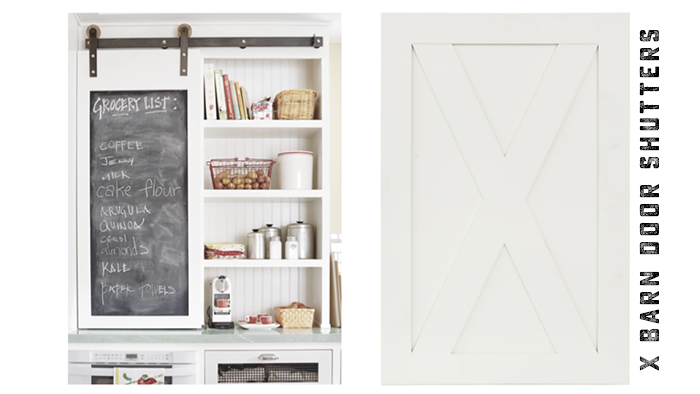 Now that you're armed with ideas to install or incorporate a sliding barn door into your kitchen decor, let's talk about our favorite types and styles of sliding barn doors to pick from:


Rustic chic – Country charm meets contemporary class. This timeless style works perfectly as a pantry door or kitchen entranceway.


Glass – If you want a door to cover the pantry or block off the kitchen, yet still want the transparency to make the room feel more open while letting light in, glass sliding doors are your answer.


Neutral colors – Worried about a sliding barn door fitting into your décor scheme? Sticking with colors like white, tan, and grey can help your sliding door seamlessly blend into your kitchen's existing look and feel.


Farmhouse – What's a better way to showcase your sliding barn door than to get one that has a strong nod to the farm? This weathered, whitewashed look adds country charm and a historical feel to your kitchen.


Chalkboard – If you have kids or need to write reminders to pick up milk at the store, a chalkboard sliding door is both pretty and practical.
Whatever the use may be and whichever type you choose to move forward with, a sliding barn door can help the heart of your home never miss a beat!