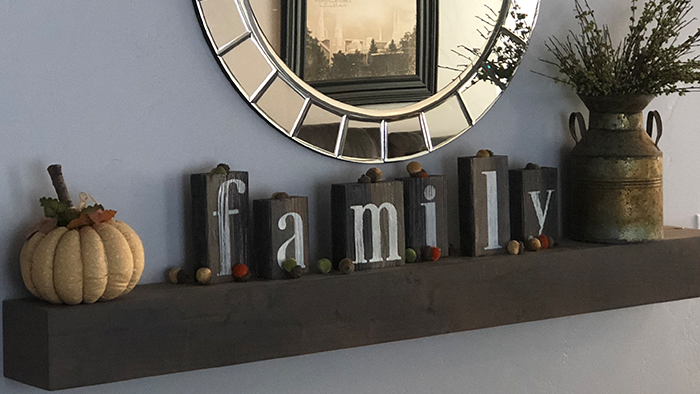 Picking the perfect mantel reminds me of the story of Goldilocks, but a bit more complicated.
Typically determining the correct length is easiest decision. The questions of depth and thickness are more complicated, but the most challenging is deciding on the perfect texture and finish.
Rustica does an excellent job by recommending the most popular of these options but also providing the ability for total size customization.
Mantel Should Compliment Home Decor
My personal situation included added difficulty, the style and design preferences already in the home.
My favorite mantel, the Smith, is very rustic looking, deeply distressed with a gorgeous deep dark brown stain and glaze. It looks beautifully old, worm, beaten and scarred but yet noble and majestic.
Unfortunately for me, the Smith Mantel does not match the existing decor of our home. It is simply too rustic, too brown and too dark in color tone. So, on to the next option.
Seasonal Decoration
We found the perfect match in the Pale Rider Grey Mantel. We selected the desired length and placed the order. It looks beautiful on our wall under a mirror with enough room for my wife to put out the seasonal decorations she likes.
I am still impartial to the Smith and keep looking for the perfect location for one in the home without any luck so far. However, we have already added another Pale Rider Grey Mantel over our sliding glass door headed to the back yard.
Soon a third will be added (as soon as I can get the TV mounted on the wall) as a shelf below the TV to hold the cable box and Blu-ray player.
Bring Soul to Living Space
Oddly enough with these three mantels in our home not one of them will be a fireplace mantel as the product was originally designed.
However, in every case the look and style of the Pale Ride Grey Mantel is "just right" and brings exactly the perfect feel and soul desired into our living space.
+Doug Cox
Rustica Hardware, Director of Sales