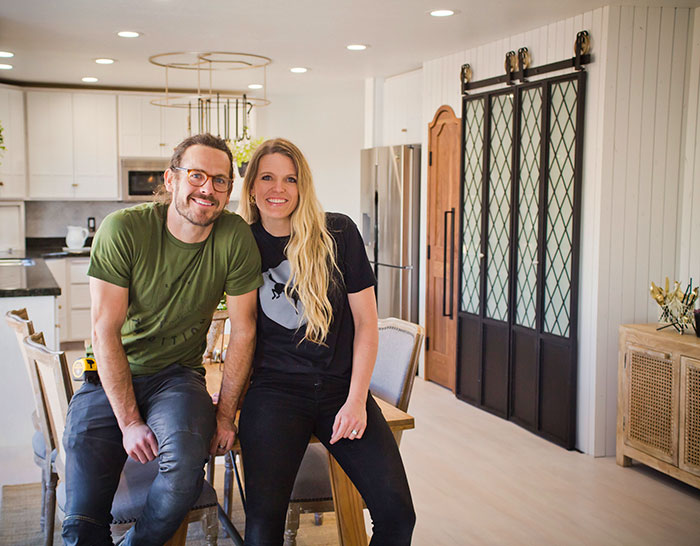 Co-owners and founders of Rustica, Kate and Paul Allen, have been creating doors, hardware, and boutique home improvement products together for over 15 years. Their spin on DIY projects is all about creating together, which is why DIY has a new name! DIT! Do It Together. This couple believes that building and creating together is the best way to tackle home improvement projects.
One of their favorite products (they are thinking of renaming it the DIT kit:) is the DIY Barn Door Kit. This innovative Barn Door Kit is available in dozens of designer colors and comes with channeled side door rails that allow for any wood, metal, or cloth substrate to be inserted and quickly installed. Typical assembly and installation for your DIY barn door is 45–55 minutes.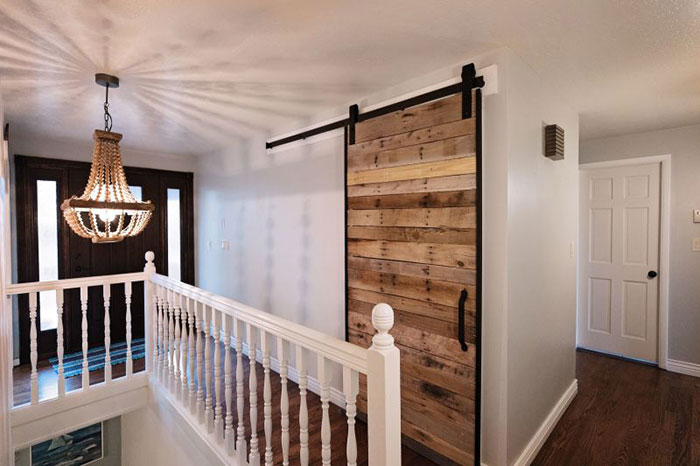 The DIY Barn Door Kit rails are made of solid steel, precision cut on our CNC laser machine and bent and powder coated with a premium baked finish designed to last a lifetime. This barn door project is a fun way to use old barnwood, old fencing material, or even brand new lumber such as shiplap. Shiplap doors have really grown in popularity.
Click here to see our solid wood shiplap options.
As easy as the DIY kit may seem, there are many things to consider when you want to tackle a do-it-yourself barn door project. Here are the most frequently asked questions:
What are the width requirements for the DIY Barn Door Kit planks?
We recommend using plank widths of no more than 5 feet to avoid wood warping and damaging the planks.
What size plank thickness should I use in my DIY barn door kit?
Our standard DIY kits work with slats or planks up to 3/4" thick. If you need a custom door kit made please ask our
customer care team
and we would love to help build you one.
How tall can my door be if I order the DIY Barn Door Kit?
8 feet is the tallest we can make the kit for a single solid rail. Anything over 8 feet tall such as the 9' and 10' DIY Kits will be shipped in lengths of 4.5 feet and 5 feet with a designer splice plate which will bridge the joint in the cut rails.
Standard heights are:
6' 6" door height options
6' 8" door height options
7' door height options
8' door height options
9' door height options (ships in 2 pieces)
10' door height options (ships in 2 pieces)
What finishes are available for the DIY Door Kit?
Flat black, raw steel, oil rubbed bronze, barn red, white, distressed white, antique pewter, brushed steel, aged oil rubbed bronze, champagne, modern gold, brushed stainless steel, mountain gold, dairy, faded red, glacier, huntsman, shop black, forged, and bonded chrome.

What floor door guide should I buy for my DIY Barn Door?
We recommend the Standard Adjustable U-Channel door guide. This guide installs to the floor and can be adjusted to accommodate any door thickness. You can groove out the bottom of the door and use the guide to insert into the groove or adjust the guide to be used as a channel which hugs both sides of the door and guides the door along. The door guide will not be a tripping hazard as it is only approximately 4" long and is installed out of the walkway. The door guide isn't even visible once installed correctly. The door guide doesn't come with the DIY Kit and needs to be ordered separately.

What sliding barn door hardware is recommended with the DIY Kit?
Any of our face mounting barn door hardware options work well. Top-mounted barn door hardware is not recommended due to the plank thickness.
Are the installation screws included?
Yes, you will get the DIY Door Kit rails as well as the installation hardware screws with your purchase. The sliding barn door hardware rollers and rail are sold separately.
Click here to shop our DIY Barn Door Kit
and start your weekend DIT project early.