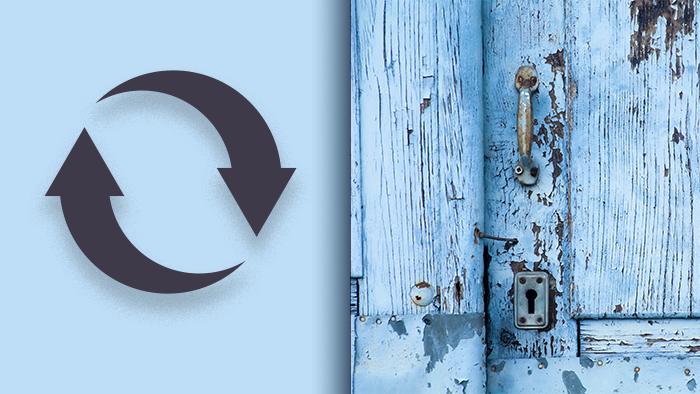 Wait! Don't toss that old door. Take a worn or used door and create a new look with a little bit of paint, some elbow grease and creativity. Have fun with it, try different things! You could incorporate new elements like a rustic doorknob or
sliding door hardware
in brass or copper.
Need more inspiration? From Take a look at these creative DIY project ideas for salvaged and repurposed doors!
MAKE AN OLD DOOR INTO A COFFEE TABLE
Do you have an old door you're looking to junk? Well...don't. That old, raggedy door full of personality could be your next home DIY coffee table. Intrigued by the idea of a quirky, cool door-to-home-decor project? If you don't have a door, simply head to your local antique mall/thrift store – or visit the junkyard – and you're bound to find one ripe for the picking. Coffee tables made out of old doors pair incredibly well with mid-century modern hairpin legs for an industrial vibe or spindle-style legs to create country charm.
But don't just let your old door projects stop with a simple coffee table made from repurposed doors. There are tons of cool, charming and creative DIY old door projects. And we've got them right here for you!
TURN AN OLD DOOR INTO A SHELF
Use your old door to create an artistic yet completely functional shelf. Paint the door and remove the panels, using them to create the shelving parts. Lean the door against a wall in a living room or bedroom and decorate with books, plants and other treasures.
HALL TREES MADE FROM OLD DOORS
Create a stunning decorative piece with an old door and several cuts of wood. Paint the door and attach the wood to create a little table and shelf. Completed, this piece is incredibly versatile and will certainly add an element of rustic elegance to your home. Place it in a hallway, entryway or in the master bedroom.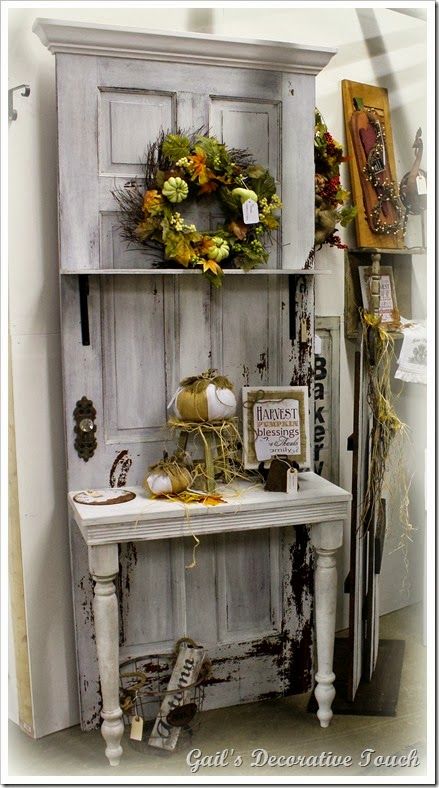 MAKE A BENCH FROM AN OLD DOOR
Breathe some new life into an an old hunk of wood with this fashionable and functional bench made from an old door. If you're not sure what to do with old doors, look no further than using one to build a bench for your mudroom, entryway or sunroom. It's the perfect place for your family to take off their shoes when they get home and drop off their bags. It's truly one of the best uses for old doors because it provides charming style
and
practical application.
USE AN OLD DOOR FOR TOWEL HOOKS
With this repurposing idea, turning the door on its side is only half of the work. If placing in a bathroom with a shower, paint the door with a paint that does well with steam, attach a few hooks, and make sure to securely hang the door with proper hardware. You'll love the unique touch it adds to the bathroom.
You can also extend this DIY old door idea into a coat rack, hat rack or key hanger in your entryway. This crafty and chic way to repurpose a discarded door will be a welcomed sight as the first and last thing you see when you enter or leave your home.


TURN AN OLD DOOR INTO A FLOOR MIRROR
Love the look mirrors bring into your home? Paint your old door and fit it with a floor-length mirror, leaving enough space around the mirror to show off your door. Lean it against a wall in a living room or bedroom and the result is a visually unique and appealing look that adds depth and visual space to the room. Not only that, but everyone will compliment the beautiful addition to the room.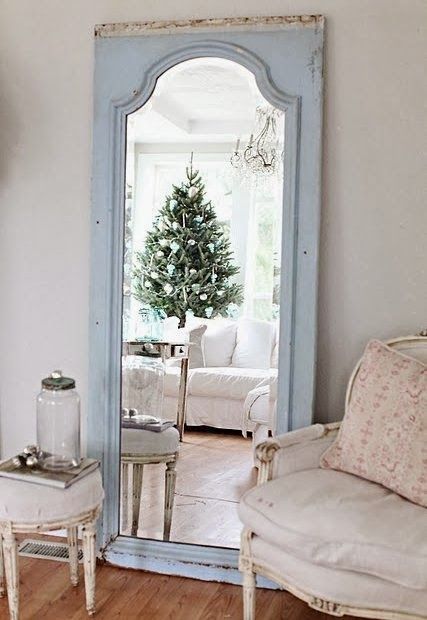 MAKE A CHAIR FROM AN OLD DOOR
Repurpose that old wooden door into a beautifully vintage chair, perfect for a mudroom or walk-in closet (if you're lucky enough to have one of those!). This one might take a little more work than the others, so roll up your sleeves and pull out a hammer and nails. It's definitely doable, though, and you'll love the result.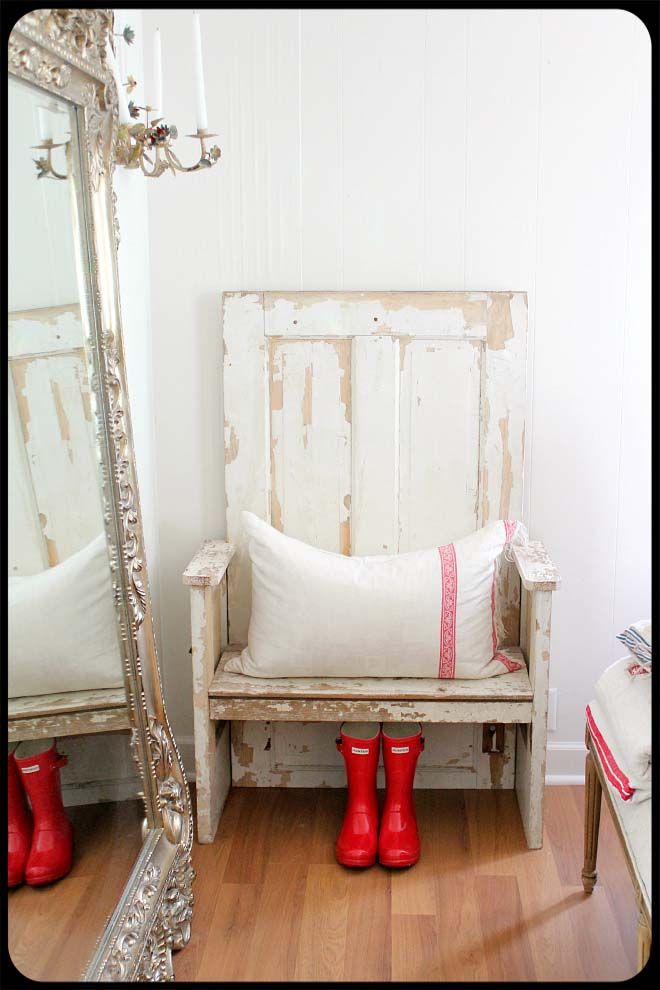 TRANSFORM AN OLD DOOR INTO A BAR
What's a better way to upcycle an old door than to use it for your very own home watering hole? A bar made from old doors is great because it offers plenty of tabletop space with a truly unique style. Whether you're looking to wine and dine guests in your backyard, in the basement – even at a special event, like a wedding – this one-of-a-kind bar top idea will be sure to leave your guests thirsty for more of your unique home designs.
CREATE CABINETS FROM AN OLD DOOR
Next on the long, creative list of ways for using old doors is repurposing an old door to build a cabinet. You can seriously rack up some creative style points for your home with this DIY project! A cabinet made from old doors is the perfect way to spruce up a charming kitchen or luxurious bathroom while allotting you and your family plenty of storage and organizational space. Hollowing out the paneling or creating a sliding barn door cover are crafty ways to reuse old doors for functional and fashionable home cabinetry.
BUILD A BED FROM AN OLD DOOR
Haven't gotten enough ideas about what to do with an old wooden door? Consider some beautiful bedroom furniture made from old doors -- like a door headboard to make your bed the ultimate focal point of your master bedroom. Depending on what style of door you decide to transform into a headboard, your bed can be as simple or intricate as you see fit. And this DIY old door project is a fairly simple creation that will leave you wondering why you never did it sooner.
So, anytime you're remodeling or find yourself with an old door, don't toss it; repurpose it with these amazing old wooden door ideas. Use one of the ideas above or come up with one of your own. The possibilities are fairly limitless, and by the time you're finished with these creative old door ideas, you'll love that you took something old and used and made something new. For more barn door ideas, tips and installation tricks,
check out our blog
!