Rebecca Verity's home dates back to the 1930s and was originally a farmhouse in the hills of coastal California. Due to its geographic locale, her home had a lot of original Redwood doors and fixtures throughout.
Like many homeowners, Rebecca wanted to give her space an update, while still staying true to her home's origins. She wanted to restore as much of the original redwood as possible, while bringing more light into the space. Rebecca and her engineer husband salvaged the original redwood doors from a prior home project and used them to create a stunning sliding barn door for their combination playroom / guestroom.
Read on to find out how this project came together with a little help from Rustica Hardware.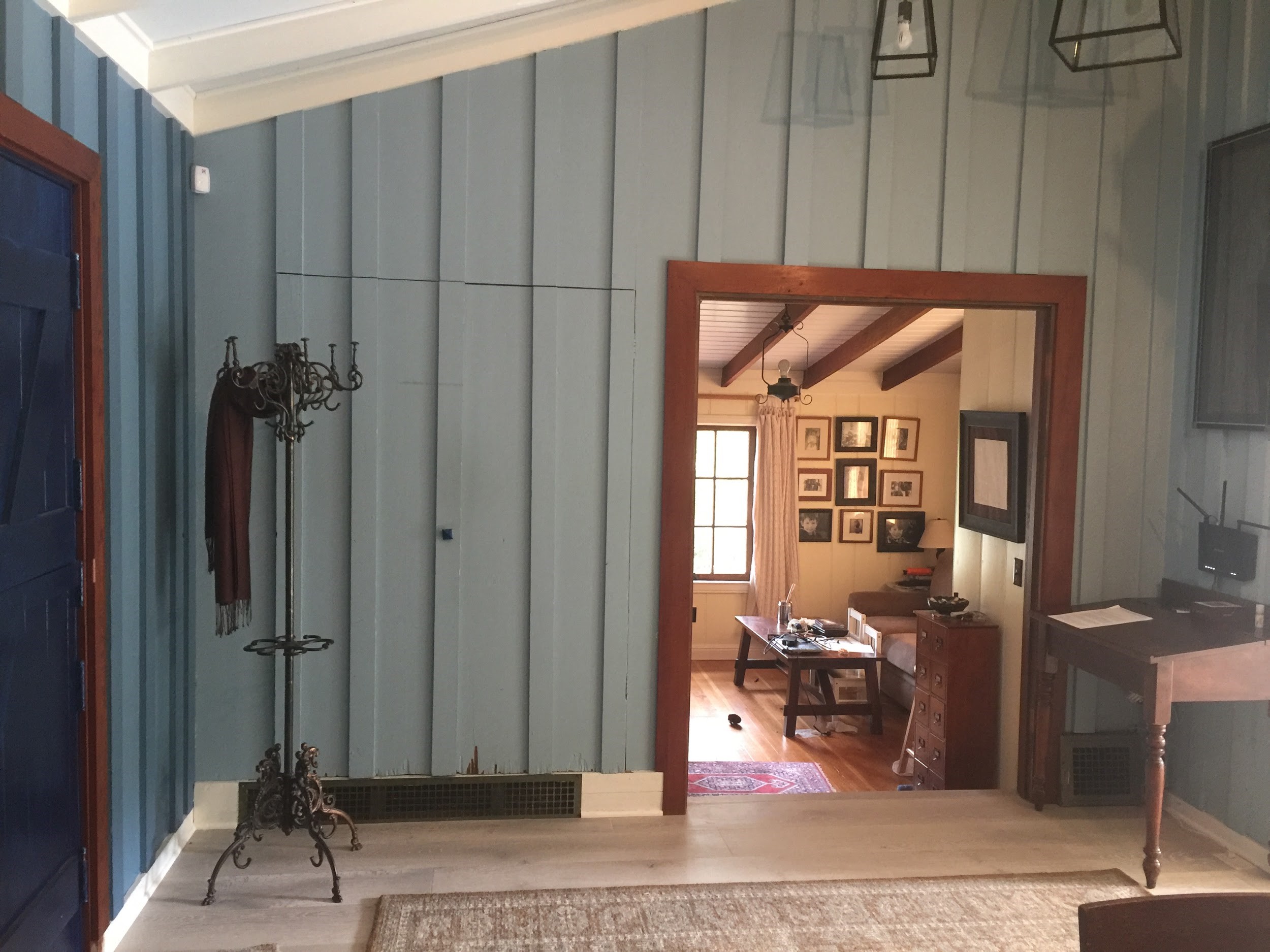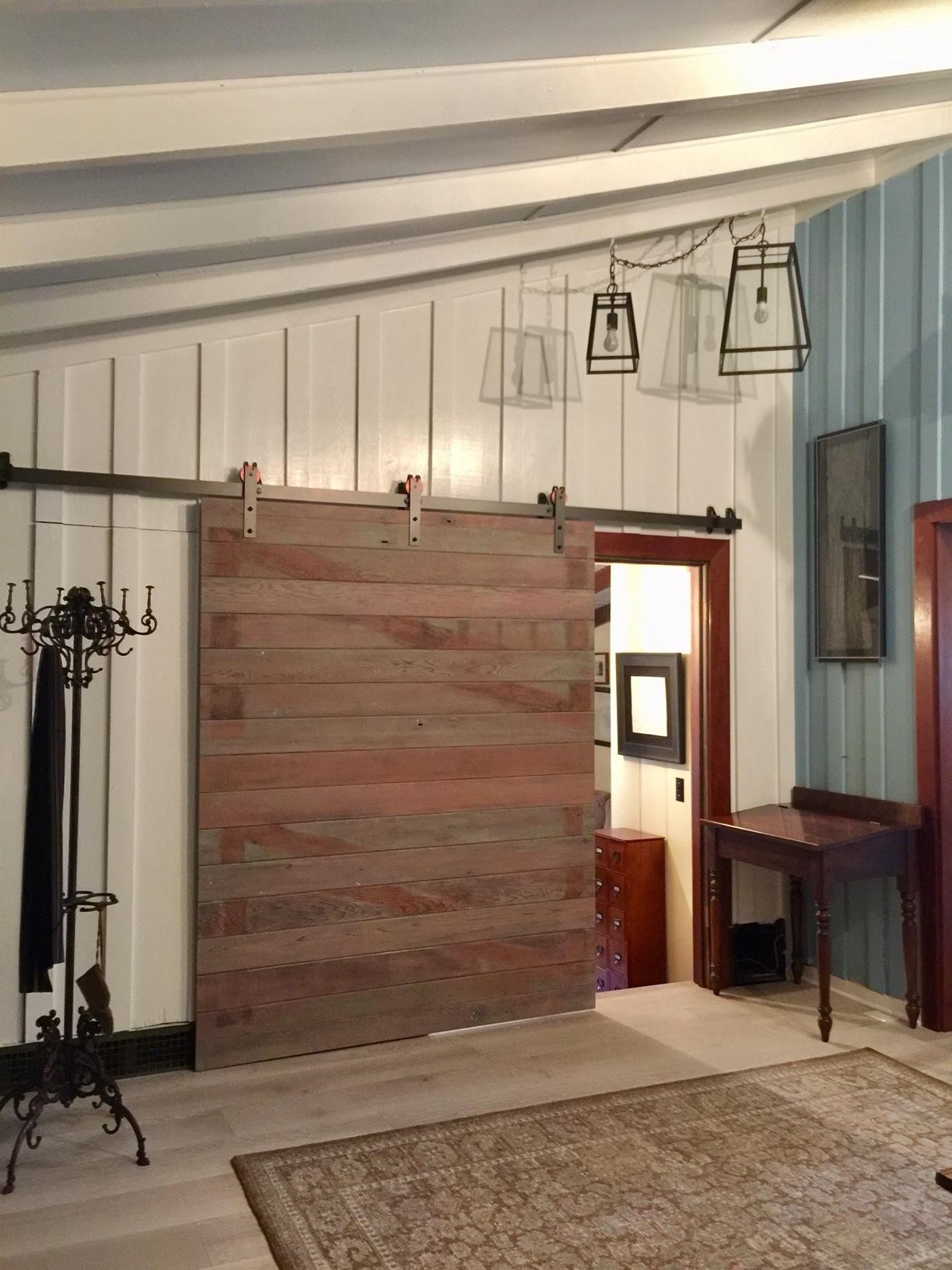 Making the Most of Their Materials
The rescued Redwood doors from the 1930s were still as sturdy as ever. However, Rebecca and her husband had to strip off six layers of paint that were hiding their natural beauty. It took them a month to gradually chip away at the layers before they added a coat of enhancing wax to bring out the patina of the wood.
"We pulled the stripped doors apart - they were two boards thick, so we had to remove a lot of nails and glue," explained Rebecca. "But luckily, they were tongue-in-groove, which helped when assembling a new door almost four times the size of one original door!"
It was a big project, but Rebecca and her husband looked to Rustica Hardware to choose
the right hardware
to hang their new-but-vintage door that worked with their 1930s-style farmhouse space.
"Aesthetics, price, and quality. Rustica ticked all the right boxes," noted Rebecca.
Working with board and batten walls, Rebecca and her husband found it challenging to estimate the depths -- a critical part of the project. They turned to Rustica Hardware's support team to clarify dimensions as well as tapped them for expertise on additional challenges that came with this DIY project.
"There is now a contact in my cell phone called "Rustica Hardware Helpful Guy" because whoever answers 208-881-1806 was really, really helpful," said Rebecca. "He even let me Facetime him so I could point to my walls to explain a tricky measuring issue -- and he talked my engineer husband down from an over-engineering ledge."
Inspiration Realized
Years earlier, Rebecca had seen a large, hefty barn door inside a hotel in Gold Country and dreamed of having something similar in her own home. Today, Rebecca and her family are thrilled with the results of their DIY project, having transformed discarded Redwood doors into a vibrant, practical addition to their home.
"It's gorgeous! We love it!" exclaimed Rebecca. "It's added tons of character to the room - but also feels like it belongs there."
Because their playroom opens off their 5 foot wide entry hall and doubles as a guest room, privacy for guests was essential. The sliding barn door with its beautiful, natural finish also helps add a lighter feel and more natural light to the home.
"We're really proud of what we've done and very grateful to have found your website."
We here at
Rustica Hardware
are proud of the work you've done, too and are thrilled to have been able to play a role in helping you create something so striking and enduring. The natural look of the Redwood really complements Rebecca's space, working with her aesthetic and bringing out the best of the home and the door's natural beauty. We love how the project came together, through a combination of bringing together vintage wood and styling paired with something brand new -- bringing traditional
barn doors
into the modern age. Have a recent Rustica Hardware DIY project? Submit to our Project Stories,
here
!