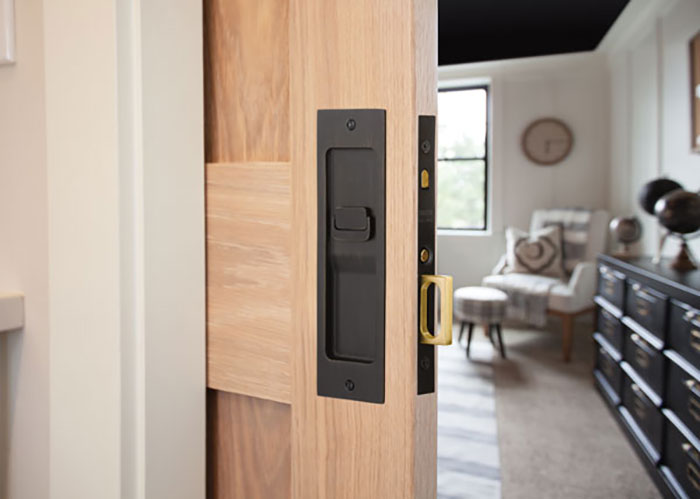 Pocket doors are the ideal way to save space. Unlike traditional hinged doors,
pocket doors
slide right into your wall. With the many pocket door options offered at Rustica, you can save space without sacrificing style. Once you have found your perfect pocket door, you will need a little extra hardware. Your pocket door is not complete without a pocket door lock or pull.
Pocket Door Locks
With pocket door locks, you have two different options. Choose from a mortise lock or a tubular lock.
A mortise lock requires a special cut in the door. Mortise locks are more secure and are the only keyed option available. Having a key required pocket door would be perfect for a private office. The mortise locks also come in a passage, privacy, and dummy. Choose from the different finishes and styles to best match your pocket door.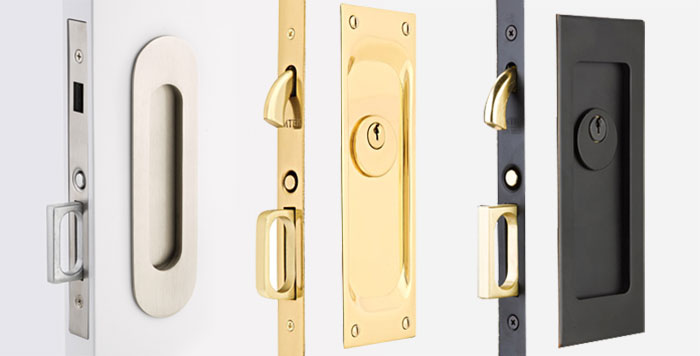 A tubular lock is a more popular option for a pocket door. Tubular locks are commonly used in interior doors. The tubular lock is available in a cylinder style and comes as a passage, privacy or dummy option.
Pocket Door Edge Pull
A pocket door edge requires you to hollow out a section in your door and screw in the pocket door edge. The edge simply laches into the door frame. In order to effortlessly slide your pocket door you will need to add a pull. Pulls are flat and you will need to hollow out another section on the outside of your pocket door in order to install the pull.
Keyed, Passage, Privacy and Dummy
There are a few different options when picking your pocket door lock or edge pull, but what do they mean?
A keyed lock requires the user to have a specific key in order to lock or unlock the door. This lock would be perfect on a room that needs to be kept private. A keyed option is only available as a mortise lock.
A passage simply latches, but does not have a locking function. Passages are commonly found on pantries or kitchen doors. Available as a mortise, tumbler, or edge pull.
A privacy lock can be locked from a button or turn-piece. It is freely operated from both sides and a great option for hallways and bathrooms. A passage lock is available as a mortise, tumbler, or edge pull.
A dummy does not have a lock, axel, or latch. It is a simple handle that allows you to slide your pocket door open or closed. Available as a mortise or tubular.
Pocket doors are great alternative to swinging doors, saving up to 10 square feet in clearance. Since they slide, pocket doors maintain a rooms open appearance while still protecting privacy. Now with the correct hardware, your pocket door is guaranteed to be that perfect addition to your home.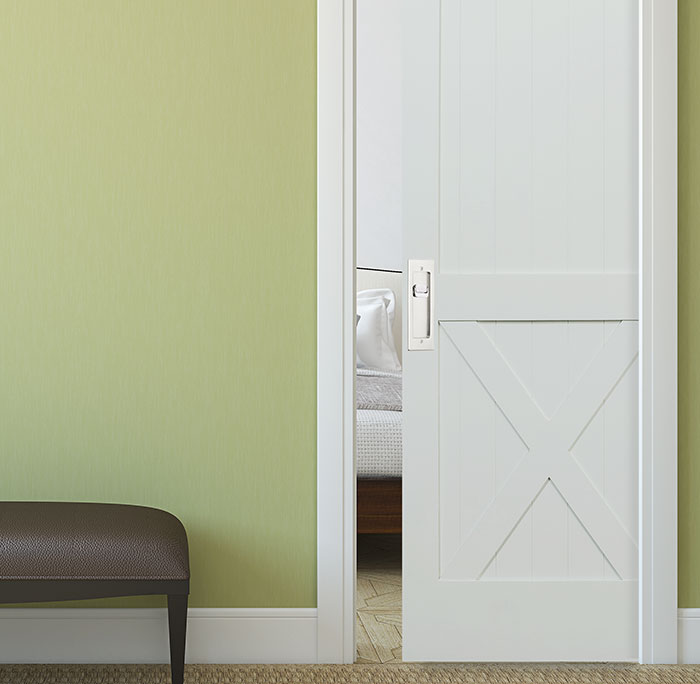 If you have any questions or comments on pocket door hardware,
contact us
. Be sure to let us know if you need help with any projects!