The Palm Springs Barn Door
It's just like high fives and handshakes. That's our way of describing "midcentury modern." New and old school married together to create a unique offspring that highlights the best of both worlds.
A West coast desert oasis inspired the "wow" factor that
Kim Lewis designed
for our latest barn door collaboration. And let's just say she had us all in the palm of her ever-designing hands.
Check out "
The Palm Springs Door
."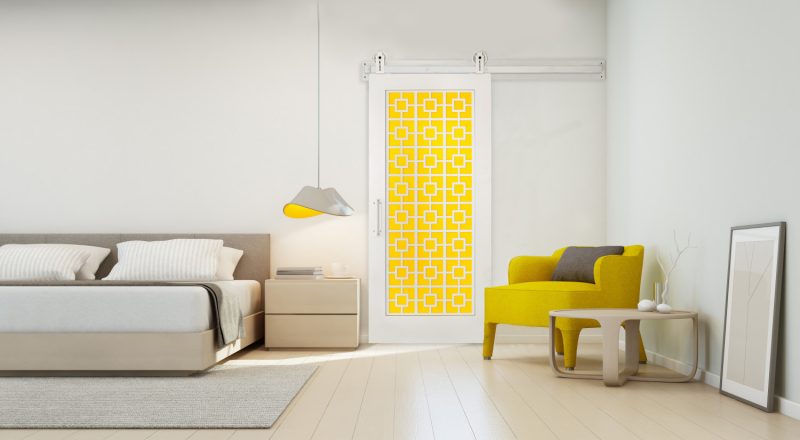 Classic and contemporary. Clean and colorful. Playful and posh. Featuring a 'Sultan of Swoon' meets 'King of the World' vibe, this must-have barn door is sure to spark conversations and leave guests in awe of your unique decor.
The Palm Springs Door is a timeless, not going outta style kind of goodness.
Kim's designs capture the story expressed in style, culture, people, architecture and nature.
In the Palm Springs Door, she has created a passage through history that merges with the present.
+Rustica
The Palm Springs Door - Design Notes:
The "square on square" pattern is inspired by the 1950s and 60s architectural textures that decorate Palm Springs.
Bright and bold colors are incorporated to symbolize the free-spirited culture, fine arts and musical festivals indicative to their community.
The door is available in four fun, colorful shades to celebrate Palm Springs' diversity.
Palm Springs Fun Facts:
Palm Springs is a popular destination for Hollywood celebrity sightings.
Sonny Bono was the first Mayor.
Downtown Palm Springs has a Walk of Stars.
Streets are named after Frank Sinatra, Bob Hope and other A-Listers.
The Greater Palm Springs is home to more than 100 golf courses.
The Collaboration:
Rustica Hardware partnered with Kim Lewis who is best known as the Lead Designer behind ABC's "Extreme Makeover: Home Edition", in a three part collaboration series creating barn doors inspired by destinations, locations and towns across the United States.
**
"The Sultan of Swoon" is Frank Sinatra and "The King of The World" is Leonardo DiCaprio. Both are known for their homes/residency in Palm Springs.
Looking to complete your Palm Springs look? Check out our
Palm Springs Barn Door Hardware Kit
!