We are pleased to announce that we are now offering SAME-DAY shipping on select hinged doors, barn doors, and barn door hardware styles! We are continually innovating and improving our production processes to decrease lead times so you can start and finish your projects promptly. Order any of our same-day ship products before 2 pm MDT to get same-day shipping!
Hinged Doors
Whether you've found yourself in a bind or your excitement to upgrade your front door has you wanting to take action now, get an interior or exterior door shipped today with our curated collection of same-day ship doors. All of our same-day ship hinged doors are handcrafted from solid wood to ensure you're receiving not only a high-quality door but a door that's going to last a lifetime. Made to order in select sizes, instantly make the entry of your home a beautiful focal point with a Rustica same-day ship door.
| | | | |
| --- | --- | --- | --- |
| Rocky Point Front Door | Boat House Front Door | Dairy Dutch Door | Stronghold Front Door |
*Rustica Same-Day Ship Front Doors are Unfinished. These doors can be finished in the finish you desire but it will add an additional 2-3 days to the lead time.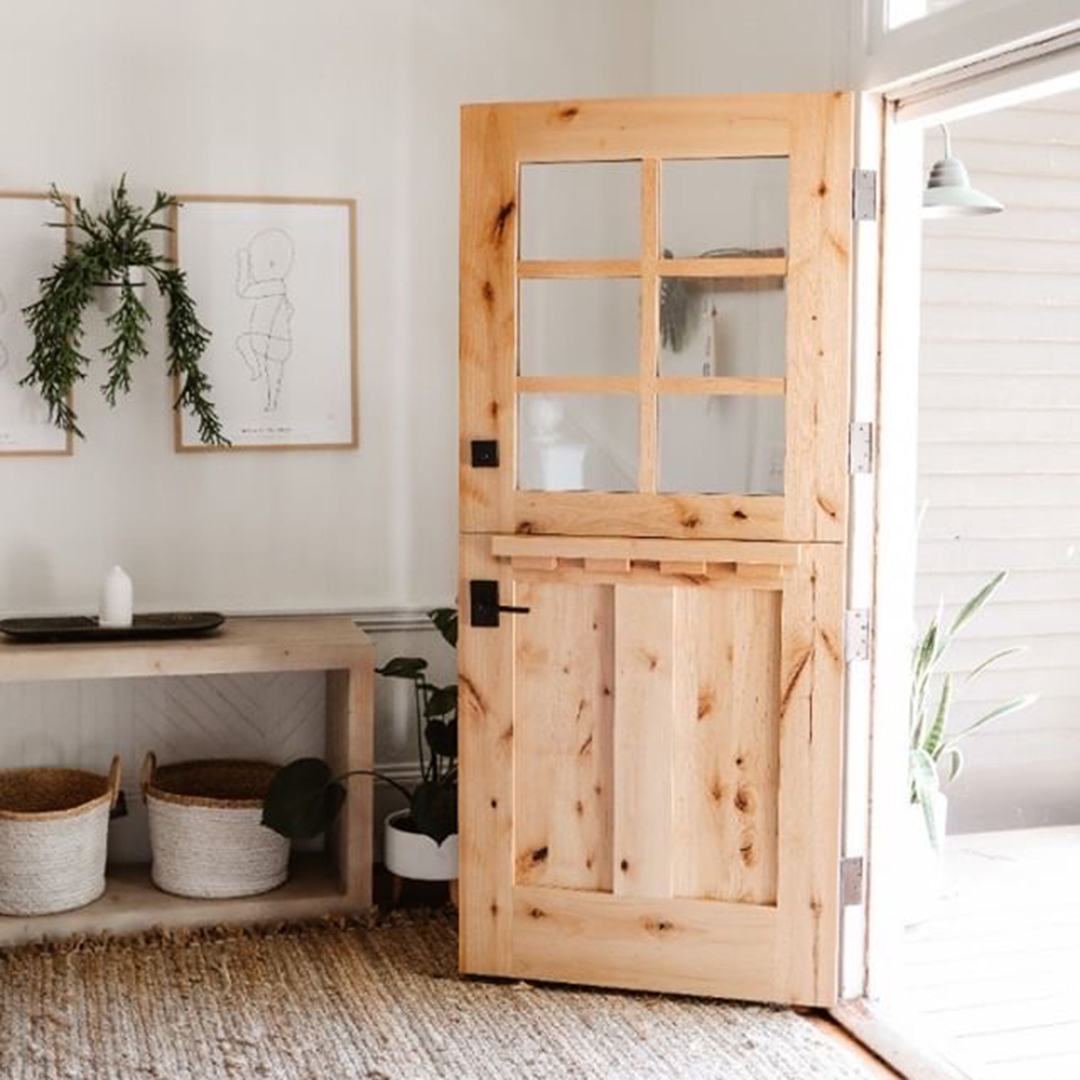 Shop Same-Day-Ship Front Entry Doors
Finish your project faster with Same-Day-Ship front entry doors.
Barn Doors
We offer 3 DIY Panel Barn Doors that are eligible for same-day shipping. With a variety of finishes and an easy assembly, our DIY Panel Barn Doors are a great way to elevate your space in a time crunch! These unique doors are made from sustainable MDF wood which allows for charming machine grooved artwork to accent the front and backside of the door. MDF wood is an engineered wood made by combining hardwood lumber pieces and softwood lumber pieces into a solid 11/2" eco-friendly composite door.
Barn Door Hardware

Our same-day shipping barn door hardware is compiled of our best-selling hardware styles and finishes that accommodate single and double barn door applications. Handcrafted out of raw metal with both prestigious and simple designs, our same-day shipping barn door hardware kits will effortlessly complement any set of barn doors. Each hardware kit comes with everything you need for a seamless installation, perfect for finishing projects with a deadline!
| | |
| --- | --- |
| Buck Barn Door Hardware | Stag Barn Door Hardware |
To ensure same-day shipping please do not combine Same Day Shipping Hardware products with other orders. If you have any questions about our same-day shipping products please feel free to contact us at 800-891-8312!
Click here
to shop our Ready-To-Ship Collection!