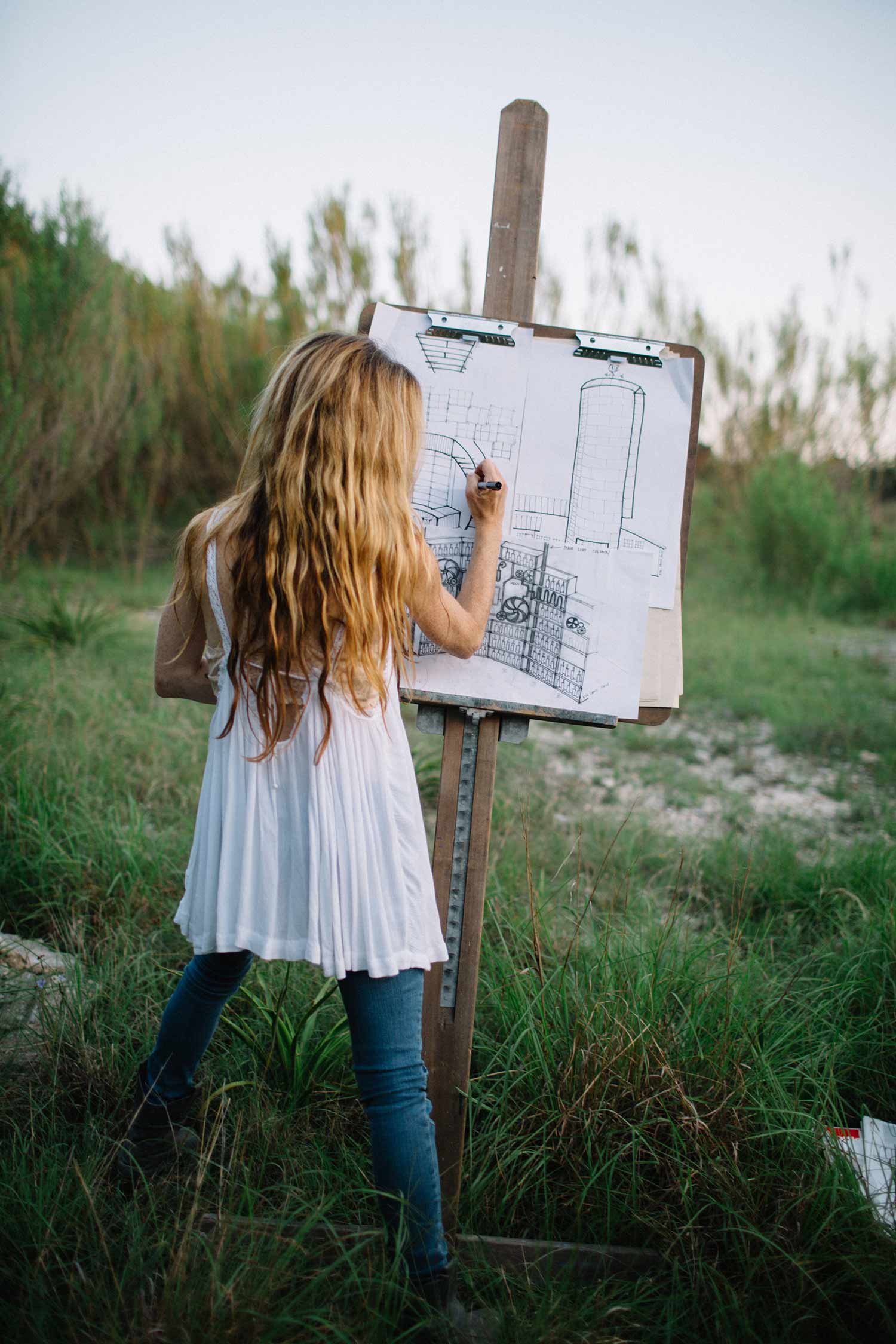 Kim Lewis, Lead Designer behind ABC's "Extreme Makeover: Home Edition", DIY's "Tiny House Nation", and owner of Kim Lewis Designs, is now the newest member of the Rustica Hardware family! Kim is shaking up the status quo through her innovative designs that are inspired by actual places, people, and things. Soon we will be launching our collaboration with Kim on a new line of wholly original doors, inspired by real locations. Before we introduce you to these stunning doors, we wanted to let you into the mind of the designer, Kim Lewis.
HOW DID YOU START YOUR DESIGN JOURNEY? HOW DID YOU GET INTO HOME ARCHITECTURE AND DESIGN?
Despite having a secret love for architecture, Kim graduated from Texas A&M with a degree in Journalism. After a brief stint working for an advertising agency, she began working for a furniture importer where she met a producer of ABC's "Extreme Makeover: Home Edition".
The show was looking for furniture sponsors, so Kim oversaw the project for her company. On her first visit, representing her company, Kim flew out to the set, met the producers and even helped stage the home. After staying up all night helping the design team finish the house, the show's Executive Producer said, "We want to hire you!".
The official offer, to design for the show, came later that summer, on her wedding day! Uprooted from her home state of Texas, off she went to Hollywood! Kim told us working for the show combined her favorite things: helping people, traveling, and being creative. Kim got her nickname, Kimpossible, on the set of ABC's "Extreme Makeover: Home Edition" during the sometimes 54-hour working days. "Nothing is impossible," Kim mentioned as she reminisced telling people who asked, "did you really do those projects in seven days?", to which she'd reply, "No…we did not have 7 days…we had 5". The biggest compliment came when the people would say, "it's like someone got in my head and built my dream house."
ONE OF THE THEMES/GUIDING PRINCIPLES OF YOUR WORK IS "CREATING WITH PURPOSE." WHAT DOES THAT MEAN TO YOU? HOW DOES IT INSPIRE YOUR WORK? WHAT BENEFITS WOULD YOU SAY COME FROM A LIFESTYLE OF "CREATING WITH PURPOSE?"
Everyone who knows Kim describes her as a "tiny girl with a big heart". Her desire to create with purpose and make a difference in the world comes from life experiences. At 10 years old, she lost her mom to cancer. While grieving, she found creativity was her real outlet for healing. Dancing, drawing, and painting, she found freedom through the pain and loss.
And now that mission is at the core of Kim Lewis Designs: Create with purpose. Design is not a luxury, but rather a way to change lives.
Standing in the middle of a chaotic construction zone they asked her if she would volunteer…
On the set of the last episode of ABC's "Extreme Makeover: Home Edition" she met a non-profit company called Touch A Life, who was rescuing children from trafficking in Ghana. Standing in the middle of a chaotic construction zone they asked her if she would volunteer and fly to West Africa to design a therapeutic art center for the children (Of course, she said yes!).
Since that first trip, she and Touch A Life have designed and built art centers (as a volunteer) for at-risk children in Cambodia, Ghana, and Honduras, with another one in the works. Kim lights up when she talks about her passion for these projects. She understands deeply the freedom found in using your imagination, and how empowering creativity can be for abandoned children. Creativity teaches us to think for ourselves, and dream big.
CAN YOU TELL US ABOUT ONE OF YOUR FAVORITE DESIGN PROJECTS? WHERE DID YOU DRAW YOUR INSPIRATION FROM?
"That's like picking your favorite child," she said. "The first thing that comes to mind is a project 2 years ago in Cambodia when we renovated an old boat into an Art Center for girls who had been rescued from sex trafficking."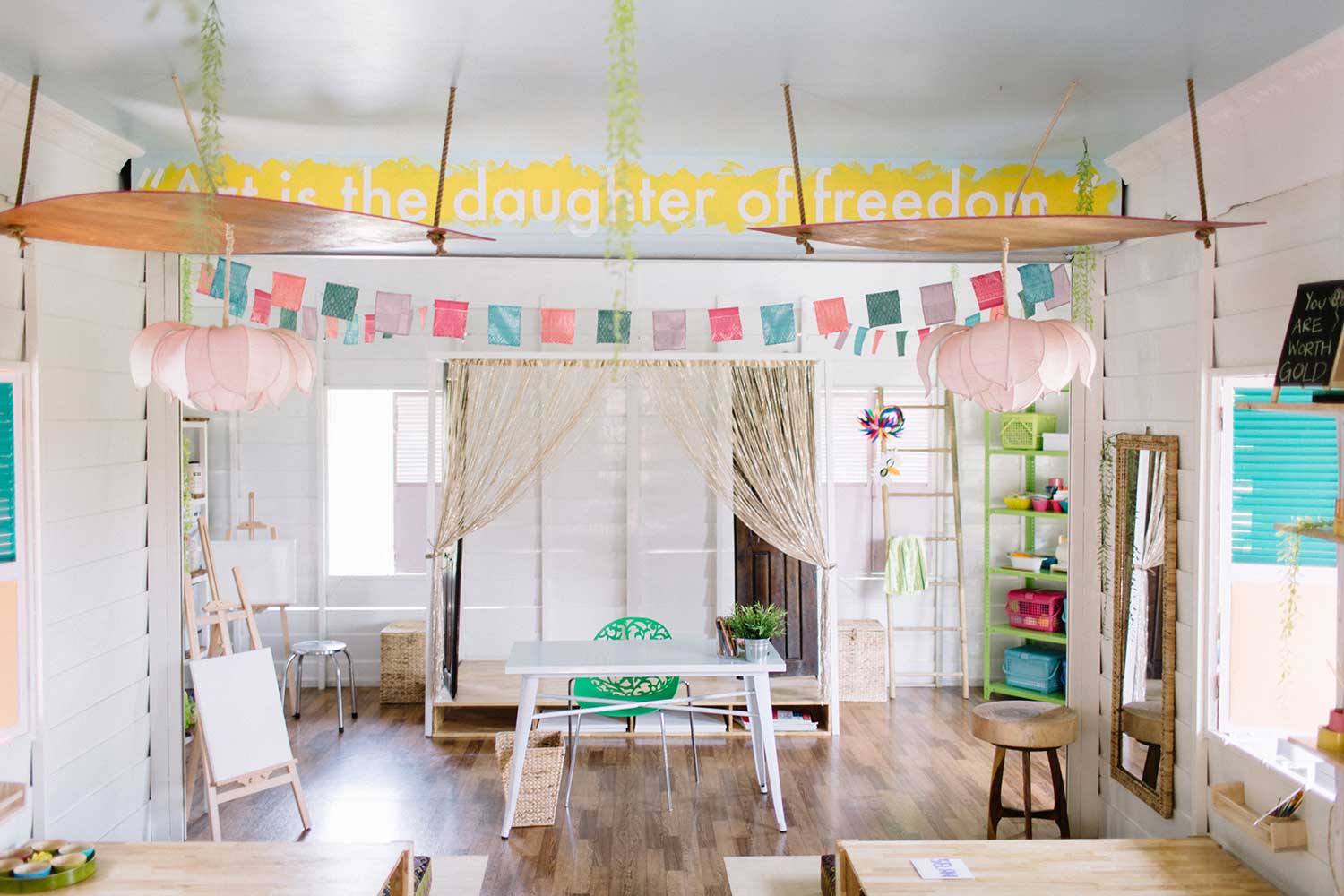 Another favorite project was during her TV days when they put a 26' airplane fuselage into the house during construction. (The family loved flying, and naturally producers were pushing for more and more 'extreme'.) She laughed, recalling that phone call she made to Southwest asking if they had a retired plane she could use in her design.
Literally miles in the air, Kim drew the concept for the fuselage, flying to another job site. Her concept was to place the plane in the foyer, creating a natural hallway. As you turn the corner, you see "First Class" seating for the dining space. Kim has a wild imagination!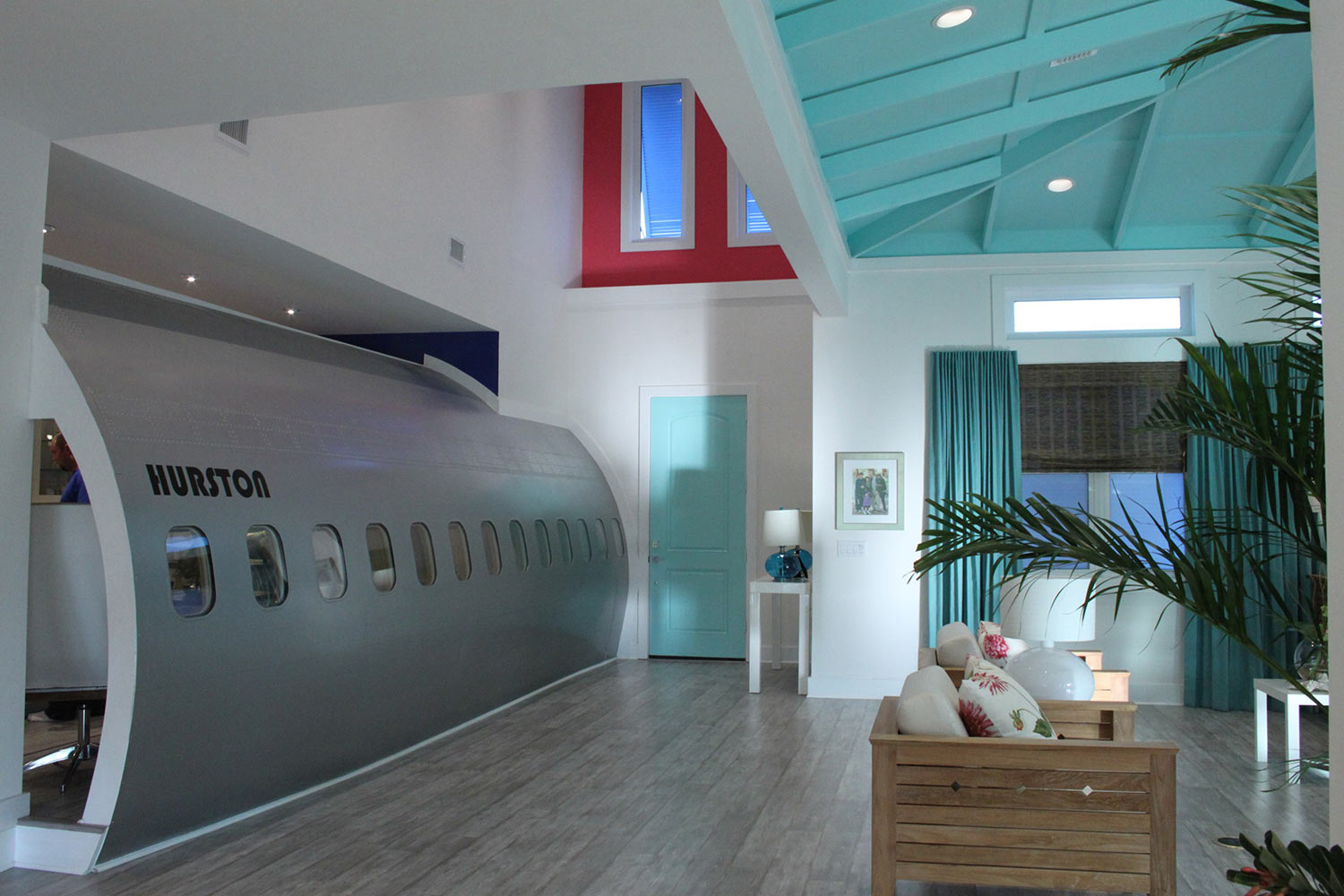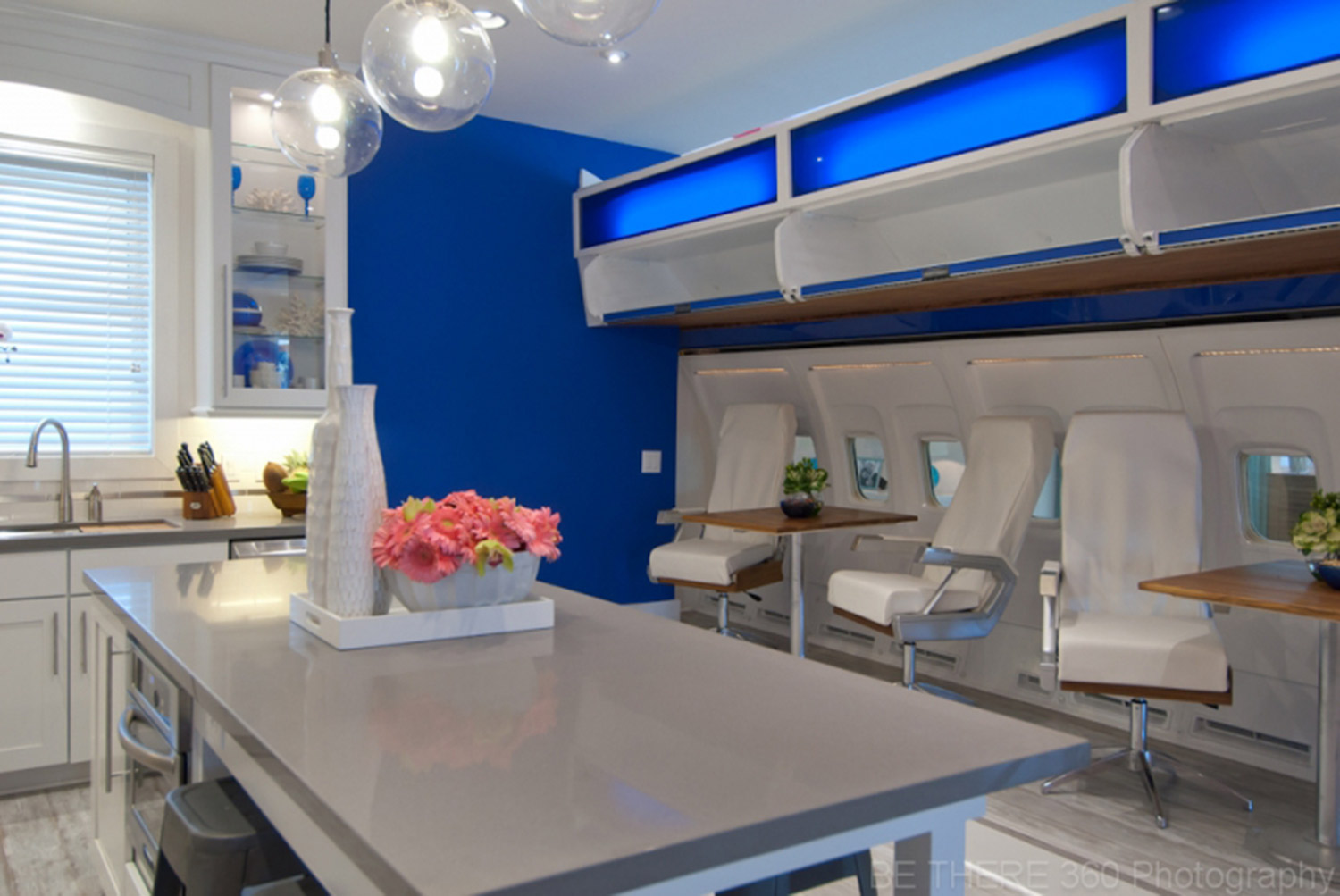 YOUR JOB DEMANDS CONSTANT CREATIVITY, WHAT DO YOU DO TO GET YOUR CREATIVE JUICES FLOWING?
With an adventurous soul and wandering spirit, Kim always finds her inspiration from travel.
Different cultures, studying the architecture, textures, colors, and meeting the people are all inspirations. Calling herself a "global local", she "soaks up the culture like a sponge", and always makes an effort to learn the language. Until recently, Kim has chosen not to own a home, so she can fuel her adventurous spirit, and keep the inspiration flowing. (She just purchased her own tiny home…but it still has wheels, so she's not tied down!)
Just recently with partner, Miranda Burnet, owner and Founder of Flash Tattoos, she launched Kim Lewis Tiny Homes. "Nesting for freebirds" is their motto, so Kim decided she must live the very thing she encourages: tiny living.
DO YOU HAVE ANY FUNNY QUIRKS?
She never leaves the house without: her high heels and roll of trace paper.
Kim's team is constantly trying to figure out the way her brain works. She is a master multitasker but others don't always follow or understand her process (after all, she is an artist!). She drafts ideas with her hands, pencil and paper. There are two things that she never leaves the house without: her high heels and roll of trace paper.
WHAT WOULD YOU NAME THE AUTOBIOGRAPHY OF YOUR LIFE?
"Moth Mountain."
Kim explained that life has been tough. She lost her mom at a young age, and later went through a painful divorce. On the road for eight years with the show, she struggled with work/life balance. After moving back to Texas, she met 'ground zero' in life and decided to dig deep to find herself and her roots again.
During this process a friend encouraged her to "name her mountain." They said that life was like a mountain; there would be uphills, downhills, valleys and rivers to pass through, but to "claim" your mountain by naming it. She chose the name "Moth Mountain."
Before her mother passed away she told Kim she would always be with her "just like the moon", since the moon is always in the sky, no matter where you are. Since then, the moon has always given her a beautiful anchor point, and a moth is always looking for her moon light.
"When you get to the top of the mountain…You are there to pull people up."
While many people say that God will only give you as much as you can handle, she likes to say, "God only gives you as much as you can handle in order to help others." Kim looks at her mountain in that beautiful way. "When you get to the top of the mountain, it's not in self victory, but you've made it there in order to look back and help other people through that same valley. You are there to pull people up".
These moments of pain, loss, and heartache are beautifully redeemed through her designs. If design was all for luxury and not to give back or serve, Kim doesn't think she could do it. To her, she is meant to create with great purpose.
---
Stay tuned, next week, as we unveil more details about our collaboration and give sneak previews of our new "Kim Lewis Designs" line of doors and hardware!
For more of Kim's work, check out www.kimlewisdesigns.com and www.kimlewistinyhomes.com.