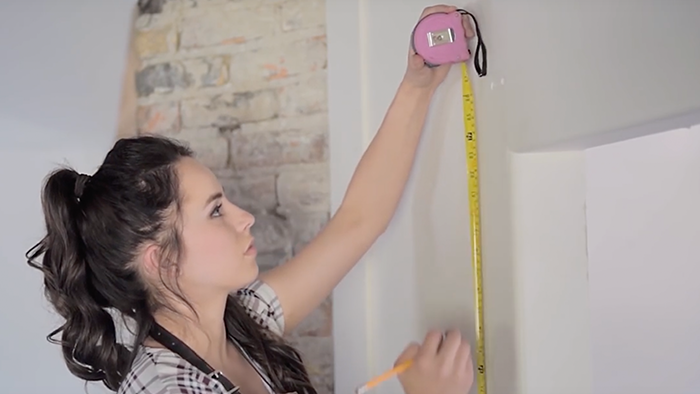 Is your door opening ready for install?
Whether you're still contemplating investing in a new a sliding barn door or you already have one, the steps outlined in this article will help you understand what measurements you need to meet in order to have the sliding barn door of your dreams. After all, these fashionable and functional doors aren't only the biggest home decoration trend right now, they also offer tremendous space-saving home features that you'll love for years to come.
Sliding barn door systems have several moving pieces. So, before the actual installation occurs, it's important that you take all the necessary measurements to ensure your DIY project is done right.
How do you measure for a sliding barn door track?
First and foremost, let's talk about how to measure for a barn door track. To do so, you need to find out if your door opening is cased or not. A cased door opening simply means that it has a trim that goes all the way around, while a non-cased door opening implies that it's just a general sheetrocked opening.
Depending on the style of doorway / opening you have, it will affect the measurements. For this purposes of this tutorial, we will walk you through the process of measuring a non-cased opening since it's the more popular option and, from an aesthetic standpoint, it simply looks better.
Step 1: Make sure you have space
This may seem like common sense, but sliding barn doors aren't your typical door. To assess if you've got plenty of room for your barn door, look at your wall and make sure you've got at least double the width of the door opening on a bank wall (left or right). This is vital because when the door is completely open, the barn door track length needs enough room for the door to slide out of the way entirely.
Step 2: Record the door width
For the most appropriate door width dimensions, measure the opening and add a few inches to this measurement (approximately 4 to 6 inches). This extra cushion of measurement will give you more space to maneuver come installation time. For example, if you've got a light switch next to the opening, you want to be sure your door will clear the switch. So, if you've got enough space to go wider than double the door width, make use of that added space since it can benefit you in the long run.
Step 3: Twice the door width = track length
Whatever your measurement is for at least twice the width of the door, plus the extra 4 to 6 inches, that will be your minimum track length. To calculate, simply follow this equation:
(width of door x 2) + (4 to 6 inches of space) = minimum track length.
Once again, make sure you have enough compatible banked wall space to achieve this measurement.
Step 4: Measure the interior door height
The first part of finding the solution for this step is to know where you want the track mounted. Usually, it's a safe bet to begin mounting your track at a distance that's halfway between the ceiling and the top of the door opening. However, it's important to double check to make sure that this measurement will work with whatever door sliding hardware you choose since some designs are taller than others.
Once you've determined the correct spot for your measurement and that it allows the hardware you've selected to glide freely without hitting the ceiling, it's time to measure from the proposed track mounting spot to the floor. A good rule of thumb is to situate the top of your sliding barn door a few inches above the height of your opening and that the bottom of it sits roughly one inch from the floor – enough to keep it tracked so it glides smoothly without swinging or swaying.
Now that you've taken all the necessary steps to measure, you're ready to mount the track, attach the door brackets, and finish the install. Get more helpful tips and learn
how to install a sliding barn door here
.