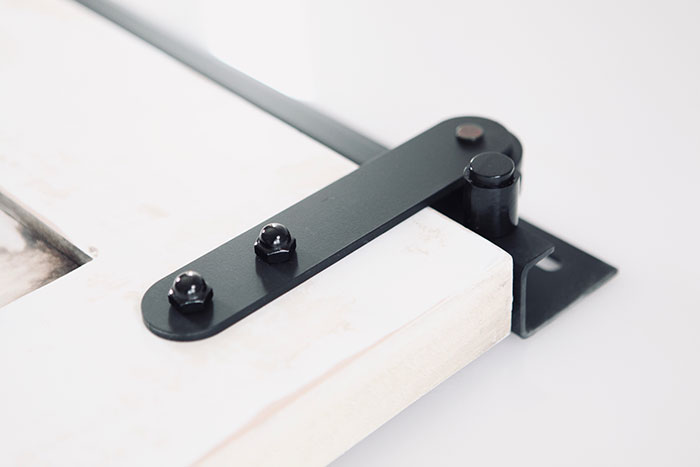 When it comes to designing small spaces for homes, clever solutions for your small space situation make all the difference. In each room there are challenges to overcome, starting in the kitchen and ending in the basement corner-bathroom that slopes, here are some ideas and solutions to help with small home interior design.
In the Kitchen:
While regular kitchen cabinets work well, small spaces don't always allow enough room for standard height cabinets, or banks of overhead and countertop-height cabinets. Floor-to-ceiling open shelves are a great way to gain additional room for storage and for displaying dishes and mementos while keeping things airy.
In the Bathroom:
Typically the door leading into the bathroom swings out into the hallway and takes up much needed hallway space that can be used to display family pictures and hallway shelves for storage. Swapping out your interior door for a sliding barn door saves space instantly. Adding a shelf to the front door face of the bathroom barn door allows you to re-gain any wall space you lose.
Click here to view our space saving sliding barn door options.
For Accent Cabinets:
Even though space is at a premium, accent kitchen cabinets and accent bathroom cabinets are the best kept secret for small space cabinet design. These cabinets shouldn't match your other cabinets, but be beautiful compliments to them.
Click here to view our cabinet door accent options.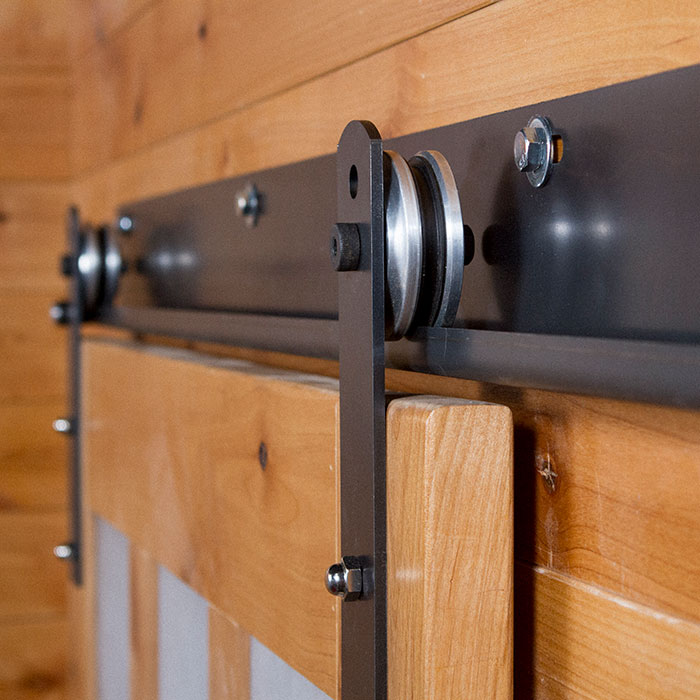 For low profile spaces where low clearance barn door hardware is needed:
When designing for tight spaces in your home where the ceiling slopes, or where you have limited door-to-ceiling space, low clearance and low profile barn door hardware solves the most tight space problems. Typical barn door hardware requires a minimum of 5–7" of clearance from the top of the door to the top of the barn door hardware system. This is the minimum height needed for installing a standard sliding barn door. With Rustica's low clearance barn door options there are additional small space solutions.
Click here to view the low clearance and low profile options for barn door hardware.
The difference between them is that the J-Track is compatible with most any typical barn door hardware door roller hanger, while the low clearance barn door hardware system is only compatible with a handful of door roller hangers styles.
Another option for low-profile spaces is the
Low Clearance Bypass Barn Door Hardware
that requires 3 1/4" of clearance. Thanks to the bypass system technology, one door is offset behind the other, allowing the doors to slide in front of each other to conserve space. This design is commonly used for bedroom closets and openings that don't have enough wall space for doors that slide to each side of the opening.
Door Dividers:
A mirror-backed barn door or a sliding french door with glass is another excellent way to easily divide two spaces. When you are separating spaces, using barn doors with mirrors and glass in them will add a dramatic design element that is very functional. Doors with glass in them also allow light into both rooms. Taller doors will make any space look larger. Doors with mirrors on them also create a sense of openness.
Click here to view our sliding mirrored barn doors.