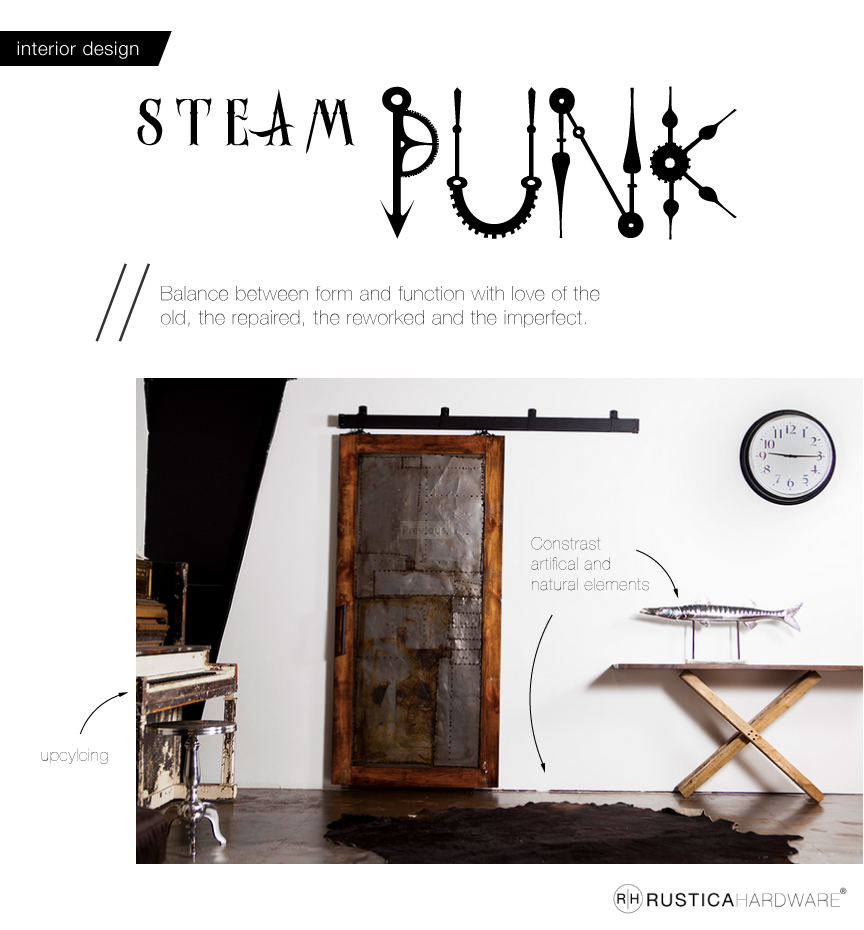 WHAT IS STEAMPUNK DESIGN?
Steampunk design, with its roots in the Victorian era, is at once both old-fashioned and modern. Its design is very mechanical, almost industrial, employing materials like polished brass, iron, wood, and leather. It can be thought of as pseudo-Victorian because of its re/upcycling love of the old, the repaired, the reworked, and the imperfect. It emphasizes a balance between function and form and blurs the line between decoration and tool. Steampunk design is not just an interior design, but a genre and culture that includes fashion, music, film, literature, and décor.
WHERE DID STEAMPUNK COME FROM?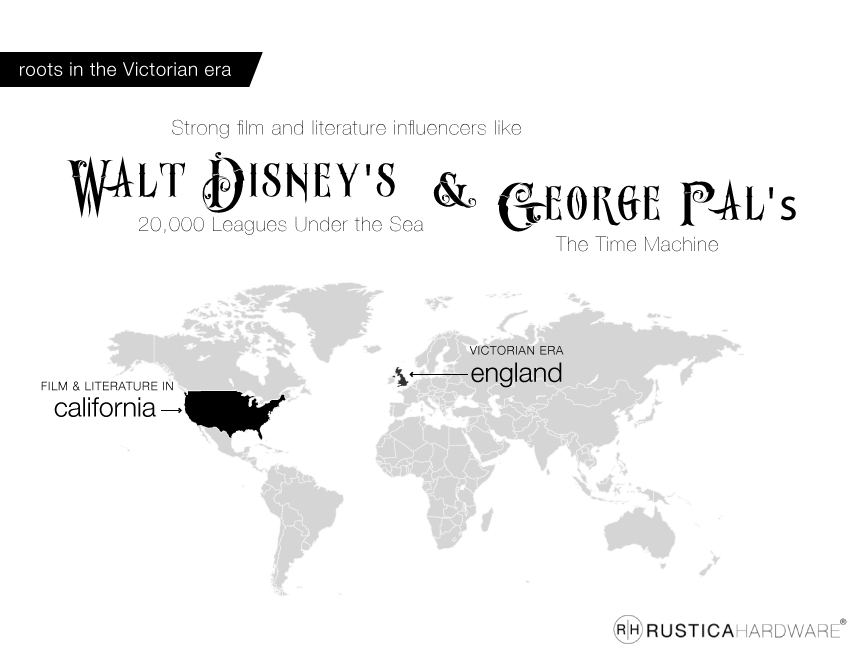 Steampunk design comes not so much from a specific place as much as from an idea. It does have roots in England in borrowing concepts from the Victorian era, but the design really comes from California and the film industry. In 1870, Jules Verne published what has since become an incredibly popular and classic piece of literature, Twenty Thousand Leagues Under the Sea. It was this novel that inspired Walt Disney to create a film adaptation, 20,000 Leagues Under the Sea, released in 1954. This science-fiction film introduced the steampunk design in the design of the submarine the Nautilus, its interiors, and the crew's underwater gear. Around the same time, another film adapted from a book, The Time Machine, was released. This film is also thought to have introduced steampunk design with the design of the time machine itself.
WHERE IS STEAMPUNK STILL POPULAR?
From its origins in film and literature, steampunk design has also spread to other settings in various parts of the world. The Paris Métro Arts et Métiers station is designed in the steampunk style. Belgian artist Francois Schuiten redesigned the station in 1994 in steampunk style to honor the works of Jules Verne. The station is evocative of a submarine.
Parts of the Tokyo and Paris Disney theme parks are in steampunk design. Both the Mysterious Island section of Tokyo DisneySea theme park and Disneyland Paris' Discoveryland are distinctively steampunk.
Many museums and festivals in different parts of the world have showcased steampunk design: a working steam engine was created by Kinetic Steam Works and presented at the Burning Man festival; steampunk festival White Mischief, held in London, put on a distinctly steampunk-themed event titled "Around the World in 80 Days," and Omaru, New Zealand boasts its Libratory Steampunk Art Gallery and Steampunk HQ where steampunk-enthusiasts can view and purchase art and experience audio-visual attractions.
HOW YOU CAN USE STEAMPUNK DECOR AT HOME
As far as interior design goes, steampunk is not incredibly common, though if it is the design you are looking for, there are definitely ways to bring this style into your home.
Steampunk in the Kitchen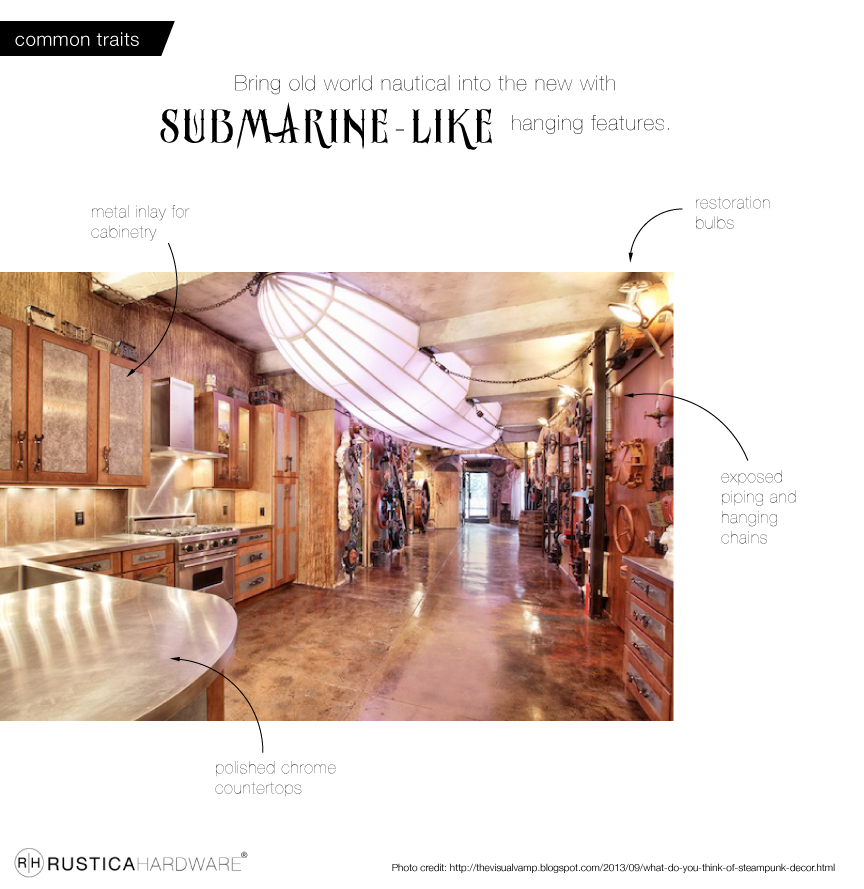 Steampunk design is very metallic, almost industrial, and the kitchen is a perfect place to really highlight this element without having it be overbearing. Polished chrome countertops and other metal accents throughout the kitchen will really bring the steampunk feel to the room. Add metal inlay to your cabinets and drawers, and get stainless steel appliances. If you don't want to buy a new refrigerator and oven and want to make them work in your steampunk style kitchen, you can get stainless steel covers for these appliances—or even paint them. Doing so will cost a lot less than buying new appliances and still gives the feel of real stainless steel.
Add Neo-Victorian Style to Your Living Room
Because steampunk design is, in a way, pseudo-Victorian, implementing Victorian aspects to your living room is a perfect way to bring steampunk design to your home. Decorate with gears, old-fashioned bicycles, and clocks made from materials like polished brass, iron, wood, and leather. Sliding barn door hardware in these metal elements will do well.
Another way to bring steampunk into the room is via the lighting fixtures. Use restoration bulbs—simplistic, hanging lightbulbs—and string them through a system of gears in a living room with high ceilings. You could also go bold and incorporate Captain Nemo and the Nautilus by Finding a fixture that resembles a submarine, like the one featured in the photo of the kitchen.
Bring Steampunk Style into the Bedroom
Outfitting the bed in your bedroom in true steampunk fashion is important to make the room really emulate the style. Get a chunky bed frame, like a sleigh or a tall four-poster bed, in brass or iron. Cover the bed in Victorian-style textures; contrast shiny satin with soft lace and heavy velvet.
You can also go heavy on steampunk pseudo-victorian accessories in this room. Stack brown or black leather-bound suitcases on top of each other and use as a side table. Bring the old world into the new with a weathered treasure map sheathed in an antique brass frame. A vintage stand-up globe will create the feeling of travel, whether by submarine or by time machine.
Adding Steampunk Decor in Your Bathroom
Piping is the word here. Steam power is an important motif in steampunk design, and incorporating bronze or brass piping into the bathroom works beautifully. The piping can be functional or purely for decoration, but using it will really bring the Victorian age into the space. Find a mirror with a bronze frame and antique gold highlights and hang over the vanity.
Bring in the element of water and the feeling of Captain Nemo's submarine into the bathroom with a submarine porthole or deep-sea dive helmet, if you can get your hands on one. Use a distinctly steampunk sliding metal door or submarine-style barn door as the door to the bathroom, and incorporate other nautical features and you'll be set.