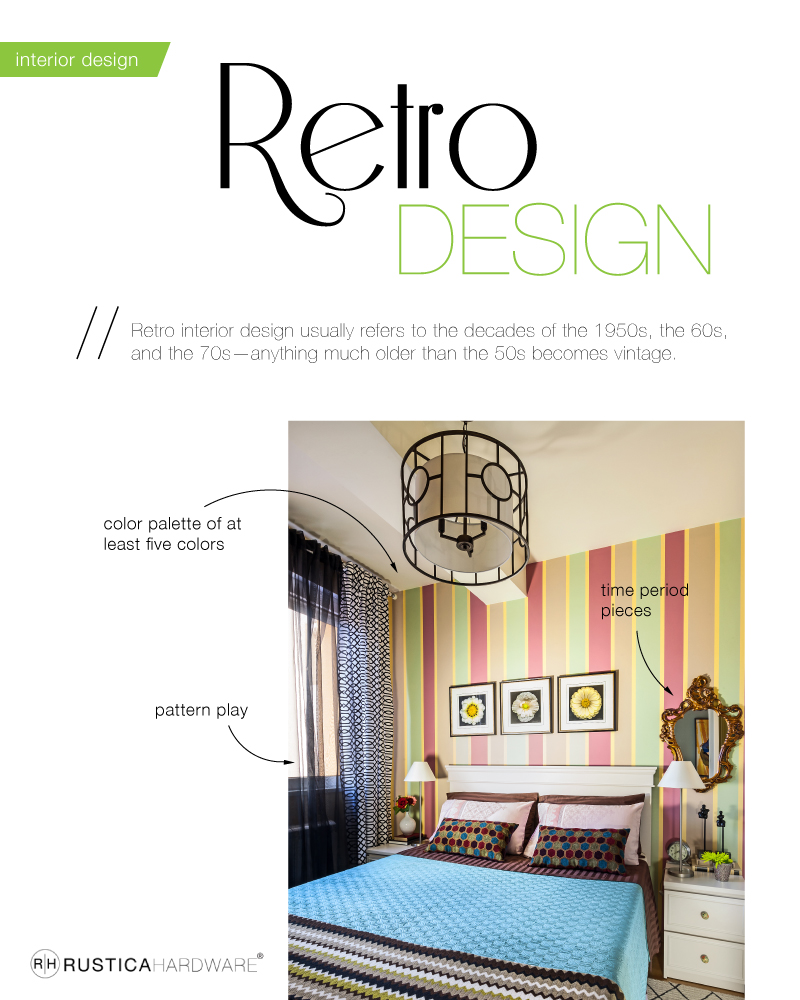 What is Retro Interior Design?
Retro, by definition, is imitative of the past; it refers to looking back to or bringing back the past. Therefore retro interior design could mean anything from the past, though it usually refers to the decades of the 1950s, the 60s, and the 70s—anything much older than the 50s becomes vintage. Others would argue that anything at least 20 years old is retro; this would mean that the 80s could also be referred to as retro. Along a similar vein, Ronique Gibson of freshome Design & Architecture Magazine says, "Save your clothes or furniture for 20-30 years [and] the styles will come back in fashion." Bell-bottoms, anyone? That being said, some things should stay in their respective decades: orange-brown super-shag rugs come to mind here. You had your run, now please leave it be.
The History of Retro Design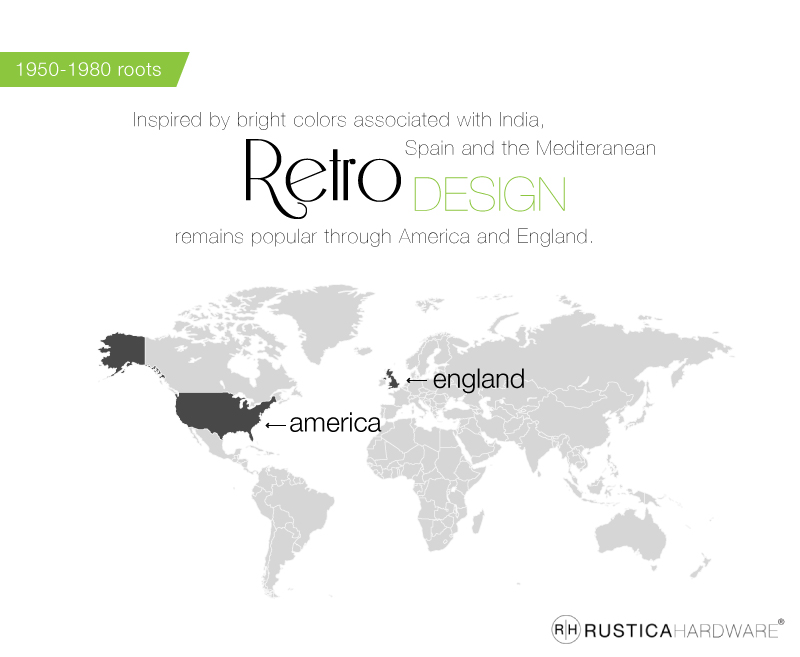 Retro interior design, as previously stated, typically looks back to the 50s, 60s and 70s for inspiration. These were kind of wild times, design-speaking (and perhaps otherwise—the fashion! Wow). Bright, vibrant colors and mixed patterns were popular. English designer David Hicks was inspired by bright colors associated with India. These became known as "psychedelic patterns and acid-edged colors." Wild. But design and fashion wasn't all bright orange and loud patterns. Interior designer Dorothy Draper from Manhattan used 'dull' white and 'shiny' black in combination. Other designers turned to colors and style found in Spain and the Mediterranean.
The culture of the time was also a big influencer of design. During these years we embraced pop music, free love, hippies and flower power. Andy Warhol was big. Marilyn Monroe, Elvis, Lennon, Jagger, Chairman Mao and the Campbells soup can were what everyone talked about. One phrase popular to describe this time says it well: "if you remember it, you weren't there."
Retro Bedroom Ideas
Retro design is still popular scattered around the United States and England. You can find fun retro-themed diners if you know where to look.
Retro Decorating Ideas
Joanna Tovia from Houzz said it well when she said, "If you don't want to go all the way with your retro look, a nod to the past can be all you need." Read on for ideas of how you can incorporate retro design into your home.
Retro Kitchen Ideas
When designing your kitchen in retro style, think old-school diner—minus the grease. Diners were bright and fun, and people loved being there. One really great way to make your kitchen retro is through your fridge, oven, and dishwasher. Buy these three appliances in matching mint green or a bright blue. These bright eye-grabbers will be great focal points and will allow for cohesive design to follow.
Paint the cabinets a retro-esque color that works well with the color of the appliances or choose wood in a dark stain. A dark wood incorporates a little bit of a contemporary feel so that you aren't completely back in the 50s but still grounded in modern day. White countertops allow for your retro appliances to really shine. Complete the room with metallic finishes wherever possible—sleek aluminum sliding door hardware would be a nice touch.
Retro Bedroom Ideas
Have fun with colors in your retro living room. If you're really bold, work with bright orange, purple, pink and lime green. For a more conservative retro feel, go for beige, mushroom, dark brown, olive green, emerald, plum, mustard, navy and black. Use these colors in sofa cushions, shag —yes, shag—rugs and upholstery. Materials big in retro design are plastic, metal, glass and rubber; stay away from wood if you can. Look for an authentic plastic ball chair or pod chair, and throw in some beanbags and huge foot stools for added comfort and retro feel.
Andy Warhol and pop art were big in the 1960s, and his art is a lot of fun to incorporate in contemporary retro homes. Display a collage of pop art—you don't have to use his Marilyn Monroe if you don't want to. You could even recreate them with portraits of your own family members for a personalized touch.
Retro Living Room Ideas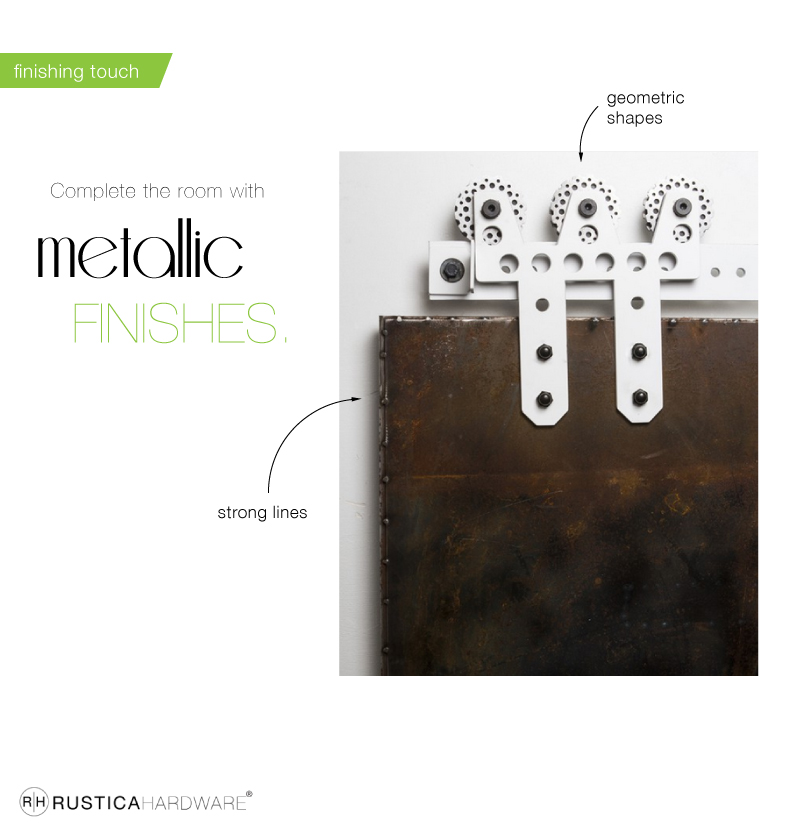 Retro elegance…is there such a thing? There is, if you know how to do it. And it is perfect for your retro-inspired bedroom. Bring in retro orange in a different way; instead of the maybe startling bright orange so celebrated during the retro era, opt for an amber orange. This will allow you to beautifully incorporate some gold and brown for a more elegant—yet still retro—look.
Repurpose a dressing table with an old mirror. Find amber-colored floral wallpaper or curtains, and if you're really bold, get a red lava lamp to add some funk to the room. Retro design is big into contrasting textiles, so feel free to go for velvet or velour when choosing bedding. Add some modern elements into the room for additional interest. A colorful barn door leading to the master bath could be the right choice for this touch.
Retro Bathroom Ideas
Because the bathroom is typically such a small space, too much of anything can be overwhelming. Go easy on colors and décor in your retro bathroom. One way to add color that won't overwhelm is to have bright green and turquoise subway tiles in the shower and integrated into other parts of the bathroom and then add white in most other ways to complete the look. White paired with retro colors and design turns the style into a more sophisticated look.
For an authentic, somewhat bold retro move, consider a standalone bathtub with a chocolate brown exterior. Add other touches of retro design to allow for this piece to really shine.