What is Minimalist Style?
Minimalism, essentially, is less; less color, less visual noise—less of everything, really. Those who strive for minimalism in their lives appreciate the simple, restful, ease of maintenance that comes with this kind of design. It is ordered and focused. There is no clutter; just the bare essentials are used. It isn't about sensory deprivation or just getting rid of stuff; Pangaea Interior Design says, "It is about achieving better design through simplicity. It is about getting the greatest impact through careful editing and restraint." There is a place for everything and everything is in its place.
What is the History of Minimalist Design?
Minimalism is not just a design style; for many it is a way of life. It seems to have taken root, however, in necessity rather than in a desire for design. In the 1920s, many American families were compelled to live very simple lifestyles with simple homes and furnishings because of the economic hardships of the time. Around the same time, the De Stijl art movement was taking place in the Netherlands. De Stijl is Dutch for "The Style," and from about 1917 to the 1930s, this very simple form of art was taking off. Minimalism also gets inspiration from architects like Ludwig Mies van Der Rohe from Germany who popularized the term "less is more." Traditional Japanese design has also influenced minimalism and many people incorporate Zen design or other traditional Japanese design when trying to achieve minimalism in their homes and lives.
Where is Minimalist Design still Popular?
Minimalism today can be seen in many different mediums, including film, cars, user interfaces, visual design, hardware design, games and web. It is seen in the architecture in Chicago's Crown Hall and in New York's Seagram Building. It is in the furniture, appliances and accessories of Swedish company IKEA. A minimalist lifestyle is trending right now, with strict minimalists living with 100 items or less, including basic necessities like shirts and shoes.
Minimalist Decor Ideas
So whether you'd like to rid yourself of all but 100 items or just opt for a more minimalist look in your interior design, that's up to you. Read on for tips on how to incorporate this look in your home.
Minimalist Kitchen Ideas
A minimalist kitchen will be very organized and clean, almost bare. Leave your countertops empty and free of any cooking utensils, decorations, or scattered junk mail. Tuck everything behind cabinetry and in drawers for a nearly empty but uniform look and feel.
Keep the color palate in your kitchen very simple; neutrals are favored in any minimalist space. White and black are timeless choices, but cream or espresso brown also work. If you need color—and this goes for elsewhere in your minimalist home, not just the kitchen—you can use paint or other elements with just a hint of green, blue, or lavender.
Minimalist Living Room Ideas
Space is an important element in any interior design style, but is especially critical in minimalism.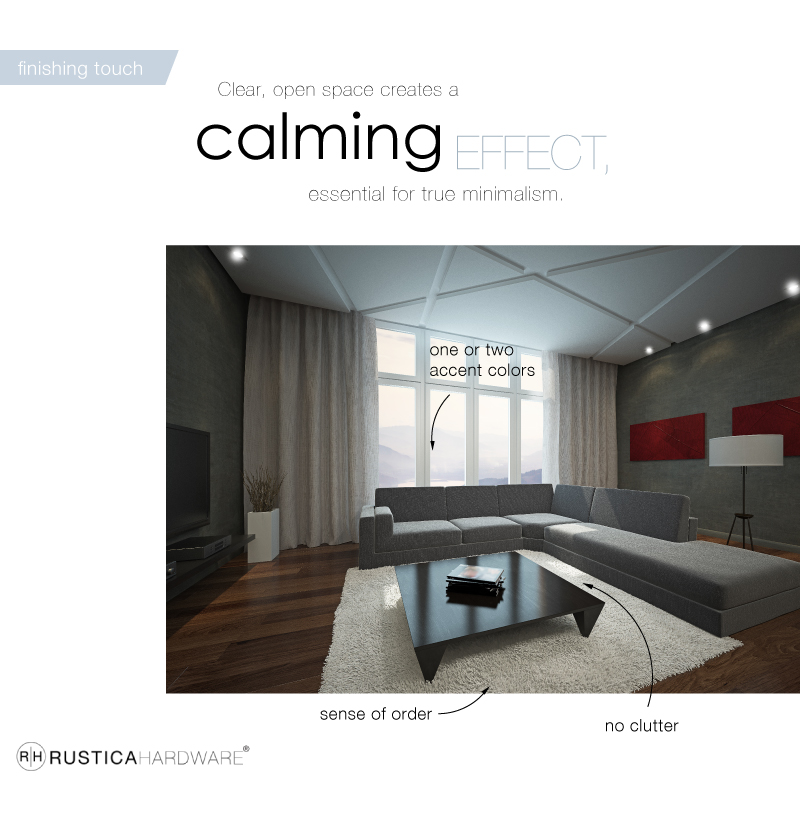 Clear, open space creates a calming effect that is essential to have a truly minimalist space. If you don't have a lot of space to work with, then, there are some things you can do to fake open space; paint all the walls, ceilings and trim the same color to create the impression of openness. You can also look for ways to create visual echoes, like a progression of identical light fixtures or a trio of simply framed black and white photos.
Be careful as you choose what furniture to use in your living room. Furnishings provide most of a room's visual appeal, and in a minimalist room where there are very few furnishings used, it's crucial that those you select work well. Essentially, minimalist furniture should have sleek, stripped-down profiles and no ornamentation. Find tight-back sofas and chairs—tailored cushioned furniture is the idea here. And because you'll be buying less than you would for another interior design style, go for the highest-quality furniture you can since every object will attract individual attention. Consider a sleek barn door, Shaker armoires and Windsor chairs.
Minimalist Bedroom Ideas
A good minimalist bedroom should be serene and uncluttered without being sterile and cold.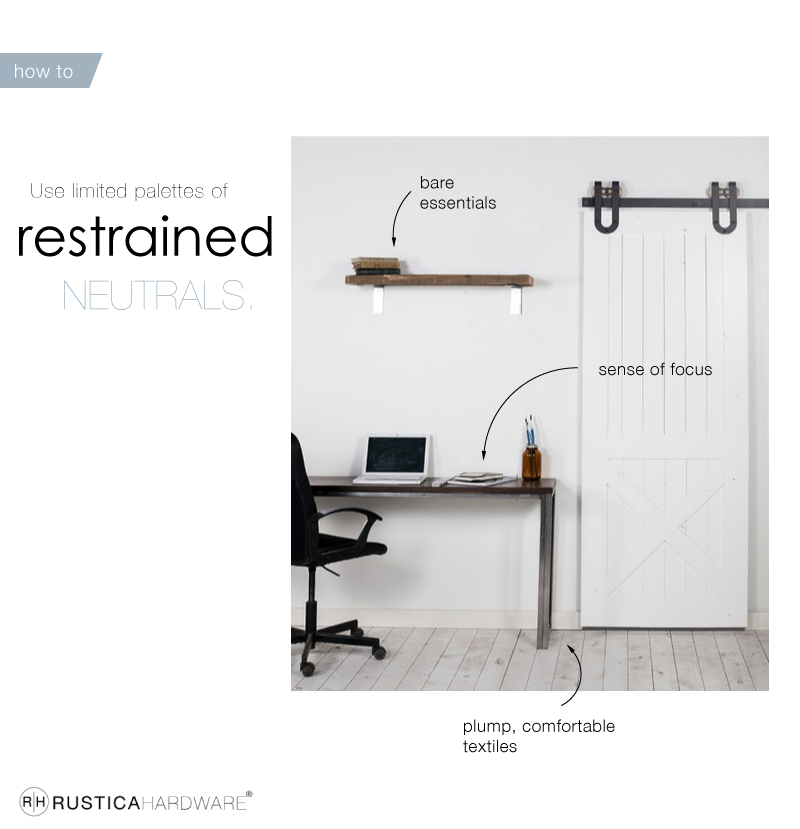 Achieving warmth should be your goal while still keeping accessories and distractions to a minimum. The bed frame should be simple and unassuming; some minimalist bedrooms even have the bed resting directly on the floor. Limit other furniture to one or two pieces; only using what is absolutely necessary is good minimalist rule of thumb. Use sliding barn door hardware to maximize on space.
Try to stick to variations of one color. To add interest to the room, vary texture. Get a rug with deep pile, a matelassé coverlet, and a tone-on-tone quilted blanket. If you would really like some color, use color accents that are easy to change, like a couple pillows or a potted plant.
Minimalist Bathroom Ideas
The bathroom should be a place of relaxation and cleanliness, and minimalism helps to contribute to this effect. Sleek and smooth surfaces, especially marble countertops, and a porcelain sink and tub are ideal. Keep everything neutral; tone-on-tone grays are good for a minimalist bathroom, and you can never go wrong with white.
Typically minimalism also means that you should forego any kind of window treatments; they just add to the noise. For privacy in your bathroom, you can use textured glass or a translucent film on the glass of your windows. If you absolutely need some kind of window treatment, use matchstick blinds or a sleek roller shade. Ultimately your bathroom should be a Zen-inspired space, a place where you can relax and feel at ease.