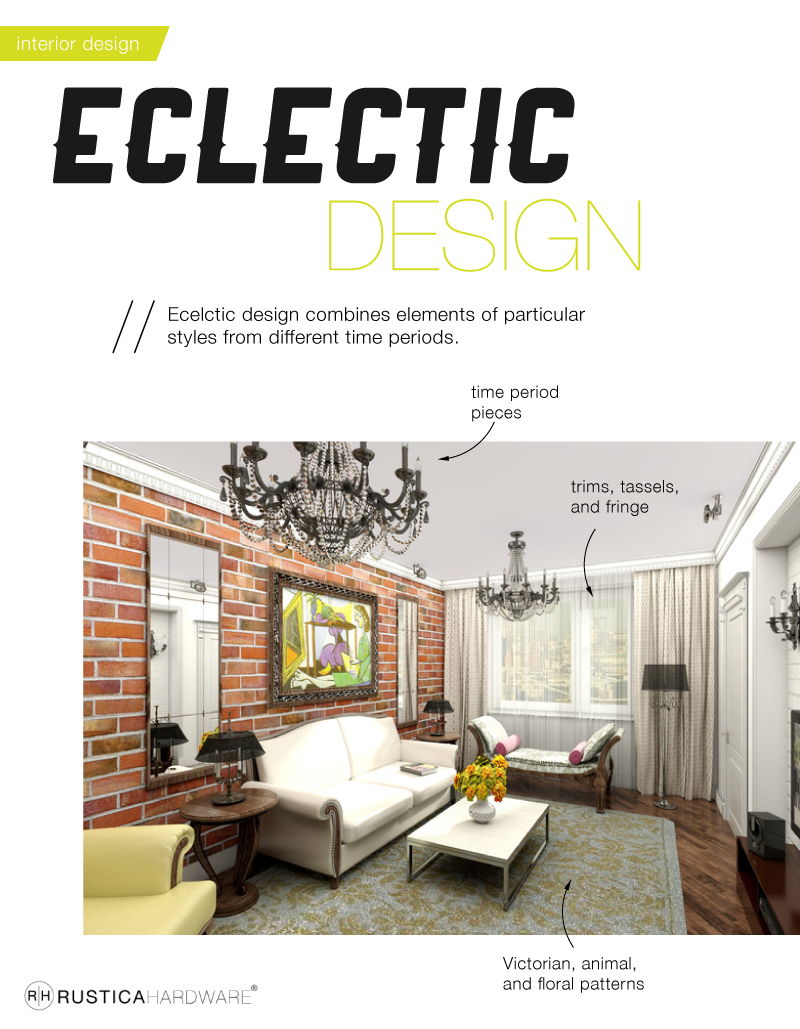 What is Eclectic Style?

Eclectic interior design is a style often misunderstood and, as such, is one of the more difficult design styles to accomplish. It takes a great deal of effort, thought and creativity because nothing by itself is intrinsically eclectic. Eclectic design takes elements from different styles and time periods and puts them together in a way that is cohesive and harmonious; alone, the pieces aren't really eclectic, but together, the look and design they create is.
This design combines elements or particular styles from different time periods and styles. There is harmony and connection; a methodical mismatching. Patterns, textures and colors are all important. There may be a collection of pieces over time and a combination of finishes. However, this design can be difficult to create because there is a fine line between eclectic and the chaos that ensues when you throw things together in hopes that good design results.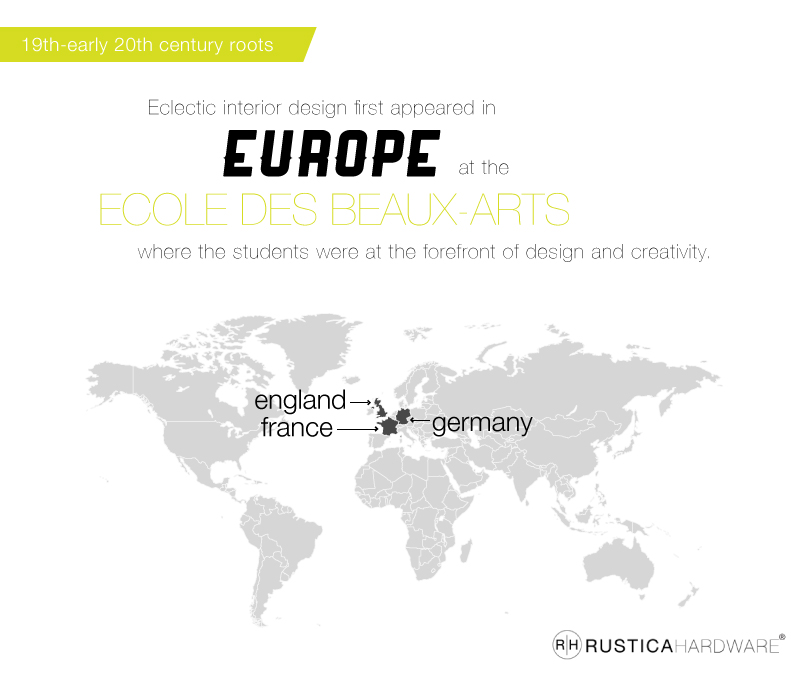 Where did Eclectic Style Come From?
Eclectic interior design has its roots in eclectic architecture which began in the late 19th-early 20th century. Eclectic architecture was born, and with it, the accompanying interior design. It first appeared across continental Europe in France, England and Germany, particularly at the Ecole des Beaux-Arts in Paris where the students were at the forefront of design and creativity.
Prominent interior designers at this time include Elsie De Wolfe, Rose Cumming and Dorothy Draper.
Where is Eclectic Style still popular?
This interior design method remains popular in California where it incorporates Spanish elements and in New England where it highlights colonial features. Truly the design is open to the creativity and taste of the designer; as Interior designer Angela Todd says, "the spirit of the word 'eclectic' [is] free flowing, artsy, unrestrained, and without rules."
Eclectic Style Decorating Ideas
Experiment with design styles from different time periods—this is where you don't have to choose just one.
Eclectic Kitchen Ideas
For a truly eclectic design in your kitchen, focus your energy on surfaces and finishes. Combining contrasting surfaces and finishes, if done in a harmonious way, will bring in the eclectic feel faster than doing anything else. Get stainless-steel appliances and choose a warm-colored cherrywood or maple wood for your cabinets. To separate your kitchen from a pantry in an attractive way, get a sliding door in a like wood color with sliding door hardware to secure it. A natural matte-finish soapstone for your countertops will complete the contrasting yet complementing finishes in your eclectic kitchen.
You could also choose to go eclectic by contrasting light and dark in the room. An elegant black island with black chairs set against lighter colors—creams—of the cabinets and walls pair together nicely. Black countertops to match the island and chairs complete the eclectic coloring. For the black cabinetry finish, you could also go with a matte, not glossy look and pair this with distressed doors and drawers. To get the city/country eclectic mix, get sleek, white laminate countertops and and bead-board walls with white-painted wood trim.
Eclectic Living Room Ideas
The living room is a fun place to decorate eclectically. Patterns and color will be important here. Pick a particular pattern, like stripes or zigzags, whatever most interests you, and weave it into the room. Get a black and white chevron rug, one or two pillows with a similar pattern and the same colors, and top it off with modern black and white framed art. Furnish the room with a red or navy couch and antique Victorian chairs.
You could also really play up contrasting patterns by using Victorian, animal, and floral patterns. A leather couch with a Victorian-patterned pillow with fringes set on an animal-print rug may seem like totally wild and overly-contrasting, but doing so in a cohesive way will really bring that eclectic feel home. Interior designer Kate Albrecht discusses how "combin[ing] masculine and feminine design elements create[s] an eclectic look." Take this into consideration as you furnish and decorate your living room.
Eclectic Bedroom Ideas
In an eclectic bedroom, you would do well to play up the textures and fabrics. Begin with a light wood floor paired with a distressed rustic-looking dresser or vanity. To soften the feel of the hardwood, over the floor under the bed with a cream-colored rug. Dress the bed with white linens and a fur throw with a bold design. Include a barn door to complete the look, and the result is a country eclectic rustic bedroom.
Another popular design to combine with others is Asian. Embroidered wall tapestries in some kind of Asian theme or design and Asian drapes and throw pillows paired with Colonial furniture make for a elegantly eclectic bedroom.
Eclectic Bathroom Ideas
One way to achieve an eclectic look in your bathroom is to mix modern or contemporary elements with more vintage, traditional features. Match clean lines, smooth tile, and updated fixtures with a classic claw-footed tub, traditional hardware, and an archaic tub-filler mechanism. An example of this is to pair chevron tiling with an elaborate Victorian-framed mirror. Look for ways to incorporate curves with straight lines to really bring the eclectic feel home.
Dark woodwork in the vanity area gives an old-world effect. Mirrors framed with English-made walnut frames with hammered metal accents continues the feel. You can then bring in a contemporary feel with marble tile on the countertops, backsplash, and shower wall.