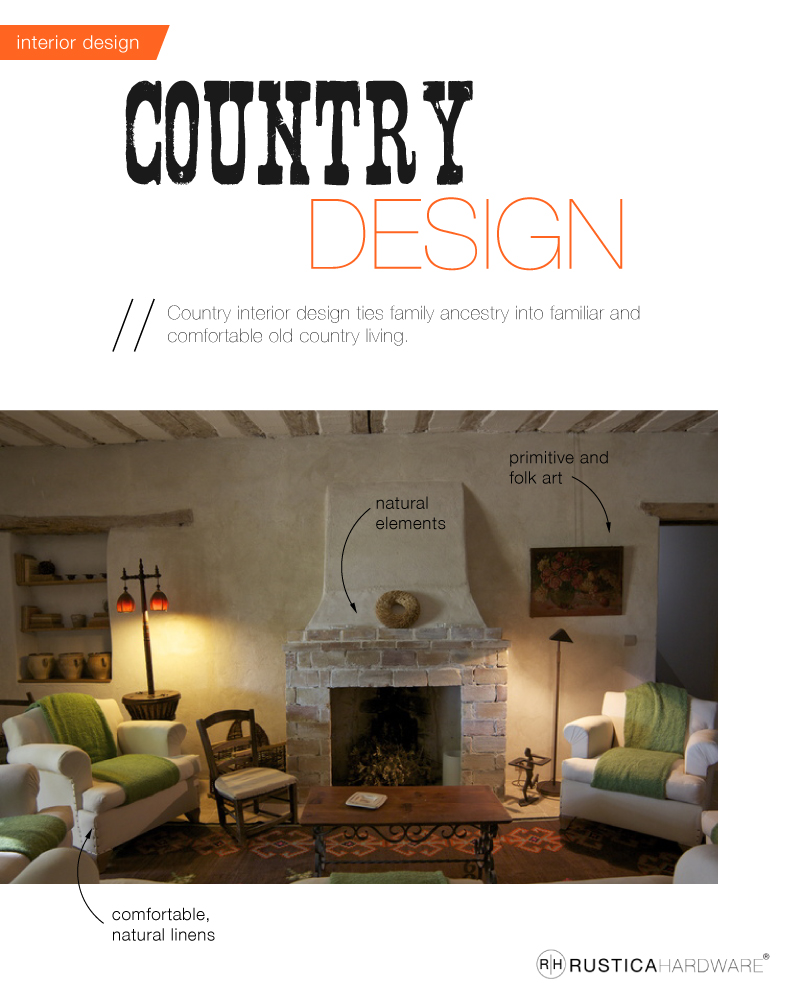 What is Country Style?
Country interior design is loved by many because of its connection to the past, its tie to ancestral family. It takes everything familiar and comfortable from old country living and uses it to create an almost nostalgic living space. The design is a mixture of family heirloom antiques with new accessories. Real family possessions make the design particularly personal and conversation-starting, but antiques found in small-town shops and antique stores will work just as well.
Country design is also just that—elements inspired from the country. It is historic, old, distressed, and reclaimed. It uses florals and denims and furs. It takes natural elements from country living and utilizes them in such a way that it is both functional, aesthetically appealing, and comfortable.
What's the History of Country Decor?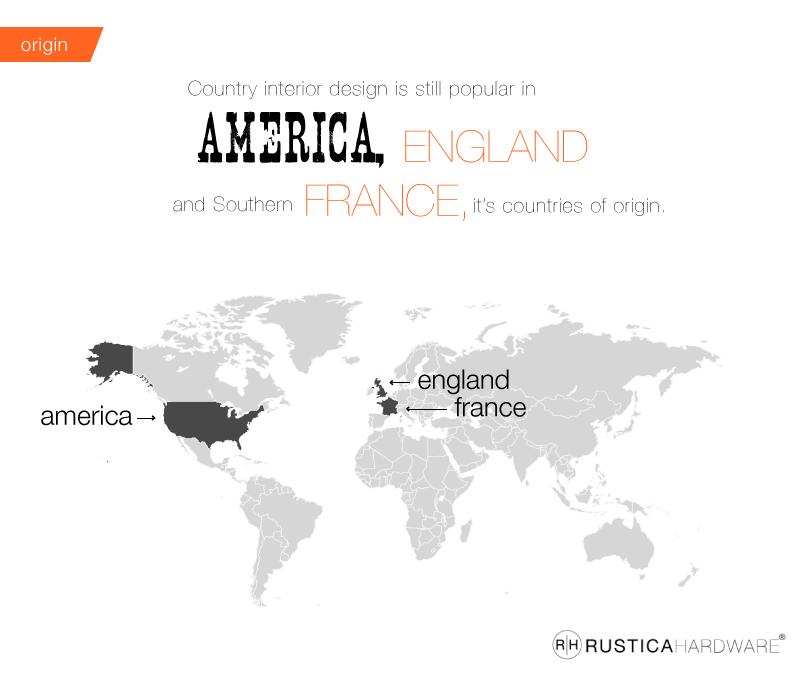 Much of what we use in country interior design we can attribute to the early pioneers who settled western America. These people lived in areas that were all country; they crafted their own furniture, made their own linens, and built their homes from what they found around them. This is what many refer to as American Country.
England and France are also very into country interior design and though share some features similar to American country, are different and unique in their own respects. English country interior design uses a darker color palette and is influenced by Tudor design while French country is more elegant and refined and incorporates reds, yellows, purples and blues of classic French countryside. Any style can make use of a
wood barn door
as a way of tying in a country feel.
Where is Country Decor Still Popular?
Country interior design is still popular in America, England and Southern France, its countries of origin. It is well-loved by those seeking to retain a connection to family past and present, to hold on to what is known, familiar, and comfortable.
Country Decorating Ideas
Kris Gleba, of Home Guides Demand Media, says, "Many homeowners appreciate that country decorating can not only be practical and that its mixing of various design elements is easy for most, but that country decorating's use of family heirlooms helps to create the feeling of a safe and secure home." Read on to discover how you can create this safe haven in your home.
Country Kitchen Ideas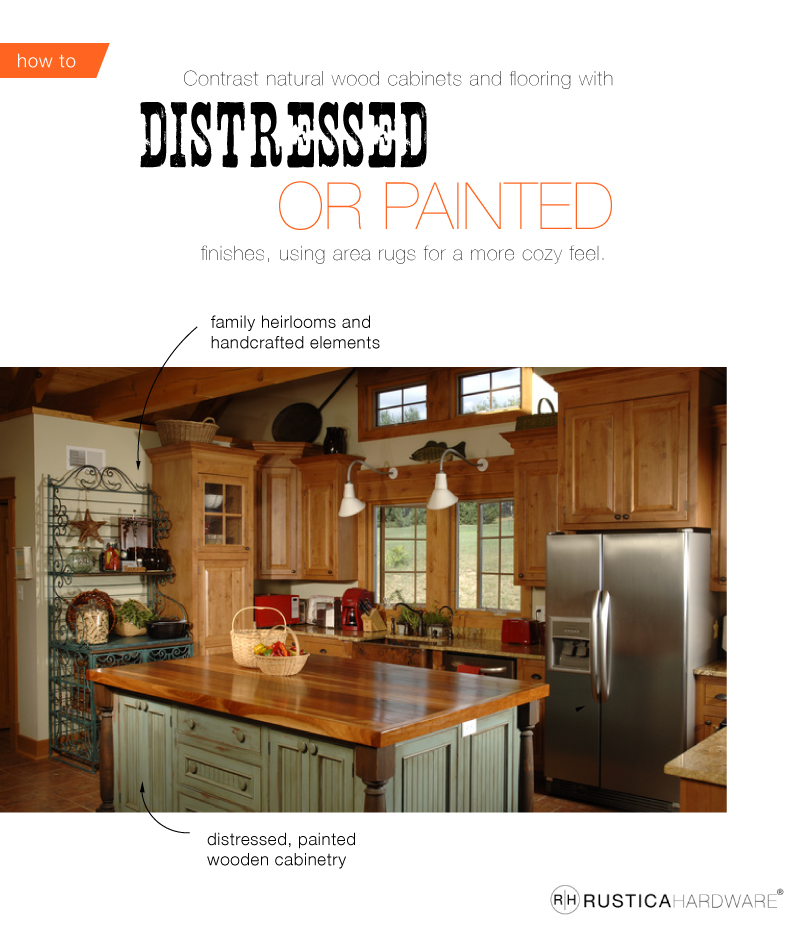 Wood is a huge part of any country design, and the same is true for achieving a truly country design in the kitchen. Wood flooring is practically a must, and the more reclaimed and distressed-looking, the better. Try to continue this element throughout the home, using area rugs in places where you'd like a more cozy feel.
Feel free to paint or distress your cabinets. A color—or paint—that was widely used in original countryside homes was milk paint. It was a paint that was made with milk and lime. It is still used today to mimic the look of antique furniture, but there are alternatives to getting a similar look should you prefer to use a commercial oil-based paint. So paint your cabinets with milk paint or a cream, light blue, or gray, and sand the edges slightly to give them a distressed look.
You can also leave the cabinets their natural wood color and just paint the wood on the island. This will give a beautiful contrast in the room. Finally, hang copper or brass pots, pans and utensils above the island. Use vintage light fixtures as your source of unnatural light.
Country Living Room Ideas
There are many different ways to incorporate country interior design into your living room; how exactly you do it is just dependent on your personal taste. You could go with an all-white motif for a sort of white-washed feel. All white furniture and accessories give a light, clean country feeling. Put white slipcovers on your overstuffed sofas and armchairs for a comfortable look and feel.
A true country-style home has a fireplace or hearth as the heart of the home. If you have a fireplace, position upholstered or fabric chairs around it. Add a
floating wood mantel shelf
for displaying your favorite heirlooms. Decorate with a wooden rocking chair, ceramic pots, and an area rug. Doing so will give the room a truly cozy and country-esque atmosphere.
Country Bedroom Ideas
A country-style bedroom is best and most relaxing if it is uncluttered and natural. Begin with a neutral color scheme; doing so gives you the freedom to add touches of color without being overwhelming. The bedroom especially is a good place to use countryside florals, whether you do so with an antique quilt or an upholstered headboard or chaise. Incorporate a soft feel into the room with shirred curtains and a fur rug on the wood floor. Faux flowers—roses or daisies—on a distressed side-table complete the country look.
Country Bathroom Ideas
Using natural elements in the bathroom is ideal for a country interior. Use stone, slate, and wood as much as you can. Hone travertine looks really good and does nicely in bathrooms, so using this material is an option. If using wood, be careful to seal it well, as wood does not do well around high moisture.
If saving space is important, invest in a door and
farmhouse-style sliding door hardware
. Not having a door that opens into a room can do a lot to save space. But if space isn't an issue, consider a claw-footed tub and antique or rustic vanity. An antique chest of drawers can nicely hold a sink, and this addition will add a beautiful country charm to your bathroom.