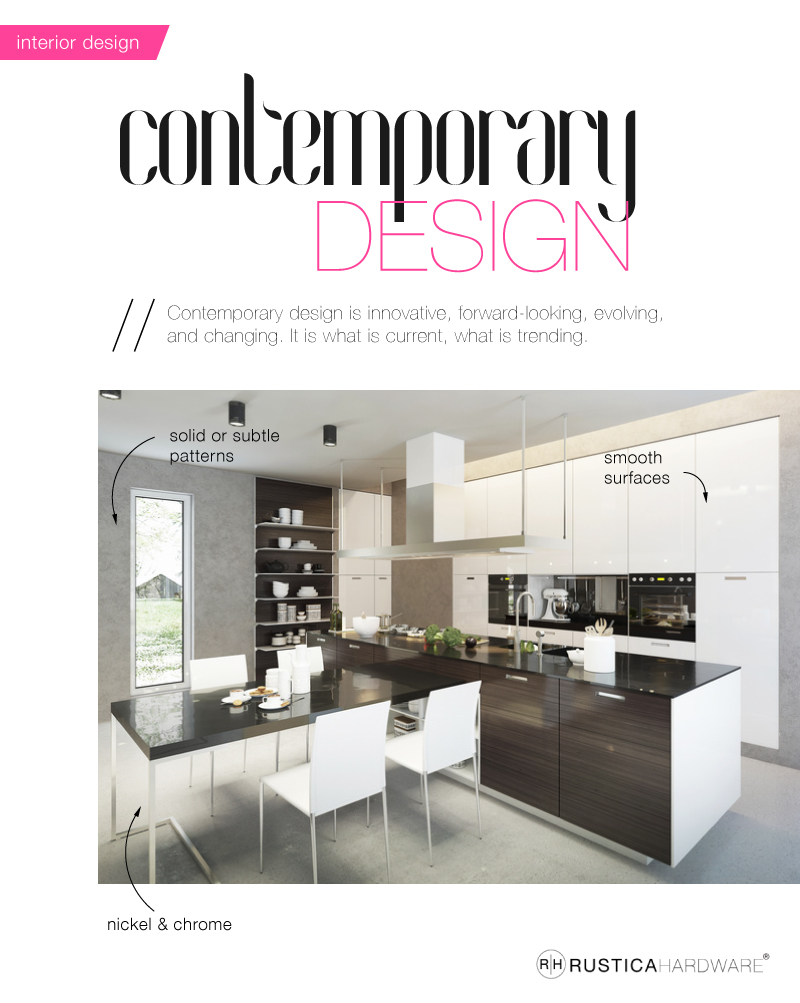 What is Contemporary Decor?
The terms modern and contemporary interior design are two terms that are often confused and used interchangeably when really the two styles are different. Modern interior design refers to a specific design movement that began in the early 20th century; it follows fairly strict guidelines. Contemporary interior design is different in that it is rooted to the here and now. It is innovative, forward-looking, evolving, and changing. It is what is current, what is trending. As such, it is more fluid than modern design. But that being said, there is still some degree of structure to the design. Typically negative space is just as important, if not more important, as positive space. Less is more. Lines are clean and surfaces smooth. Accessories are minimal and those incorporated into the design are simple.
Lisa Frederick from Houzz says, "Technically, contemporary design is rooted in the moment….But in broad terms, it represents an about-face from the conventions of traditional decor."
What's the History of Contemporary Design?
Contemporary interior design is thought to be the style of the here and now. It is considered by many to encompass the period of year 2000 to now. Robert Sonneman, a pioneer of modern and contemporary lighting, has said that "Contemporary design comes from a spirit of individualism and international influences, from Kenzo to Gehry. Contemporary is eclectic, modern, traditional, expressional, urban, environmental, sculptural, cultural and global. It crosses the traditional boundaries of time and space. It is very much a valid hybrid."
Where is Contemporary Style still Popular?

Contemporary interior design is used and appreciated in many parts of the United States and in other places of the world.
Contemporary Decorating Ideas
As John Hill from Houzz says, "'Contemporary' is not limited to a single stylistic thread." Therefore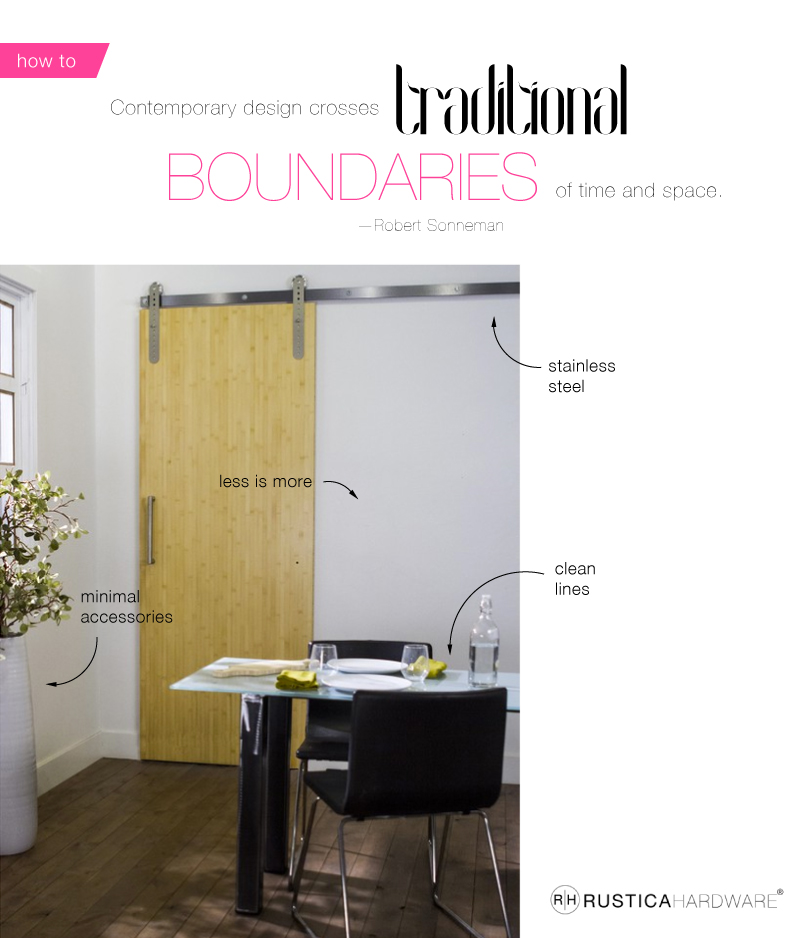 this particular interior design style is not so rigid in its rules and certainly allows for a variety of ways in which to use this style in your home.
Contemporary Kitchen Ideas
Because this style is fairly free and fluid in its interpretation of how it can be created in your home, there are quite a few ways of how to incorporate the style into your kitchen. But for the most part, the style is basic, bare, and bold. This will be important in the kitchen, no matter what else you choose to do.
Neutrals are good in any contemporary design. Using white and black in a kitchen is especially striking and makes for good design. Choose a white granite or marble for your island countertop and paint your island cabinets black. Paint the kitchen's remaining cabinets white and cover the countertops in black granite or marble. A black or white classic barn door completes the look nicely. Use track lighting or hanging stainless steel lights over the island. Metal barstools with a light wood for the seat at the island complete the look and add additional seating without being in the way.
Contemporary Living Room Ideas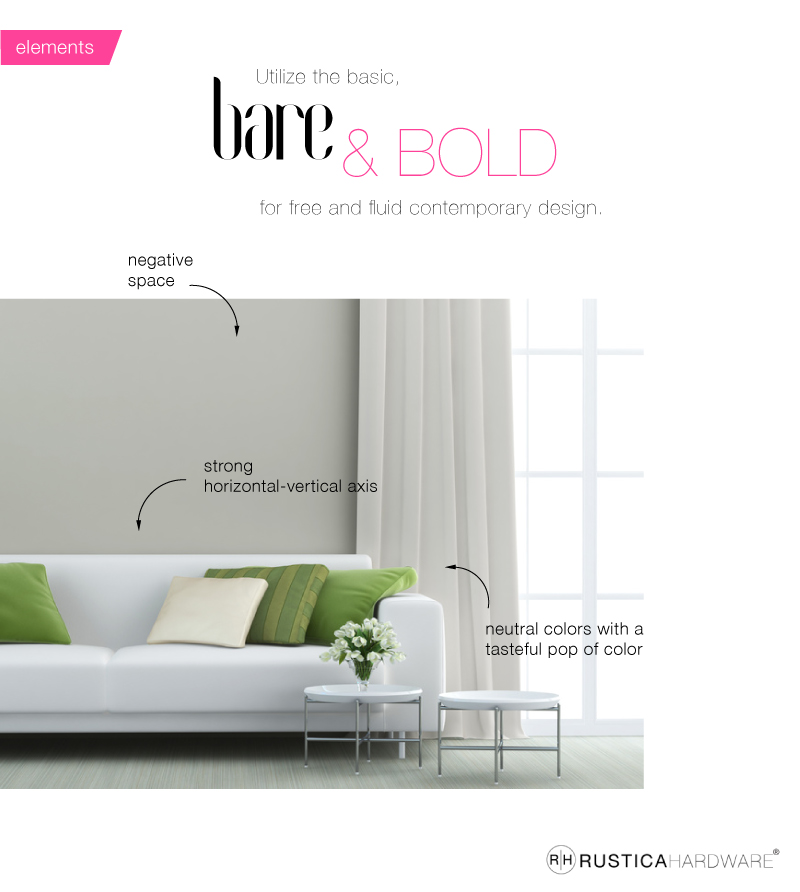 When decorating your living room in contemporary style, it's important to remember that less is more. In contemporary design, empty space is just as important as filled space. Use large-scale furnishings, those with clean lines and striking profiles. Steer clear of any skirts, frills, or slipcovers; these don't really fit into contemporary design. Use minimal accessories and make every piece count. Contemporary design loves hard flooring, whether it is bamboo, blond woods like maple or ash, stone or ceramic. If you have to have a rug, it has to be carefully chosen; find one with geometric shapes and low pile.
Contemporary Bedroom Ideas
The best way to create a contemporary space in your bedroom is to begin with a neutral color palette. You don't have to necessarily go with completely monochromatic tones, but contemporary design usually calls for neutrals as opposed to bright colors. So chose a color theme for your bedroom; browns and creams can make for a very gender-neutral, clean look. A room in varying grays could work well in a bedroom, especially if you have a feature wall, one that stands out because it's different from the rest. Choose an attention-grabbing wallpaper fabric or a good paint color. Having a wall that really stands out in a monochromatic room adds tons of interest and appeal. You can also add a little bit of contrast by choosing pillows with interesting patterns.
Contemporary Bathroom Ideas
A contemporary look in a bathroom is an especially good idea since the minimalist-feel of a contemporary space will make any bathroom appear larger than it is. Clean lines and smooth surfaces go far in helping to accomplish this look. You can also use a sliding door with sliding door hardware to further add room to a small space. Strive to incorporate certain hallmarks of contemporary design, including simple geometric forms and attention to line and form.
Go for high-gloss surfaces in the bathroom. Choose from chrome, steel, lacquer, glass, plastic, or tile; these kinds of surfaces helps light bounce around the room and contribute to the clean, open feel of the room. Feel free to mix materials to add contrast. Using matte materials will do much to add interest.