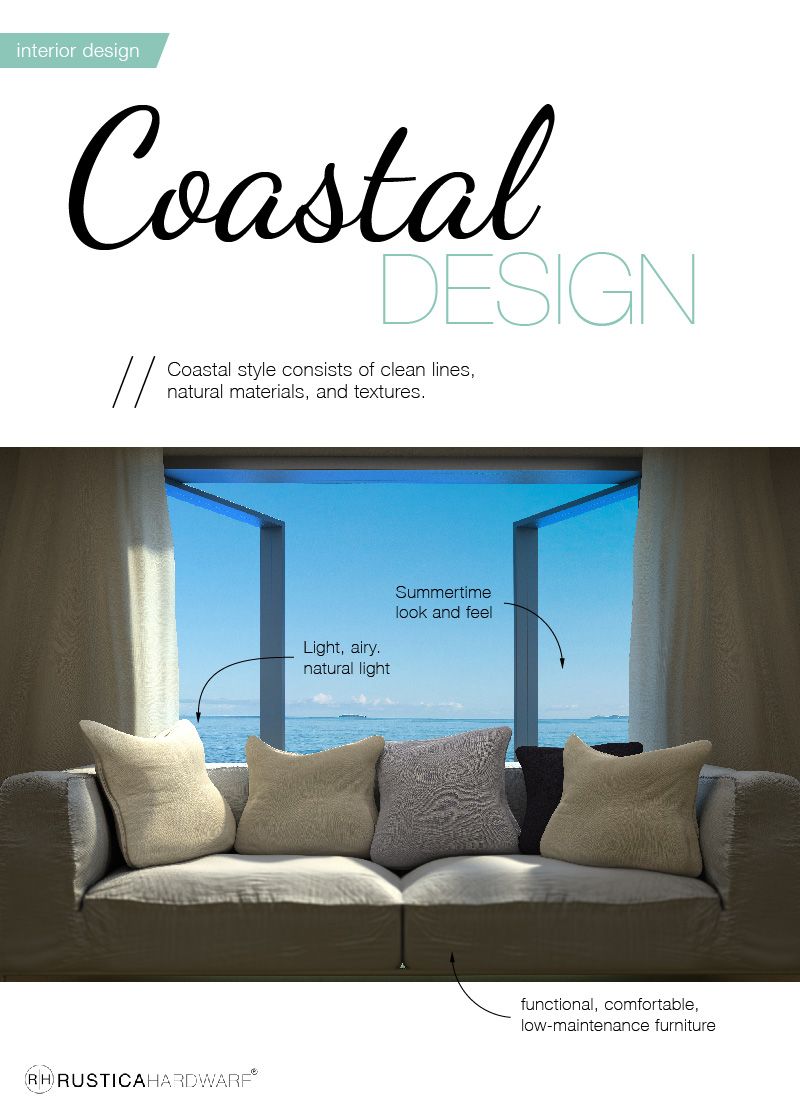 WHAT IS COASTAL STYLE DECORATING?
Coastal or Nautical interior design embraces everything you love about your childhood—and adult—summertime beach vacations. It invokes a sense of leisure and rest and brings back memories of relaxing vacations both recent and long-gone.
WHERE WAS COASTAL DECOR FIRST CREATED?
Coastal interior design comes from, of course, the beach—the Atlantic coast, specifically—though the Pacific coast certainly has its contributions as well. The first coastal-designed homes were those on the beachfront; to better embrace the beauty of the natural surroundings, these homes were designed almost as an extension of the seashore and ocean around them. The homes have large windows, often left open, to allow for ocean breezes to blow through.
This seashore-inspired style is often mixed with French elements, creating a French seaside cottage design. Indeed this coastal interior design is popular all over the French coast on the Mediterranean Sea and its influence as a beautiful interior design is spreading.
Nantucket island, an island part of Massachusetts, has also been a main influencer in spreading this interior design. Summer homes on this island are designed and decorated to be relaxed and comfortable and to incorporate elements of the sailing surroundings.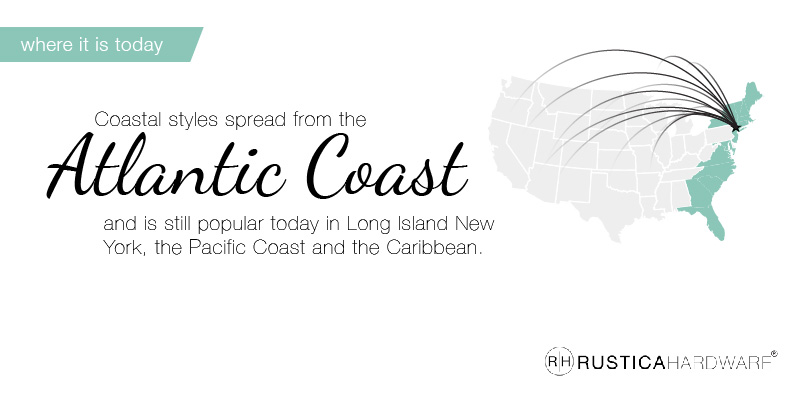 WHERE CAN YOU FIND NAUTICAL HOME DECOR?
This calming and comfortable design is still popular in its places of origin, the Atlantic coast, coastal France on the Mediterranean Sea, and on Nantucket island, but its influence has spread to other parts of the world. Its breezy and soothing feel can also be found in the Hamptons of Long Island, New York, spread along the Pacific Coast, and in parts of the Caribbean.
NAUTICAL & COASTAL DECORATING IDEAS
If you still dream about summery vacations to the beach or are already planning your next one, coastal interior design may be the style for you.
Nautical Kitchen Decor Ideas

For a truly coastal-designed kitchen, you'll want a clean, open feel dominant in your kitchen. If you can't have the large, vast kitchen that most of us dream of, you can still get this open feel through the colors of key features in your kitchen.
White. Sounds scary in the kitchen, but it can be pulled off without any problem. Paint your cabinets a nice bright white and embellish them with medium-colored wooden handles or knobs. White granite or marble countertops will pull in the cabinetry and continue the clean and fresh feeling. Then, because the kitchen is a good place to showcase those maritime blues, consider covering the wall with ocean-blue tiling or an ocean mosaic made of small tiles.
Coastal Living Room Decor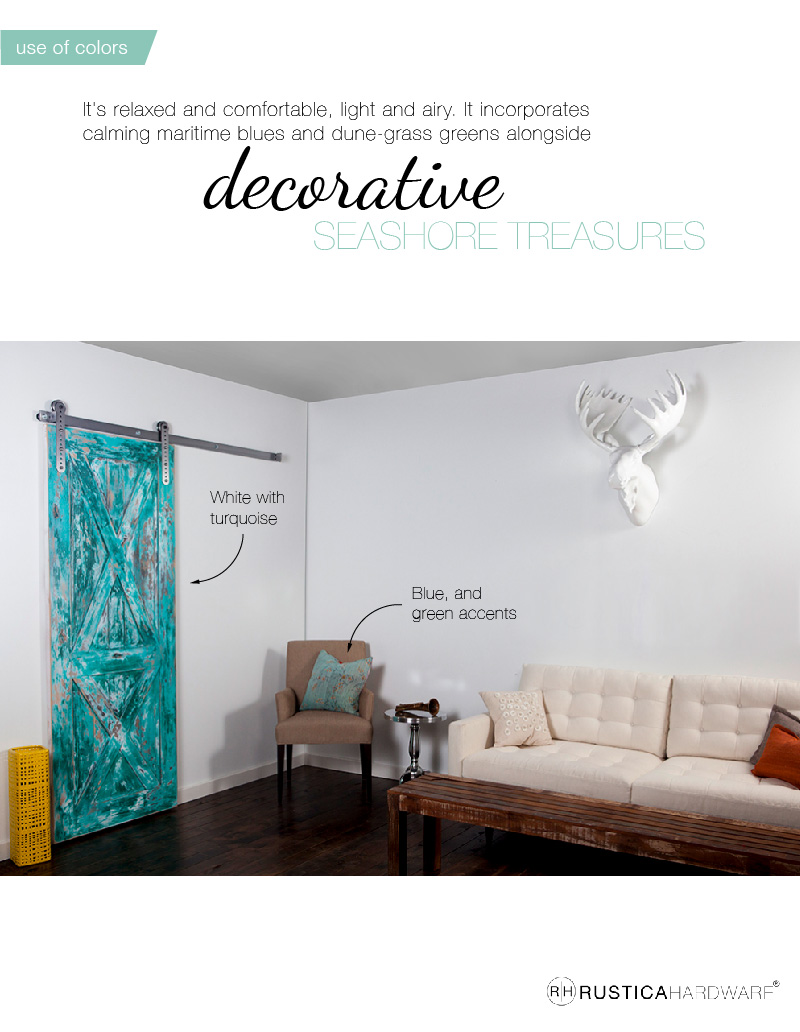 There are a lot of options to choose from when transforming your living room to a coastal paradise, but it's practically a given that you'll include sea-greens and blues. Cover your walls in white beadboard or clapboard or paint them a soft, dune-grass green. Find relaxed, comfortable sofas and other furniture in a sandy, neutral color to again bring in the feel of the beach. You could also cover your sofas with white slipcovers.
Whatever you decide for couches and walls, understand that accessories in the living room are key. Decorate with beach glass, starfish, coral, and seashells. Any window treatments should be minimal and light. Find ways to bring in bamboo accents, whether through picture frames or side table furnishings. A sliding
barn door
in aqua or made of distressed driftwood will tie the room together nicely.
Beach Decor for the Bedroom
For a truly tranquil and summery bedroom, white is the word. Paint your walls white and get fluffy white bedding. Frame the windows with sheer drapery. Accent the room with driftwood décor and small touches of sea-greens and blues—it's easy to do this with a couple pillows. You could also use paintings or artwork of the harbor; a watercolor of a sailboat –or even a model vintage sailboat—will bring you right back to the beach.
Whether you choose wood or carpet flooring, choose a driftwood look or a sandy color; this neutral color palate is very reminiscent of sun and sand—without the painful burns and gritty mess.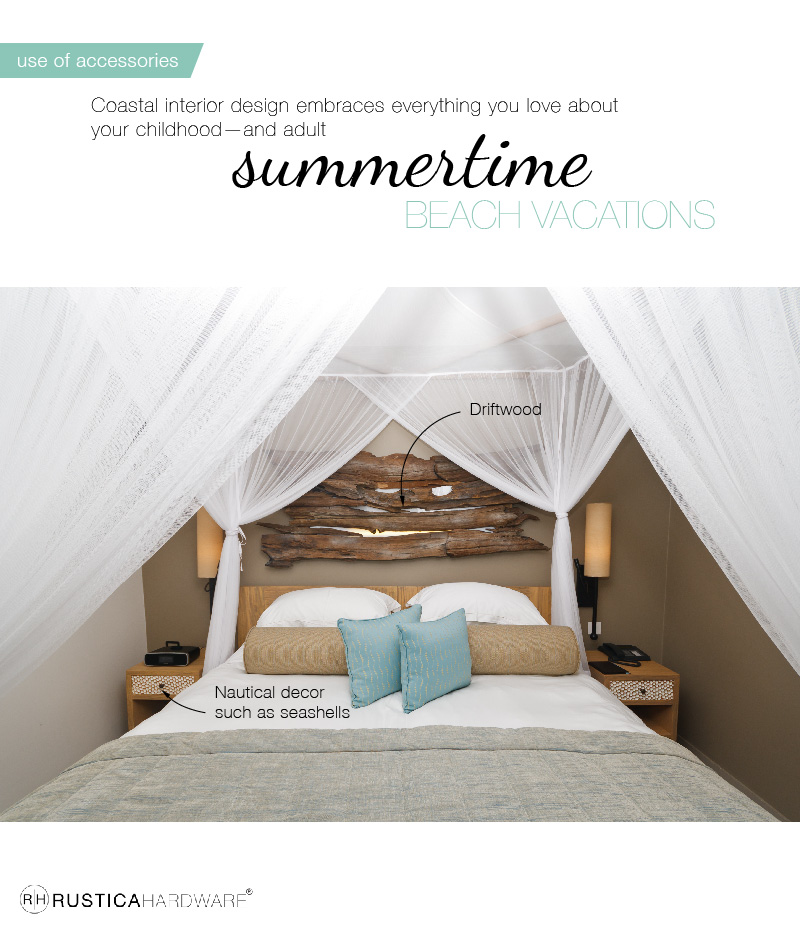 Coastal Bathroom Decor Inspiration

Neutral, sandy, monochromatic colors are perfect for a coastal bathroom. Use a variety of materials to make the room more varied and to bring in different elements of the beach. Find reeded wood cabinets and smooth stone counters. Small, iridescent tiles in the shower will give the feel of shells and smooth glass washed up on shore.
If you really want wood flooring to bring in that outdoorsy driftwood feel, choose teak wood. This wood is dense and won't warp or rot from excessive moisture. Store towels and other bathroom necessities in baskets made of seagrass or fisherman's netting.
For smaller bathrooms, use a door with
sliding door hardware
; these kinds of doors do much to maximize the space in smaller areas because you won't have to plan around door clearances.