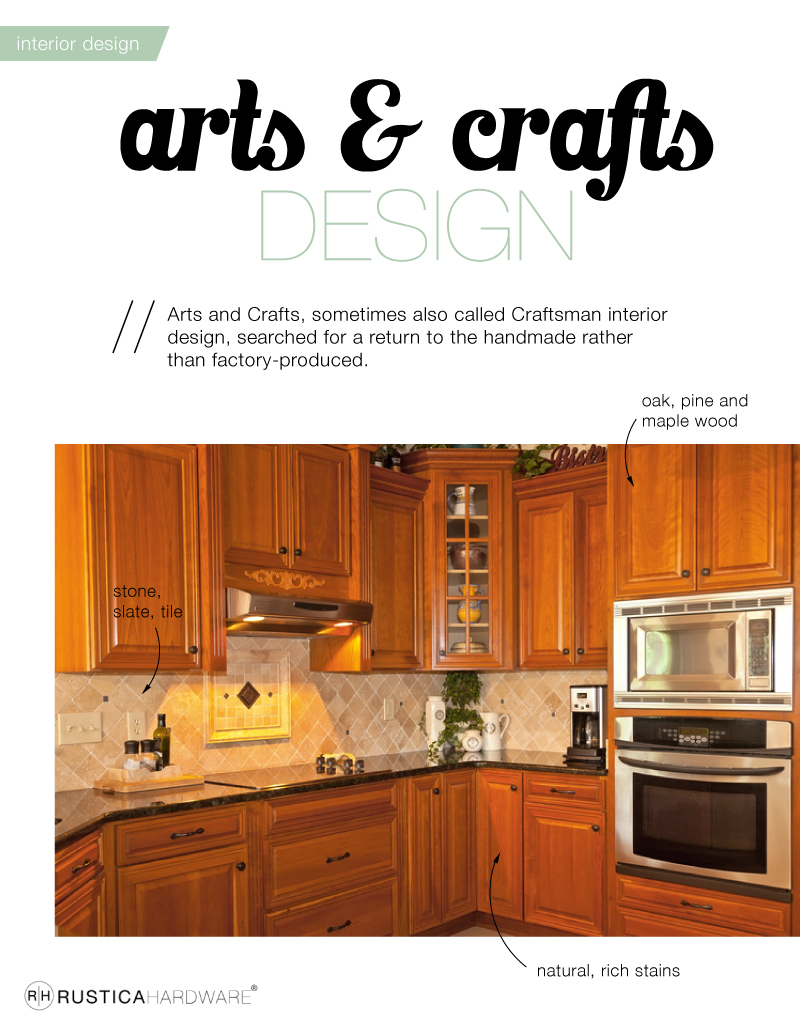 What is Arts and Crafts Style?

Arts and Crafts interior design, sometimes also called Craftsman interior design, began as a retaliation against the ornate, overelaborate style of the Victorian era. The Victorian era's focus was that of factory-produced furnishings and decorative accents, and this style emerged as people searched for a return to the handmade rather than factory-produced. It is a style that celebrates the hand-crafted, stenciled, and hand-painted. It is natural, organic, and simple. This style's hues are warm and rich and typically make use of colors that can be found in nature, colors of stone, bark, leaves, and grasses. In contrast to other design styles, this style's rules are fairly well-defined. The design guidelines are clear and embrace utilitarian lines and a lack of curves.
What is the Arts and Crafts Movement?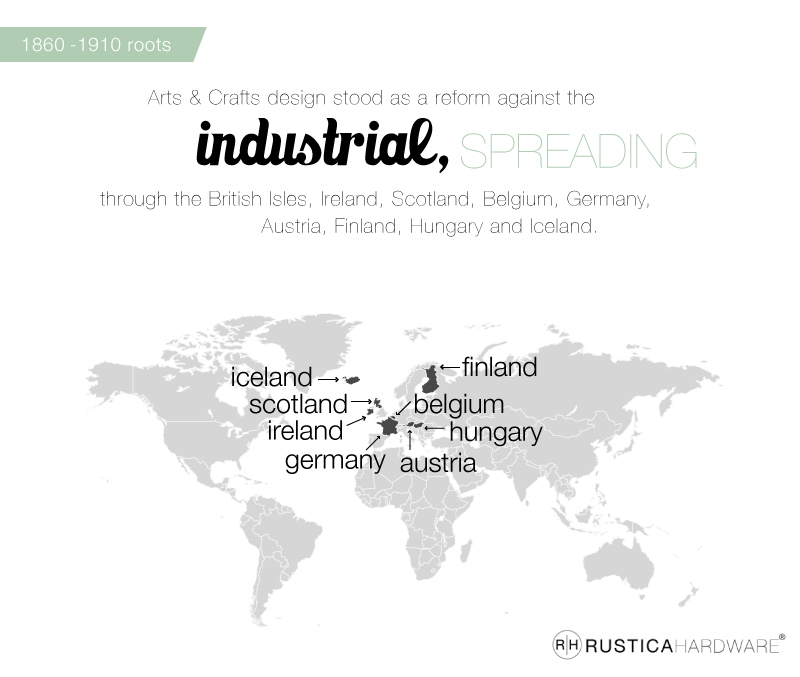 The Arts and Crafts design style embodies more than just interior or even architectural design; it was a a movement that flourished between 1860 to 1910, going even until the 1930's, that advocated for a reform against the industrial. It stood for both economic and social reformation, a return to traditional craftsmanship and the decorative arts. It originally developed in the British Isles, spreading across the British Empire to Ireland and Scotland and then to many parts of Europe, including Belgium, Germany, Austria, Finland, Hungary and Iceland. This movement also spread to North America. (Click to picture to tweet)
Artists and craftsman influential in establishing this style and its characteristics include William Morris and Gustav Stickley.
Where is Arts and Crafts Interior Design still Popular?
Arts and Crafts interior design is still popular in many of the places where it first began and spread. The North American cities include Chicago, New York, Boston, and parts of California. This style is also popular in Canada.
Arts & Crafts Decorating Ideas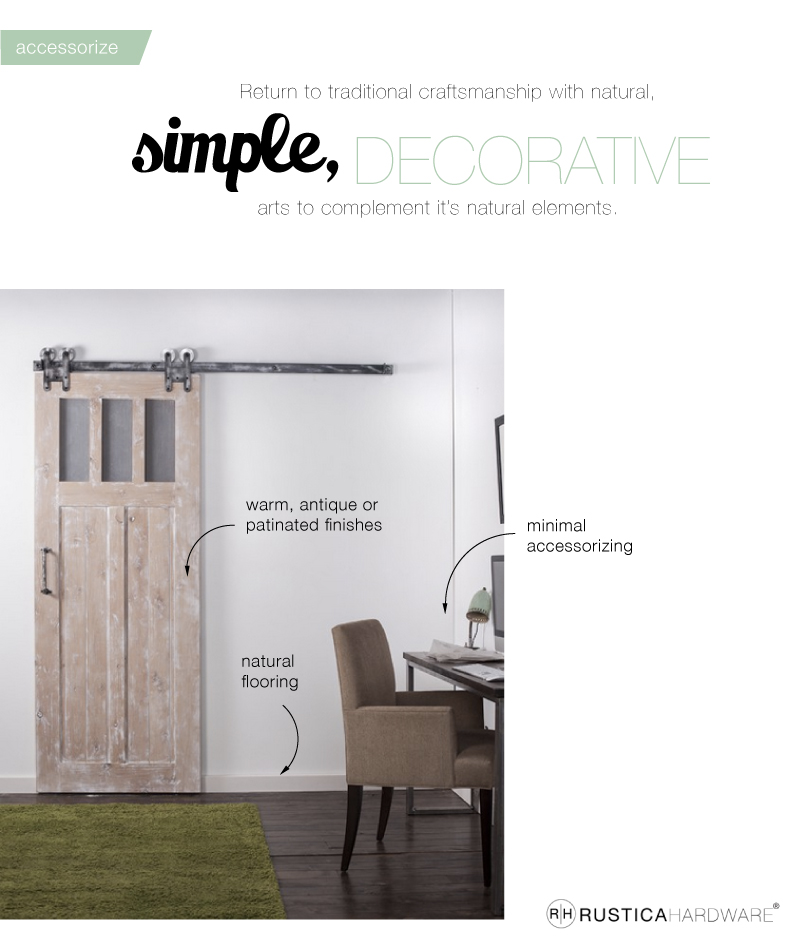 If you've decided that Arts and Crafts is the style for you, there are some really beautiful ways to bring this design style into your home. But as Carisa Mahnken of Arts & Crafts Homes and the Revival says, "A new bathroom [or any room] in a period house should look as though it has always been there." Read on for ways you can recreate rooms in your home to look as if they came from the Arts and Crafts period.
Arts and Crafts Kitchen Ideas
Wood is the quintessential element in Arts and Crafts interior design; as Houzz contributor Lisa Frederick puts it, "You can't have Arts and Crafts style without wood." That being said, the look and feel of the wood used follows certain rules, and the kitchen is the perfect place to put these guidelines into practice. Typically for wood to truly represent the Arts and Crafts movement, the wood's natural, organic beauty should be brought out. Very rarely is wood painted in Arts and Crafts design; more often are rich stains used to bring out and highlight the natural beauty of the grain. Use oak, pine or maple for your cabinetry in the kitchen, and then cover the wood with a stain to bring out its unique and natural qualities. If you can, find a beautiful
Craftsman barn door
made of natural oak to complement and complete the beautiful and well-crafted woodwork in your Arts and Crafts kitchen.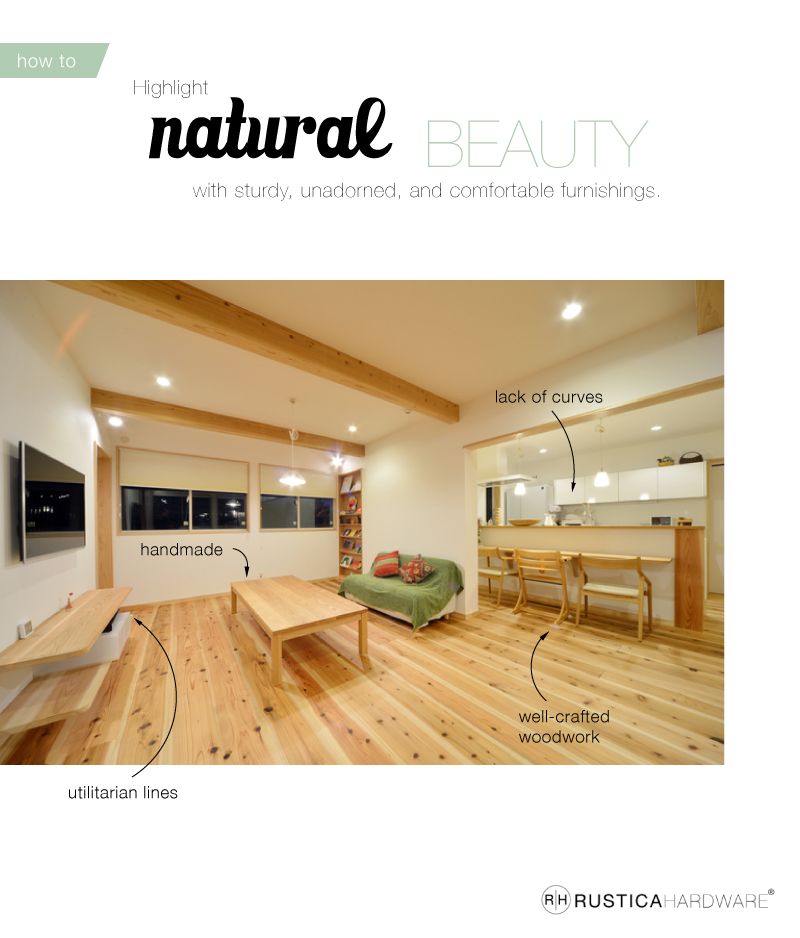 Arts and Crafts Living Room
Arts and Crafts design celebrates natural elements of the earth, and so organic flooring is best if you want to really bring out this style in your living room. Use hardwood, stone, slate, tile, or cork as the flooring of this room. Try to abstain from using rugs, but if you must, choose one with earth colors, perhaps a mossy green or a stone gray.
Sturdy, unadorned, and comfortable furnishings are those that will feel right at home in your Arts and Crafts inspired home. Choose sofas and chairs with leather, cotton, or linen upholstery. Use
sliding door hardware
in bronze or brass on any doors that you have. And because Arts and Crafts design favors the simple and unadorned, few accessories are necessary.
Arts and Crafts Bedroom Ideas
When designing the bedroom in Arts and Crafts style, it will be important to again remember that this design calls for simplicity; simplicity in ornamentation and in furnishings is key. The focal point of the room with be, of course, the bed, and selecting the right bed will be a great determining factor of if the room emulates Arts and Crafts style or not. Choose a bed with strong horizontal emphasis and in a lighter wood than oak, perhaps pine or maple. In Arts and Crafts style, typically kitchens and living rooms utilized darker woods and bedrooms made use of lighter woods. Use a quilt for the bedspread, as they are seen as products of art-and-craft, especially if it is handmade. For lighting in the room, try to find mica or Tiffany (or Tiffany-inspired) glass lamps. One of these on a simple pine or maple night stand on either side of the bed brings in Arts and Crafts design nicely.
Arts and Crafts Bathroom Ideas
The bathroom is a perfect place to bring in Arts and Crafts woods and colors. You'll want to use a beautiful dark oak for the cabinetry, the frames around the mirrors, and as trim around the room. Paint the walls a rich terra-cotta red; this earth tone speaks of the Arts and Crafts movement almost more than any other color does. Off-white subway tile for the flooring is standard in many Arts and Crafts baths and works well with the clay-colored walls to add depth to the room. Choose your shelving and other pieces carefully; Arts and Crafts style favors straight, utilitarian lines.
Use warm metals when choosing appliances; metals like bronze, brass, and copper with oil-rubbed, antique or patinated finishes really bring the craftsman feel into your bathroom.
If you want to learn more about Rustica Hardware's makers, follow us on
Instagram
at #makersmakeus