Your exterior doors are often a key characteristic of your home. The front entry door greets your guests, family and friends. Your back doors are the transition from inside of your home to your deck, patio and backyard. If you are trying to decide on the what doors to select for a new build, or if you are considering an upgrade or remodel which includes replacing a front entry or back patio door, you have some important decisions to make:
What style, size, finishes and options, like sidelights and transom, are the right match for your space and style? What handing and swing will work best with your space. Rustica's website and the customer service agents can help with all these selections, but this article is focused on explaining the difference between an inswing and an outswing door, the benefits and features or each, and how to identify which one is which.
SPACE CONSIDERATIONS
Depending on the layout of your entryway or back patio, it may be obvious whether to install an inswing or outswing door just by evaluating the space you have available. For instance, perhaps your patio door leads outside from the kitchen and you have a table positioned directly in front of it or you don't have space inside the house for the door to swing in for another reason, then an outswing door is beneficial in this situation.
On the other hand, perhaps space constraints exist on the exterior. If you prefer to keep potted plants or a patio table right outside the entrance, an inswing door accommodates this better.
PRACTICAL REASONS AND REQUIREMENTS
Public doors swing outward: Have you ever noticed that doors in commercial buildings always swing outward? This is required by the International Building Code to prevent a horde of people from pressing up against the door in an evacuation, which would make it impossible to open and thus trap people inside.
Doors in hurricane-prone areas swing outward: High winds from a hurricane are more likely to push an inswing door open, but this isn't possible with an outswing door.
Doors in snow-prone areas swing inward: In climates where it can snow several feet in a single storm, entry and patio doors should swing inward. This way, you won't become trapped inside your home if a huge snow drift presses up against the door.
SECURITY
Inswing doors have hinges located on the inside, which is a good security feature. Unfortunately, they can be forced open more easily because of the direction they swing. To counteract this, be sure to install heavy-duty strike plates and deadbolt locks.
Outswing doors are very difficult to force open from the exterior, a big security plus. However, the hinges are located on the outside, so you'll need to choose security hinges that make it impossible to remove the hinge pin when the doors are closed.
HOW TO IDENTIFY THE SWING OF A DOOR BEFORE INSTALLATION
There are 2 super easy ways to determine if the door you have received is an inswing or an outswing
Threshold style

An inswing threshold will have only 1 sloping slide which is on the outside of the door (image A) and the door will sit at the edge of the inside part of the jamb with the hinges visible from the inside and close into the weather stripping.
An outswing threshold will have a short slop (the outside) and a medium slop on the inside (image B). The door will sit on the outside part of the jamb with the hinges visible from the outside and close into the weather stripping.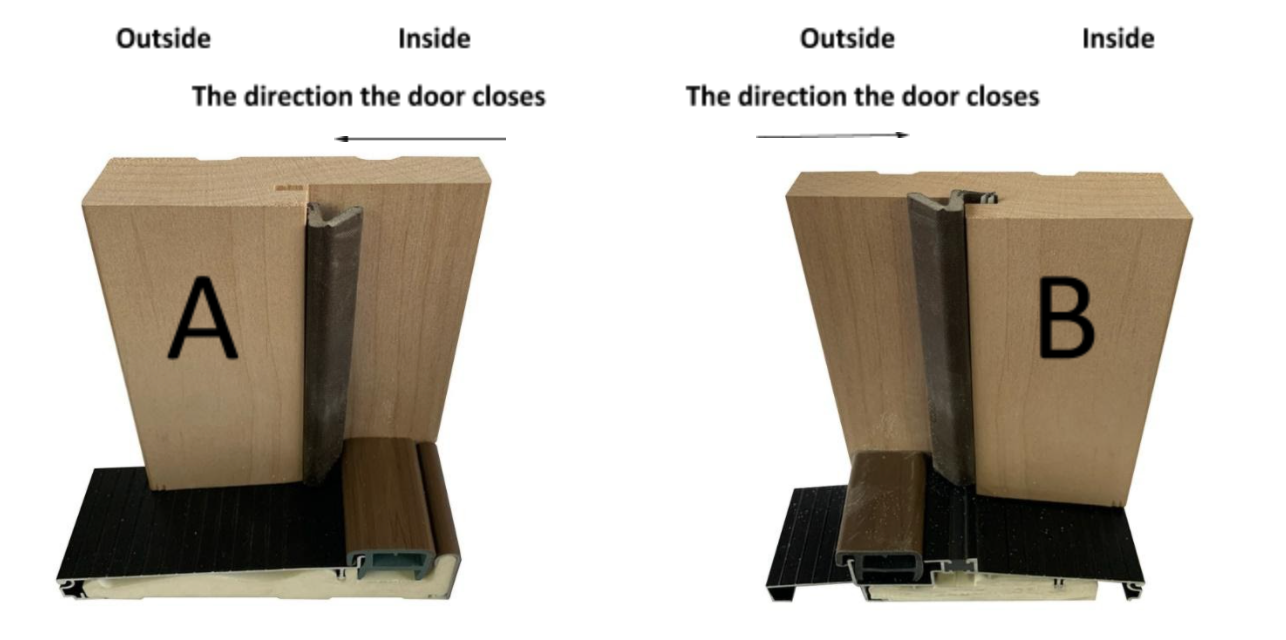 Hinge Style

Inswing and outswing hinges are almost identical except for 1 small difference.

The outswing hinges (image C) have a set screw that can be seen and accessed when the door is open.
This set screw tightens the pin and prevents it from being removed from the outside when the door is closed. The inswing hinges (image D) are the same except for that set screw.
Note: it is possible to switch inswing and outswing hinges intentionally or unintentionally without noticing a functional difference. For this reason, the threshold is the best "test" for confirming that the door you have is an inswing or an outswing BEFORE you install it.
RIGHT HAND VS LEFT HAND
Another important detail in ordering a door is the handing. Every door is either a left hand or a right hand. Below are some images which show the best way to know the difference and identify what you need. If you have a double door, one will be the active door and is the door that primarily opens. The inactive door will be pinned to the jamb and opens only after the active door is opened.
Note: Double doors with roller latches are both active and they are not lockable.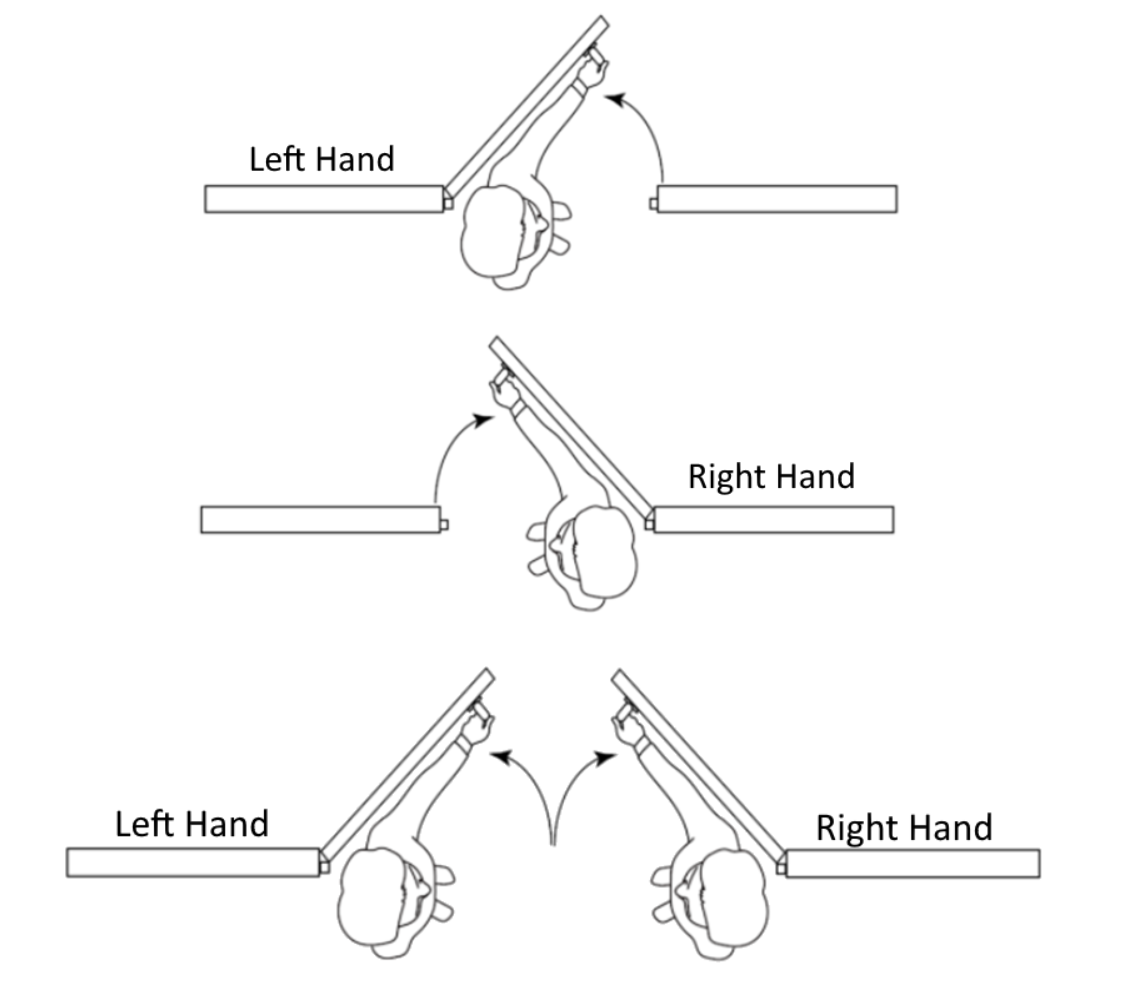 EXAMPLES
If you're still unsure about inswing and outswing doors please don't hesitate to contact us, we would love to answer any questions you may have! Contact us at 800-891-8312!