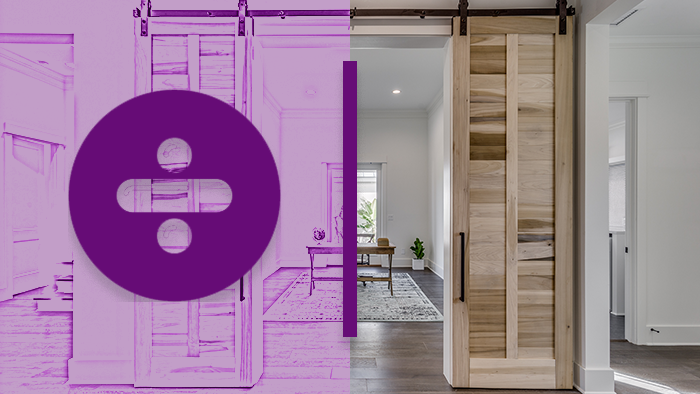 An easy way to turn one room into multiple
Room dividers can help break up a large room or provide instant privacy in smaller spaces, like studio apartments or bedrooms.
But how do you go about creating attractive room dividers? What do they look like? Are they difficult to install?
Don't worry. All your questions and more will be answered, and hopefully by the end of this article, you'll think twice about just throwing out your old doors when it comes time for that home remodel. From Japanese sliding doors to French doors to sliding barn doors to connecting old doors, there are countless ways to use doors to add some style -- and privacy -- as room dividers.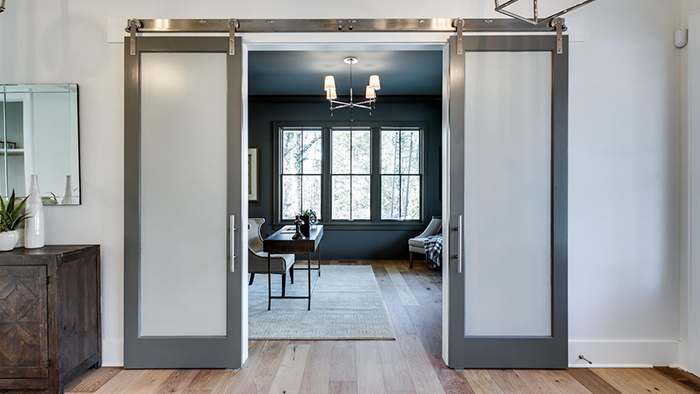 Uses for door room dividers
The best part about using doors for room dividers is the unique versatility they provide to your particular space. What may work for you may be completely different to what and where it might work for someone else. It's all relative to your room's style and dimensions.
Doors can be installed to separate a dining room from a living room, or to separate a kitchen from a living room. If two people are using a home office space, doors make fashionable and functional room dividers when you may want a little extra focus on the tasks or company at-hand.
Perfect for small, shared spaces like dorm rooms, door room dividers can help save space and afford occupants a little more privacy. Doors as room dividers can also help you make the most of a large space -- like a studio apartment or open-concept home. You can use room dividers to create different zones and "rooms within rooms."
Old door room dividers
Whether you're ditching your old doors for newer remodels or you're following the theme of "one person's trash is another's treasure," old doors make great room dividers. And the best part is that they don't have to match. In fact, that's part of the perfection – the
imperfection
provides more aesthetic interest.
By touring a salvage yard, garage sale or flea market, you can find some old doors that just need a little sanding and staining (or painting) TLC. When you get your doors into the finished shape you want, all you need to do for the simple installation is connect them via the hinges and ta-da! You've got a finished DIY project that you and your guests will love.
Japanese sliding doors
Japanese design
is known for its minimalism and efficiency of architecture. It presents a lot of unique style with very little effort. One of the most popular examples of this classic meets contemporary design can be seen in Japanese interior sliding doors room dividers, which can serve as a door, window or room divider.
Sometimes called "shoji screens," Japanese sliding doors use simple materials like wooden framing or bamboo lattice filled with translucent paper, as well as a railing system. These doors are fairly inexpensive and time-friendly to install. The finished product will provide a dynamic layout to your home instantly giving you more light, openness and floor space to enjoy.
French doors
Used primarily as exterior patio doors, or for this article's purpose – interior room dividers –
French doors
create elegant entryways that can allow privacy and a see-through visual connection between two spaces -- primarily a dining room and kitchen or living room.
French doors may not automatically fall into the category of sliding glass door room dividers, but their elegant use of glass within a sturdy frame can can separate a room while still allowing light to flow between spaces. And if you ever want additional privacy, curtains or blinds can easily be installed.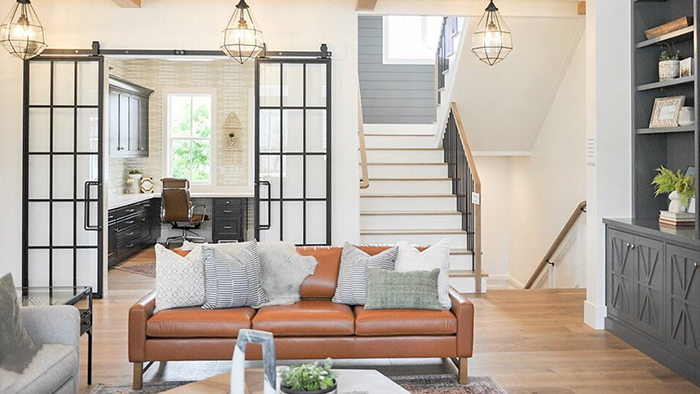 Sliding barn doors
One of the most popular room divider sliding door track options over the last few years,
sliding barn doors
beautifully combine rustic chic with contemporary style. Easy to install and even easier to love, sliding barn doors are perfect room dividing options if you're looking to save space in narrow hallways or create interest in bigger entrance ways. With so many styles, stains and sliding systems to choose from, your sliding barn door can either blend in to your current home décor or be the focal point for your guests' "oohs" and "ahhs."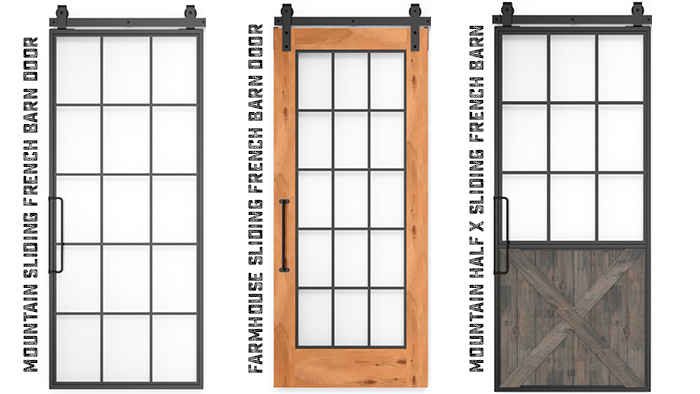 Whichever sliding door room divider style you choose to implement in your own home, rest assured that you'll love the look and feeling it adds to the layout of your house. From something as simple as upcycling a few old doors or as intricate as constructing Japanese sliding door dividers, your house will 'wow!'
+Rustica