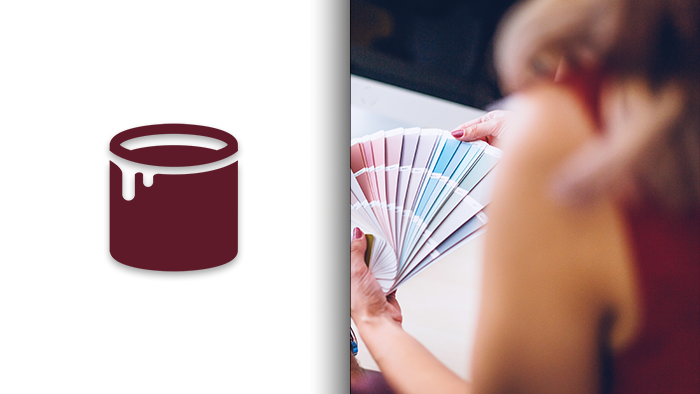 You may have heard the expression, "nothing a fresh coat of paint won't fix," and they were right—adding a fresh coat of paint, whether it's just a touch up of your existing color or switching to an entirely new color, can really transform your home and give your space a fresh, updated look.
If you're interested in learning how to paint a front door, exterior door, or interior door, there are a few things to consider
How to Paint a Door
Pick Your Color
Prep Your Door
Gear Up
Strip Old Paint
Clean
Paint It
Finishing Touch
Enjoy the View
You may be thinking, "but my sliding barn door looks great just the way it is – natural." And you know what? It probably does. It probably looks beautiful, in fact. But, natural wood color or darker stain doesn't have to be your only option for color on a barn door.
Sometimes, you just need a
pop of color
in your home to really set the tone – and natural wood doesn't offer much in the way of color. So, if you have a lot of neutral and earth tones in your home and are looking to spice things up a bit with a little painted barn doors DIY project, then we've got you (and your door) covered.
Here is a step-by-step tutorial to show you how to paint a wooden door/sliding barn door.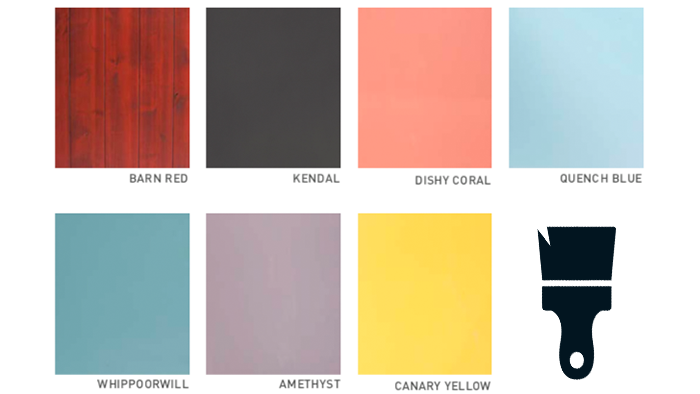 Pick your color
Like most painting projects, the hardest part is picking your color. Mulling over different shades and hues – it can be mentally (and emotionally) taxing. Like, why are there 173 shades of white? You'll find yourself second-guessing and teeter-tottering back and forth only to more than likely settle on the very first color you chose.
But seriously: if you're looking for that vintage, weathered look but still want your door to feel clean and contemporary, a nice white, grey or light blue can help you achieve the look. Take for example, milk white. Its color is enough to give you that creamy white blend while still allowing some of the wood texture to show through.
Some paint brands and colors may even look like different shades of the same color – or even different colors – depending on the angle from which they're viewed. Be sure you ask all the right questions of your local paint shop enthusiast before making your final decision.
Find your color. Pick your color. Love your color. And have fun painting your sliding doors.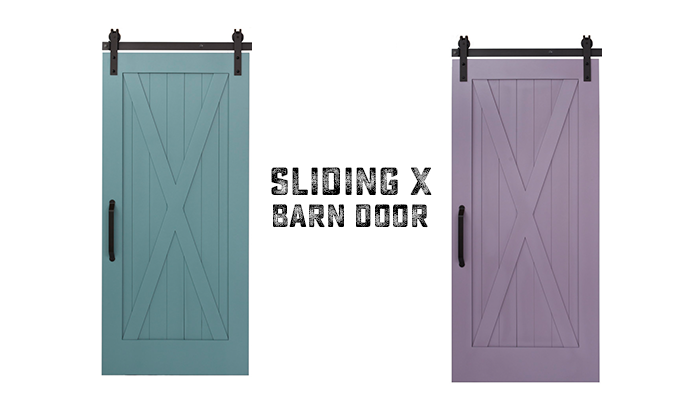 Prep your door
Whether you built and
installed your door from scratch
, found it at an antique store or salvage yard, or bought it brand new, one thing is certain – you'll want to make sure it's sanded smoothly and evenly. Go over the door with a fine grit sandpaper to remove any possible hint of splinters or remove any existing varnish/stain to properly apply fresh paint.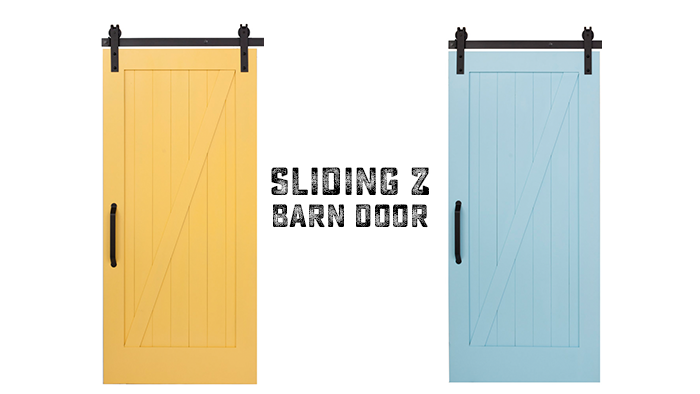 Gear up
Gather all the necessary paint equipment you'll need to get the job done.
Prep Supplies:
Painter's tape: for taping off hinges if you decide to paint the door while hanging.
Brush or paint sprayer: whether you should use a paintbrush or a paint sprayer is entirely your preference—just use what you have on hand, or what is within your budget. Paint sprayers will give more of an even coating, but are more expensive and come with a steeper learning curve, so unless you are painting every door in your house, it is likely more efficient to go with just a brush and a small roller.
Dropcloth: to protect wherever you decide to paint.
Sandpaper: you can use any sandpaper, sanding sponge, or sanding block, just pick whatever is most comfortable to hold. You will want different grit strengths, starting with a medium 120 grit and a 220 grit.
Utility knife: let's be honest, who doesn't have a use for one of these?
Tack cloth: to remove excess dust after sanding.
Putty knife: if you have knots or holes in your door, you will need to fill them before painting.
Paint roller: a paint roller will work best on the flat sections of a paneled door, and will make it so you don't wind up with brush strokes.
Paint stripper: you will only need a paint stripper if you have a door with chipping, old paint that needs to be removed first.
Cleaner: TSP or another all-purpose cleaner to remove all dirt and grime from your door prior to painting.
Paint rags: these are great for cleaning the piece, catching paint drips, and having somewhere to wipe excess paint while working.
Paint Supplies:
You will need a gallon of the paint of your choice. Your paint options include:
Spray paint
Latex paint
Oil-based paint
All in one paint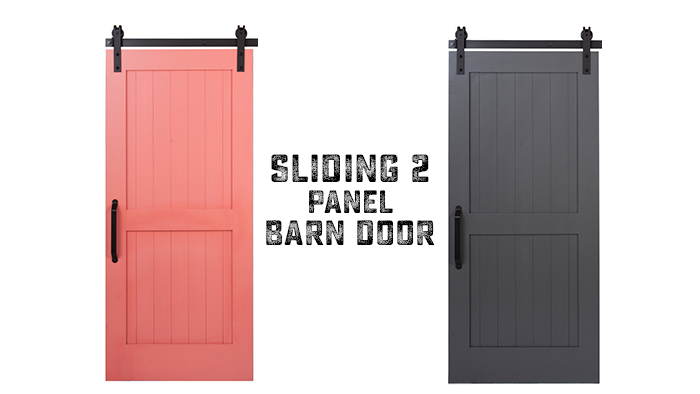 Strip Old Paint
You may have a door that already has to chip and peeling paint that needs to be stripped. It is possible to strip paint off both wood and metal doors, just be sure to follow the instructions on the bottle of paint stripper until you get it down to the bare wood of the door, and then clean. Use your medium 120 grit sandpaper to get the bigger sections of paint off, and the finer 220 grit until the piece feels smooth to the touch. Finally, wipe with the tack cloth to remove the dust.
Clean
Now it's time to clean your door. You want to make sure you have a clean, even surface for your new paint to adhere to. There are a variety of cleaners on the market; however, TSP is a painter's favorite due to how well it works at removing dirt, dust, caked-on grime, scuffs, and all other dirt and debris from your surface (fun hack: use this to clean your walls! It is an amazing, all-purpose cleaner that will help with your yearly deep cleans.) Just be sure to wear gloves and take proper safety precautions, as it is a pretty powerful chemical.
Dilute TSP in water, per the instructions on the box, and use paint rags to scrub your door. Continue washing until the rags come back clean. You may need to replace the TSP/water solution a few times to accomplish this, especially if you are painting high-touch areas, like
sliding barn doors
, or exterior garage doors that get dirtier faster.
This is a great time to putty any gaps, holes, or significant scratches. Then, sand the putty smooth once it dries.
Paint it
The biggest obstacle you may run into when painting your door (after deciding on the color, of course) is the look you're trying to convey. Do you want that distressed look that still shows some wood texture – giving it the allure of many weathered years on some beach? Orr do you want more of that thick, clean look that infuses vibrancy within your home?
Depending on what style you're into, you'll want to find A) a paint that does the trick and B) the right number of coats to apply to achieve the desired look.
Finishing touch
Once you're happy with the coats and the wood texture that you're seeing after it dries, consider a sealer or varnish for a finished, glossy look, You can also use a wax to create a faded finish that still has a bit of luster.
Enjoy the view
Enjoy your fresh, beautifully painted door as it will now add years and years of character and pop to your already stylish home décor. You'll love it and your neighbors will envy it!
Frequently Asked Questions About Painting a Door
Should I paint the door or trim first?
It actually doesn't matter! It really comes down to personal preference, even for the pros. Some prefer to paint the door and then the trim, while others prefer to tape and paint the trim and then paint the door afterward.
How long does it take to paint a door?
You'd be amazed how quickly you can paint a door. Once you have all the cleaning and prep work done, it takes an average of 15 to 20 minutes per side to paint a door.
That said, you will need to factor in the time it takes to paint on primer, let that dry/cure, paint one to two coats of your chosen paint, and then a sealant as well. This will vary widely based on the brand or type of paint you choose, so be sure to read the label on the paint can or ask the professionals at the paint counter for advice.
All said you should be able to have a primer, two coats of paint, and a sealant on a door in four to six hours total.
What is the best paint for interior doors?
The paint type needed will vary based on the location of the door (if you are painting an interior door vs an exterior door, for example) and what your door material is.
If you have a
wood door
, the type of paint you choose doesn't matter as much as the finish: you will want something with a gloss or semi-gloss sheen on it. The more matte the paint finish is, the more fingerprints and scuffs will show. You have more freedom with the type of paint—acrylics, oils, latex, and even chalk paints have all been used with great success, so you definitely have a lot of color and brand options to choose from for your interior doors. That said, if you are specifically looking for front door paint, make sure the brand is rated for exterior use so you get paint created to withstand sun, rain, and all the other elements.
If you have a
metal door
or a fiberglass door, you will want to use exterior paint. These are typically latex-based or acrylic resin and will be more rust-resistant, fade-resistant, and the chemical compound helps prevent cracking and chips over time.
Can you paint a door without removing it?
It's generally recommended that you remove the door and all door hardware prior to painting. However, if removing the door isn't feasible (such as a heavy front door that you don't have someone to help you move or if you don't have anywhere to move it to for painting), you can definitely still paint with the door hanging on the hinges.
Be sure to use painter's tape and carefully tape off all doorknobs and hinges. You will need to remove this tape immediately after you finish painting. Do not let the tape remain until it dries or it can pull the paint up.
Painting a Door is a Great DIY Project for Beginners
Painting a door is a great project for those wanting to dip their toes into DIY projects. You can easily do the project by yourself in an afternoon, and the end result can make a dramatic difference to your space.
And, if you end up deciding your space needs a more dramatic makeover, we can help with that too! Shop Rustica.com for our full catalog of interior barn doors and exterior doors, and don't hesitate to reach out to a Rustica designer if you have questions about the color, hardware, or design.