Barn doors make a great addition to your home. They are stylish and the sliding function keeps things simple. Here at Rustica, we have worked hard to make sure your ordering process is simple as well!
Step 1: Pick Your Barn Door
Artisan currently has 47 different barn doors to choose from. There are multiple different styles that are sure to match your home perfectly. The hardest part of ordering your barn door is deciding on just one!
Step 2: Put in Your Measurements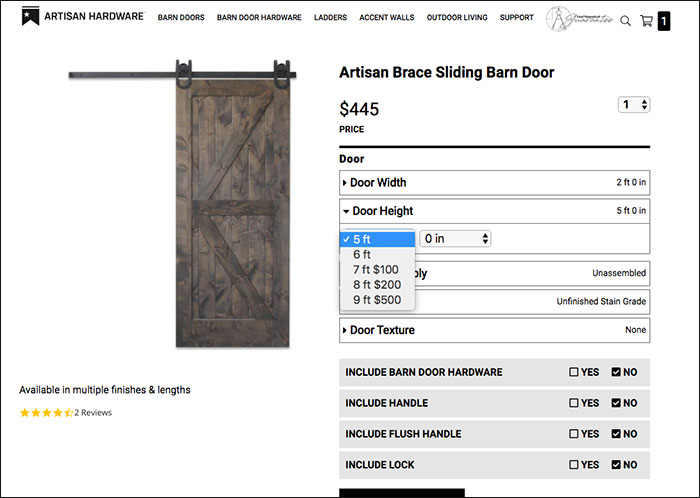 Once you've picked your barn door, you will need to start putting in customizations. There are a series of questions on the right-hand side. You are first prompted to put in the width of your barn door. This is asking for the bottom of your door. To know what size you need, measure the bottom of the door opening. You will want your barn door to overlap the opening a little. We suggest adding two inches to this measurement.
The next measurement you will need to include is your door height. Measuring correctly for the height is the same process as the width. Take the height of your door frame and add two inches.
Step 3: Unassembled Vs. Preassembled
After your measurements are put in, you are asked to choose between unassembled and pre-assembled (this option is only available for our full wooden doors). Unassembled barn doors come in a kit, requiring you to build out your door. This option is cheaper, but does require a little DIY skills. A pre-assembled door comes already put together for you.
Step 4: Finish and Texture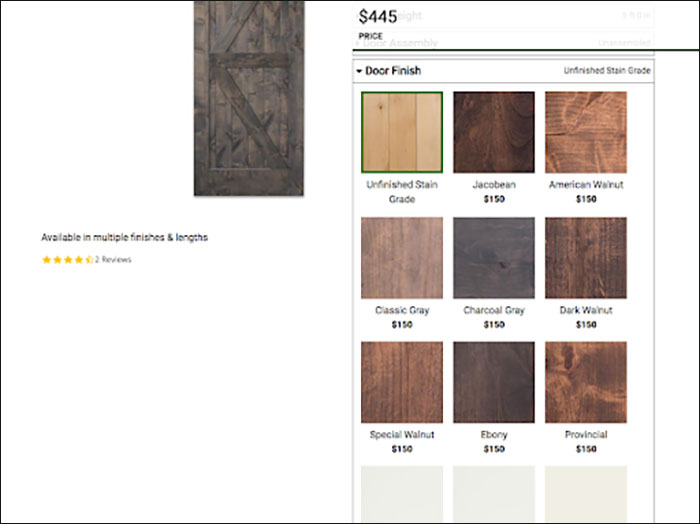 This is the fun part! Choose from our 21 different stains and paints or pick "unfinished" if you would like to paint the door yourself.
Lastly, decide if you would like to add a texture or not. The weathered texture creates a more rustic look and is perfect for farmhouse chic style homes.
Once your customizations are all put in, add that barn door to your cart and process that order. We can't wait to start building your barn door!
Let us know if you have any questions or need
help
placing your order. We would love to help.
Shop barn doors
here
.