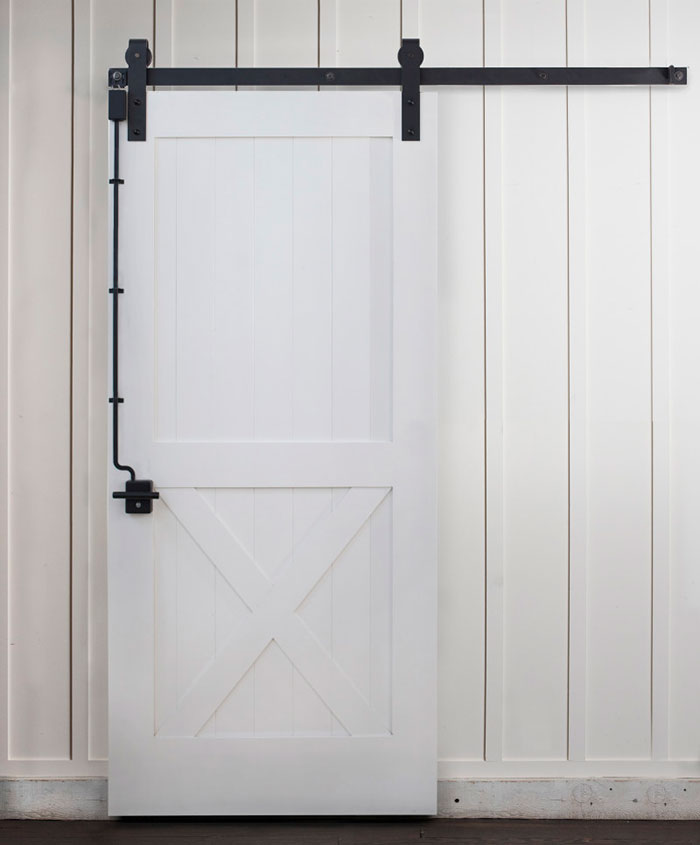 Each barn door is complete with a Rustica-Lock on it. Kate, one of the owners of Rustica, figured that out when she became frustrated as she would chase her kids in and out of rooms in her home where she had her own barn doors. Bedrooms, bathrooms, offices and pantries with barn doors on them all needed a locking mechanism. This lock would need to be simple to install, retrofit with existing doors or handles and not require messy drilling into the wall or doorjamb.
As she evaluated the situation she realized each barn door needed something unique. The office barn door needed a keyed lock and the bedrooms needed a privacy lock. The bathrooms needed a thumb style privacy barn door lock and the pantry needed a passage lock. It would take the right type of engineering and manufacturing, as well as a very pleasing aesthetic to make a perfect lock type for each barn door. She got to work creating a solution that would help families, business professionals and homeowners alike enjoy their barn doors with appropriate locking types.
After years of creative innovation Rustica Hardware is proud to introduce the only one of its kind, the patented and proprietary
Rustica-Lock Sliding Barn Door Lock
.
This lock features:
Passage lock Capability
Thumb Lock Capability
Privacy lock Capability
Keyed Lock Capability
Lock styles accommodate:
Single barn doors
Double barn doors (also known as bi-parting barn doors)
Bypassing barn doors
Even commercial and residential applications are acceptable.
Simply choose the type of lock you need for your barn door. After that you will input your lock size depending on your desired length of the lock based on where it measures on your door. You don't even have to omit door handles you already have! Just measure your lock to work with your existing door and door handle if you please. You can also remove the old door handle and add this lock to the door. After that we want you to select a finish that matches best with your door hardware and simply measure the thickness of the door. Now comes the trickiest part. Stand on the outside of the room for which the door functions. Looking directly at the door from the outside of the room if you want the lock on the right side of that door it is a Right Side. Otherwise it is a Left Side. Lastly, you choose which beautiful handle style works the best for your design aesthetic.
Other benefits:
Made entirely in the USA
Lifetime Warranty
Easy to Install and Retrofit with Existing Barn Doors
No messy drilling into Walls or Destroying Doorjambs
Click
here
to buy your own
Rustica-Lock Sliding Barn Door Lock
now!