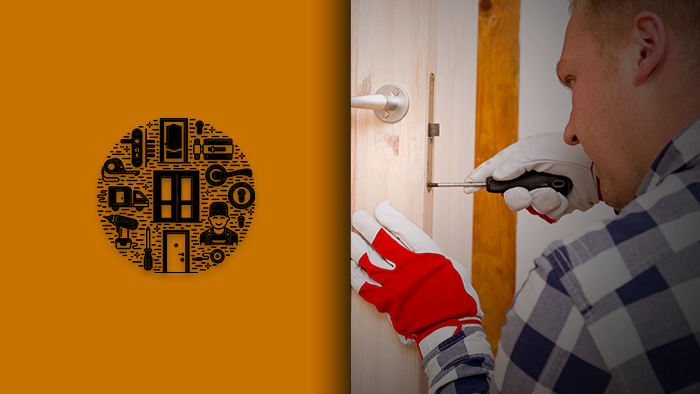 At the intersection of plumb and precision
Installing a door is a rather simple task, but ensuring its precision is where things can get tricky. It should snap into the latch, clear the jamb and swing open and close naturally, smoothly – that's a lot to get right.
And that's also why we've put together these detailed steps to show you how to install a
prehung door
.
Step 1: Mind your floor
The first item to keep in mind when installing a prehung door is making sure that it fits within the frame, nice and level. What you may not consider is that houses, particularly older homes don't always have the most level floors. If your floor isn't level, take a large level (a 4-foot level should work) and run it across the opening. Then, mark on the frame where it shows level.
From these level markings on the hinge side and knob side, you can unfurl a tape measure from the top to the floor to get an approximate level discrepancy.
Step 2: Cut the jamb height
Remember those markings you just made with the level? You're going to want to transfer those to your jamb, so you can then cut your jamb height level. To do this, mark the measurement you took from the hinge side on the door before proceeding with the knob side.
Step 3: Check the rough frame for plumb
Before you can go about moving the door into the opening, you'll want to grab that level again and push the level uptight against the opening frame. To get an exact exact, you'll probably need to tack a shim or two in place. Now you should be able to slide the door in -- nice and snug!
Step 4: Cross check your reference marks and drill
Those marks you made on the opening and on the door jam should now be aligned after sliding the door in place. If everything lines up correctly, you'll need to make sure your jamb is flush with the wall on the outside.
If everything is even and lines up properly, then you'll need to drill a pilot hole where the jamb meets the shim and screw it in. Go ahead and finish screwing in the hinge side.
Step 5: Adjust the level
If your marking doesn't quite line up on the knob side, you'll need to insert a shim or two at the bottom to make it level. Once your markings have been aligned, you can start drilling in the knob side to hold it in place, tidy and level.
Step 6: Test it and trim it
Your door should now be level, able to open and close effortlessly, and latch effectively. If all is well, you can now install your desired trim around it. Once the trim is complete, sand it lightly, prime it, fill in all the holes and paint it.
And voila!, Now you've got the 411 rundown on how to install a pre-hung interior or exterior door! Check to see if the Rustica Hardware door you're looking to buy comes in a prehung option!
#Rustica