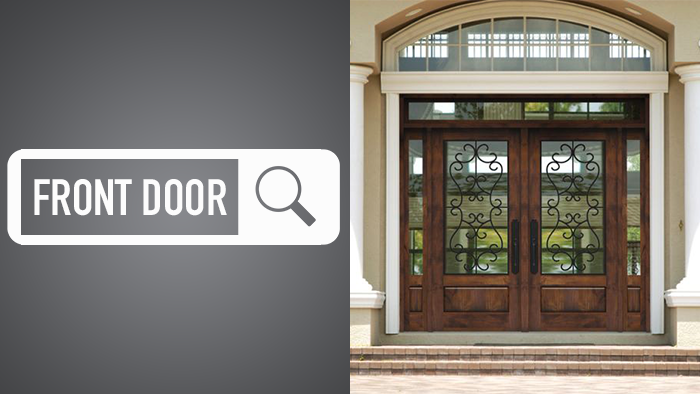 Judging a house by its cover.
The saying goes, "don't judge a book by its cover " — but it never said anything about not judging a house by its front door. Your front door is one of the first things people notice about your home. If you're wondering "what style of front door should I get?", your should look for a front door that "speaks" for you and gives others the impression you want about your house!
From traditional steel doors to classic wood paneling to contemporary composite doors and modern aluminum styles, there are endless options available. Make sure you're setting the right first impression with an outward appearance that complements your interior home styling.
With so many types of front doors to pick, we've compiled a list to help you answer the question of how to choose a front door.
Framed & Paneled Front Doors
This classic style of door is one of the most common front door designs available. Most framed and paneled doors are made from a base wood with their paneling constructed from timber, plywood or various board materials. The overall look provides a decorative motif that can be quite stunning and stylish. The paneling can also be made from glass to provide an open. elegant look to the front of your home.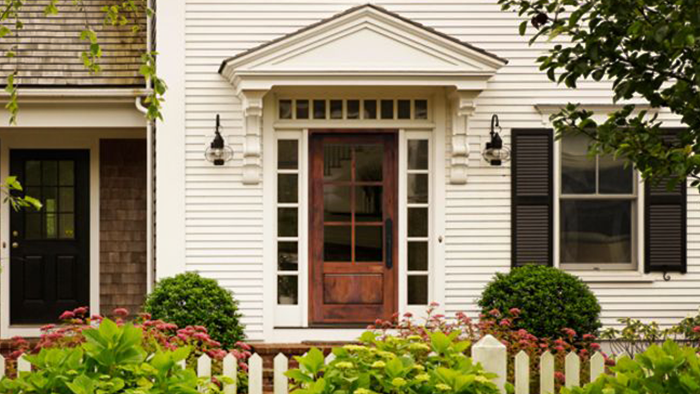 Steel & Metal Exterior Doors
Some of today's modern minimalist motifs incorporate hints of cold steel into the overall aesthetic. When it comes to choosing an entry door, steel can give you that rustic-meets-industrial feel that captures a more contemporary style.
Most steel doors use an insulation core (typically wood) that's covered by a metal skin. They're sturdy and won't crack or warp over time. However, steel doors may require more frequent paint touch-ups to keep your door looking fresh and new.
If you want a steel door but less of an industrial vibe, you can find decorative, elaborate steel cut designs to give your front door some character!
Fiberglass & Composite Outside Doors
Want the look of a wood door with virtually none of the maintenance? If so, the best type of front door for you may be a fiberglass and composite door as they can brilliantly mimic the look and feel of solid wood. They also provide good insulation and shouldn't warp, bow or twist with age.
Simply stain the door and you've got a front entrance that looks as if it's made from authentic oak, cherry, walnut or any other variety of natural wood. The only thing you may need to be careful of is direct vulnerability to harsh weather.
Timber & Wood Front Entry Doors
When it comes to exploring what type of front door is best, that may depend more on your personal style preference than anything else. If you want tried-and-true traditional, then a wooden front door is your most solid option. (Pun intended). For most exterior house doors, alder is the wood of choice due to its local availability and ease of build. With so many wood doors available on the market, the hardest part won't be finding which wood material you want, it will be picking a design and a color.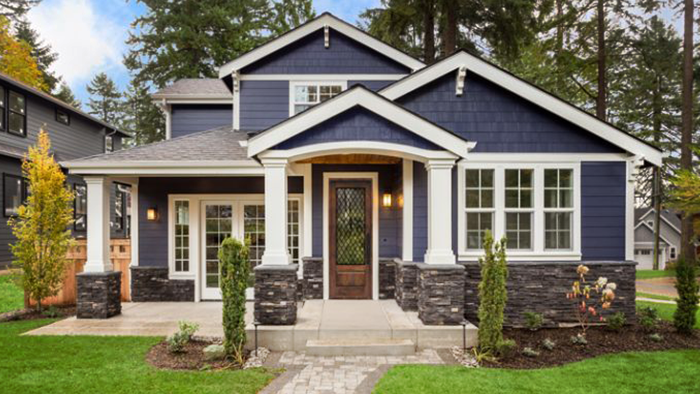 PVC Exterior Doors
Polyvinyl Chloride is a versatile material most commonly used for making a variety of products, particularly piping. PVC is a great material for doors because it's insect proof, durable yet lightweight and moisture resistant. It's also easy to make and install. However, due to its lack of heft, PVC doors aren't typically used for exterior entrance ways. They're more widely used for interior doors, which is important to note when deciding which is the best entry door material for you and your home.
Aluminum Front Doors
Similar in structure to steel doors, aluminum front doors use an insulation core (typically wood) covered by metal coating. Aluminum doors hardly ever need to be painted and they won't rust.
Aluminum is also a lightweight metal that's still durable — unlike PVC — giving you a feeling of safety and comfort using it as a material for your home's entrance.The only downside to aluminum, is that aluminum are the second most expensive choice for a door after solid wood.
If you also want to add some decorative glass accents to your home, your front door is a perfect place to do so. Glass can easily be incorporated into a front door whether you choose solid wood, composite, steel, or aluminum as a material. With so many types of exterior doors to choose from — spanning the gamut from classic to contemporary, your home is sure to woo onlookers for years to come.
Looking for a front door? Discover our new entry door line!