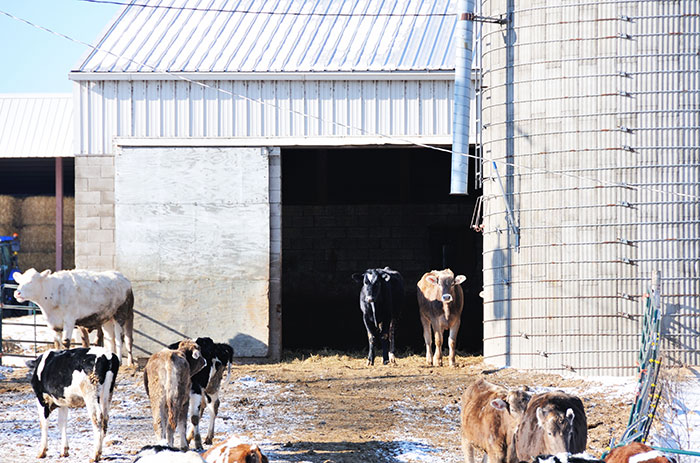 Barns are not the only place where you find sliding barn doors anymore. What started as a functional need for farmers and ranchers for a barn door that was easy to open and close to herd in livestock, has become a growing trend in interior home and office design. For these traditional barn barns cedar wood was used as the most weather resistant wood for a sliding door. Cedar, teak and bamboo are excellent choices for outdoor-rated barn door material. The most common material for barn doors is solid wood, but there are many barn doors being made out of composite woods as well as hollow core barn doors and even plywood barn doors. Building a barn door from these composites can be an inexpensive way to build your own barn door but the consequences are very costly as barn doors built without careful cross layering will bow and bend due to the fact that barn doors do not require typical door jambs that keep them true and prevent warping. When a barn door isn't built correctly it will start to pull away from the wall at different places in the door creating a wavy effect in the wood grain. This wave in the wood will eventually prevent the door from being usable as the door will no longer be able to slide along the track as the barn wood door can become lodged against the back wall. This is one of the main reasons to avoid building a barn door from composite woods and to focus on the most important features of building a barn door. Let's discuss those features.
Wood For Your Barn Door Panels
When you select wood for your barn door choose solid wood such as knotty alder, pine, cherry or oak. Mahogany is a very popular wood as well as rift white oak. This solid wood must be cut to exact lengths and widths for the door to be square. A barn door made out of square will be extremely noticeable and an eye sore hanging against a white wall.
Wood For Your Barn Door Stiles and Rails
When you select wood for the "frame" of your barn door (not the interior panels or T&G but the outer wood portion of the door) it is critical that you use alternating grain, solid wood, engineered lumber. Anything else is guaranteed to warp, bow and bend which means your barn door will have to be taken apart and rebuilt. This is the most common mistake in trying to make a sliding barn door.

Here are the top tools and materials you need to build a custom barn door from scratch:
Table Saw
Chop Saw
Router
Sander
C-Clamps
Wood Glue
Drill
Rachet
Sawhorses
Lag Bolts
Door Screws
Pipe Clamps
120-grit Sandpaper
Stain, Glaze or Paint
Gravity-fed Sprayer
Polyurethane Clear Coat Finish
And here are some instructions on assembling your own barn door:
Slide A2 over so its tongue inserts into A1R's groove.




Slide B1, B2, and B3 slats to the right and down so their tongues go into A1 R and A2's grooves.




Slide all remaining B slats into place. Now slide A3 Middle Rail down so the groove along the bottom covers the tops of the B Slats.




Slide all C Slats into A1 R Stile and A3's top groove. Once all of the slats have been positioned, place the A4 Top Rail onto the C slats and in the A1 R grooves.



At this point it will be helpful to have someone help by holding your stiles, slats and rails firmly in place while you are installing the Lag Bolts.


Slide Side Stile A1 L into place. You can now install the 6" Lag Bolts, making sure your door remains straight. Tighten by hand, and if all slats are correctly in place, tighten with a ratchet with a 7/16" socket.




When the Door is assembled, place A5, A6 and A7 (Diagonal Rails) onto the door so the predrilled holes are facing up and so they form an X that runs from corner to corner. Attach using the 1-1/4" Grabber Screws and a drill with a Phillips bit. Install a Door Pull and your Door is ready to hang.





If you choose to make a barn door please submit your creative ideas to us at
Rustica.com
and join the barn door revolution! We love to see custom built barn door ideas. We are also a great resource for any questions you have about building your very own barn door from scratch. To speak to one of our designers about your door project call us at 1-800-891-8312. Our instructions guide link is also a great resource. Click
here
to view all of our instructions.