1. Decide your style
This is a room you'll (hopefully) use and see on a daily basis so it should be a style you're enthusiastic about. Will it be traditional with its classic elegance? Maybe modern with seemingly seamless and unadorned statements. Or perhaps you'd like to escape from the world and step into your spa-like bathroom with therapeutic and soothing comforts. Still yet another option is transitional which combines aspects from both modern and traditional. The only limit is your own creativity.
2. Think about layout efficiency
The least costly design is a one-wall layout with sink, toilet and shower along one wall (don't forget the
space saving value
of a
sliding door
as well). More efficient than that is the two-wall: sink and toilet on one, tub and shower on the other. The most flexible, yet most complicated layout is the three-wall. Make the most of your space without taking out most of the contents from your wallet.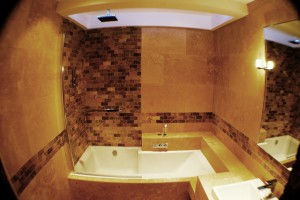 3. What are you 'sinking' about?
Integral sinks (together as one piece with the vanity counter) as well as undermount sinks are easiest to clean. Self-rimming sinks are easier to install and less costly but are also more prone to grime-collection.
4. Shed some light on the subject
There's a reason the fixture beneath the mirror is called a vanity. The ideal arrangement is two wall-mount lights at eye-level on each side of the mirror and a third above the mirror. This will eliminate shadows and allow for optimal illumination on your beautiful face as you get ready. For other lighting, use ceiling-mounted fixtures; you can even get fancy choose to hang chandeliers or pendant lighting. Accent lighting can add a nice touch by bringing additional focus to featured items in your bathroom.
5. Focus on the tub
The tub should be a focal point and can impact the decorating style of your entire bathroom. It can stand freely on claw-and-ball feet or atop a pedestal. Or it may become sculpture-like by means of streamlining or straight-siding. Of course another consideration is a soak or whirlpool tub for optimal relaxation.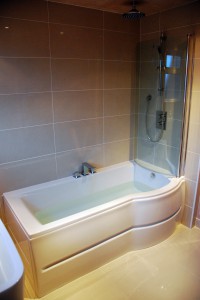 6. Make the cabinets an extension of you
Style: contemporary, traditional, vintage, or Old World. Form: stock units, semi-custom options, fully custom-designed and built. There are just so many options. Just keep in mind that stock units will be less expensive and custom more so. There will also be varying costs within each option because of different material, construction, and finish used.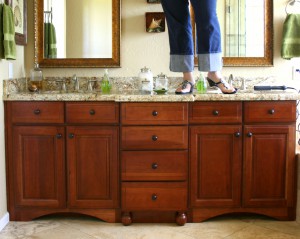 7. Get floored
Functional and attractive—a tricky balance. Stone and ceramic tiles are highly polished and
reek
luxury, but they are also slippery when wet. There are "impervious" tiles that are specially designed for bathrooms with durability and are water, stain, and wear resistant. Try to get a slip-resistant finish and grout-sealant so your floors are easy to clean.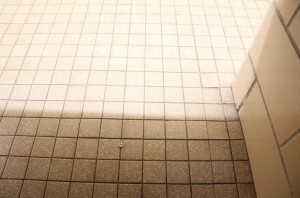 8. Amazing bathroom amenities
Here's where you get to treat yourself. A bathroom is not just for function; it can be an escape from the everyday stressors and monotony of life. So maybe you'd like to install a gas fireplace or radiant heating to take the edge off the chilly floors. Your bubble baths will become more completely luxurious with the addition of a tv or sound system. Throw in a beverage machine and you may never
wish
to leave your lavish lavatory.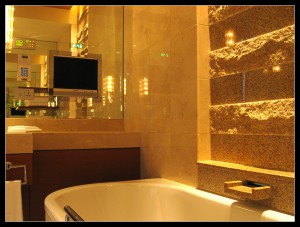 9. Color you yours
Color is power. Depending on what scheme you choose, it can do any number of things. Decide if you want to be revved up or calmed down, invigorated or alleviated. From here you can develop your scheme; keep in mind that color will come from more than just the paint on the wall or the fabrics of your window treatments. The cabinetry wood, floor stone/tile, and sink/tub have hues that will contribute to the colored temperament.