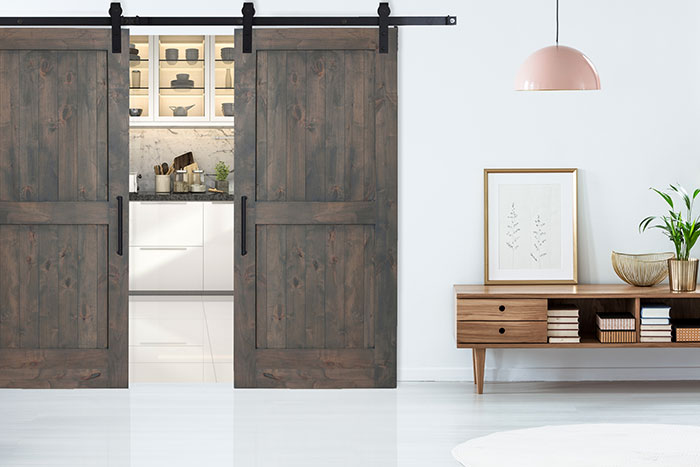 Double hung barn doors, often called dual sliding barn doors, are one of the most common doors installed in living rooms. This is due to the fact that the kitchen and living room are typically separated by either a half or arched top wall. This is exactly why dual sliding barn doors are so attractive for this space.
There are some key points in measuring for and ordering dual barn doors. Let's look at these key points.
What is a dual sliding barn door system?
A dual sliding barn door system consists of two barn doors, each of those doors hang and operate on the same track. This allows for two doors to slide in opposite directions and gives you the ability to cover a large opening with doors that can allow for passing through from room to room or to close off the space and allow for privacy.
Traditionally, this was accomplished by using french door style hinged doors. This is a beautiful way to close off a door opening, but due to the fact that hinged doors take up much needed square feet in the home, sliding double barn doors are the best new solution.
How to measure for dual barn doors?
Once you have established that you will be using dual barn doors instead of hinged french doors it is critical that you take accurate measurements of the space to ensure you have the room needed for two barn doors on a single track that slide the opposite direction from each other. This will require extra room on each side of the opening.
There are several ways to measure for dual barn doors. One way of measuring for the barn doors is to measure the entire door opening including the casing and then double that measurement. This measurement will be the total track length you need to order. Here is an example. If my total door opening is 4', meaning I would need a quantity of two barn doors each at 2' wide, I would need eight total feet of track. Essentially this is four feet of track for each two foot door.
What is the accurate name for these doors? Biparting, dual, sliding, or double barn doors?
This is a valid question. Actually, all of these names are used by interior designers, builders, and architects to describe two barn doors that work for the same door opening and that are on the same flat track metal rail.
Rustica has designed a wide variety of artistic and classic double barn door options. For more on dual sliding barn doors including design options, designer glass choices, and finish options,
check out this link to our double hung barn doors
.