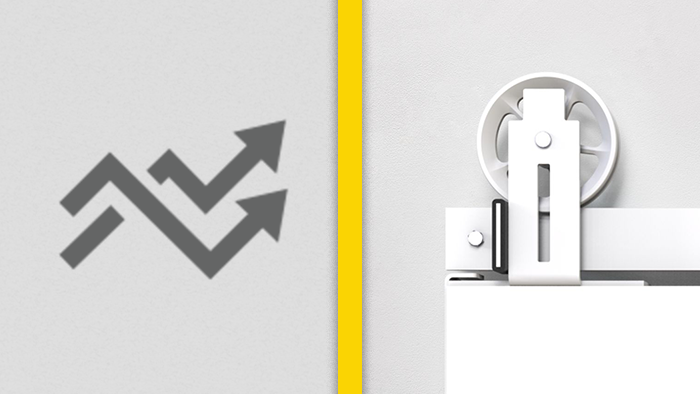 Style inspiration is just a knock away
If one thing in home décor is constant, it's that styles are always changing. Trends come and go, which can make it tough to keep up with the latest and greatest in home style.
That's why we've put together this list of 2018's door hardware finish trends. From mixed metals and matte finishes to retro throwbacks and more, we've compiled the perfect combinations to accentuate your interior door hardware trends – and exterior ideas too, of course!
Brushed mixed metals: nickel and bronze hardware
What's nice about this metal mixture is the juxtaposition between the cool tones of nickel and the warm tones of bronze. It's the Yin to the other's Yang. They're the perfect balance of metals collaborating -- not competing. And when it comes to the actual shapes of your door hardware decor, make sure to keep the form consistent – don't mix sharp angles and edges with rounded corners and lines.
Same metal, different tones
Looking to
introduce a hint of modernism to your door hardware scheme
? Using hardware made from the same same metals with different tones (for example, dark, oil-rubbed bronze vs. light, champagne bronze) can help freshen up an older door. Looking for a way to bring those tones together for a captivating look? Add some organic accents with hues in the same color family, like a floral wreath or some greenery with warm, bronze and orange tones to pull it all together!
Sleek, stainless steel hardware
If you're looking for that
sleek, modern style, stainless steel or satin nickel
can give you just what you need. Smooth, metallic, and lustrous, stainless steel is best paired with rough, textured counterparts, such as stone and weathered wood for that perfect style equilibrium.
Brushed & matte combo
Matte black is very in right now and it's leading current trends in door hardware! And besides being clean and versatile, it can help bring a touch of contemporary chic to your style. Mixed with the dulled shine of
brushed metal
, the two colors and textures provide a beautiful contrast. Keeping the shapes in the same vein – flat and straight lines, for example – further provides a perfect pairing option.
Back in (matte) black
Let us reemphasize: matte black is super popular right now. So, going with black hardware furnishings can give your door a sleek, stylized finish for both inside and outside dooring. Black can go with anything, so the matte finish is versatile for doors of all styles – modern, classic, country, coastal – you name it.
Polished and posh: brass hardware
Want hardware that gives an air of classic elegance or a modern-yet-majestic vibe? Polished brass is luxurious, and its shiny, warm tone is perfect for everything from traditional homes to extravagant villas. As one of the world's oldest finishes, try pairing it with pale wood colors and textured door surfaces.
Old World style: venetian bronze hardware
This
darker stylized bronze
has traces of warm copper to give a comforting, Old World style to your door, particularly cottage style doors and décor. In fact, Venetian bronze looks fantastic against red brick and lighter wood colors, as well as nickel and champagne bronze finishes – if you're looking to mix and match metals.
Propose a toast: champagne bronze hardware
Champagne bronze has become increasingly popular as a replacement for traditional bronze, especially in newer home fixtures. It's just as versatile and its classy, elegant shade makes it the perfect complement to homes of varying styles, from classic comfort and modern minimalism to country charm and city chic. As a naturally warm look, try pairing elements of chrome to bring in some cool spots.
There you have it, the latest trends in door hardware! Mix and match metals, go all matte black – even pit classic charm versus contemporary chic with varying hardware temperatures and shapes.
You're now ready to wow yourself and your guests with the perfect pairings of the latest and greatest 2018 door hardware trends from
Rustica Hardware
.
#Rustica