Asian interior design finds its inspiration in the history and culture that has existed for millennia. Different countries bring their own touch to the different styles, and while some encourage simplicity and tranquility, others embrace the ornate and the opulent. Discover what Asian interior design style is right for you as you look at the three different styles below.
Japanese Minimalist Design
Japanese Minimalist Concept
Japanese Minimalism is an interior design style that is becoming more and more prevalent as people discover the value of the phrase "less is more." It is a style that is peaceful and simple. Lines are clean and there is little to distract. There are few, if any, adornments; minimalism doesn't allow for unnecessary clutter. It is clean and clear without feeling stark or empty.
Japanese Minimalist Influence
Zen is the word here. Japanese minimalism is all about creating an atmosphere that allows for meditation and quiet thought. The design is very artistic and aesthetic and brings in the peaceful feel of Japanese culture. Japanese minimalism creates a clean and uncluttered living space that holds fast to order, balance, ancient customs and an appreciation for the beauty found in nature. Japanese minimalism takes many of the elements of traditional minimalism and adds its own distinct feel.
Must-Have Japanese Minimalist Pieces
There are several great ways to bring the beauty and simplicity of Japanese minimalism into your home. The wood and other natural elements you use, for example, can have a huge impact on bringing this look and feel in. Use natural wood wherever you can, including in the flooring, doors and furniture. One must-have that is guaranteed to bring zen into your home is bamboo; this traditional Japanese plant is beautiful and easy to care for. Bamboo wood is also an option for use throughout your home. Consider also palm or orchid in choosing plants for your home.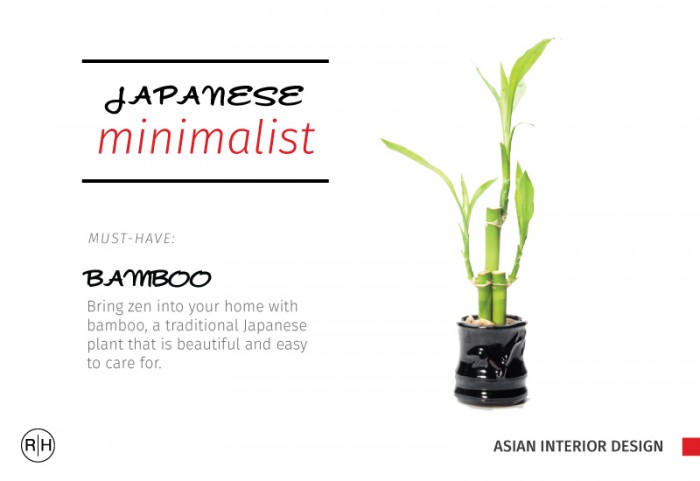 Chinese Oriental Design
Chinese Oriental Concept
In contrast to the simple and clean look of Japanese minimalism, oriental interior design is exotic and rich, full of color and opulence. It can be dramatic and vibrant; patterns, colors and textures are featured. A lot of the design comes from traditional Asian history and culture, and it is a rich and colorful history with thousands of years of traditions.
Chinese Oriental Influence
Chinese oriental interior design incorporates the rich traditions of the Chinese heritage in a way that feels luxurious yet comfortable. Black and bright red are colors often used with bits of gold decoration interspersed around the design. Paint a focal wall one of these colors or use a wallpaper with gold oriental lettering. Use ornate oriental furniture pieces whenever you can—the more striking, the better. Accessorize with paper lanterns and throw pillows covered in silk.
Must-Have Chinese Oriental Pieces
The nature of Chinese oriental interior design allows for many different ways to bring the opulence of this style into your home, including color, furniture pieces and accessories. Find an ornate side table, dresser or coffee table, preferably one painted black or a bright red with oriental detailing. A piece like this will be a great focal point and conversation starter and will instantly bring the feel of the Far East into your home.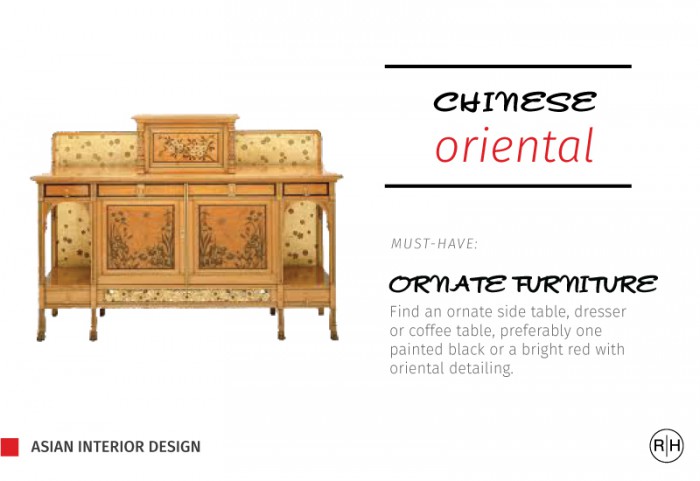 Thai Decor
Thai Design Concept
Known throughout the world for it's delicious dishes, Thailand is a country with rich culture and traditions. Its history is one that spans at least 5,000 years and includes beautiful and timeless temples, shrines and palaces, all depicting unique Thai architectural and interior design. The interior design style seems to be a combination of Japanese and Chinese styles, incorporating both the tranquility of Japanese minimalism and the luxe of Chinese oriental interior design.
Thai Design Influence
Thailand's unique interior design style is very directly influenced by its history and culture. Use a lot of natural woods, especially bamboo; Thailand harvests and markets bamboo as a primary commodity, so make use of the plant and its wood. Decorate with deep purples, turquoise and gold. The elephant is an important figure in Thai culture, so incorporate elephant figurines or fabric with elephants on it into your design.
Must-Have Thai Decor Pieces
Thai interior design is a unique style all its own and a beautiful way to decorate your home. One piece that you should be sure to have if you decide on this style is a sliding door with barn door hardware or sliding door hardware. Asian culture especially embraces sliding doors and uses them almost as walls; when closed, they act as walls, sectioning off rooms and giving a feeling of privacy. When open, they allow for a greater space and a more open, airy feeling. Opt for one made of bamboo and you'll instantly bring the feeling of Thailand into your home.