Germany, throughout much of its history, has been at the forefront of art and design, and no exception is made when it comes to interior design. Designers like Ludwig Mies van der Rohe and Walter Gropius have led the way in making Germany a leader in architecture and design, with brilliant furniture pieces iconic of the styles. Get a taste for German design in looking at the following three specific styles.
German Industrial Design

German Industrial Concept
Very much a German innovation, industrial interior design is considered by many to have been created by German architect Peter Behrens. Similar to other German design styles, industrial interior design embraces raw, pure, unfinished materials. It is about displaying materials that many try to conceal and using pieces that are as much about function as style. Commonly featured elements include utilitarian objects, neutral tones, and metal and wood surfaces.
German Industrial Influence
If a warehouse look comes to mind, you're not too far off. Industrial interior design in Germany is often seen in warehouse apartments and office spaces, with exposed pipes and ducts, white walls, and other "unfinished" elements very much a part of the design. Dangling bulbs as a form of lighting are industrial. Concrete walls and stainless-steel appliances are industrial. The German concepts of sleek and man-made
concepts of sleek and man-made
are industrial at their very core.
Must-Have Industrial Influence
Industrial-style furnishings are normally inspired by old factory and laboratory pieces. One particular piece that is a must-have for your home if you want to incorporate German industrial design is the
industrial sliding door.
There are many different interpretations of this door, but to be truly industrial it will typically be crafted of wood and metal. This particular door is made of brushed steel, solid alder and a soft brown leather. Get it for your man cave or set it up in a kitchen with concrete floors and high-reaching white or brick walls and you'll soon find yourself living in the German industrial age.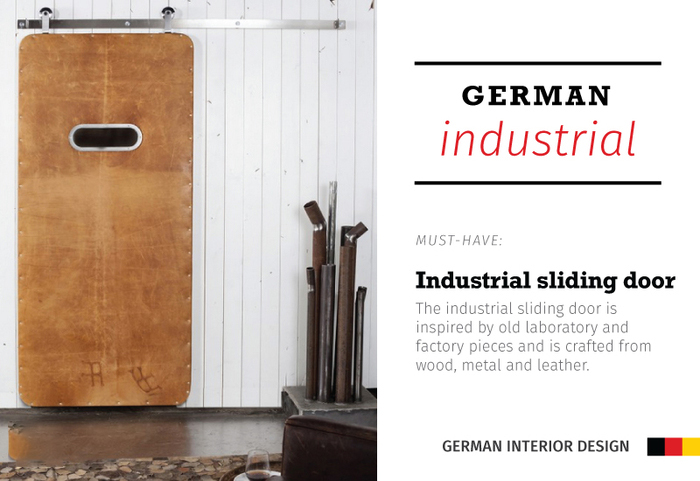 German Minimalism

German Minimalism Concept
Minimalist interior design is prevalent in Germany and has spread to many other parts of the world. Those who appreciate minimalism strive for less, because minimalism is just that—less. It is less color, less visual noise, less stuff. It is simple, restful, and brings a sense of order and focus. And Minimalism isn't necessarily about getting rid of things; German architect and designer Ludwig Mies van der Rohe perhaps said it best when he coined the term, "less is more."
German Minimalism Concept
Minimalist designers strive to strip everything down to its base and most simple quality, and this is evident in how Minimalist design is made manifest in Germany. It is seen in architecture, art and interior design. Buildings are made of base materials like wood and concrete and great attention is placed on austerity and space. Minimalism is similar in ways to Modernism and so shares some design elements with this style. Elements like
barn door hardware
add to the feeling of minimalism.
Must-Have Minimal Pieces
If you're looking to have a German minimalist feel to your home, you'll undoubtedly need a Barcelona chair. This chair is perhaps the quintessential piece when it comes to minimalist interior design in Germany. Designed by Ludwig Mies van der Rohe and Lilly Reich, the Barcelona chair was created for Germany's entry into the International Exposition of 1929 hosted by Barcelona, Spain. The iconic piece features a chrome-plated steel frame with leather cushions. Its design is simple, sleek and unassuming.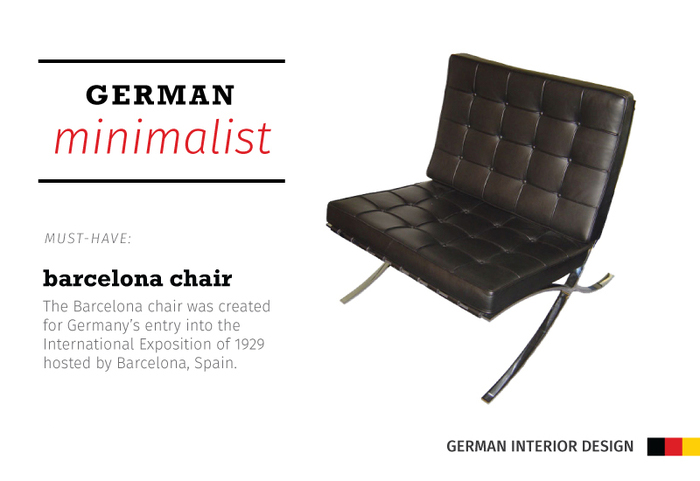 Bauhaus Design

Bauhaus Concept
More than just a design style, Bauhaus actually began as a school and turned into an entire movement. German architect Walter Gropius created the school with the idea that art, architecture and design need not be separate, competing elements but that they should be brought together and studied as elements that can work cohesively and complement each other. Started just after World War II, the Bauhaus movement is characterized by simplicity, economic sensibility and a focus on mass production.
German Bauhaus Influence
Because Bauhaus design teaches "truth to materials," materials are used in their "honest" form. In abiding by this concept, much of Bauhaus-inspired architecture and interior design in Germany use exposed, raw materials. The frames and supports for sofas, chairs, tables and lamps are usually constructed of steel tubing. This machine-made, mass-produced element to Germany's Bauhaus furniture helps create simple forms that require little upholstery and contribute to the modern, streamlined look of Bauhaus furniture.
Must-Have Bauhaus Pieces
If you've embraced the Bauhaus movement and are looking to have some of the Bauhaus feel in your home, pick up a cantilever chair. This chair, designed by Ludwig Mies van der Rohe and Marcel Breuer in the Bauhaus school, has no back legs but instead relies on the integrity of the materials it is made from for support. The cantilever chair is made nearly entirely from steel tubing and incorporates minimal fabric and is very much iconic of the Bauhaus movement.