When people think of France, they often think of design, art, and class. What are the French wearing? What are the French eating? What are the French creating? This country has contributed much in a variety of industries, and interior design is certainly up there as one of their most innovative areas. Take a look at these three interior design styles as you decide if a French-inspired home could be right for you.
French Country Design

French Concept
French country interior design comes from, of course, the French countryside in cities like Nice, Marseille and Cannes. These cities found in the south of France are the birthplace of this rustic yet elegant interior style that has since charmed its way into homes all over the globe. This style is relaxed and soft with touches of classic French elegance to remind you of the country's rich history. It is reminiscent of everything good about living in the country.
French Influence
Country interior design is not unique to France only; there are also country interior designs that have English and American influences. While all country design styles share common elements, French country design is distinctly so. This style incorporates arched windows and doorways, chairs with rounded backs, and dazzling chandeliers as lighting. These pieces stand out as French, and obviously so when paired with rustic, country pieces such as distressed furniture and wooden beams. You'll also find
wrought iron accents
in the kitchen, as part of accessories, and elsewhere throughout a French country home.
Must-Have French Country Pieces
It's difficult to pick out one distinctly must-have piece of French country design because there are so many elements that work well and add to this style. However, you can't go wrong with some kind of vintage, distressed armoire or set of drawers. Try to find an authentic antique piece of furniture; there are thrift shops and online stores that sell beautiful barn doors. If one is hard to find, you can get a modern door or barn door with
barn door hardware
and paint and distress it yourself. Painted white and then antiqued with sandpaper, a modern door can be easily turned into a classic French country piece. Vintage carved and upholstered chairs are also a beautiful option. Consider a Louis XV-style carved and upholstered fauteuil armchair.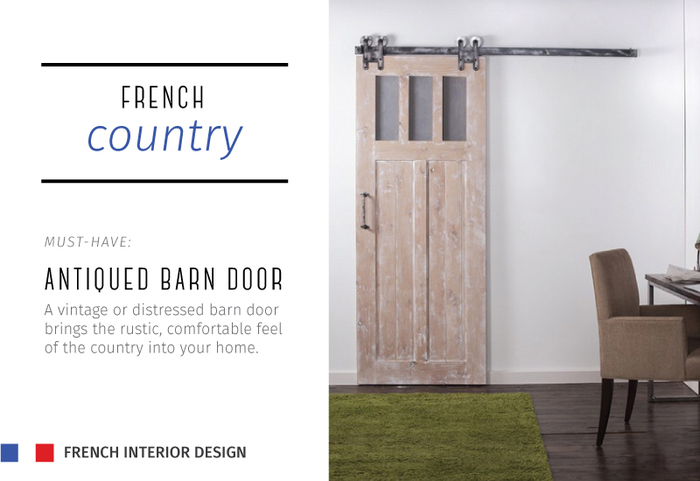 French Eclectic Design
French Eclectic Concept
Eclectic interior design is often a unique blend of patterns, textures and furnishing styles that draw inspiration from different cultures and time periods. Traditionally used in reference to architecture, French Eclectic style was most popular in the United States in the 1920s and 1930s and was also known as French Provincial or French Chateau style. American soldiers who had served in France in World War I came back with a familiarity and knowledge of French architecture and interior design and were eager to recreate what they had seen.
French Eclectic Influenc
French eclectic interior design, like other eclectic styles, draws from a various cultures and time periods. The different elements and pieces work together to create a style that works; everything is somehow integrated and cohesive. The style often incorporates pieces that are of 18th-century French origin as well as those that are distinctly Victorian. Mix antique and vintage elements with newer, modern items. Find furniture that is feminine and has intricate detailing and weathered finishes. Decorate with varied patterns and textures and French-style artwork on the walls.
Must-Have French Eclectic Pieces
To really tie together a French eclectic interior, you need a chandelier. Antique or vintage French chandeliers come in a variety of styles and are made of different metals and with different finishing elements. Choose from a brass basket-style chandelier studded with crystals or opt for a French Empire Wedding Cake chandelier ornamented in gold. When paired with an eclectic mix of furniture and decor, a classic French chandelier will immediately bring the French eclectic feel into your home.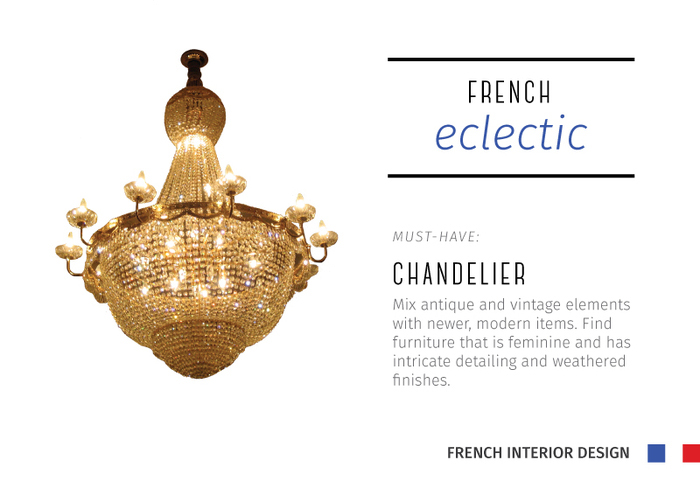 French Traditional Design
French Traditional Concept
Traditional interior design celebrates elegance and comfort. It takes its inspiration from the past and creates a look that is refined, dignified and warm. It's a timeless, classic style that originally comes from Western homes built during the 18th-19th centuries, from 18th-century England and the French countryside. It's a style that is still popular all over the world with each country adding their own touches.
French Traditional Influence
French traditional interior design is elegant and classic. It's colors usually fall into pale and neutral palettes and include colors like white, off white, soft grey, duck egg blue, mushroom, taupe and soft green. Dark wood floors and damask patterns on walls and fabrics are also very common. A traditional, hand carved and ornate door with
sliding door hardware
can add a distinct classic French feel to any home. Curved and upholstered Louis XV and Rococo-inspired furniture pieces add a French traditional touch that won't steer you wrong.
Must-Have French Traditional Pieces
If you want to bring the classic French traditional feel into your home, there are several elements you can look for, but one that maybe stands out a little more than the rest is a living room fireplace. A gorgeous fireplace and
accompanying mantel
becomes the focal point of any living room and invites a luxurious French feel. Position sofas and armchairs around the fireplace, light a glowing fire and pass around cheese and fruit—you're sure to start feeling a little more French in no time.