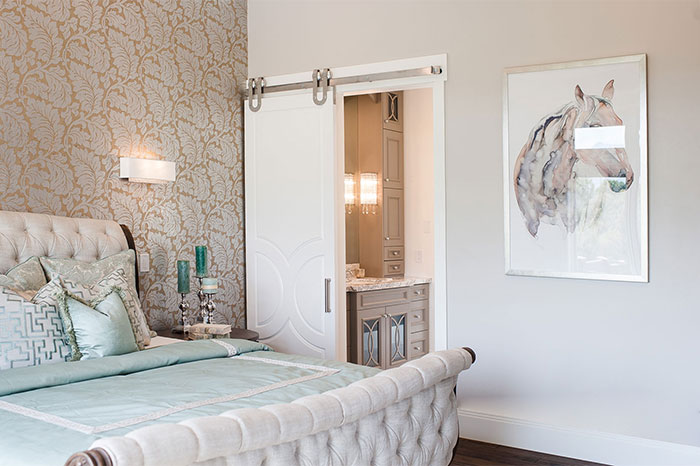 Over 15 years ago the founders of Rustica noticed that doors couldn't be "customized" online. It was even very difficult to get a local door shop to build a custom door for you. These were exciting finds for Paul and Kate Allen, husband and wife team and founders of Rustica. They worked to create a way to custom build a barn door, a front door, a french door, or a dutch door by using an online system found at
Rustica.com
.
Each of our doors starts with an image of a door style, but the door can be custom made by selecting a height, a width, any finish choice, and more by simply clicking down options on the website. You can also add textures like rustic distressing and weathering to your door. There are times though that what we offer just isn't enough and you may not find exactly what you are looking for on our site. No worries, we can build it for you! This is the benefit of a fully USA in-house manufacturing process that we are proud of here at Rustica. In fact, most of the barn doors that we build and ship all over the United States are actually custom barn doors.
So, what's the difference in a "custom barn door" and just a standard one that is found online? Is there a huge price difference? Is there a longer lead time? Is there a performance difference? All great questions; I'm glad I asked:)
A Custom Barn Door can mean several different things:
Specific Door Width and Height
Specific Door Finish Color or Texture
Specific Design for the Door
We have developed, over the past 15 years, a "standard" line of barn doors that are available to "customize" the size, texture and color of each design. When you have a combination of these elements in mind that is not found configured on our website, then it is surprisingly easy to order a custom barn door from us. In all honesty, we love those doors because we get to create a unique piece of functional art in partnership with someone who is also very much "into" barn doors as we are. We started with barn doors but offer front doors, dutch doors, french doors, and pocket doors too. These custom doors keep all of our craftsmen and women excited to build the finest doors on the planet.
Tips to keep in mind when ordering a custom barn door:
Communication
The most important thing is to keep in good communication with the shop and give feedback when progress pictures are sent to you. This process is really a team effort between you and our shop. So, as we are typically shipping these custom barn doors all over the country, the best success for your 100% satisfaction is when you are able to communicate well back and forth to insure accuracy to what you have in mind.


Expectation
When visualizing your space and where you want your custom barn door to be installed, sometimes what you think it will look like in the space with the other pieces of furniture, wall treatments, colors, light, space/scale, don't end up looking quite like you had imagined. Sometimes you think that your wall is really tall and so you need a large barn door so that the scale difference is not out of proportion. Then once you get the door in the space it looks overwhelming and overpowering. The opposite can also be true. A little tip here to save you from that mistake is to cut out some cardboard to the exact size that you think you would like your custom barn door. Then tape it up on the wall where it would go. You will be able to see the scale and insure that it balances with the room.


Keep an Open Mind
When considering your options, it is important to understand that there are no limits to the capabilities that we have to make the custom barn door a reality for you. We have had customers send us napkin sketches, iPhone photos from Europe, sample chunks of wood, patina metal samples and full, to-scale cad drawings. These are all fully acceptable forms of assets to help design the perfect custom barn door for you. We started out with sketches on the tops of pizza boxes and napkins. We get you.
Inspiration tips for creating a meaningful custom barn door:
Go to the places that inspire you most and identify the features and small details that make those places special. What are the shapes, colors, textures, and tones that set those places apart? Draw or photograph those shapes. These can be incorporated into your custom barn door to make it extra meaningful to you.



Consider the space that your custom barn door will hang. What is the significance of that space? What happens there? What does it mean to you and those who will use the space? If there was a message that you would want this barn door to represent, what would that message be? There are elements of the custom barn door design that can carry that message in a subtle way which people may not pick up on consciously but they will feel.
Shop our barn doors
here
and click to start to customize your door. With over 50,000 options and combinations to choose from we hope you will build an inspiring barn door that will bring soul to your space!