We have so many choices here! We sort of pride ourselves on providing you with as many options as possible, but that can be a little overwhelming. There is a lot of terminology that goes along with ordering your one of a kind Rustica barn door and many style decisions that need to be made. To make this journey a little less daunting, let's go through the process together!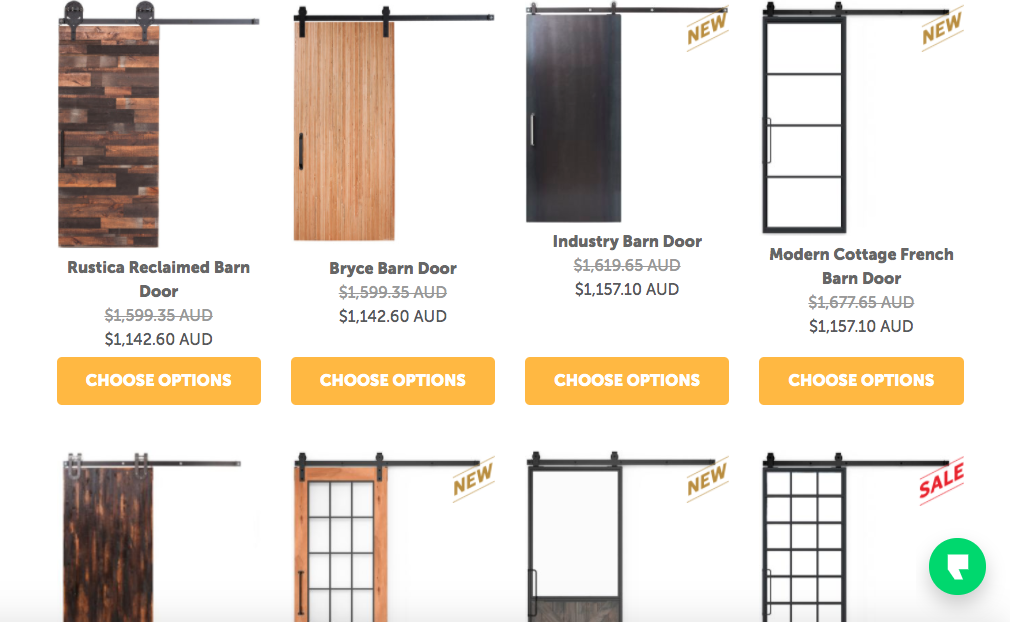 Step 1- Choose Your Door Style
Choosing your barn door style is by far the most fun part! With so many designs, we are sure that you will find something you love.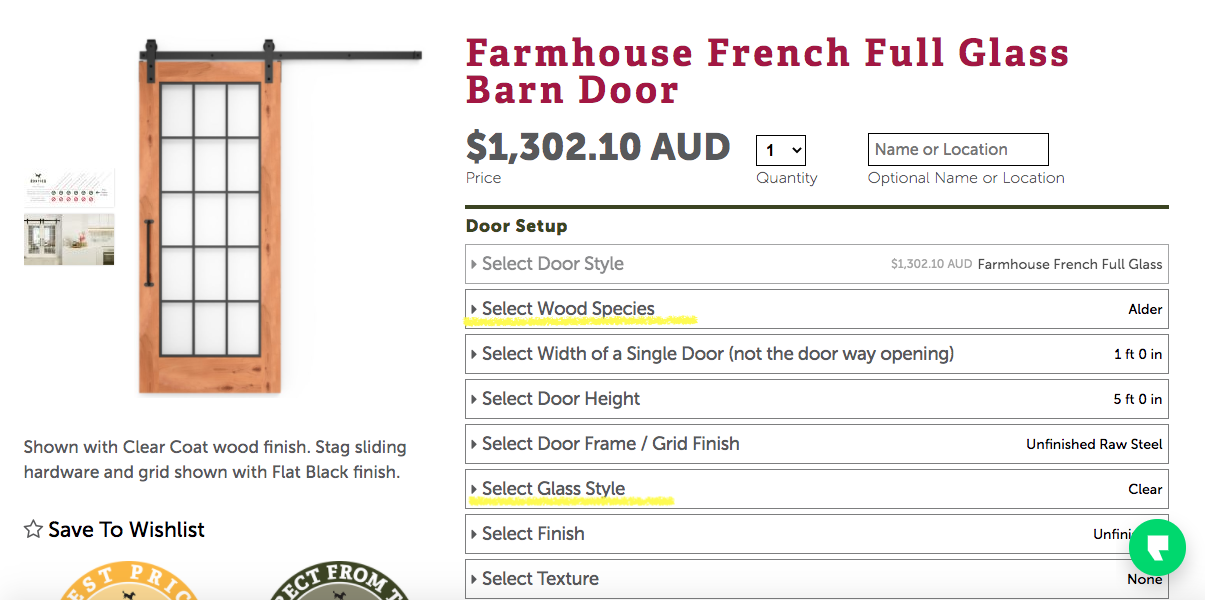 Step 2- Pick Out Your Materials
This step doesn't apply for all barn doors, but for most of them, it will. If you have selected a wooden barn door, you will be prompted to pick out a wood type. Keep in mind that certain wood types add to your lead time. For any metal on our barn doors, we use steel. If you have chosen a door design that has glass in it, you will also need to pick your glass style. Depending on the size of your door, some styles may be excluded.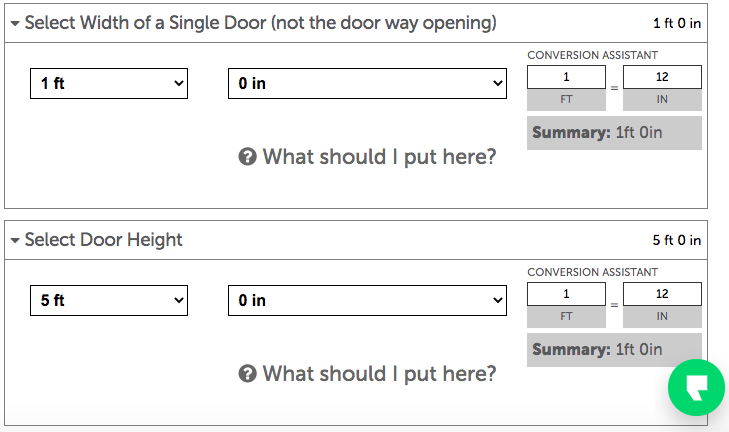 Step 3- Add in Your Measurements
If you haven't already gotten your measurements, now is the time! We understand that making sure you have the correct measurements can be a little nerve-racking, because of this we have a series of how-to videos and a service team that is ready to take your calls.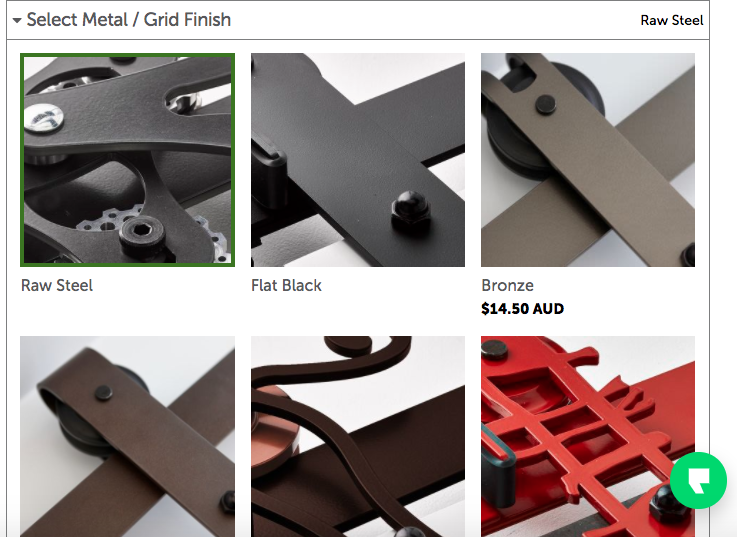 Step 4- Decide on Your Finishes
Our most popular finish for metal barn doors is our Flat Black. For our wooden barn doors, many people love the natural look of the wood, so they do a clear coat or they stain their door to match their home. We have multiple different finishes. If you need more photos of a finish, our team is happy to track down any images we might have.

Step 5- Add Hardware
Keep things simple by ordering barn door hardware that goes with your barn door! There will be an option on the right-hand side. Select your style of hardware and then put in the length you will need. Your track will need to be twice as long as the width of your barn door. While you're at it, add a matching pull!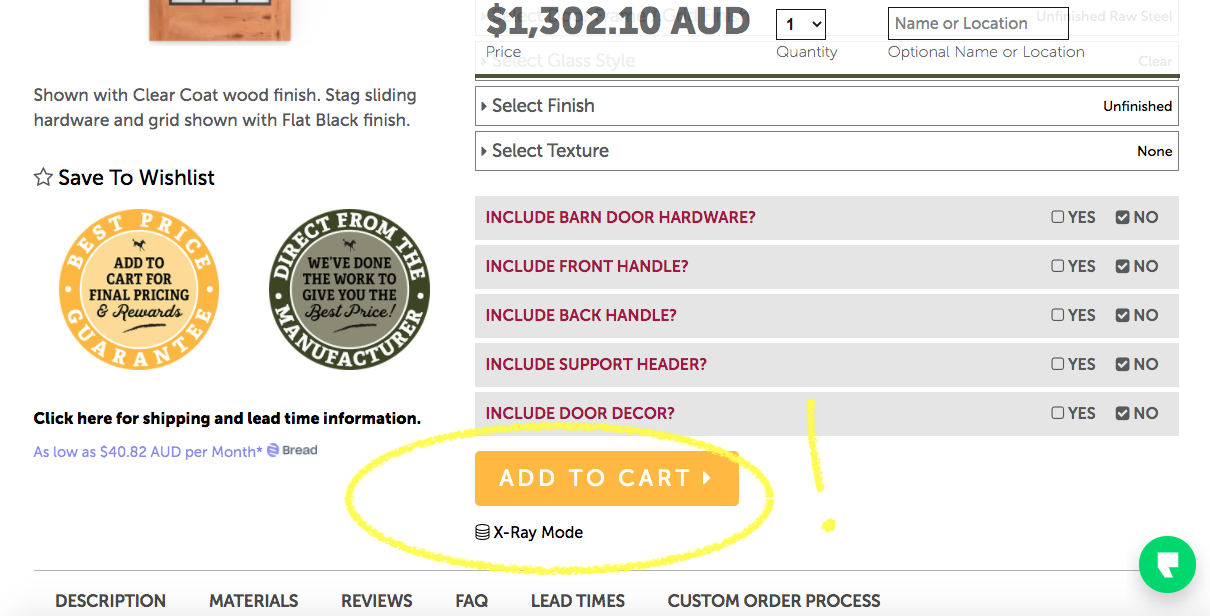 Step 6- Press Add to Cart
Once you've finished up your customization options on the right-hand side, press "add to cart"! And you're done! Add it to your cart, fill out the prompts and we'll get started building your new custom Rustica barn door. We are always working on improving our lead times, but as of right now, you can plan on getting your barn door in about 4-6 weeks.
Ordering your barn door doesn't have to be stressful. If you feel like you might need some help, please don't hesitate to call! Our service team is anxious to assist you in any way they can. And as always, please share pictures of your Rustica barn door with us when you get it. We love seeing them in your home.
Click
here
to shop our barn doors.