A new year comes attached with all sorts of possibilities. There is a "fresh start" feeling when the ball drops at midnight. All those goals you've wanted to accomplish last year, now seem remarkably possible this year! We're sure you have a few goals centered around your home and Rustica is here to not only make those goals possible, but easy!
Whether you're building a home from scratch or remodeling an outdated room, Rustica's endless customizations are sure to help you create exactly what you've been looking for!
Standard Customization Process
Let's go through the process together. Say you were wanting to switch out your pantry door for a sliding barn door. Start off on Rusitca's homepage and allow your cursor to hover over the word "doors" on the menu. A drop down will appear with the option "sliding barn doors." Once you are on the sliding barn door page, you find the exact style you've been dreaming of, the
Chalkboard Barn Door
.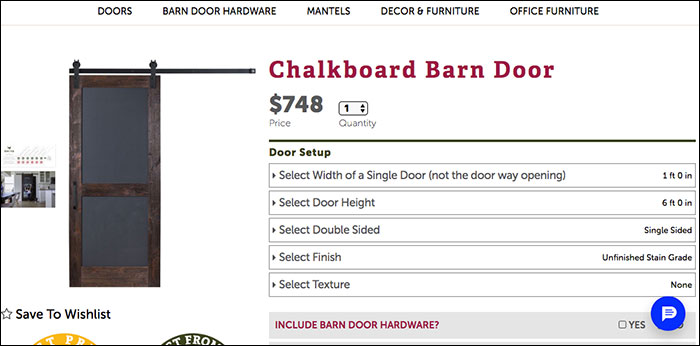 You've found your barn door and you're eager to get started on the customization process to make this door uniquely yours. To the right you see a series of prompts that you need to fill out before you can place your order. The first prompt asks for the width of your door. Click on the prompt and a new drop down appears allowing you to put in the exact measurements for your door. The process is the same for the next prompt. Click on the words that say "door height" and drop down asks for the height of your door. Add in those measurements.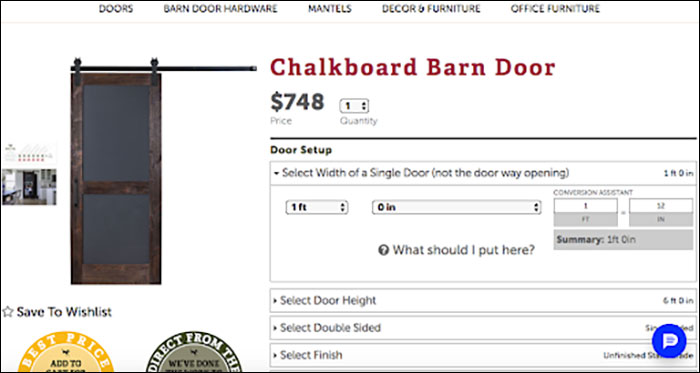 The next prompt asks you if you would like the chalkboard feature to be on both sides of the door. Since this barn door will be replacing the pantry door, you will select single sided.
You are then prompted to select a finish for your barn door. The drop down shows 23 different finishes along with the option to choose a completely customized color to be specified in the order notes.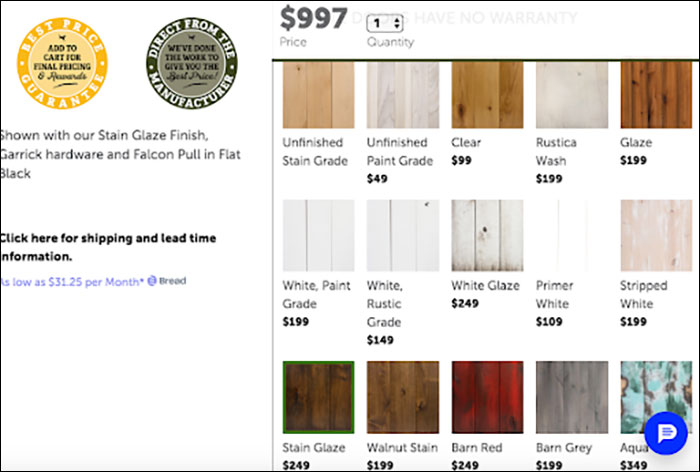 You select the "stain glaze" finish to match your kitchen countertops.
With your finish selected, you are then asked to pick out a texture. To keep it simple, you select "none."
You then notice five additional questions. Each question has its own drop down.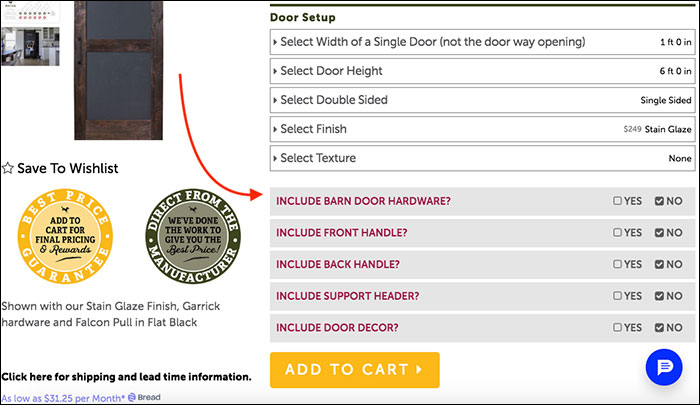 You decided to include the hardware with the barn door by checking the box next to the word "yes." The new drop down appears and you start to answer the prompts. You select the standard system with the Garrick hanger style in a flat black finish. You add in the needed measurements for your door (the length of the track should be twice as long as the width of your door) and select pre-drilled holes for convenience. Because you are buying a Rustica door, you select "Rustica Door" for the door thickness.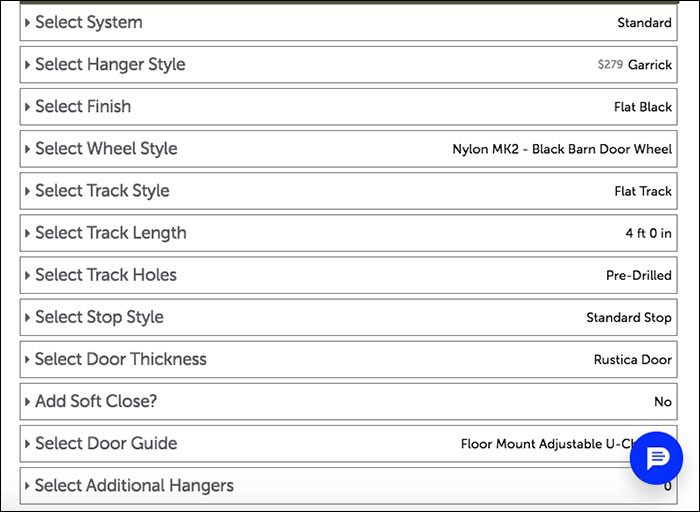 You are then asked if you would like to include a handle for this barn door. You click yes and then select the Falcon style handle in flat black. Because this barn door will be used as a pantry door, you choose not to include a lock.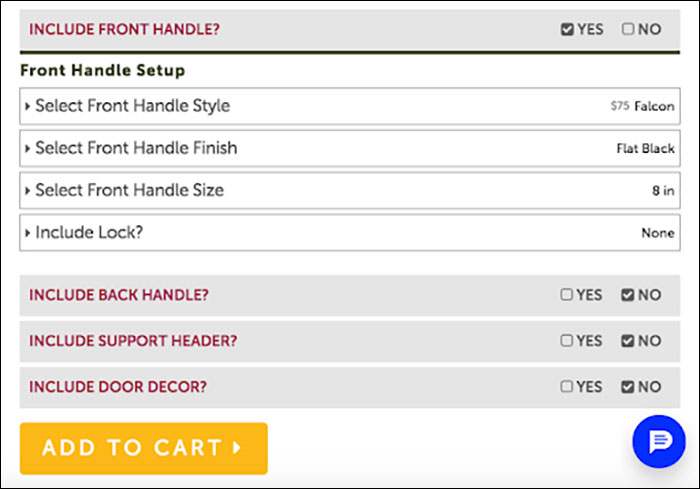 You select no for the following options as well. Since this will be a pantry you do not need a back handle. You do not need to include a support header since your studs are in the correct spot and the door decor is not necessary for your vision.
With all the required prompts filled out, you are ready to add your custom barn door to the cart!
Your barn door will arrive in a few weeks and once it is installed you will be able to enjoy the finished product!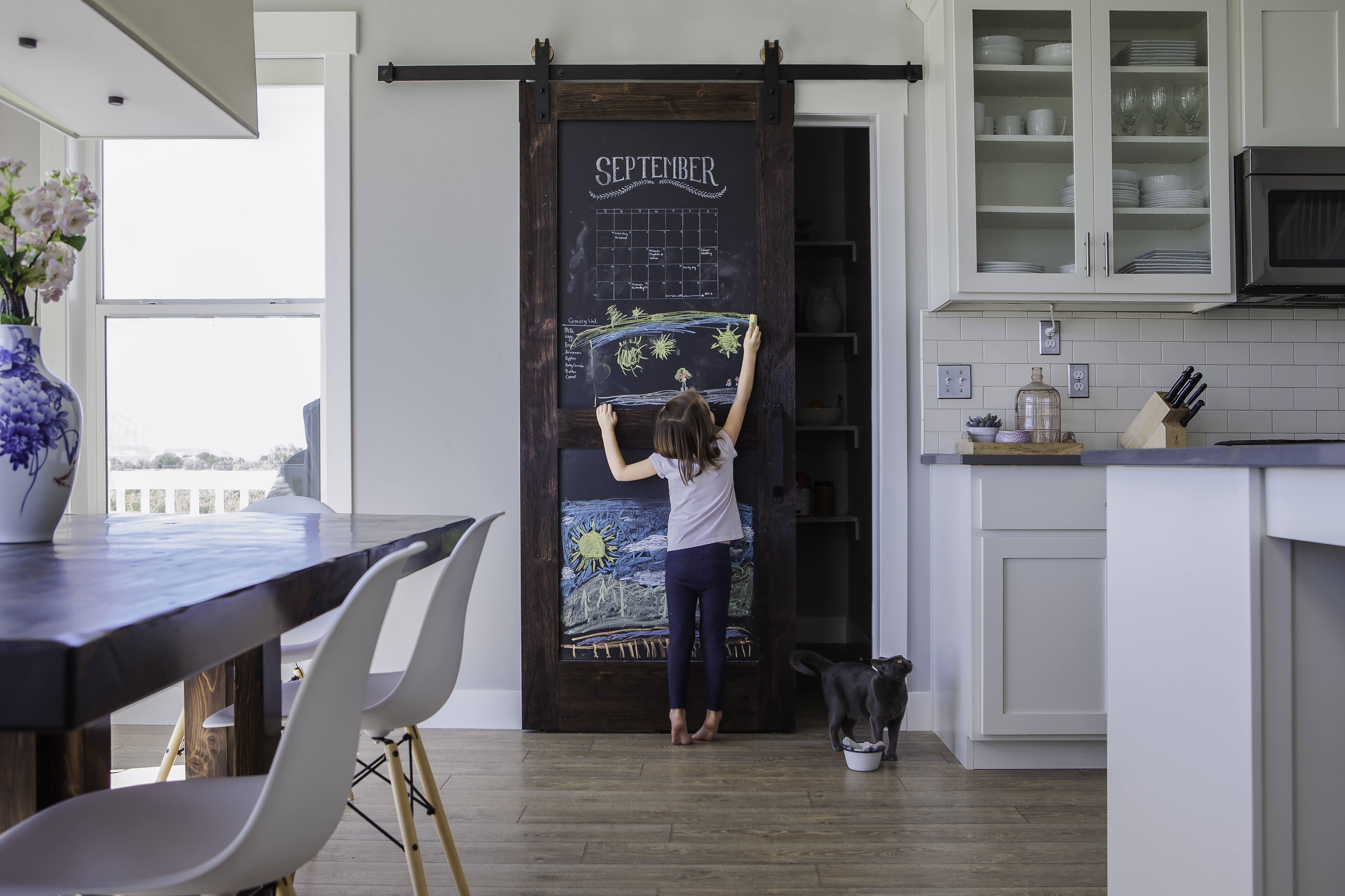 Custom Projects

If you've looked through the site and couldn't find exactly what you were looking for, Rustica offers a
Custom Projects
option. You can find this page at the bottom of the Rustica website under "Products." The Custom Projects page allows customers to write a brief paragraph describing what they are envisioning and include photos. Once the file is submitted our engineers will review your project and you will receive a mockup. For more details regarding the Custom Projects option, contact our service team at 801-477-4830.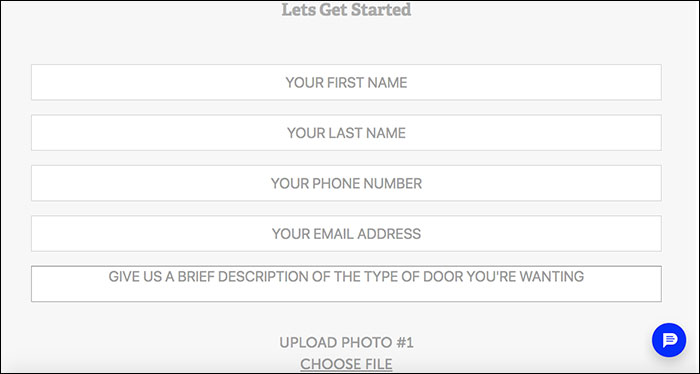 This year, start your home improvement projects off right with help from Rustica. We believe in creating functional art for your living space, which is why we have so many customization options. We want to help you create exactly what you've been dreaming of. If we aren't currently offering what you're looking for, fill out a
Custom Projects
form and we'll create it!
Let us know if you have any questions or need assistance with a project! We would love to
help
!